On 13th November I said Wells Fargo (NYSE:WFC) was looking a little less attractive now that 12% of the obvious value I had seen when John Stumpf was flailing on Capitol Hill had been realized. And the stock has duly lagged peers such as US Bancorp (NYSE:USB) (+10% during the period), Bank of America (NYSE:BAC) (+19%) and the broad KRE regional banking ETF (up 13%).
From one point of view, why bother with WFC now? It's still under reputational pressure with evidence of the practice of signing customers up for products without their knowledge now extending to cross sold products from Prudential Financial. Anyone would be forgiven for asking when this will end and what the financial cost of the pain will be if only in the shape of lost business rather than legal penalties (which will be easily manageable for Wells - this is no Deutsche Bank).
And yet, and yet and yet... Wells Fargo remains a business with scale and structure that most banks can only dream of. Here's a comparison of its income structure to other banks in Warren Buffett's portfolio.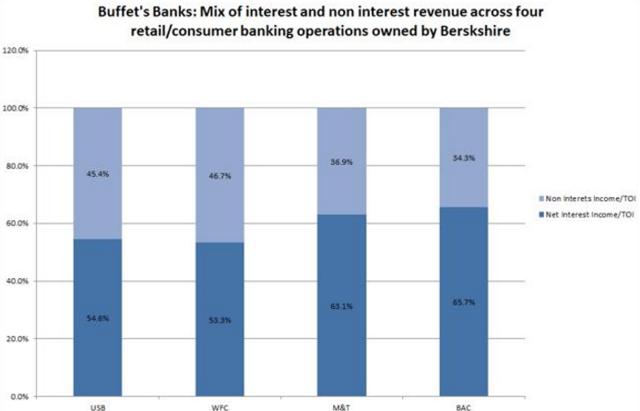 Company data 3Q 2016
What this chart shows it that the level of fee income at WFC is that much higher than in M&T and BAC while being similar to that of US Bancorp. This "additional" revenue is one of the main factors that has helped USB and WFC maintain highish ROE of 13-14%. Sure, it's now painfully clear that some of this fee income has been generated by activities that are unsavoury and rightly have the stock under some pressure as the public sphere attempts to determine the extent of malpractice and when the revelations will stop. One way of thinking about this until we have more definitive information is to consider USB, which has a pristine reputation and is not under any of the suspicions aimed at WFC. It seems unlikely to me that WFC's income structure can be explained primarily by dodgy overselling practices. What that tells me is that the eradication of nefarious practice at WFC is most probably not going to have a material impact on EPS.
So it comes down to valuation. We investors have just rerated a host of banks with truly predatory behavior in their backgrounds. We know who they are and the charts have gone vertical along with their unblemished peers. Objectively, I find it hard to conclude that the worst that can be said of Wells Fargo is that it's got both feet right in a reputational quagmire right now rather than having had both feet in one when many of its peers did (2008 onwards).
USB is now on 17x EPS for 2016, so even 20% EPS growth in 2017 (which isn't realistic without tax cuts) would leave the stock on 13.6x. In contrast, WFC is on 12.8x for 2016 and 11.8x for 2017, again before potential tax cuts. The model below assumes ongoing drag in revenue momentum due to weak customer activity. And the yield should be upwards of 2.9% through 2018. I leave the returns available if WFC rerates over the next three years to your imagination, but don't forget to add in the cumulative dividends as well.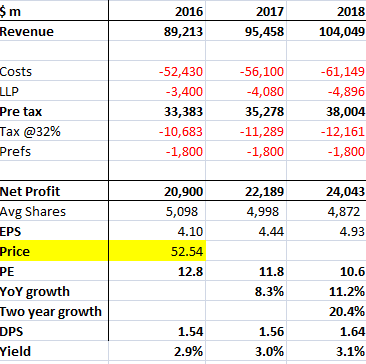 Company data and FIG Ideas forecasts
The risk is obvious, if somewhat difficult to quantify other than assuming it won't destabilize returns materially. Wells could go through an extended period of unpleasant news and spend even longer cleansing its culture. Still, looking out to 2018, WFC is a buy.
Disclosure: I/we have no positions in any stocks mentioned, and no plans to initiate any positions within the next 72 hours.
I wrote this article myself, and it expresses my own opinions. I am not receiving compensation for it (other than from Seeking Alpha). I have no business relationship with any company whose stock is mentioned in this article.