There is no doubt that the rally in oil prices that's expected next year due to the OPEC and non-OPEC production cut is going to have a positive impact on the upstream segment of Exxon Mobil (NYSE:XOM), as I had discussed earlier. But, apart from an improvement in the upstream business, Exxon Mobil will also benefit from a potential turnaround in the downstream segment. Let's see why.
Deciphering the downstream segment
The downstream segment of Exxon Mobil made a strong comeback last quarter. More specifically, the earnings from Exxon's downstream segment increased around 49% on a quarter-over-quarter basis. However, the growth in the downstream segment's earnings was driven by lower maintenance costs and asset optimization, while refining margins took a severe hit. This is shown below: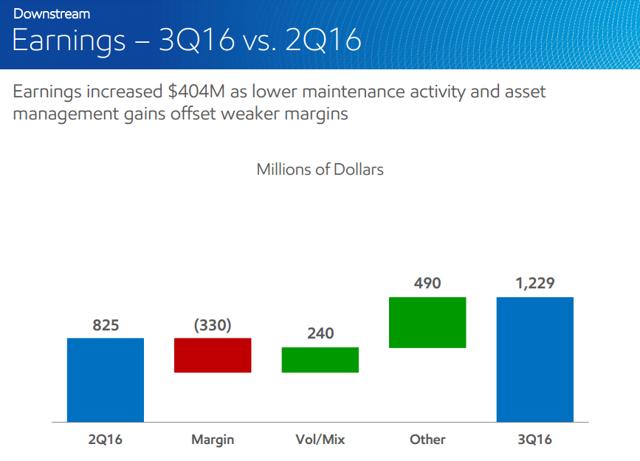 Source: Exxon Mobil
As shown above, Exxon Mobil's refining margins were down $330 million on a sequential quarter basis in the third quarter. This weakness in the refining margins is not surprising as the gasoline market has remained weak since the beginning of the year due to oversupply, even though the demand has remained robust.
The oversupply in the gasoline market is a result of an increase in the refining capacity in the U.S. as refiners were looking to take advantage of the stronger gasoline margins that prevailed last year. In fact, according to the EIA, refining capacity in the U.S. has increased by 500,000 barrels per day since the beginning of last year, leading to a 2% growth in gasoline output. As a result, gasoline inventories have increased this year and this has led to weak pricing, therefore leading to a drop in refining margins.
However, the good news is that refining margins have started picking up pace of late on the back of a rise in gasoline demand. In fact, this year, gasoline demand will increase to the tune of 130,000 bpd as against last year's levels, driven by a jump of 2.5% in highway driving. What's more, apart from the domestic consumption of gasoline, exports of the fuel from the U.S. will rise by 400,000 bpd in 2016.
Therefore, a combination of higher domestic consumption and robust exports are playing a role in bringing down gasoline oversupply in the U.S. Additionally, refiners in the U.S. are taking steps to bring down the oversupply in the industry by reducing utilization rates of their refineries, which is resulting in lower output. This is shown below:

Source: EIA
Due to this combination of increasing demand and controlled output, the refining marker margin has improved over the past few quarters. This is shown in the table below: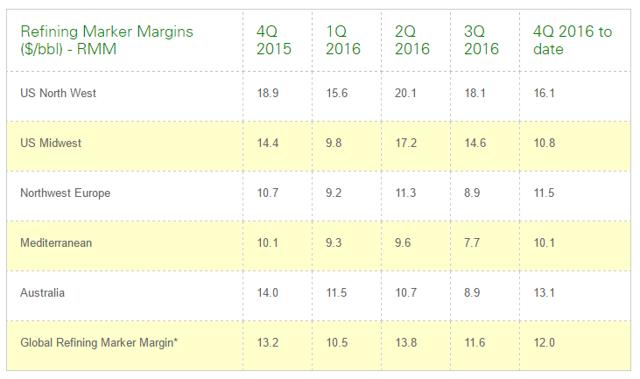 Source: BP
Hence, it is evident that the conditions in the refining segment are now getting better. More importantly, these downstream improvements are expected to continue going forward as well. This is because, according to an EIA forecast, gasoline inventories in the U.S. will decline from 237.7 million barrels this month to 229.5 million barrels by the middle of next year.
Hence, as gasoline inventories decline, the refining margin will continue to get better. More importantly, the improved efficiency of Exxon Mobil's downstream operations will allow it to benefit from an increase in the margins.
Exxon's downstream efficiency will be a tailwind
Exxon Mobil has one of the most profitable downstream businesses among the big oil players. In fact, its return on capital employed in the downstream and chemical segment is around 25%, which is the highest in the industry. This is shown in the chart below: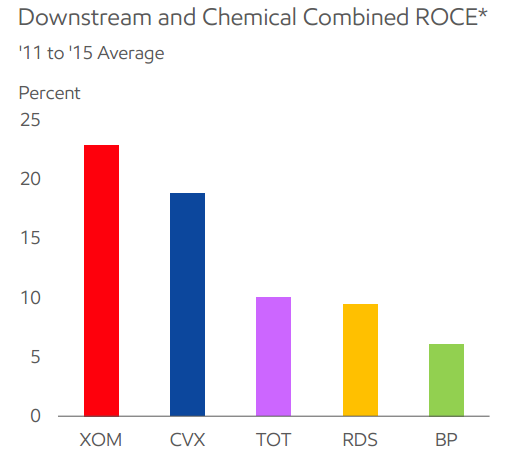 Source: Exxon Mobil
The reason why Exxon is able to garner a higher return from the capital employed is because the company's unit refinery operating expenses are way lower than the industry. This is because Exxon always builds larger refineries, which are around 70% larger than what others in the industry build.
As a result of a bigger refinery operation, Exxon is able to integrate its downstream operations more efficiently and can produce chemicals in huge amounts, which is why it can lower feedstock costs for the refining segment. Hence, due to the presence of an efficient refinery operation and an improvement in the refining margins, it won't be surprising if Exxon is able to enhance its downstream earnings going forward.
Another factor that will help Exxon enhance its performance in the downstream segment is its improving infrastructure in this segment, along with growth in global demand. For instance, over the next half decade, global lubricants demand is expected to increase at an annual rate of 2.6%. In order to tap the same, Exxon has expanded its Taicang facility in China that will double its lubricant manufacturing capacity.
Impact on stock price
Since Exxon Mobil is an integrated oil and gas company, gauging the impact of just the downstream operations on its earnings is not possible as the company does not spell out the exact margin on each barrel from the refining operations. However, as I had discussed the prospects of the company's upstream and chemical operations in earlier articles, and explained how both of them are set to grow, we can judge the impact of potential earnings growth of Exxon's overall business on its stock price.
Now, in 2016, it is forecasted that Exxon's overall earnings will decline to $2.21 per share as compared to $3.85 per share in the year-ago period as the upstream and downstream oil environments were weak for most part. However, next year, it is anticipated that Exxon's earnings will grow significantly to $4.24 per share, which is a jump of 92% from this year's levels.
Due to this substantial growth in the earnings, Exxon Mobil's forward P/E ratio is just 21 as compared to the trailing P/E ratio of 42. More importantly, the growth trend in Exxon's earnings is expected to continue over the next five years, with the company's bottom line clocking a CAGR of 18.5%. This means that at the end of four years after 2017, Exxon's earnings will be around $8.36 per share at the said CAGR.
At this level of earnings, Exxon's stock price will rise to $175 per share, assuming that the forward P/E ratio of 21 is maintained. Thus, as compared to the current price levels, Exxon Mobil can deliver over 90% upside in the next half decade due to the catalysts that it enjoys across the business.
Conclusion
On one hand, an improvement in oil prices will be a tailwind for Exxon Mobil's upstream business, while on the other, the company will benefit from a turnaround in refining margins. Due to its efficient refining infrastructure and an improving demand-supply scenario in the gasoline market, Exxon Mobil's financial performance could get stronger going forward.
Disclosure: I/we have no positions in any stocks mentioned, and no plans to initiate any positions within the next 72 hours.
I wrote this article myself, and it expresses my own opinions. I am not receiving compensation for it (other than from Seeking Alpha). I have no business relationship with any company whose stock is mentioned in this article.