It is prime time for banks, amid strong interest rate rise expectations and anticipated ease of bank regulations after Trump's victory, which has spurred a lot of positive expectations for banks growth prospects. However most bank stock prices are at their peaks already, it is time to select few bright bank stocks to buy at dips. S&T Bancorp (NASDAQ:STBA) is a small cap financial holding company with assets of $6.7 billion and a market cap of $1.3 billion. It is a well-managed company with disciplined management and rising interest rates positively influences the company earnings.
S&T Bancorp's historical earnings performance is not that exceptional, but the management is capable enough to steer the company in the right direction to keep its performance above average. It is that dynamism that drove the company's efficiency ratio from 60% for the year 2013 to 52% for 3Q2016. Without this improvement in costs, the earnings performance would have been dismal for 3Q2016.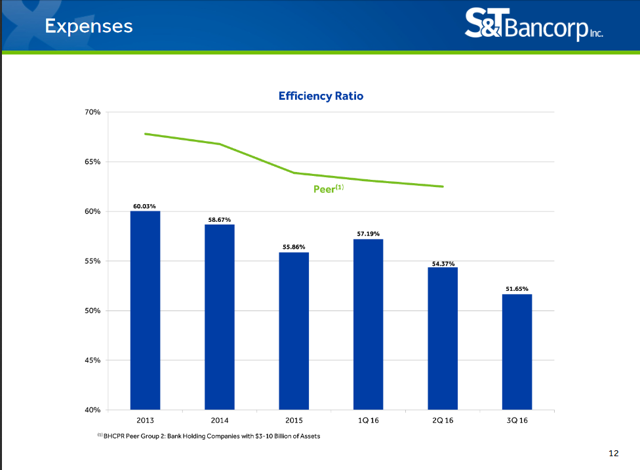 Source: Investor Presentation
The point is that the management is capable enough to leverage the operations when it needed the most to gain positive leverage to negate the declining margins impact. STBA's net interest margin declined from 3.61% in 3Q2015 to 3.46% at 3Q2016.
STBA is mostly dependent on organic growth while occasionally using inorganic growth for expansion opportunities. Therefore, net interest margin's direction is highly critical for earnings growth along with loan portfolio growth. Recent increase in Fed Funds rate by 25 basis points and the expected three 25 basis point rate hikes in 2017 is a pleasant news for banks. Continued low-interest rate environment for a long time has intensified competition for new loans through aggressive rate cuts, negatively influencing margins. Three rate hikes in 2017 will ease a large amount of competitive pressure on margins and impact bank's earnings positively by a significant extent.

Source: 10-Q
S&T Bancorp is positively leveraged to rising interest rate environment, in the next few quarters the company can increase the positive impact of higher interest rates as new loans can be generated with variable interest rates.
Though the valuation is very high buying the stock at dips is a great way to enter the stock as STBA is trading at 19X earnings and 1.61X book value. Further, S&T Bancorp pays a dividend that yields 2% that is a perk for long-term investors. With improved cost structure and competent management, STBA is a small cap bank stock for consideration to play the rising interest rate environment.
Disclosure: I/we have no positions in any stocks mentioned, and no plans to initiate any positions within the next 72 hours.
I wrote this article myself, and it expresses my own opinions. I am not receiving compensation for it (other than from Seeking Alpha). I have no business relationship with any company whose stock is mentioned in this article.