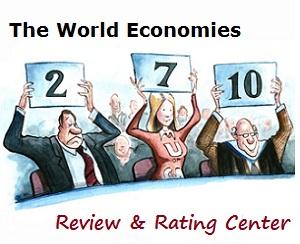 An Integrated Review of the Russian Economy
Russia's economic condition has been "liquid" and unpredictable for the past couple of years. There are still many negative developments that require the full attention of government advisors, such as the politicized case of the Nord Stream expansion that has been blocked. Elections for France and Germany are also near, putting more pressure on relations with the Eurasian energy giant. As such, the OPEC/NOPEC agreement and the end of the five-year long dispute concerning Gazprom (OTCPK:GZPFY) come as a relief to the nation.
In my previous series (Russia, Unfolding This Mysterious Market, The RTS Index), I had pointed out that Russia's stock market was severely undervalued and that it would be a good idea to rebalance our portfolio by including some relating ETFs. Since then, the energy giant's RTS Index has rocketed by more than 40% while some leveraged ETFs have returned more than 150% - all within one year.
In this article, we will thoroughly discuss Russia's potential and rate it for various time frames (short, medium and long term) to cover the needs of all investor types. What we are essentially doing is "mapping" the nation: First, from the political and geopolitical perspective, and then, from the macroeconomic perspective. Specifically for the latter, I present the so-called "Macroeconomic Control Room," where I have constructed two large graphs that combine multiple sub-graphs together in a way that grants us a firm understanding on how the nation "works" and what its current status is. So let's get to it.
Russia's Long-term Strategic Agenda (Politics & Geopolitics)
Geopolitics has always been a curse for Russia. The Eurasian energy empire has been a "target" throughout its entire existence, mainly due to its vast geographical size that is filled with raw materials. History teaches us that any nation that owns something valuable (raw materials, advantageous geographical position, vast agricultural land, etc.) will eventually witness some form of an attack. Added to this are Russia's endless borders that cannot be fortified, and a population that is hard to govern, due to its particularities.
One of these "particularities" is pride. In Russia, pride is sometimes valued even higher than pragmatism, and that is one major reason the nation has witnessed many economic downturns throughout its history, even though it is rich in natural resources and craves success. For that reason, it has in many cases been using foreigners for additional guidance, like for example during the Napoleonic War, when many war officers were German (particularity of Germans: Too much pragmatism).
This very same pride has also been the reason that made the world fear Russia and its "overreactions" like for example the construction of the Tsar bomb during the cold war, a weapon so destructive that both the US and Russia agreed to stop nuclear tests right after its detonation. So it comes as no surprise that as soon as Russia started reaching its economic stabilization stage, during which it would slowly transform into a developed economy (hence non-targetable directly anymore), Western powers started feeling the fear again, while Russia hyped its pride and retransformed into a semi-militaristic society (early stage). The graph below grants us some insight relating to the "fear" levels that are gradually rising in nations surrounding Russia: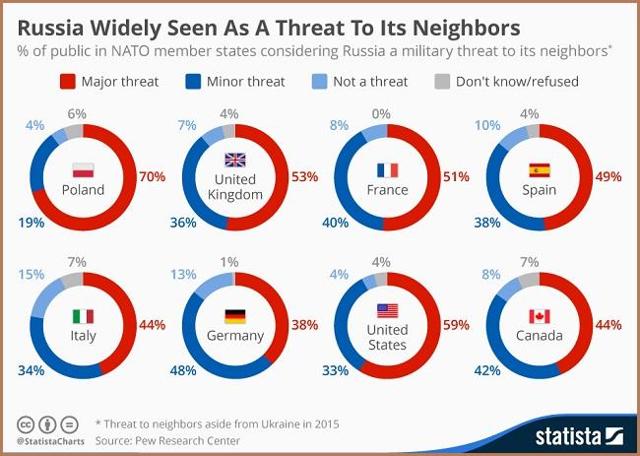 Based on the graph, we can witness the reason that makes Poland (and the UK) such an exceptional ally to the US (a nation that can neither trust Russia nor Germany), and why Germany, a pre-war ally of Russia, is its probably the one to push for the re-establishment of free trade routes with Russia; Chancellor Merkel's pledge to maintain sanctions is just an election stunt (In 2017, both France and Germany have elections).
But let's start by discussing the political issues Russia is currently facing and how it chooses to counter them.
First of all, by "political" issues, we mean "internal" in nature (by geopolitics, we mean "external" issues), i.e. that do not directly involve other nations, just Russia. In this context, United Russia party leaders (Wiki) have come to realize that due to difficult economic times, their first and foremost goal is to maintain sociopolitical stability. In its effort to maintain that stability, the party promotes a political strategy that can best be described as "Patriotic Populism". The strategy's goal is to create a strong patriotic emotional response. Thanks to the demonization of Russia by the West, its leadership didn't have to try as hard to achieve its goal.
Western governments use a similar tactic (demonization = a common enemy) to serve their own stabilization needs, one that is also targeting an emotional response, fear. In short, both are classic political strategies: Patriotism is usually served to nations that have a relatively poor population (in terms of GDP per capita), because these people "have nothing to lose" except pride or "want more". On the other hand, wealthy nations "have a lot to lose" and are "afraid to have less". That is why fear is the primary strategy used in developed nations. In both cases, the media are the means to "spread the word".
Now, although the United Russia party is currently successful in maintaining internal stability, a direct problem that arises when using patriotism is that anyone who does not support the regime is automatically considered a traitor (a non-patriot). This obliges the ruling government to "exterminate" any rivals, otherwise the patriotic "placebo" is not easily swallowed, especially since the largest percentage of the Russian population relies on this medication to forget about poverty. Furthermore, another important characteristic of this strategy is that even though quite effective, it cannot be used for too long. The nation must grow fast (or enter a war), so that citizens can rely more on "comforts" and a sense of development (like the West does), before the outbreak of an uprising or even a coup comes into play (ex. Turkey, although not exactly comparable). Under Vladimir Putin's ruling, this "growth requirement timeline" was evidently kept and quiet successfully.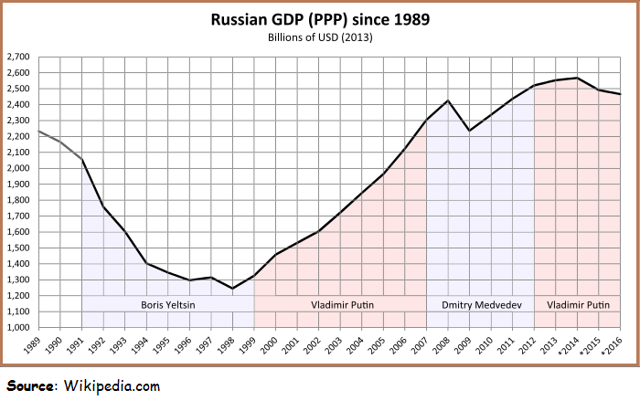 Yet, with energy prices at low levels for over two years now, the Russian economic ecosystem has started to falter. 10 years of progress could easily diminish under Russia's "Potemkin"[1] economic model. This in turn would substantiate the risk of an uprising, a slowly unraveling situation that has been evident in voters' behavior. To elaborate, while president Vladimir Putin was elected with minimal competition, the voter turnout continued to drop (since 2007 and on). Although this could simply indicate that voters were largely expecting a win for the United Russia party and hence did not see a reason to go and vote, it then also means that expectations kept rising, and if they are not met, social unrest would be imminent.
So what actions are being taken to reduce the risks involved? Currently, nothing notable. What we as investors though would like to see is (a) some room to be left for other parties to enter parliament (cover more seats), so that citizens can find a way to express their beliefs and wants with anonymity. Free expression has always been a means to blowing off steam. It is also a source of data for government employed political analysts that are now wandering in the dark. We would also like to (b) see a continuing stabilization in ruble exchange rates, as well as in food prices. Food prices kept low is a prerequisite for the patriotic placebo to keep working.
Moving on to Russia's geopolitical agenda and issues, we start by discussing international relations and alliances. We are already familiar with the fact that the West (Europe and the US mostly) has imposed sanctions on the nation, although the toughest ones target Crimea (embargo). This negative relationship status has had an indirect cost to Russia, namely a reduction in foreign direct investments and defence equipment revenues (exports).
The nation was quick to react:
It used negative relations with the West to pursue alliances with other "threatened" nations like China and Iran.[2] These alliances diversified Russia's energy market and added a stronger public image that it needs to re-attract international investors.
The government then directly interfered in the nation's private and non-private trade agreements with EU businesses by cutting down on food product imports. In doing so (essentially using sanctions imposed to its benefit), Russia's economy will need to increase internal food production that will result in more jobs (a form of indirect government funding of the domestic private sector). As a result, it is moving away from its "Potemkin condition" (a little bit) and is also reducing the risk of a sudden food price spike due to a devaluing ruble (a requirement for the patriotic placebo to keep working).
Finally, by combining the above two points with the EU's dependency on energy and the fear factor (nuclear war or direct military interference, promoted via its international media),[3] the Russian government slowly pushes for the re-establishment of EU-Russia trade relations. A recent success in this context is the EU-Gazprom agreement on a five-year long dispute.
Added to these reactions is also an unintended side benefit for Russia. Although low energy prices had a negative effect on the nation, they also kept foreign companies with higher extraction cost from investing in order to expand production. An example is Norwegian energy colossus Statoil (STO) that reduced investments (among others in its industry) while Russia kept investing. And while funding was hard to come by due to negative relations with the West, the icy nation found a new investor, China (one example of China financing is the case of Yamal LNG). Quite a chess game.
Of course, all these actions are of temporary gain, i.e. temporary leverage to push for developments. The Russian government needs to script a viable long-term plan. And although there have been quite a few notable steps towards that direction, what we as investors would additionally like to see is:
Russia reducing the pace concerning trade and investment deals with China now that it is obliged to engage in bargain sell-offs.
Reengage its trade relations with Europe[4] and enter in a trade agreement with Ukraine (currently, Ukraine is receiving a great deal of natural gas from European re-sellers, namely Germany, at higher prices than it used to), a major gas hub for central and northern Europe. A Russia-Ukraine gas hub deal (latest developments) could include past debts as part of the agreement (hub's profits used to service debt). Russia should also seek a long-term trade agreement with Japan, a nation thirsty for energy, to grant it further diversification.
Demilitarize its public image. Although presenting itself as "untouchable" is beneficial, playing the "military threat" card is pushing Russia away from European nations. It is true that it must not budge to the European Commission's accusations, otherwise it would be accepting them as being valid. Yet, if it continues to promote itself as a direct threat, Europe will fortify, as any nation would be forced to. Successful long-term relationships are never based on force. Mr. Schauble, Germany's finance minister, has already pointed out the need for a EU joint defence budget, a comment that was subsequently undermined possibly after pressure from NATO officials (Source: FT.com). A case like this being substantiated would effectively eliminate any future prospects for a positive economic relationship that both continents need.
The Russian Economy - Part I, the Macro Perspective
Now that we have discussed Russia's political and geopolitical agenda and the issues that need to be resolved for the nation to receive an "upgrade" in its investment rating, we move on to reviewing its macroeconomic condition.
We start by reminding ourselves what we learned from a previous article (Russia: Unfolding This Mysterious Market), namely that the energy giant depends on exports by as much as 30% of its GDP. This percentage is rather exceptionally high for a nation with a large population (140 million people). Allow me to clarify.
Countries with large populations enjoy the ability to self-sustain a domestic production/consumption ecosystem because they benefit from "economies of scale" (fixed costs are spread across more units produced and hence the cost per unit decreases as production/consumption increases). This was one of U.S.'s greatest advantages, one that it had recognized early on and one of the reasons it kept promoting immigration: "First create the domestic ecosystem to empower domestic businesses and then push for exports (alongside global recognition of the US dollar)". China is now trying to follow the Superpower's example, although prematurely I might add.
Now that we have (indirectly) clarified why Russia should focus on creating a domestic economic ecosystem and move away from its Potemkin condition, we should also add that although its dependency on exports can be seen as unorthodox, it is at the same time the key for fast growth and development. Being a nation rich in natural resources, it can heavily invest in oil and gas extraction and refining without the need for highly educated human assets to be "imported". Having plenty of "working hands" at its disposal,[5] it can simply produce, then export and finally reinvest profits for further expansion - pretty much what it has been doing for a decade.
Russia's strategy resembles that followed by Saudi Arabia, namely focusing on one raw material type, be extremely efficient in its production (Russia is also efficient in its transportation via pipelines) and find a large and rich market to sell to. Saudi Arabia found the US market (and Asia) while Russia the EU market.
But while this strategy can boost growth substantially and become a means of "catching up" on already developed nations, it also makes the nation implementing it an easy target. With Russia's historic background, that makes it a somewhat "hated" nation (out of fear); putting "all eggs in one basket" was too risky.
Now the nation must devise a modified economic model and make new allies while under financial and geopolitical distress. Retaining a strong political grip internally therefore, as we discussed in the Politics section, is what will make Russia succeed or fail in its plans.
But let's take a closer look at the energy giant's economic issues and (where applicable) the solutions its government advisors have proposed.
A. The issue of low commodity prices and the devalued ruble, effects on the economy
By now the investment community is well informed concerning Russia's dependency on energy prices (and somewhat on metals prices). The nation's export value covers as much as 30% of GDP (pre-energy crisis, 2014), and of this value, 80% is attributable to oil, gas and petroleum products while the rest 20% to relating products, metals and now also wheat. Its growth rate is hence directly linked to the price of oil and natural gas.
To cope with the negative economic effects of a more than two-year long slump in the energy sector, government officials decided on a series of carefully asserted steps (the points below are sequenced according to the growth value added):
Ministers and advisors of the United Russia party share a core belief, namely that their nation's past and future lies in energy. They understand that conquering this sector in the Eurasian geographical area is possible since they enjoy advantages such as (a) enormous oil and gas reserves, (b) low transportation and extraction costs (connected with buyers through land) and (c) have rich and thirsty markets nearby. And this possibility is the reason why the nation persists further investing into the sector by tapping Chinese funding. So in essence, Russia has not made (nor plans) any changes in its basic strategy and growth model - it is however planning to readjust its budget on the basis of a $40/barrel oil price. This remains to be seen though.
But although expansion in the energy sector has continued, government officials also pushed for investments in other products, such as wheat. The development in wheat production and exports can be seen in the following graph: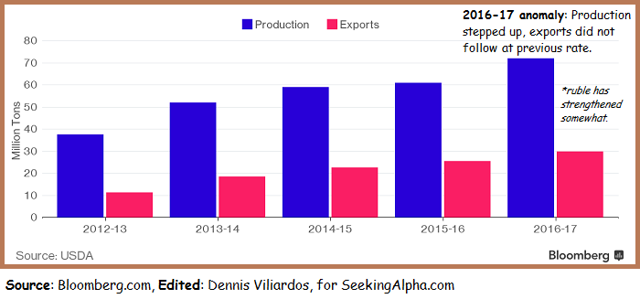 Due to the undervalued ruble, penetrating markets was possible (as opposed to the U.S., where the strong dollar trimmed the nation's market share). Japan, among the world's top wheat importers, should be on Russia's radar now that trade talks have heaten up. Of course, during the last couple of years, prices of most agricultural commodities have been in the decline (See the PowerShares DB Agriculture ETF (DBA)) alongside wheat (Teucrium Wheat Fund (WEAT)). Many analysts though believe the bottom has been reached (albeit for wheat the supply has been immense this season).
Russia's government also tried curbing imports, especially those affected by the declining value of the ruble. When the EU imposed sanctions, leadership swiftly used this opportunity presented and banned food imports. This act gave way to domestic businesses to operate without foreign competition (the foods and drinks industry flourishes in countries with a large population. How rich or poor one nation is has much less an effect because these products are of primary need). This move will benefit the energy giant's GDP in the mid and long term, reduce the rate at which external debt increases, and help replenish foreign exchange reserves to more healthy levels.
In sub-conclusion, some steps have been taken to ensure the "economic survival" of the nation. As investors though, we would also like to see an expansion in the military industry, the telecommunications industry and the food industry (all in export terms).
For military revenues to increase, intergovernmental agreements are needed. In 2016, some movement has been evident with China and India, two huge markets. There have also been rumors about a possible joint venture between Russia and China in a bid to compete with the Boeing (BA) and Airbus (OTCPK:EADSY) duopoly. Unfortunately though GDP value attributable to military equipment sales is still in the decline (after sanctions took effect).
As far as the other two industries are concerned (telecommunications and food), Russia can expand much faster by acquiring foreign businesses. Currently though such investments abroad are very limited. This tendency has a side-effect. After sanctions were implemented, foreign investments in Russia (from foreign corporations) and from Russia have seen a major decline. This in turn had a demographic effect; educated human assets leaving the country. Tech companies such as Mobile TeleSystems (MBT) or (MTSI) are in need for highly skilled employees that come from developed economies/nations of the West. Cooperating with China will not solve this problem, because Russia needs to import "knowledge" for sectors that a developing economy/nation has no expertise in (China is a developing economy itself and has the same needs).
Added to the nation's woes are also the direct effects of a devalued ruble. Although exports benefit from a declining ruble, imports do not, and Russia depends on high-value industrial products (ex. cars) that are being shipped from abroad and consumed internally. Consumption is one of the government's most important income source and the nation's most prominent "ecosystem" component. In the light of the sudden decline the Russian currency experienced, the government had tried to entice consumers to spend by promoting special subsidies for newly purchased cars.
Since then, Elvira Nabiullina (Wiki), the nation's central bank governor, has managed to stabilize the ruble exchange rates by carefully adjusting interest rates. It is my opinion that she has been successful in her assignment, at least until now.
B. Russia's Macroeconomic Control Room
In my effort to quantify all that we have discussed so far, as well as to "map" the nation's economy in such a way that will allow us to make judgments based on real[6] data, I have compiled a list of indicators which when combined will grant us a measurable and integrated status report - i.e. this section is going to be our "Macroeconomic Control Room" updated every time we review and rate Russia again.
Below we can see a combination of graphs that will give us a "neater" sense of Russia's economy status, i.e. its "health":

Now let's discuss each component (graphs):
In Graph (1), we witness the correlation between the nation's growth rate and the price of crude oil. Although Russia's expansion had started to slide before the mid-2014 energy crisis, since then, it has entered a recession. Now that oil prices rebounded, there is a great possibility that the energy giant will enjoy growth for the next 2-4 years (beyond that, Russia needs to meet its long-term strategic agenda goals that we discussed).
In Graph (2), I wanted us to confront the notion large media was promoting, namely that Russia's public debt has been increasing at a fast rate. Comparing the nation's debt value with the debt-to-GDP ratio, we see that government debt has stopped expanding in 2016, even though the referenced ratio states otherwise. The reason for this is of course because Russia's GDP has been shrinking and hence the ratio was misleading us.
Graph (3) compares external debt to foreign exchange reserves. The reason I chose this comparison is to remind us that United Russia advisors pushed for the reduction of external debt. In doing so, they advised the usage of foreign reserves to avoid paying more for this form of debt if the ruble was to be used (due to the devaluation of the currency). This of course put pressure on reserves, a situation that "scared" away (foreign) investors. But as we can see, replenishment has slowly taken place and now that energy prices have been increasing, the rate will most likely escalate and with it investor interest.
In Graph (4), we see the development in the government's budget. Although the depicted deficit rate is for the year 2015, for the current year, we should again expect a deficit, even though Russia has taken actions to decrease government spending (not all policies have been implemented yet). According to the nation's president, Vladimir Putin, the government is setting out a plan that would allow it to survive even if the price of oil was to stay at $40 for the long run (zero deficits). Of course that's most likely just a "marketing" effort as well as a geopolitical one that seems to have had an effect on OPEC dealings.
The final graph, Graph (5), shows us one of Russia's greatest barriers: limited foreign investments. As we can see, direct investments seem to correlate with the ease of doing business indicator, informing us that investments from abroad have not decreased solely because of unfavourable market conditions (fear), but also because there is limited will on the part of Russia to accept (allow) them. Foreign direct investments do not calculate stock market investments exactly. The indicator for that purpose would be foreign portfolio investments. The FDI indicator is instead disclosing large and long-term investment interests and/or buyouts (i.e. real economy foreign investments).
So the "health status" of Russia seems somewhat favourable, but there is still a lot that has to be done. Higher energy prices will give the nation's economy a boost (stabilize it again), but for high growth to step in, foreign money is required. In short, we must keep an eye on:
(a) Energy prices (Urals Oil & Natural Gas).
(b) Foreign exchange reserves.
(c) Foreign direct investments.
These three indicators play a key role for the next couple of years, and we shall add them to our economic calendar watch list.
Additionally, we should also monitor Russia's "revenue growth", meaning what the nation at whole is "selling". In this context, we could analyze GDP by sector (agriculture, industry and services) or subsector based on the value that corresponds to each. Unfortunately, this would not assist us in understanding "sales" made. Instead, it would inform us about "production". It is therefore preferable to analyze GDP growth in terms of "end use".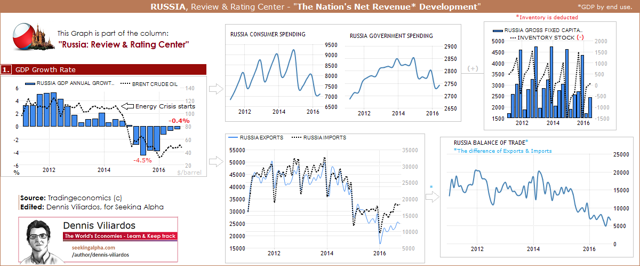 Before we discuss the information derived from the above combination of graphs, let me explain the logic behind it: Consumption (consumer, government) and capital investments (gross fixed capital investments) can both be seen as a form of "domestic consumption" or if analogized to a business, "domestic sales", i.e. performed within Russia. Exports on the other hand are a form of consumption (or sales) outside of Russia. Imports then can be seen as expenses. This is a simple way of assessing the nation's competitiveness, its development internally and abroad. And that is the reason I chose to analyze GDP by end use (used to analyze revenue of the nation as a whole) rather than GDP by sector (best used to analyze production of the nation as a whole).
Now, the second row of graphs (bottom right), namely exports/imports and the "net" of their values, the balance of trade, informs us that due to a slump in energy prices (we know that exports are mostly energy related), the value of exports has been in decline. The fact that during 2016 imports increased faster than exports further reducing the surplus adds pressure to the government's pledge to minimize dependency on imported goods and services.
Moving on to the first row of graphs (top right), we see that domestic "sales" have been deteriorating, with both consumption and investments experiencing a wide downtrend. This comes as a result of the reduced (revenue) inflows relating to exports that distorted Russia's economic ecosystem.
In conclusion, "revenue" for a nation's economic ecosystem is pretty much the same as revenue for any business. So while the first combination of graphs (the nation's health) shows us the current status and risk level of the nation, the second combination (the nation's net revenue) shows us growth potential (or at least growth development at the first level). Together, these images (and this section) form Russia's Macroeconomic Control Room. We will use the gathered information in order to rate the nation from an investor's perspective.

Now that we have discussed Russia's macro-environment, we will sum up all the information acquired and rate the nation at the first level (i.e. at the macro level).
Note: The reason I am stating that we are rating Russia at the first level or the macro level is because Part II of this series will include a second level of analysis, namely the "micro level". Specifically, we will also review the nation's private sector by examining certain companies that have been selected to best represent both the RTS Index and the Russian economy.
1. The RTS Index & Ways to Invest in Russia
Below, we can see the development of the RTS Index. We also compare it to five other indexes: the S&P 500 (U.S.), DAX 30 (Germany), NIKKEI 225 (Japan), FTSE China A50 (China), Nifty 50 (India). These nations/indexes will be our focus in the days to come (the focus of the "Rating & Review Column").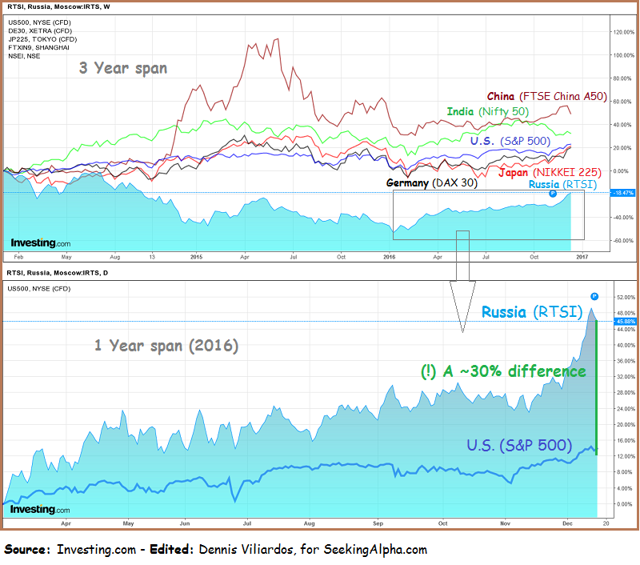 In the first graph (top), we see the development of the RTS Index versus other major economies in the past three years. We quickly notice that the RTSI deviated when the energy crisis started in 2014. When we discussed Russia in our previous series (Russia: Unfolding This Mysterious Market, Part II (RTS Index Analysis)), we mentioned that the nation had potential since it was undervalued compared to all other markets. The second graph verifies just that: Comparing the RTSI with the S&P 500 for the year 2016 (when energy prices started rebounding), we see that the Russian index increased by 30% more in this period.
For those of you willing to invest in Russia, two ETFs have kept me busy since we last discussed this nation, one leveraged and one "normal":
Direxion Daily Russia Bull 3x Shares ETF (NYSEARCA:RUSL): This ETF has become quite popular. The designation "3x" means that it is a leveraged product based on futures. This means (in theory at least) that when the RTS Index increases by 10%, this product will triple that. Be advised of course that this does not always hold. Leveraged products like these have seen huge deviations from time to time, especially those that "follow" commodity indexes. In the case of Direxion's ETF though, the 3x did actually hold and that is very promising (remember that leveraged products are usually best suited for trades and not ideal to hold for a long period of time - rollover costs, contango risk and other factors drag the price down in the long run). For more information, make sure you read the relating prospectus (Link).
As a final note, make sure that you always check the "volume" figure for the selected product inside your trading platform. If the volume is dropping, you might end up getting trapped. This is especially important for leveraged products since very few have an appetite for a high degree of risk.
2. What do markets tell us about Russia
Now that we briefly discussed the RTS Index development, let us assess its current position and what markets are informing us about:
Index position/levels: The RTSI has increased about 40-50% in 2016. Global markets have currently been reaching one record after the other. Based on the rule "buy low, sell high" alone, we should be at a "waiting" state right now. At least a ⅓ drawback should take place before we start buying again, and if the index declines further after that, we can always buy more in increments.
Market perceived risk: Most large funds around the globe are usually willing (sometimes even obliged by law) to invest only in highly-rated bonds. Hence, looking at Russia's bond yields can give us a good clue concerning the risk involved, as perceived by markets (i.e. by large players or the concentration of investors as a whole). Below we have the graph: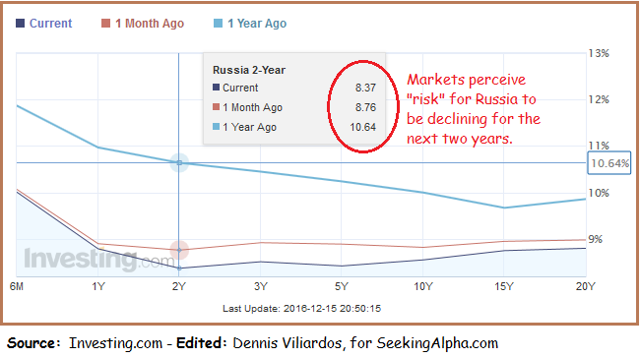 As we can see, Mr. Market believes that for the next two years (2017, 2018), Russia is currently at a better position (8.37% yield) than it was a year ago (10.64% yield). A decline in the nation's five-year CDS spread is also a positive sign.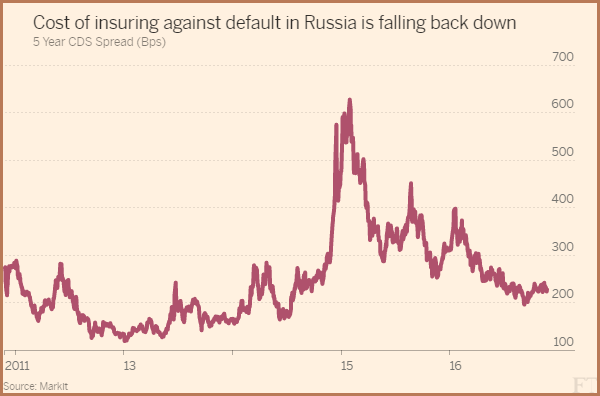 The ruble currency Index: In the first bullet point, we discussed RTS's position. What we should add to that discussion is that due to a devalued ruble (against the euro, the dollar and other currencies), investing in Russia is "cheap" (strictly in exchange rate terms): One can buy more rubles with $1 today than two years ago. This in turn means that one can buy more shares today than two years ago (again, strictly in exchange rate terms). That is one reason the RTS Index increased. So now that the ruble is starting to stabilize, we need to be wary of the effect - one very recent example of such an "effect" was the case of Britain and the pound. When Brexit talks hit the stream, the pound collapsed while the nation's indexes kept rising.
Energy prices: The latest development concerning OPEC & NOPEC have led the EIA (U.S. Energy Information Administration) to believe that an oil stock deficit will be evident in the first half of 2017. Russia will be directly affected by developments relating to energy prices since it hasn't yet managed to diversify into other industries.
3. Political & Geopolitical Developments Ahead
What we have been discussing so far on the subjects of politics and geopolitics was information mostly suitable for a long-term perspective. In this section however we shall also take a glimpse into the most proximate issues Russia has to deal with:
At the political arena, Alexei Navalny (Wiki) has announced to take part in the 2018 election. Navalny is a critic of president Putin, yet many voices inside Russia (comments below posts, Russian bloggers) believe he has struck a deal with the United Russia party, the reason he was released from imprisonment (while the imprisonment of his brother works as a reminder for him to stay cooperative). Nonetheless, if this theory holds, we can assume the government is trying to releases some "steam" (giving voters someone else to vote for), a smart move. At the same time, this will give statisticians the ability to analyze the voting outcome, granting them (and the government) a better picture of what Russian citizens believe about the current political status quo. This will increase stability within.
Outside of Russia, the energy giant has to win its EU market back. Now that a resolution for the five-year lasting dispute concerning Gazprom has been pocketed, the United Russia party is negotiating a deal with Ukraine that opts to stabilize the flow of energy to the E.U. (i.e. it is trying to make Ukraine the "energy hub" we discussed earlier). Although Angela Merkel's pledge to "keep sanctions in effect" while at the same time the EU is brokering a deal seems somehow hypocritical, Russia has yet another ace up its sleeve in case it needs to use it: The Syrian war and Turkey's allegiance (temporary at least).
Having effectively managed to support Assad's regime, Russia now has the ability to control and manage the flow of refugees to Europe. Added to that is Turkey's allegiance that came right after the failed coup attempt and further discussions between the two nations concerning energy investments.
In summary, Russia's government continues to move strategically, having an agenda that is pretty clear: Optimizing domestic political stability and increasing leverage on all external fronts.
4. Russia's Economy: Health & Growth
In this article, we have once again verified that the nation depends greatly on energy prices and exports of oil and gas. The first as well as the second combined graphs, Russia's "Health Status" and "Growth Prospects" respectively, gave us the impression that higher prices will repair the nation's economic ecosystem. But there is also another truth, namely that the energy giant has seen its growth rate shrinking way before the 2014 energy crisis.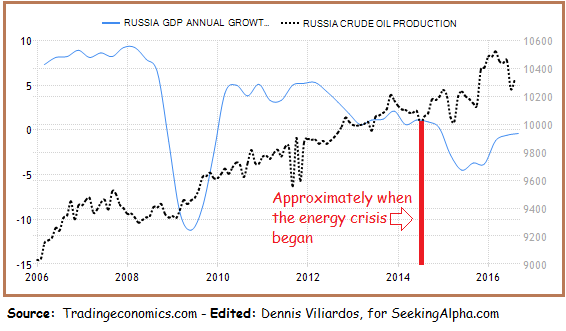 As we can witness, the decline in the nation's growth rate came earlier than the energy crisis. In fact, the trade surplus has been shrinking alongside the growth rate, which informs us that imports kept mounting, a direct result of the limited foreign investments that took place. And although ever increasing exports of energy products might eventually stabilize the nation's economy and boost internal consumption, the renewable energy revolution (if and when it comes) might distort any long-term prospect Russia has been hoping for.
But for the shorter term, much like the two-year bond yield development designates, what we should worry about are:
(a) Energy prices,
(b) foreign exchange reserves,
(c) foreign direct investments, and
(d) a stabilizing ruble.
Higher energy prices will guarantee revenue inflows that will revive the economic ecosystem, FERs replenishment will secure foreign debt problems and import distortions, FDIs will assist in the needed reduction of imports as well as grant higher employment and finally, a stabilizing ruble will entice citizens to consume more (reduce cost of imported goods).
5. Rating Russia, the Investor Perspective
Below I summarized what we have discussed in an investor-friendly table. Our focus is on the short term. This table can either be utilized as part of your passive investment decision making process (ETFs) or as a tool for your active investment endeavors (stocks):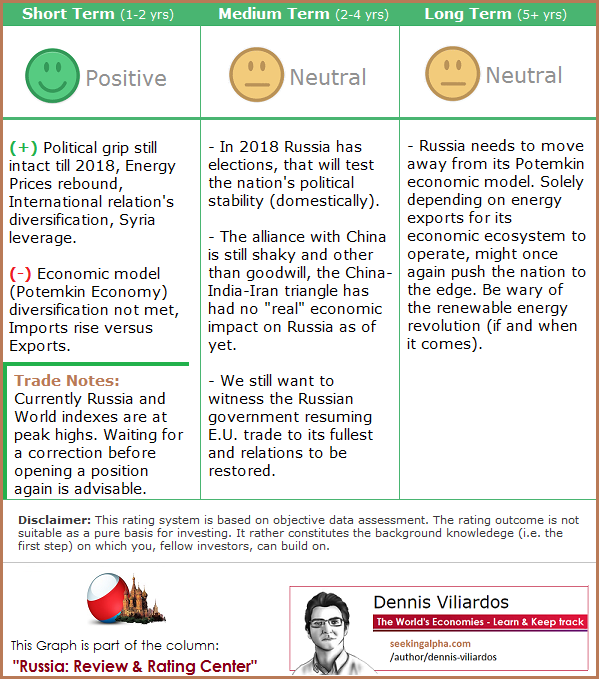 As a final note, I would like to inform you that the rating process has also a second part namely the review and rating of the micro-environment. To elaborate, while we have covered the macro perspective concerning Russia (economy), we must also dig a little deeper to fully grasp the nation's health status and potential. We will therefore also discuss the nation at the company/industry level and then combine both macro and micro information to create a complete and integrated rating report. Stay with me as we shall take a look at companies such as Gazprom, Sberbank (OTCPK:SBRCY) and many more.

Curious Geek's Corner (in-text numbered notes):
About: This section consists of complementary material. Each number below corresponds to the same number inside the article.
[1] Russia, a Potemkin economy (Quote from my article Russia: Unfolding This Mysterious Market, Part I):
An economy is characterized a "Potemkin Economy", when its health is based on cyclical profits and does not have the needed "depth" to ensure a country timeless success.
This terminology is based on a historical myth of some newly appended villages with the then Secretary of the Russian Empire and Prince G. Potemkin, ordering the erection of facades of houses depicting beautiful villages in the Crimea on the river Dnieper. Using this trick, the Prince wanted to impress Empress Catherine, who in 1787 visited the area. She remained pleased with these new additions to the Empire and did not realize during her passing with the train that the scene was based on facades and that the villagers that were happily greeting her were in fact dressed up soldiers.
Russia is seen as an "Potemkin Economy", because it is mainly based on oil and gas exports. Without energy exports, it would not have trade surpluses, nor high levels of foreign reserves.
[2] China is not yet a target. In one of my past analyses, I had outlined that many Western nations depend on China to sustain their mature economies in the same way retired employees depend on younger generations for their pensions.
This is the reason it is not being targeted (directly). Russia can continue its economic model restructuring under China's secure shadow, for now. At the same time, the alliance is adding prestige of power and new members wish to join or are at least interested in contracting economic ties with it - including Philippines (Source: FT.com), Malaysia (Source: FT.com), Iran, India. Even Japan is starting to "turn" (Source: FT.com)".
[3] "Russia behind the Headlines" is a multilingual network that primarily promotes Russia's image (tourism, history. etc.). It is staggering that money was invested for so many languages that even include Greek under a different website name ("Contemporary Russia"). Germany's "Deutsche Welle" is also a multilingual network, although it looks more like a global news medium (it does not directly promote Germany's image). Additionally, Russia operates two more international networks: Russia Today and Sputnik.
[4] Russia is in reality trying to push for a secret alliance with Germany and Turkey so that it can use these nations to circumvent European sanctions and continue to ship energy to Europe by using these "re-sellers". Germany, being among the list of nation's craving for world leadership, tries to impose itself on Europe using various means. One of those means is becoming the eurozone's top natural gas re-seller (hub). Currently, the Nord Stream (pipeline that connects Russia with Germany directly) has an annual capacity of 55 billion cubic metres, but it is only operating at half its capacity due to sanctions. Its capacity is planned to double to 110 billion cubic metres by 2019 by laying two additional lines (this plan in currently under fire by Nordic nations). Based on Gazprom's published data, exports to European countries accounted for 158.56 billion cubic meters of gas in 2015. Now, comparing the Nord Stream's future capacity with energy consumption in the EU (25% of the Union's needs are supplied by Russia), Germany could benefit immensely if it managed to become Europe's main hub, while blocking other nations from expanding (ex. Bulgaria). Added to this are Ukraine's net consumption levels that are close to 20-30 bcm (net for internal production). Until a deal between Russia and Ukraine is being reached, Germany is re-selling gas to the ex-Soviet nation (the reason it has been importing gas at substantially higher amounts than it needs for itself). Naturally, Ukraine is buying gas at higher prices (re-selling), while Germany is making a profit.
[5] In order to fully understand what we mean by Russia "not having the need for highly educated employees", we must first acquaint ourselves with the basic sectors of an Economy (3 or 4 quoted from Wikipedia.com):
Naturally, the primary sector mostly relies on "working hands" rather than highly educated and skilled employees - an advantage Russia can use to its benefit, especially since education in Russia is mostly funded by the government; only 17% of university/college students graduate from a private institution, so the cost is mostly taken on by the Administration. Due to its model, education costs do not have to be high (a mid-term advantage).
That doesn't of course mean that Russia's education system is underdeveloped. In fact, the exact opposite holds. In 2016, Bloomberg rated Russia's higher education as the third best in the world (see: tertiary efficiency column), and in 2014, Russia was the sixth most popular destination for international students (i.e. before the ruble collapsed, so it was not popular because it was cheap, but because of the quality offered).
[6] Be advised that by "real data", I mean data as presented by government (or globally certified) institutions. How real this data actually is and to which extent "data revisions" are being used by statisticians for managing a nation's "public image" towards markets are questions that we will address from time to time via 360-degree reviews (ex. Assessing actual industrial production by also checking inventory levels or assessing the unemployment rate by comparing it to participation levels).

Click the follow button on my profile page if you want to remain informed on developments and rating grades for three plus two countries: US, Germany, Russia (primary interest, i.e. will include a stock/industry level analysis), and China, Japan (secondary interest, only Macro-perspective). A Global Economy Review & Ratings report will also be included (World Economy Review + Banking, Energy, Maritime).

Editor's Note: This article discusses one or more securities that do not trade on a major U.S. exchange. Please be aware of the risks associated with these stocks.