Back on September 13th, I recommended Phillips 66 Partners (NYSE:PSXP), the midstream partnership arm of Phillips 66 (NYSE:PSX). Phillips 66 Partners is all about midstream pipeline projects, some of which are third-party acquisitions and some of which are drop-downs from Phillips 66.
I recommended Phillips 66 Partners because of its reasonable leverage (usually around 3.5 times EBITDA) and its tendency to get world-class midstream assets from its parent company, Phillips 66. Combine this with a commitment to 30% compound dividend growth for the rest of the decade, and I believe that Phillips 66 represents a great investment for income-minded investors who don't mind some exposure to partnerships.
Since my September article, however, shares of this partnership have moved sideways. Have a look for yourself: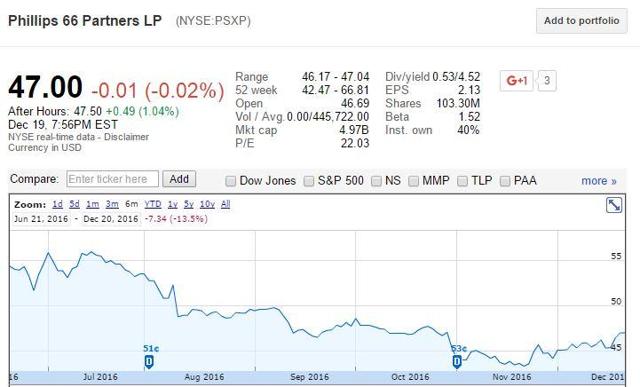 Courtesy of Google Finance
Phillips 66 Partners has since declined sharply, and proceeded to regain just about all of its lost ground since September. However, the partnership has also since raised its distribution by another 2 cents, and has made some important transactions since then. This article takes a look at some of those transactions and where the partnership is going.
Progress and Acquisitions
In the third quarter, total volumes decreased slightly, from 893 thousand barrels in Q2 to 876 thousand in Q3. This decline was lead by crude oil, but somewhat offset by refined products. Storage volumes also fell slightly, from 1,009 mboe in Q2 to 983 mboe in Q3. However, EBITDA increased from $97.3 million to $110.9 million, thanks to the completion of the Sweeny Fractionator and Clemens Caverns oil storage.
Some big things happened this last quarter. First of all, the company formed a joint venture with Plains All American (NYSE:PAA) to expand the STACK pipeline through the highly economical shale play there. The joint venture will invest $15 million in the pipeline by building a trick station, a lateral pipeline, and 100,000 barrels of new storage at the terminal. Quite possibly, Plains and Phillips 66 Partners might loop the pipeline between the shale and Cushing, and they also might add more gathering sources to that system.
The partnership also agreed to acquire an additional 2.5% equity in the Explorer Pipeline Company, thereby bringing its interest up to 22%. Explorer is a transporter of refined products, including gasoline, fuel oil and jet fuel, with more than 600,000 barrels per day, to 70 major cities in 16 states. It's a big, 1,830-mile pipeline from Houston to Chicago, passing through Oklahoma, Cushing and the Wood River Refinery in St. Louis. Explorer pipeline is an important midstream asset in the US, and Phillips 66 Partners is wise to up its stake in it when possible.
These things all came at a cost, of course. Altogether Phillips 66 Partners made $1.3 billion in acquisition assets, not to mention continued due diligence on acquiring Chevron's (NYSE:CVX) South Louisiana NGL pipeline. Last quarter, the partnership's debt ratio went from 2.5 times to 3.9 times EBITDA, with the target level at just 3.5 times.
I suspect that when all the dust settles, Phillips 66 Partners will have some delevering to do. That might be reflected by a slowdown of acquisition activity, or an equity offering, although I think valuations are a bit low at the moment. Nevertheless, these acquisitions will go a long way to help this partnership achieve the high growth plans which it has.
An Interesting Balance Act
Phillips 66 Partners now yields a solid 4.5%. When considering management's goal of such high dividend growth, this will be a great investment if the plan goes through as expected. I believe that Phillips 66 Partners will have a lot more drop-down and acquisition opportunities, because a Trump presidency could lead to an easier drilling environment, which will lead to more supply which needs to get to markets, which means pipelines will be even more needed than they are now.
If more pipeline construction is going to be a new paradigm of the Trump administration, and I believe that it is, Phillips 66 Partners' biggest challenge could be not in getting a hold of acquisitions, but in deciding how much in drop-downs and acquisitions it wants to do, at what price, and how much capital it can get access to. Knowing Phillips 66's management, I expect a conservative approach and an inside track on some of the parent company's high-quality assets. That's a good place to be, and in such an environment, I trust this partnership not to get too carried away like some other midstream pipelines have in good times past.
I believe Phillips 66 Partners is a buy right here if you don't mind MLP exposure. As it is with many equity-issuing MLPs, if equity prices get too low, the partnership will have a difficult time raising equity for growth, getting it into a hole which is difficult to climb out of. However, I think the company's highly-conservative leverage strategy and high-quality assets will keep this name on the right path. This is a calculated risk worth taking.
If you're interested in Phillips 66 Partners, feel free to follow me on Seeking Alpha. I am personally long the parent company, and will continue to write update articles on both when doing so is both material and relevant.
Disclosure: I am/we are long PSX.
I wrote this article myself, and it expresses my own opinions. I am not receiving compensation for it (other than from Seeking Alpha). I have no business relationship with any company whose stock is mentioned in this article.