Introduction:
A Reuters report on the 2nd of December this month on New Oriental Education (NYSE:EDU) getting involved in fraudulent activities including faking application supporting documents and writing student essays on behalf of their students. In this article, I will attempt to evaluate the allegation by Reuters on EDU and provide a summary of the allegations by Reuters, you can see the article for yourself here. In my view, the above article is unlikely to result in any serious implication on EDU as such allegations are nothing new. Since the report, shares of EDU have corrected by over 14.9%, which presents an excellent opportunity for me to accumulate shares of EDU. I will accumulate shares in the next few days.
Reuters report sends New Oriental shares down
A Reuters report on the 2nd of December this month alleges that EDU was involved in fraudulent activities such as faking academic documents, writing student essays and personal statements for the students school application. The reporter also suggested that EDU was reimbursing admissions officers from a select few Universities to conduct recruitment tours in China. This, in the opinion of the reporter, gives the Chinese students an unfair advantage during admissions.
EDU has responded to the above allegation, you can see the link for their full response. The statement essentially dismisses the report above as misleading to readers and the company having robust governing policies to prevent the kind of allegations made by the Reuters journalist.
Background of Business
EDU's consulting business falls under their consulting division, New Oriental Vision Overseas Consultancy Co. (NOVO), and has been one of the leading agencies in China to help Chinese students prepare for overseas study applications since 2000.
Thoughts on entire saga so far
University admission guidelines make it clear that the personal essays written by potential students for admission into the school must be the student's own work. The language difference between China and the West however, means that there are many agencies set up in China to offer one-stop service package to assist Chinese students with their applications. Such services include offering advice to students on how to draft and improve their essays. This is acceptable, where it is not however, is when the agency writes the essays on behalf of the student (which is what the article is alleging).
At the time of writing this article, it has not yet been established whether NOVO is guilty in writing such essays on behalf of the students. In my view though, I think that it is unlikely that the recent news will have any material impact on EDU's financial operations and on the company. This is because the consulting business account for less than 8% of EDU's current bottom-line and because it is difficult to prove that EDU did write the articles on behalf of the student.
Lastly, the domestic demand for such services is also unlikely to be abated because of this recent incident. EDU's strong branding in China means that Chinese parents who have long viewed education as critical in achieving upward social mobility will continue to pay for overseas consulting services to give their children a leg up in admissions given their lack of familiarity with admissions process.
EDU is expected to report second quarter FY17 results - EDU's financial year ends on the 31st of May - on the 17th of January 2017 (next month) based on the dates of their prior results announcements. And I am expecting EDU to come up with a more detailed rebuttal of the article during the results announcement. There could be a potential re-rating of their shares if management provides a robust enough defense in my view.
Key Operating Metrics: Valuations
EDU is currently trading at 27x trailing earnings with market consensus for a more than 26% growth in their earnings for FY17. This translates to EDU trading at 23x FY17 earnings, which is lower than the sector average of more than 38x.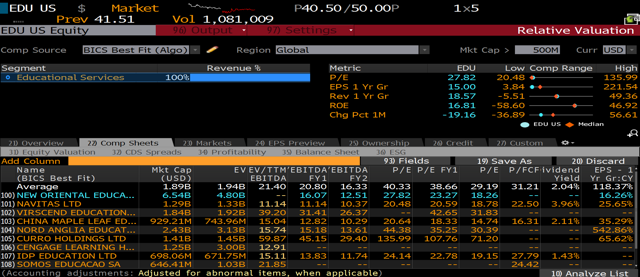 Source: Bloomberg
Final Thoughts
My article only dealt with the recent development surrounding EDU, for my initiation report on EDU, check out the link. Despite comprising only less than 8% of EDU's bottom-line, EDU has corrected by nearly 15% till-date, which is a clear over-reaction to the news in my view. EDU is expected to report results in the middle of next month, which would provide them an opportunity to rebut the findings of the reporter. The consulting business also comprises only a small portion of their business, which is unlikely to derail their expected 26% earnings growth for FY17. I see the recent developments as an excellent opportunity to continue accumulating shares of EDU, and will do so in the next few days.
Disclosure: I am/we are long EDU.
I wrote this article myself, and it expresses my own opinions. I am not receiving compensation for it (other than from Seeking Alpha). I have no business relationship with any company whose stock is mentioned in this article.