Cliffs Natural Resources (NYSE:CLF) seems quite upbeat after the election of Donald Trump as the U.S. President. In an interview earlier this month, Cliffs CEO Lourenco Goncalves said that the company expects to generate a "lot" of cash in 2017 on the back of President-Elect Trump's infrastructure and protectionism policies, which could take iron ore prices higher on the back of stronger steel consumption.
In this article, we will see how Cliffs is on track to benefit from an improvement in the iron ore market next year.
2017 could be a strong year for iron ore consumption
The most important reason why the Cliffs CEO is upbeat about iron ore and steel consumption going forward is because of Trump's focus on revamping the infrastructure in the U.S. More specifically, the Trump government could spend as much as $500 billion toward infrastructure improvement in the U.S. in the coming years.
The money will be spent on revamping roads and highways, building schools, renovating older infrastructure such as bridges, etc. Now, the ramp up in construction activities will lead to higher steel consumption, with Morgan Stanley forecasting that demand for the commodity will increase at an annual compounded rate of 20% over the next half decade. Since iron ore is used for smelting steel, the demand for this particular commodity will also go up.
As the demand for iron ore goes up, the pricing will also remain strong. For instance, Goldman Sachs forecasts that iron ore prices will trade at $63 per ton in the first half of next year. All in all, it is anticipated that iron ore prices will average $60 per ton next year, and this could have a positive impact on the cash flow performance of Cliffs. Let's see why.
Impact of better pricing on Cliffs' financials
Before shooting up remarkably in the past month or so, the benchmark price of iron ore averaged $53.55 per ton in the first nine months of the year. Though this price level was lower than the average benchmark price of around $58 per ton last year, Cliffs' focus on cost reductions allowed it to improve its net income remarkably.
More specifically, Cliffs' net income in the first nine months of 2016 stood at $118.5 million, which is a huge improvement compared to the net loss of $690.5 million in the prior-year period. This improvement in the bottom line, despite lower pricing, can be attributed to the fact that Cliffs lowered its cash costs in the U.S. by more than 5% in the first nine months of the year.
Additionally, the cash cost in the Asia Pacific segment was down around 13% year over year. Due to an improved level of net earnings, Cliffs' cash flow has increased to $72.1 million in the first nine months of the year as compared to negative cash flow of $59.5 million last year. This improvement in the cash flow is a function of Cliffs' lower costs as the pricing remained depressed on a year-over-year basis as discussed earlier.
However, as compared to the prevalent benchmark prices in the first three quarters of the year, benchmark prices are expected to average at least $60 per ton next year. This represents an increase of over 13% from the average witnessed in the first nine months of the year. Now, as the benchmark price rises by 13%, Cliffs' iron ore revenue per ton in the U.S. will increase to almost $87 per ton as compared to $76.82 per ton this year.
Now, if Cliffs manages to keep its U.S. iron ore cash costs constant at $57.89 per ton, its operating margin on each ton will be around $29 per ton next year as compared to around $19 per ton so far this year. This represents an increase of over 52% as compared to the margin on each ton witnessed so far this year.
Hence, as the margin on each ton of iron ore sold increases, Cliffs Natural Resources will witness further growth in its bottom line and this will lead to an improvement in its cash flow performance. As shown in the chart below, the uptick in iron ore prices in 2016 has helped Cliffs increase both its operating cash flow and net income, which is a trend that will continue next year: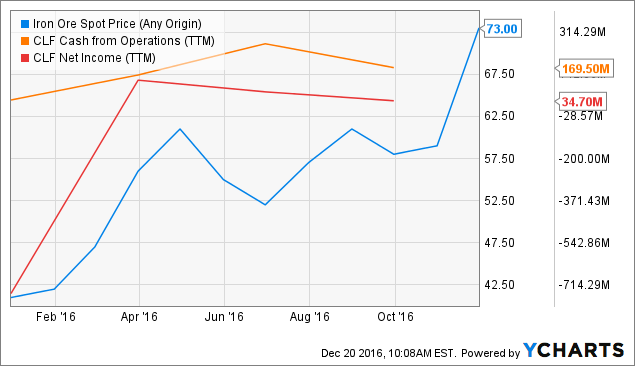 Valuation and potential earnings impact
Since Cliffs Natural Resources looks well-positioned to improve its margins on each ton of iron ore sold on account of better prices and lower costs, the company will witness earnings growth as a result. In fact, this year, Cliffs will witness a major turnaround in its earnings to $0.74 per share. In comparison, last year, Cliffs had a loss of $0.81 per share.
More importantly, as the iron ore pricing environment is expected to stay strong in the long run, analysts anticipate that Cliffs will continue to witness steady bottom line growth. For instance, over the next five years, Cliffs' bottom line is anticipated to increase at an annual rate of 5%. This means that five years later, Cliffs' bottom line will grow to $0.95 per share.
Assuming that Cliffs is able to maintain its forward P/E ratio of 17 over the next five years, its stock price could grow to $16.00 in the next five years, which is an upside of close to 80% as compared to the current price.
Conclusion
The prospects of Cliffs Natural Resources going into 2017 appear to be strong. An improvement in iron ore pricing and the company's low costs will lead to a stronger earnings performance, which will help Cliffs generate better cash flow that can be used to pay off its debt. So, even though Cliffs Natural Resources' shares have gained over 66% since the beginning of November, investors should continue holding the stock for more gains.
Disclosure: I/we have no positions in any stocks mentioned, and no plans to initiate any positions within the next 72 hours.
I wrote this article myself, and it expresses my own opinions. I am not receiving compensation for it (other than from Seeking Alpha). I have no business relationship with any company whose stock is mentioned in this article.