Western Union (NYSE:WU), one of the world's largest companies in financial transfer services, saw its stock price increasing strongly during 2016. Its competitors were up as well. Western Union's stock was the winner of this year.
)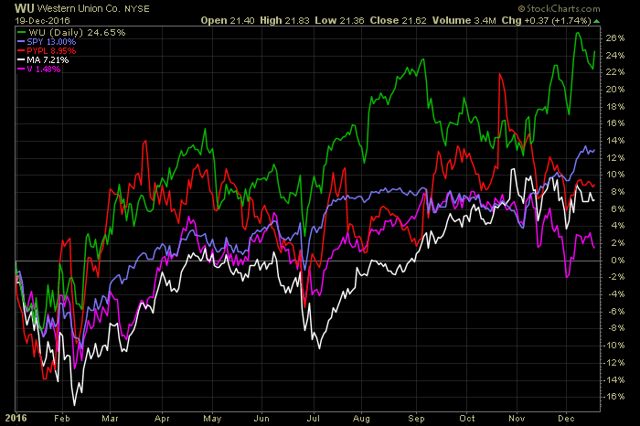 Source: stockcharts.com
It is remarkable to see WU beat its peers in 2016, as in the previous years it was continuously lagging behind the strong performance of Visa (NYSE:V) and MasterCard (NYSE:MA). Even following the broad stock market (NYSEARCA:SPY) seemed hard enough already.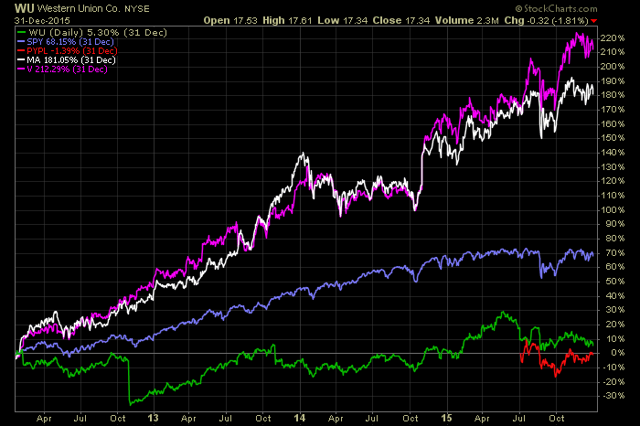 Source: stockcharts.com
This underperformance from WU in the previous years can be explained by multiple factors:
Western Union has been slow to adapt to the new system of mobile and digital payments, falling behind on the competition.
A relatively large debt position without showing significant strong fundamental growth for it. Meanwhile, the cash flow has been declining in the last years.
During 2016, WU managed to implement structural changes to improve its future:
Moving into mobile payment technology (see launch of the Western Union mobile phone app for US and Canada customers).
Strong expansion of its online money transfers into Mexico, Eastern Europe and Africa. These are all developing markets where WU has a strong foothold and where the demand for financial transfers is currently growing. The main advantage of WU over companies like PayPal here is the fact that you don't need a bank card or a bank account to transfer the money.
A recent strategic investment in Walletron. This will allow Western Union's electronic bill payments service (Speedpay) to offer biller clients the option to add Walletron moBills technology.
Western Union already acquired multiple companies in the past to modernize its business. For example:
OzForex: An Australian online FX platform, which can digitize the online FX services business of WU.
Digital Currency Group: a firm focusing on the bitcoin/blockchain technology space.
Travelex: A specialist provider of international B2B payments. This will enforce Western Union's presence in the rapid growing cross-border trade business.
All these changes are appreciated by the markets as we can see from WU's stock price increase during 2016. Beside these recent events, WU was already fundamentally performing solidly:

Source: Morningstar.com
As explained above, the stock market only recently started appreciating the changes at Western Union. The price ratios of WU are still on the low side compared to those of the S&P 500 or the industry:

Source: Morningstar.com
The differences in the current valuation level are even more outspoken when compared to its direct competitors.

Source: finviz.com
Main Takeaway:
Taking these recent updates into consideration, we still think Western Union will continue to grow into the future. The company has an expansive worldwide network of its branches and the main fundamentals are solid. The company's recent investments in digital and mobile payments (among these, its recent acquisition of Walletron) will help WU to generate more transfers and mobile payments into the future. At a P/E ratio of 13 and a P/S ratio of 1.9, Western Union is not an expensive investment to invest on a continued growth of its sales.
Even if the stock price would lag its peers or the S&P 500 index in the next year, you'd still be holding a strong business with a bright future.
Disclosure: I/we have no positions in any stocks mentioned, but may initiate a long position in WU over the next 72 hours.
I wrote this article myself, and it expresses my own opinions. I am not receiving compensation for it (other than from Seeking Alpha). I have no business relationship with any company whose stock is mentioned in this article.