Introduction
In my first survey of the mineral drilling sector, I discussed the 3Q 2016 reports delivered by the following companies: Geodrill (OTCPK:GDLLF), Orbit Garant (OTC:OBGRF), Capital Drilling (OTC:CILLF), Energold Drilling (OTCPK:EGDFF) and Foraco International (OTCPK:FRACF). In this issue, I am discussing the results delivered by Major Drilling (OTCPK:MJDLF), one of the largest world's mineral drilling companies (a fleet of 672 rigs). Apart from that, I am touching a few minor issues related to the mineral drilling sector. In the final section, I am looking at the most recent sector's performance.
Major Drilling
Major Drilling operates mainly in Northern America (63.4% of revenue).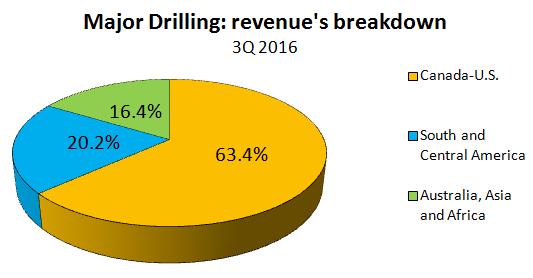 Source: Simple Digressions
Over the years, the company shifted its activity from Asia and Australia (47% of revenue in 2004) to these super-safe jurisdictions. However, this change in the strategy did not prevent the company from being vulnerable to the last major slump in the industry. Since the beginning of the bear market in precious metals (2013), Major Drilling has been incurring heavy losses.

Source: Simple Digressions
As the chart shows, in 2014, the company reported a drastic fall in its revenue (from C$696M in 2013 to C$355M, a decrease of 49%). As a result, in 2014 and subsequent years, Major Drilling was running at a loss. This year the situation is similar.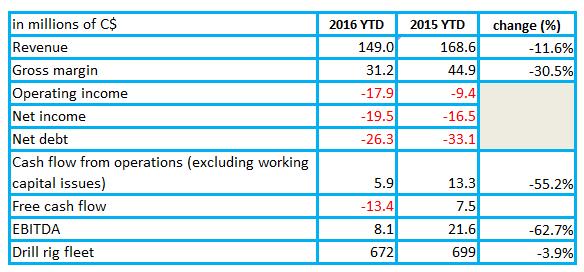 Source: Simple Digressions
Comment:
As the table shows, the revenue went down again compared to 2015. This 11.6% fall dragged down the company's margin from 26.6% in 2015 YTD to 21.0% this year, the lowest margin in modern history.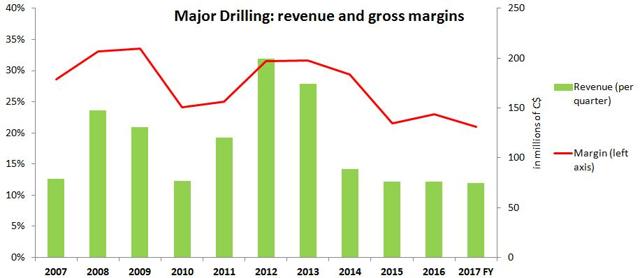 Source: Simple Digressions
However, Major Drilling ranks in the middle of its peers, as far as a gross margin is concerned. The following drillers reported higher margins: Capital Drilling (a gross margin of 30.5%), Geodrill (28.1%) and Swick (24.6%). On the other hand, here are the companies with lower gross margins: Foraco (4.1%), Energold (12.8%, delivered by its mineral division) and Orbit Garant (18.6%).
Fortunately, despite these quite poor results, Major Drilling is a net debt-free company. At the end of October 2016, it held more cash than debt.
Another positive - this year the company increased the so-called ARPOR (average revenue per operating rig).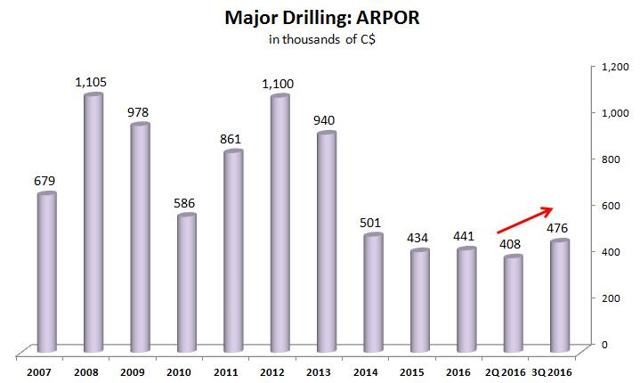 Source: Simple Digressions
The red arrow marks this change. After four years of a steady decrease, the ARPOR went up from C$408 thousand (the bottom printed in 2Q 2016) to C$476 thousand (3Q 2016).
Does it mean that the worst is over now? Well, the company's management is slightly positive about the future. Major Drilling, similarly to Energold, wants to be an industry leader in specialized drilling. This kind of drilling is defined as exploration or definition drilling services with significant barriers to entry (deep holes, high altitude drilling, remote locations, etc.). In 3Q 2016, the specialized drilling services accounted for 52% of total revenue, so it looks like the company's strategy works.
Finally, let me present an interesting chart included in the last company's presentation: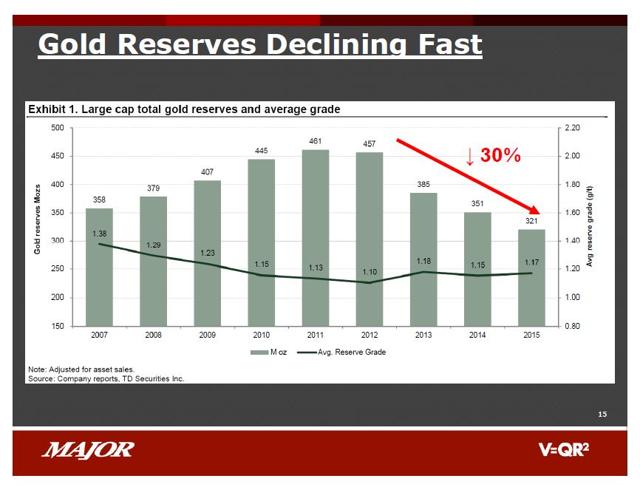 Source: Major Drilling
The chart shows mineral reserves of the top gold companies. Note that since 2012 these reserves have gone down by 30% (of course, part of this decrease is attributable to lower prices of gold, but part of it is due to the ore depletion). Major Drilling claims that this depletion has to be replaced by intensive exploration. Next, according to the company, it takes around 10-15 years to bring a mine from the exploration stage to its production stage. Conclusion? It seems that the mineral drilling sector is going to have a lot of work in the coming years. What is more, the demand for the drilling services should not be strongly correlated to the prices of gold or silver. If a miner wants to operate in the future, it must start exploration now, no matter what the price of gold is.
Swick Mining Services
This small driller has no ticker available on Seeking Alpha (it is listed on the Australian Stock Exchange), so I will not discuss it in detail. However, the message delivered by Swick is quite important for the mineral drilling sector, so let me present just one chart: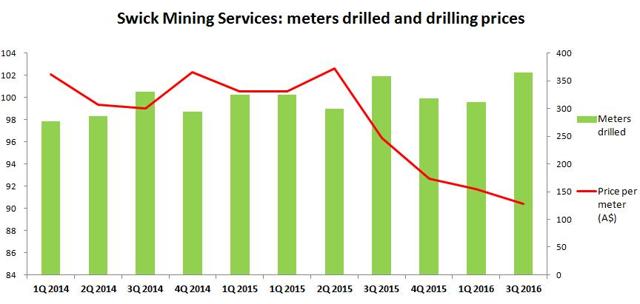 Source: Simple Digressions
The chart above summarizes the current state of the market:
The activity is rising (more meters drilled).
Drilling prices are still low (although there are exceptions, as, for example, Geodrill, this African driller reports higher prices this year).
Sandvik (SDVKF) cooperates with Goldcorp (NYSE:GG)
Goldcorp, one of the largest world's gold miners, is working on the feasibility study on its Borden gold project located in Ontario, Canada. Borden holds reserves of 950 thousand ounces of gold, and the company wants to find processing synergies between its Porcupine mine (160 km east of Borden) and Borden. What is more, Goldcorp wants to convert Borden into one of the world's first all-electric mines - the miner aims at reducing diesel emissions in the mine to zero. To do it, it ordered the first Sandvik DD422iE development electric jumbo, a drilling machine used in the underground mining.
Current Valuations
Finally, I would like to show how Mr. Market values the drilling companies. As a leading valuation measure, I am using a multiple of EV/EBITDA (enterprise value to EBITDA). Here is the current chart: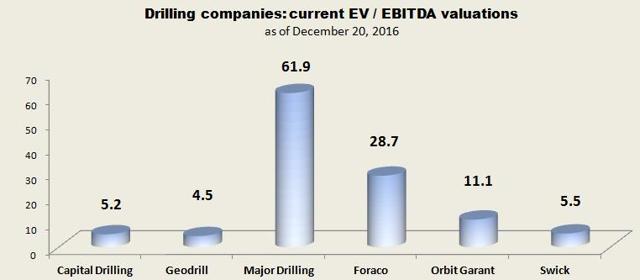 Source: Simple Digressions
Note: Energold's EBITDA is currently negative, so the company is not plotted on the chart.
As the chart shows, the cheapest drillers are Geodrill, Capital Drilling and Swick.
The last chart shows the relative performance of all drillers covered by this survey: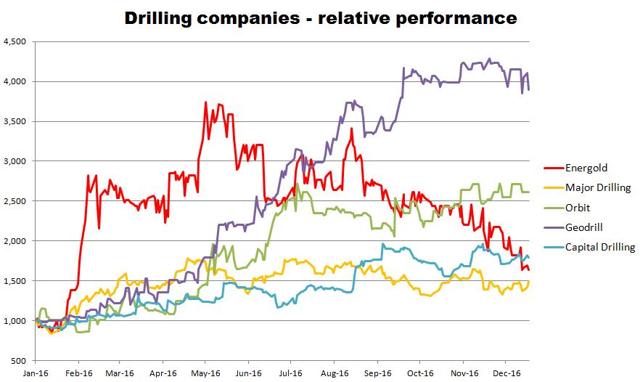 Source: Simple Digressions
The best-performing drilling company is Geodrill, and the second best is Orbit Garant. Simply put, since my first survey, the leaders have not changed. On the other hand, Energold has deepened its losses, and now this driller is close to becoming the worst-performing stock. To remind my readers, Energold, apart from offering mineral drilling services also runs the energy drilling business line. This year, this segment has been dragging the company's results down. However, most recently, the prices of natural gas and oil went significantly up, so I expect that in the not-so-distant future Energold is going to show more positive news on that front...
Disclosure: I am/we are long GDXJ.
I wrote this article myself, and it expresses my own opinions. I am not receiving compensation for it (other than from Seeking Alpha). I have no business relationship with any company whose stock is mentioned in this article.
Editor's Note: This article covers one or more stocks trading at less than $1 per share and/or with less than a $100 million market cap. Please be aware of the risks associated with these stocks.