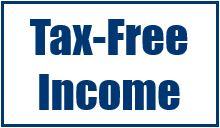 Nuveen released their monthly UNII and earnings figures on their municipal closed-end funds on December 20. As the 'long-bond' yield has risen over 90% since the lows in July, and as municipal issuers have rushed to the market to refinance, supply headwinds and duration have clobbered the space. The MUB shed all of its gains for the year- it had been up over 4.2% at the peak- and is now down 2.75%.
The Bloomberg Muni Index (NYSE:BVAL) yield had jumped more than 85 bps on the ten-year treasury after the election. At one point, the entire muni yield curve was above 100% in their muni/treasury ratios. With the ten-year trading at 2.60% and BVAL at 2.46%, much of the curve is back below 100%. When the ratio is above 100%, it has typically been a bullish signal. The fall could be incorporating some Trump policy risk as well as finally digesting the record supply in October. That risk is due to an expectation of expansive economic growth and higher inflation discounting cash flows at a higher rate.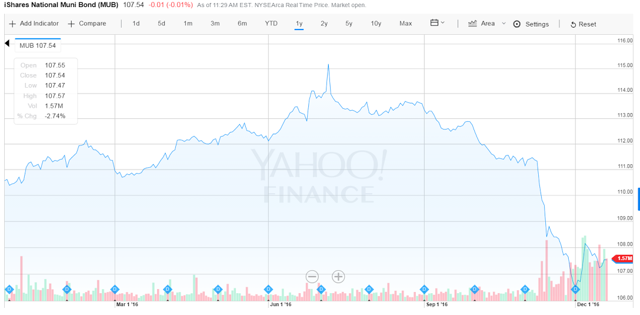 (Source: Yahoo Finance!)
Even worse is the double-whammy to muni CEFs which, at the nadir in interest rates in July, were overvalued and trading at a premium to NAV. Given the shift in sentiment in September to a rising interest rate environment with the Fed signaling a rate hike and the bulge in supply affecting muni yields, that premium evaporated.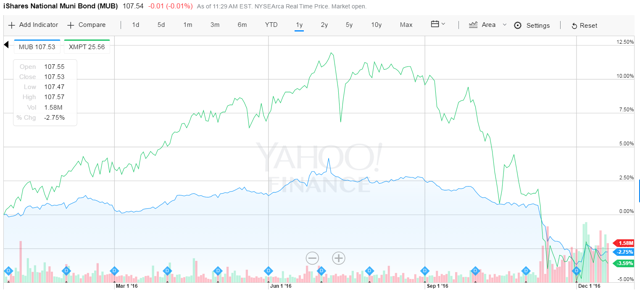 (Source: Yahoo Finance!)
Muni CEFs also have suffered from significant call risk, supply issues, and now post-election political risk which has crushed the VanEck Municipal Closed-end Fund ETF (NYSEARCA:XMPT). The latter has been a main driver for higher interest rates and additional selling pressure to municipals. Why own tax-free municipal bonds if your marginal tax rate is going to be halved? The WSJ had an image on the proposed individual tax rates.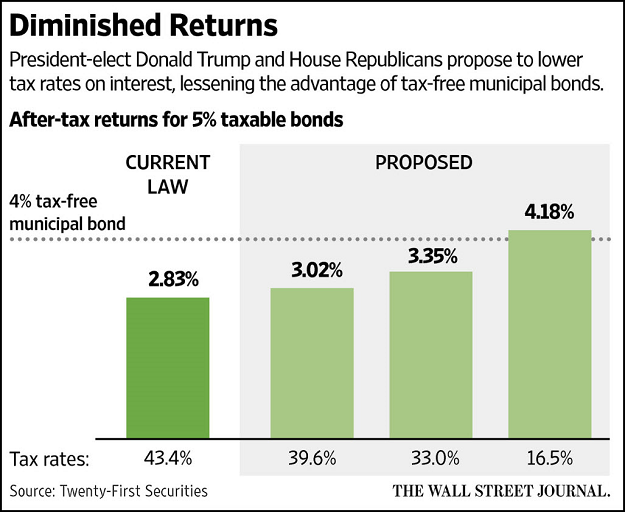 (Source: WSJ)
The 43.4% marginal rate could be chopped substantially meaning tax-equivalent yields would favor corporates and other taxables.
From December 17, 2016 Barron's:
We're recommending the same things we recommended back in 1986 when the Tax Reform Act lowered individual rates. The smartest thing to do is accelerate deductions into the current year when they will be deductible at higher tax rates and defer income until future years when it will be taxed at lower rates. Specifically, you should think about accelerating charitable contributions and prepaying state and local taxes. Pay them in December rather than in January. If you have stock-market losses, you ought to take them in 2016. You want to accelerate those losses and you want to defer gains.
The changes to the tax code could have profound effects on the bond market given the lower corporate rate leaving the interest expense deduction for businesses less valuable. This could dramatically decrease the amount of corporate debt issuance causing supply-demand imbalances and pressure on yields and spreads. This is the exact opposite dynamic that is occurring in the municipal marketplace. We now have increased supply due to primarily to refinancing, along with the prospect of significant new issuance if President-elect Trump gets his wishes on infrastructure spending. This is being combined with reduced demand as investors pull money out of the space due to higher rate fears and tax reform possibilities.
Nuveen Municipal Update
The Nuveen national muni CEF complex saw marked improvement in November despite the headwinds and higher yields. The average coverage ratio improved by 234 bps to 98.3%. But don't be fooled as the improvement was largely driven by the distribution cuts realized and not better earnings. Earnings were flat month-over-month but declared distributions fell to an average of 0.0512 from 0.0528 helping to push up the coverage.
The change column (column N below) clearly shows which funds cut their distributions in the last month. Overall, average UNII came in at -0.0141 versus -0.011 in October. In other words, UNII trends are still negative which is expected given the under-earning and the cuts that haven't taken effect yet.
We predicted the distribution cut in last month's update noting:
In fact NVG, which is one of the largest closed-end funds with over $5 billion in common assets, has seen their coverage ratio fall below 90%. With just one penny of UNII left, a distribution cut could be likely.
Meanwhile, discounts have continued to close despite the weak sentiment and selling pressure. This has occurred in the past as weak NAVs simply fall faster than investors can sell. The current average discount is now 4.55%, down 20 bps from Octobers 4.75%. In my mind, investors are not being adequately compensated for the amount of duration and political risk they are assuming. This is a general statement based on the trend in the space.

As treasuries continue to rise, muni yields will climb along with them in order to keep the ratio near the long-term average of 80%. Given that the ten-year has had trouble piercing 2.60%, and our stance that interest rates have gotten a bit ahead of themselves, we think some rebound in muni CEFs could be near. There is likely a bit of buy the rumor (Trump campaign promises), sell the news (those promises getting implemented), going on.
The large and levered muni CEFs have very similar exposures so buying on opportunity is the key. NAD, NZF, NVG, NEA, NMZ and NEV, have seen similar pricing action. Below is a chart of the three month return of those funds. Our take: buy opportunistically and don't over-expose yourself to Nuveen funds which carry similar risks across most of the fund complex.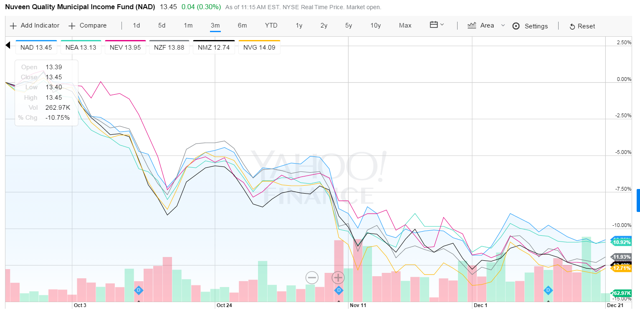 Subscribers Only
We introduced our new ranking system for the muni CEFs space (all funds) to subscribers in this section with several recommendations.
Note: To get these types of articles as soon as they are published, just click on the "follow" button next to my profile and choose the 'real-time alerts' option.
Marketplace Service For Those Hunting For Yield
In April 2016, we launched our marketplace service Yield Hunting: Alternative Income Investing dedicated to yield investors who wish to avoid the froth associated with most of the equity market. We encourage investors to utilize the free two-week trial in order to benefit from our yield opportunities within closed-end funds, business development companies, and other niche areas. Our goal is to construct a "low-maintenance portfolio" with a yield in excess of 8% on a tax-equivalent basis with capital gain optionality. The core portfolio is now up 15.8% YTD through the end of September and generates a high-single digit yield.
Disclosure: I am/we are long NZF, NAD.
I wrote this article myself, and it expresses my own opinions. I am not receiving compensation for it (other than from Seeking Alpha). I have no business relationship with any company whose stock is mentioned in this article.
Additional disclosure: The commentary does not constitute individualized investment advice. The opinions offered herein are not personalized recommendations to buy, sell or hold securities. As I have no knowledge of individual investor circumstances, goals, and/or portfolio concentration or diversification, readers are expected to complete their own due diligence before purchasing any stocks mentioned. The strategies discussed are strictly for illustrative and educational purposes and should not be construed as a recommendation to purchase or sell, or an offer to sell or a solicitation of an offer to buy any security. There is no guarantee that any strategies discussed will be effective. The information provided is not intended to be a complete analysis of every material fact respecting any strategy. The examples presented do not take into consideration commissions, tax implications or other transactions costs, which may significantly affect the economic consequences of a given strategy. This material represents an assessment of the market environment at a specific time and is not intended to be a forecast of future events or a guarantee of future results. This information should not be relied upon by the reader as research or investment advice regarding the funds or any security in particular.