Introduction
GE's (NYSE:GE) initial tepid forays into the oil and gas services industry back in the 1990s have gathered steam over the years. With its latest initiative directed to Baker Hughes (BHI), GE faces the prospect of serving as the oil and gas services industry runner up to industry leader Schlumberger (NYSE:SLB).
GE will have to bring its "A" game to thrive in the boom and bust cycles of this crude environment. Perhaps a "D" for digital will serve as well perhaps not.
GE's oil and gas has gone from hero to goat during the last few years
GE has long had a fatal attraction for companies that have seen it grow into a major player in the oil and gas services business. Initially, acquisitions that have become associated with GE's oil and gas services business were not strictly in the oil and gas services business. Take for example its acquisition of Nuovo Pignone from Italy's Eni (NYSE:E) in 1994, and its 2002 acquisition of Bently Nevada.
Subsequently, the oil and gas services component of various acquisitions has been unmistakable. GE's January 2007 acquisition of Vetco Gray was such an acquisition. A contemporaneous description of Vetco Gray's business reads:
Vetco Gray is one of the world's leading suppliers of drilling, completion and production equipment for on- and offshore oil and gas fields, including subsea applications. The business, which is expected to generate over $1.6B of sales in 2006, employs 5,000 people in more than 30 countries, with key centers in Houston (USA), Aberdeen (UK), Stavanger (N), Oslo and Singapore. Major products include flow control valves (known as "Christmas trees"), control systems, wellheads, manifolds, risers and associated after-market services.
GE included a slide set out below with its supplemental materials for its latest deal presentation that gives its perspective on its oil and gas acquisitions.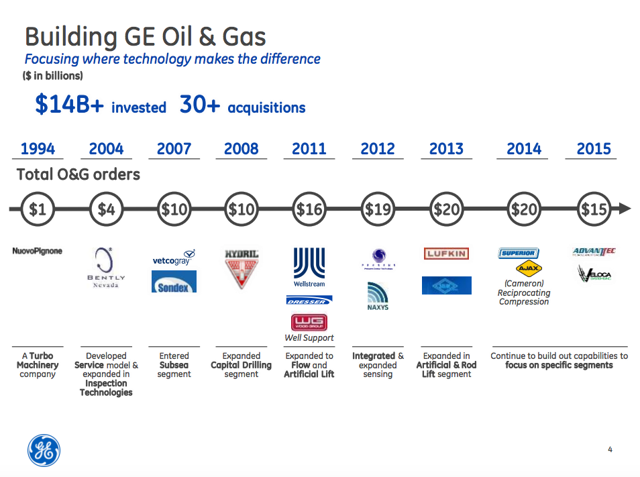 In 2013, when the company moved to purchase Lufkin Industries for ~$3.2 billion, a healthy >30% premium, oil and gas was reportedly GE's fastest growing division.
GE's serial purchases carried it to the point that its oil and gas division brought in $4.6 billion of quarterly revenue in Q3 2014. Two years later in Q3 2016, GE's quarterly oil and gas revenues were down to $2.9 billion.
Slide 7 (below) from GE's Q3 2016 earnings report slide deck shows oil and gas's currently diminished role in GE's firmament. Earlier in 2014 with $19 billion in revenue, oil and gas was among GE's top three revenue generators; absent consideration of the company's latest deal announcement, oil and gas is no longer vying for a place as a divisional leader. As of GE's most recent quarter, Q3 2016, oil and gas was among its lesser divisions in terms of revenue and operating profits.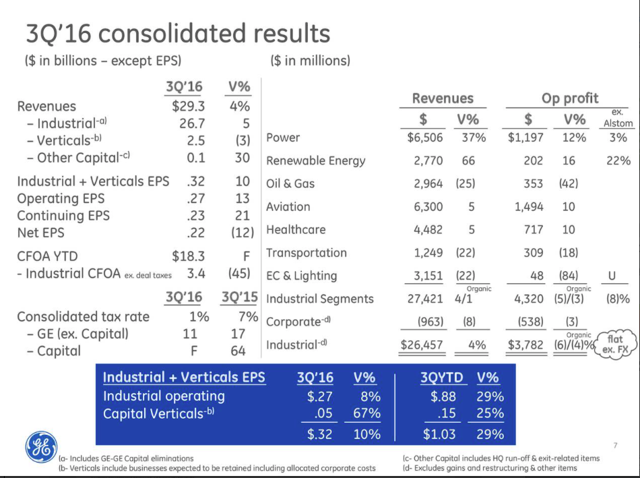 For Q3 2016, GE's oil and gas revenues are in substantial decline. The truly disturbing part is that while the industrial operating profit shows an aggregate positive variance of 29%, oil and gas has a negative 42% variance.
Recently, GE doubled down with its clever Baker Hughes transaction
Just as investors were digesting GE's Q3 2016 earnings with its downbeat oil and gas results, news was coming out that the company was in negotiations to acquire Baker Hughes, the third largest oil and gas services company.
Baker Hughes ranks 178 on the Fortune 500 list. Its decline in recent years has mirrored that of GE's oil and gas division generally; as shown on its Fortune ranking page, Baker Hughes' revenues are down nearly 36%, its profits down more than 200%. If this combination between GE and Baker Hughes survives regulatory scrutiny, the resultant oil and gas services company will rank as number 2 overall, behind number 1 Schlumberger.
GE's Baker Hughes deal arose after a tie-up between Baker Hughes and Halliburton (NYSE:HAL) foundered over antitrust issues. GE and Baker Hughes downplay any notion that their deal may suffer the same fate. Reuters points out that their businesses are generally different enough to keep regulators at bay.
GE and Baker Hughes are counting on deal synergies, scale and digital legerdemain to turn two rapidly shrinking operations into one successful company
GE and Baker Hughes gave an extensive deal presentation, replete with an initial slide deck of 30 slides, a Q&A session and then followed with a supplemental slide deck of 21 slides. Slide 7 below from the initial presentation gives a succinct visual presentation of the deal structure whereby the parties will create a new partnership to be named Baker Hughes. GE's 62.5% percentage ownership is sufficient for it to consolidate the partnership's operations within its own for tax purposes.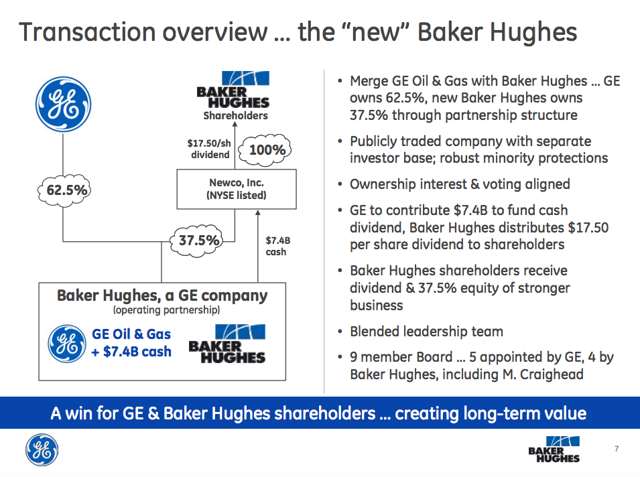 The deal's robust cost synergies projected at $1.2 billion and its revenue synergies of $0.4 billion are described below in slide 20 of its deal presentation slides: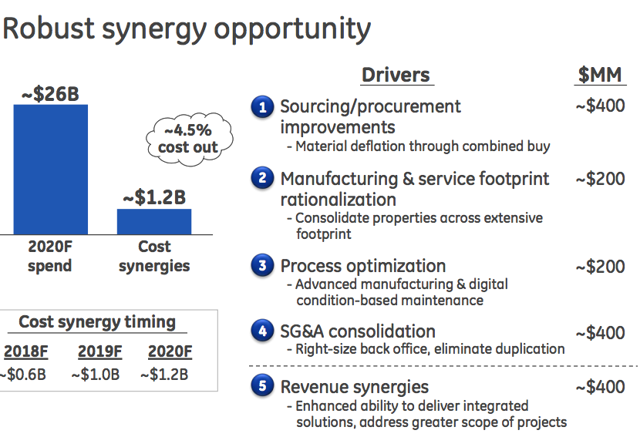 The first question in the Q&A session was from a Bernstein analyst. He was seeking support for the synergy figures. In particular, he wanted assurance that the company was not double counting revenues or savings already included in prior GE pronouncements. He got the assurances he was seeking. Subsequently, Bernstein came out with a "Buy" recommendation for GE with a $40 price target. Later, the Bernstein analyst, Steven Winoker, appeared on CNBC supporting the stock.
Lorenzo Simonelli, GE oil and gas's divisional president (and slated to lead the new Baker Hughes), contributed his perspective to the presentation. He was particularly enthusiastic about the scale that the new Baker Hughes will bring to the market. His take on this theme was ebullient. He noted:
The new Baker Hughes will have the capabilities to move from being an oilfield equipment and service Company to a provider of oil and gas productivity solutions. Through our scale and breadth of offerings, we are creating an unparalleled and differentiated industry leader.

We will hold the top three position in 15 key areas and a meaningful presence in five more. We will participate in the segments where technology and service capability distinguish the solutions and the GE Store can generate the most value. We will be able to compete effectively across the entire value chain being the industry's first full stream provider.
Slide 15 shows the specific key areas to which Simonelli referred: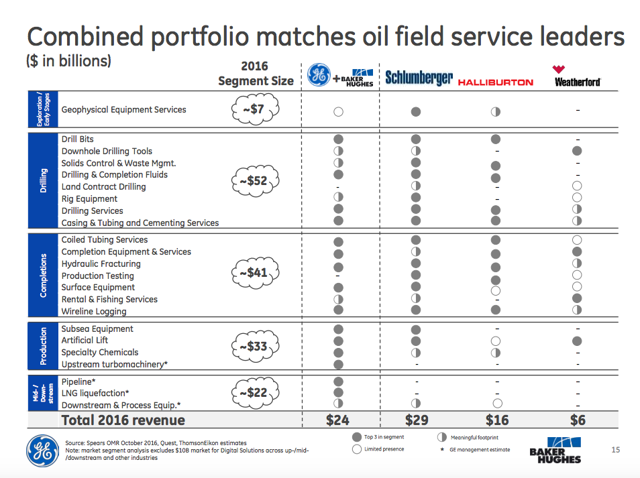 The new Baker Hughes will be able to take on the industry leaders across the entire oil and gas value chain.
In addition to the advantages of raw scale in the oil and gas services business, GE offers unique digital advantages including Predix and the GE Store. The GE Store assures that the advantages of scale, whether they be technological expertise or cultural or otherwise in any of GE's divisions, become available throughout the company.
In the presentation, Lorenzo Simonelli gave the most expansive expression of the advantages that the new Baker Hughes will enjoy as follows:
Through the GE Store each business can share and access the same technology, markets, structure and intellect. These expertise in imaging, sensors, electrical science, software and analytics, material science, advanced manufacturing and computational fluid dynamics all powered by Predix and GE Digital's offerings will make us better positioned to win. The new Baker Hughes will have the capabilities to move from being an oilfield equipment and service Company to a provider of oil and gas productivity solutions. Through our scale and breadth of offerings, we are creating an unparalleled and differentiated industry leader.
Of all the presenters, Simonelli, who is slated to be the leader of the new Baker Hughes, provides the best overview of the opportunities and challenges that will be facing the new company.
GE's new jumbo oil and gas division promises huge surprises, be they good or be they bad
After nearly serving its obligatory 40 years of wandering in the desert with its pastiche of niche oil and gas services businesses, GE is about to assume its more accustomed role as an industry leader in yet another business. The new Baker Hughes is slated to achieve revenues of $34 billion with EBITDA of $8 billion by 2020.
The issue is has GE made a wise move? Is 2016 the right time to take an outsized bet on oil and gas services?
GE's other major divisions may be cyclical but their overall trajectories are positive. Aviation, power generation, and healthcare, GE's other biggies, are all industries that promise to grow, albeit in fits and starts for the foreseeable future. There is no freshly signed Paris Agreement seeking to undermine the very foundation of these industries.
In the presentation, GE dealt obliquely with the oil and gas headwinds by setting assumptions visualizing ongoing restraint in oil and gas prices. Simonelli identifies the critical assumptions upon which the deal relied as follows:
The way we think about this performance is bound by a few key assumptions. First, a prudent macro view of slow recovery to $60 oil price through 2019. Anything above this level would be upside. Second, executing on cost synergies of $1.2 billion by 2020, which represents approximately 4.5% of the cost base. Third, realizing revenue synergies of $400 million by 2020 which only is a 1 point share increase. Our case has Baker Hughes reaching 60% of peak 2014 EBITDA by 2020. (emphasis added)
GE's deal genies recognized that $100+ oil is not a future upon which to model an important corporate decision, at least for those who are on the production side of the ledger. GE CFO Jeff Bornstein weighed in in the Q&A portion of the presentation with the following:
... we obviously underwrote a downside case, as well, where essentially oil does nothing for the next three or four years. And even in that case, largely driven by the synergy value that's created here, we are better off as a Company having done the deal than not doing the deal.

And we still think we create value even in a sideways market. So we did consider the fact that there would not be any oil recovery and we still thought it made financial sense for the Company.
I found this interesting for two reasons. First in modeling a downside GE used a sideways, rather than a down, market as its benchmark. Second, it shows that management was quite uncomfortable with the current GE oil and gas footprint. Even with current oil and gas headwinds, it would rather face the world with significant scale than in its current guise as a niche player.
If oil and gas prices cooperate, GE's oil and gas services division bolstered by its digital capabilities will be a huge winner for the company. If oil and gas prices stand pat, GE should be no worse the wear.
If oil and gas retreats, GE will not be able to easily hide the pain.
Conclusion
I have championed GE's recent forays into the digital world in numerous articles, here, here and here. I have generally lauded CEO Immelt choosing to focus on his manifest accomplishments and disregarding his less stellar moments.
By my reckoning, GE's current oil and gas services footprint was constructed almost entirely on his watch. I regard GE's Baker Hughes tie-up presentation as tantamount to an admission that this entire oil and gas services edifice is seriously flawed.
GE was facing stark choices; it could admit failure and fire-sell its oil and gas pieces at big losses or it could fix its dysfunctional oil and gas appendage at the least possible cost to it and march boldly forward. It chose the latter course.
Disclosure: I am/we are long GE.
I wrote this article myself, and it expresses my own opinions. I am not receiving compensation for it (other than from Seeking Alpha). I have no business relationship with any company whose stock is mentioned in this article.