Welcome. In this article we review the relative valuations the market is giving to five large regulated electric utilities.
Prices & Sales In The Electric Utility Industry
In my recent report on electricity's price (available here) I found electricity's price has increased 9.60% since 2010. The total sales volume for electric utilities has grown by a compound annual growth rate of 3.14% during the same time. About 50% of the total growth in electricity sales volume since 2010 has come in the form of price increases.
Overall, the industry is expected to grow with the national economy.
Relative Valuations And Yields For Seven Big Electric Companies
Since we're interested in yield, regulated electric utility investment typically comes down to just a few factors. First, we want to secure an adequate yield. Second, we'd like our dividend to be well-secured by net income. Third, we don't want to overpay for our choice of company relative to companies facing similar risk.
In the following table a selection of seven from among the largest American regulated electric utilities companies is presented. You'll find the dividend yield.
The next two columns related to the price of the stock compared to the net book value of the company's land, power plants, and other business assets. We call this Price to Tangible Book Value (P/TBV). The first of these two columns displays the ten year median for the P/TBV. In this 10 year median form the P/TBV shows us the average premium to tangible assets these companies have been valued at by the market.
We use the 10 year median as a baseline price level to compare with today's P/TBV. Comparing these two figures shows us that investors today have consented to pay between 15% and 45% greater premiums in recent times than during most of the preceding 10 year period. The price per dollar of producing assets has increased but it doesn't mean the businesses are overpriced today.
The company's dividend payout ratio for the trailing twelve months is displayed in the column farthest to the right. This figure tells us what proportion of net income is being distributed as a dividend to stockholders. Please understand this is an extremely important figure. A lower Payout Ratio means the company has more room to increase their dividend payout and boost yield if earnings remain stable. Payout ratios over 100% mean a company is paying out more cash than its earning after tax.
A review of these factors as presented in the table below tell us a few interesting things. Earlier I mentioned most companies are trading at a higher price per dollar of producing assets today than they have historically. This means there may be less upside opportunity in these companies because the yield on capital employed will shrink to a small, unappealing size if prices rise much more without dividend growth.
Among the companies, Consolidated Edison (NYSE:ED) and PG&E (NYSE:PCG) have experienced the smallest appreciation in P/TBV. Given this fact, and holding all other variables steady, these companies should show a less drastic collapse in price if the economy hits a serious bump.
The Payout Ratios are lowest for ED, Xcel Energy (NYSE:XEL), and NextEra Energy (NYSE:NEE). Each company ought to have a similarly stable earnings picture due to their regulated status (more on earnings stability soon). Therefore, companies with the lowest payout ratio have the biggest opportunity to increase the dividend distribution amount.
I'm looking for the best price and opportunity to grow yield, so I matched up the companies to find the one with the lowest P/TBV premium and largest opportunity to grow the dividend. Stock company ED has the very best report on these metrics, and their dividend yield lands them in the middle of the pack as well.
Compare each company on these metrics in the table below: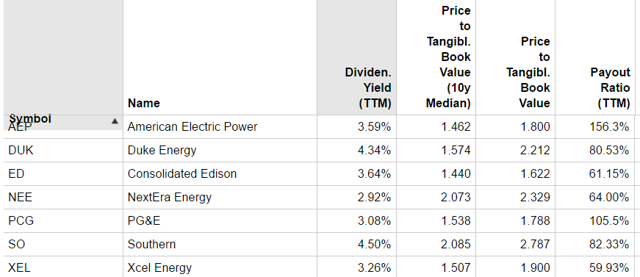 (Source: Faloh Investment, YCharts)
Selecting For Profit Stability
Now that we've narrowed the field to a company with a low valuation against peers and a payout ratio with a margin of safety relative to income, we need to ensure we are selecting a company with stable earnings. Without stable earnings the dividend becomes a liquidating payment and eats away at shareholders' equity.
Let's take a look at the chart below which shows the trailing twelve months' profit margin for each company over the last five years.
Profit margin for out seven big electric utilities: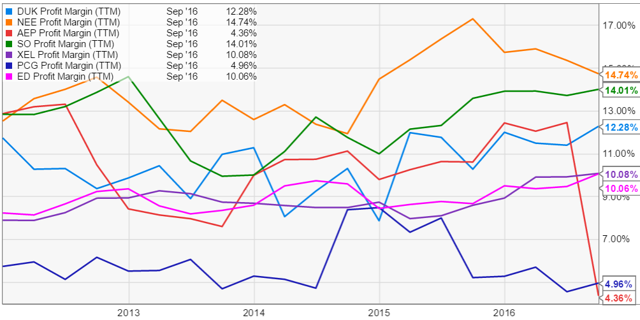 (Source: Faloh Investment, YCharts)
On this chart we see the whole pack had displayed reasonably stable earnings for a majority of the period. However PCG lagged behind when it comes to net profit margin. AEP's poor result in the most recent reports can be ignored - the collapse in margin is because of a special one-time writedown in the recent period.
Overall, profit margins are very good across this selection of companies. The 9.6% increase in the national average price of electricity is reflected in the general increase in profit margins several of these companies have exhibited.
The profit margin of our pick for this article, ED, shows in pink and they earned 10.06% on revenues. They're right in the middle of the pack on this measure of performance, just like they're in the middle for dividend yields offered. ED and XEL have displayed the most stable profit margin as you can see by simple tracing each company's line right-to-left from 2012-2016. These are positive factors which help investors sleep well at night.
Choices, Choices
Investors are faced with lots of choices - there are over 7,000 equities trading in the U.S. marketplace and over 20,000 worldwide. These figures don't include thousands of bond issues, options, futures, and the many other investment products.
Stocks are a great choice because they offer a combination of capital appreciation and cash payments. In this article we've reviewed the most successful large cap regulated electric utilities. We've compared the valuation premiums according to P/TBV, dividend yield, and payout ratios. Additionally, profit stability at each company was reviewed.
We found the stand-out in ED, who offers earnings stability with a solid dividend yield at the best market price today.
Final Word: Long ED with an indefinite horizon, targeting a 3.5% annual yield on capital employed.
Disclaimer: This article represents the opinion of the author as of the date of this article. This article is based upon information reasonably available to the author and obtained from public sources that the author believes are reliable. The author does not guarantee the accuracy or completeness of this article. This presentation is the author's interpretation of the information contained in the article. The author may close his investment position at any point in time without providing notice. The author encourages all readers to do their own due diligence. This is not a recommendation to buy or sell a security.
Please click the + icon next to my user name and follow me, Faloh Investment, as I work to keep you informed on further developments as the market continues to present major value opportunities.
Disclosure: I/we have no positions in any stocks mentioned, and no plans to initiate any positions within the next 72 hours.
I wrote this article myself, and it expresses my own opinions. I am not receiving compensation for it (other than from Seeking Alpha). I have no business relationship with any company whose stock is mentioned in this article.