I believe that the shares of LightPath Technologies (NASDAQ:LPTH) are very attractive at the current price due to short term technical issues that will resolve themselves over the next few months. After the secondary, the closing of the ISP Optics acquisition, and post-tax loss selling pressures abate the shares of the company will rebound quickly. Post the acquisition shares of LPTH will be worth $1.8 to $2.2 (44-76% upside).
Why does this opportunity exist?
LightPath is in the process of completing a transformative acquisition that will roughly double the company from a revenue and EBITDA standpoint. LightPath has agreed to acquire ISP Optics, an Optical and Infrared manufacturer that operates in an adjacent vertical. ISP Optics agreed to a purchase price of $18m which will be paid via a mix of cash and a seller note.
LightPath recently completed a Secondary offering priced at $1.21/share that raised $7.9m for 7m shares of the company to help fund the acquisition of ISP Optics.
The ISP acquisition valuation is very attractive at an EV/EBITDA of 5.8, well below the prior EV/EBITDA of LightPath prior to the acquisition of 17. The acquisition also creates synergies as well as provides some SG&A savings and creates operating leverage.
The secondary, acquisition, and likely some end of year tax loss selling have pushed the share price down ~40% since the acquisition was announced.
Company Summary & Acquisition
LightPath Technologies is an optical and infrared components manufacturer and distributor. LightPath operates globally but has manufacturing capacity in the US and Asia. The company services several end markets including the Defense (Thermal Cameras, Laser Sights, IR Countermeasures), Medical (Endoscopes), Telecom, Industrial, and Other markets.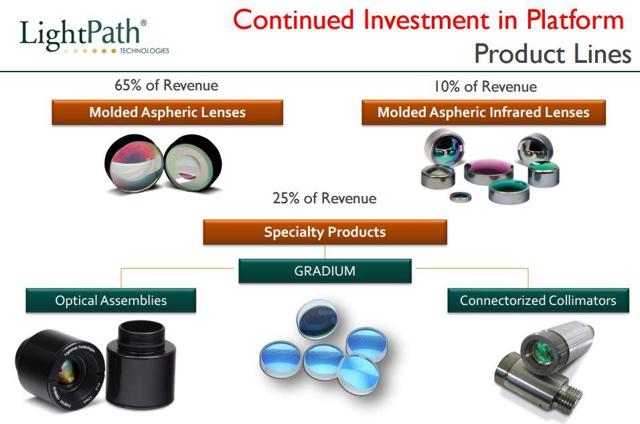 Source: September Investor Presentation
No end market represents more than 30% of their revenues. LightPath's last quarter year of year revenue growth was 19%. This revenue boost is supported by the recent revenue booms in optical communications makers like Oclaro (NASDAQ:OCLR), Lumentum (NASDAQ:LITE), and Fabrinet (NYSE:FN). LightPath provides components to all these optical communications makers. This trend and a shift to optical communications in general will support margins and revenue growth for LightPath for the next several years. A combined company will likely experience high double digit revenue growth for several years on the back of these optical and infrared applications tailwinds.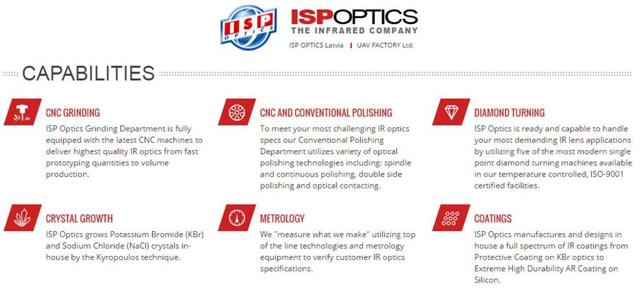 ISP Optics is also an optical and infrared components maker but operates in an adjacent product category to LightPath. ISP Optics uses "Turning Technology" or Diamond Turning in order to produce their lenses, while LightPath uses Molding Technology. These processes yield different product specs that are used for different applications. In some cases some customers of both ISP Optics and LightPath may not know exactly what type of Optical lenses work best for their specific application. By bringing the two companies together they can provide one customer representative to sell both products and likely retain more customers and win more business.
Valuation
Below is a summary of the two organizations pre acquisition as well as low, central, high cases for the post acquisition organization.

Sources: Company Press Releases, 10-Q
Here is the post acquisition Capital Structure and EV/EBITDA range.

Risks
Acquisition gets cancelled. It seems unlikely that the deal does not go through at this point but anything in possible in the microcap space. The secondary has been approved by LightPath's shareholders highlighting the shareholders' excitement for the transaction. ISP Optics has been willing to take a sellers note in place of cash highlighting their willingness to complete the transaction. Both sides seem willing to sacrifice to get this transaction complete.
Optics and Infrared End Markets Struggle. I view this as a very low chance as optics and infrared technology is being included in more and more applications specifically Telecom applications.
Catalysts
Secondary Closed: At a special shareholder meeting held on December 6th, Shareholders overwhelmingly approved the Secondary offering of up to 8m shares. The secondary closed on December 19th. The process has been poorly run (Roth Capital) and they should have been quicker to price shares. The final share offering has changed based on the Seller recently agreeing to take on a seller note for part of the acquisition ($6m). This has created uncertainty in the shareholder base causing the share price pressure.
Acquisition Closes: Once the secondary closed they will finalize the acquisition loan then the ISP Optics acquisition can close. This will likely happen in January of 2017, but it is possible sooner. Once the secondary and acquisition is behind the company the uncertainty around dilution will be in the rear view.
January Effect: The January Effect in small cap stocks is a well documented market phenomena. The January effect is usually more pronounced in small cap stocks that had large tax loss selling occur in December or had poor performance for the last few months of the previous year. LightPath falls into this bucket. I expect that shares will rebound considerably in January.
Conclusion
LightPath Technologies is a special situation microcap that has a bright future ahead of it. Short term issues including the closing of the secondary and major acquisition has caused the share price to come under selling pressure. A combined LightPath and ISP Optics makes sense as there are clear cross selling opportunities and SG&A savings. There is a high likelihood that the acquisition closes, likely in the next few weeks. I believe that share of LightPath post the acquisition are worth $1.8 to $2.2 a share in the base case. If growth continues at the high pace similar to last quarter of 19%, I believe shares would be worth $2.75 a share.
Disclosure: I am/we are long LPTH.
I wrote this article myself, and it expresses my own opinions. I am not receiving compensation for it (other than from Seeking Alpha). I have no business relationship with any company whose stock is mentioned in this article.
Editor's Note: This article covers one or more stocks trading at less than $1 per share and/or with less than a $100 million market cap. Please be aware of the risks associated with these stocks.