REIT Rankings Overview
In our "REIT Rankings" series, we introduce readers to one of the 13 REIT sectors. We rank REITs within the sectors based on both common and unique valuation metrics, presenting investors with numerous options that fit their own investing style and risk/return objectives. We update these rankings every quarter with new developments for existing readers.
We encourage readers to follow our Seeking Alpha page (click "Follow" at the top) to continue to stay up to date on our REIT rankings, weekly recaps, and analysis on the REIT and broader real estate sector.
Self-Storage Sector Overview
Self-storage REITs comprise roughly 8% of the REIT Index (NYSEARCA:VNQ). Within our value-weighted self-storage index, we track the four largest storage REITs within the sector, which account for nearly $60 billion in market value: CubeSmart (NYSE:CUBE), Extra Space Storage (NYSE:EXR), Public Storage (NYSE:PSA), and Life Storage (NYSE:LSI).

Above we show the size, geographical focus, and quality focus of the four self-storage REITs we track. "Quality" is determined by the average value of the self-storage facilities within the REIT's portfolio, which is primarily a function of location. Specifically, facilities in high-barrier markets where new construction is limited by zoning regulations are generally more valuable. Demand, as we noted, is largely a function of a local market's propensity to rent and turnover of rental units.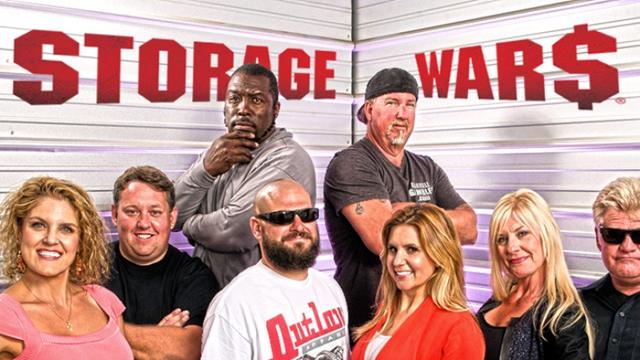 Americans love their stuff. Perhaps more accurately, Americans don't like to throw anything away. In finance, we refer to this as endowment bias, the tendency to overvalue our things simply because we own them.
Roughly one in 10 Americans currently rent space in a self-storage facility. These 30 million Americans park their possessions in one of 55,000 self-storage facilities throughout the country with the most popular unit size of 10 feet by 10 feet. Proximity to one's home is cited as the most important feature of these 100 square feet of space. 70% of customers are residential, with the other 30% split between businesses, students, and the military. Nearly half of self-storage customers rent their unit for more than two years.
The robust demand for space in these facilities has been accelerating over the past decade as homeownership rates dip to record lows. Self-storage demand is driven by change: moving houses, going to college, having kids, changing styles, and getting older, to name a few.
Americans have been going through more "change" than in the past. The "rent-by-choice" preference that began after the housing crash of the recession shows very few signs of reversing and homeownership is currently near multi-decade lows. While homeowners can use their garage and basement for their storage needs, renters rarely have that luxury. Rental rates for small storage units are often cheaper than their cable bill, so for constant movers, it makes economic sense to store furniture and valuables that are casualties of a slightly smaller apartment unit, but may see new life at the next rental unit.
While demand for self-storage units over the past decade has been robust, supply has lagged considerably. Investors in self-storage REITs have enjoyed this supply/demand imbalance as market rental rates for existing units has increased by over 10% per year in many major markets.
Supply has been increasing considerably over the past two years, though. Roughly 600 facilities are estimated to be opened in 2016 with another 900 coming online in 2017 and 2018. New supply growth is estimated to be 2.5% of existing supply per year over the next two years and as high as 3% of existing supply through 2020.
Finally, investors should note that's self-storage REITs own just a tiny portion of the total self-storage real estate market, leaving open significant potential for growth via acquisition. Self-storage REITs exhibit significant franchise or "brand" value, which is atypical in the REIT universe. Brand-name facilities like Public Storage and Extra Space tend to command higher rents than off-brand facilities.
Recent Developments and Performance
Storage REITs have declined 4% over the past 13-week quarter, slightly outpacing the broader REIT sector, which fell 5% during this period, weighted down by rising interest rates. Over the past year, though, storage REITs have been among the weakest performers, declining 13% compared to a 5% gain in the broader REIT index.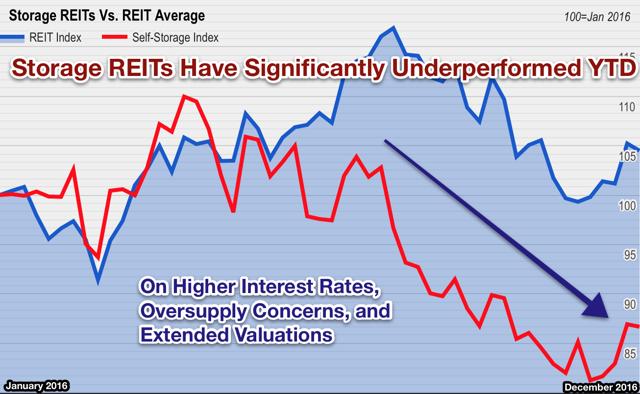 Rising interest rates are behind much of the underperformance as storage REITs are more interest-rate-sensitive than expected, but there are operating concerns still lingering over the sector, which we will discuss shortly. LSI has been the weakest performer over the past year while PSA has been the best. The past month has been very strong for the sector, though.

Q3 earnings were generally in line or slightly better than expectations. Free cash flows grew roughly 10% across the sector from Q3 2015, but growth appears to be moderating as existing facilities are nearly fully occupied and new supply growth has heated up. Of the four storage REITs, two beat consensus estimates (EXR, CUBE), one was in line, and one missed estimates. 2016 guidance updates saw a similar pattern: EXR and CUBE raised estimates while LSI lowered estimates. Same-store revenue growth slowed to 5.5% in Q3. Occupancy was essentially flat at 93%.
Between conference calls and the recent NAREIT conference, several key themes are being discussed.
First, the supply pipeline has heated up considerably which has put downward pressure on rental growth. The lack of new supply in the storage sector was the driving force behind the sector's significant outperformance in recent years. Unlike the apartment sector, supply growth data in the storage sector is scarce, so visibility is limited. We expect about 2-3% per year new supply growth through 2020, given our expectations for higher construction costs. We believe this would be a healthy growth rate that would allow storage REITs to continue to grow FCF 5-9% per year.
Second, rent increases for new customers have softened and many storage REITs have been forced to offer discounts to these new customers. Turnover remains very low, though, as the price sensitivity of existing customers remains relatively constant. Frankly, customers are slow or outright unwilling to recognize a sunk cost. After paying hundreds of dollars to store their belongings, storage customers find it difficult to take the loss and clear out their storage unit.
Finally, the sharp reversal in stock prices over the past year has caused these REITs to slow their acquisition plans, which has been a significant source of growth over the past several years. As we will discuss shortly, storage REITs traded at significant premiums to NAV and to the REIT FCFx, which allowed them to accretively acquire smaller storage portfolios.
Below is our REIT Heat Map, showing the quarterly performance in relation to other sectors. As we mentioned, storage REITs have outperformed the broader REIT index over the prior quarter. We also highlight the strength in the S&P 500 (NYSEARCA:SPY) gains in the 10-Year Yield (NYSEARCA:IEF).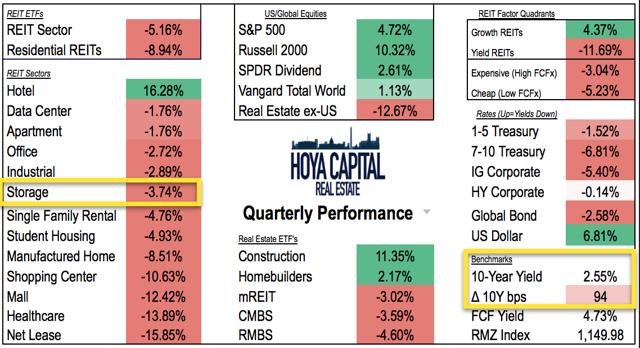 Valuation of Storage REITs
Compared to the 12 other REIT sectors, storage REITs appear fairly cheap, trading at slight discounts to the REIT averages. Storage REITs are the fifth cheapest sector based on both current free cash flows and seventh cheapest based on forward 2017 FCF.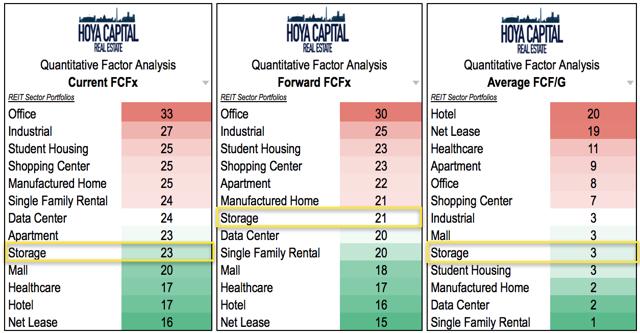 (Hoya Capital Real Estate estimates, Company Filings)
Storage REITs traded at premiums to the broader REIT market for much of the past seven years. The premium expanded considerably beginning in early 2015 and swelled to almost 5x FCF. This premium, along with a 30%+ premium to net asset value, allowed these REITs to acquire smaller storage portfolios accretively, which helped fuel their outperformance in recent years. This premium has entirely vanished in recent months. Storage REITs are currently trading at a slight discount to the REIT sector despite their strong growth expectations.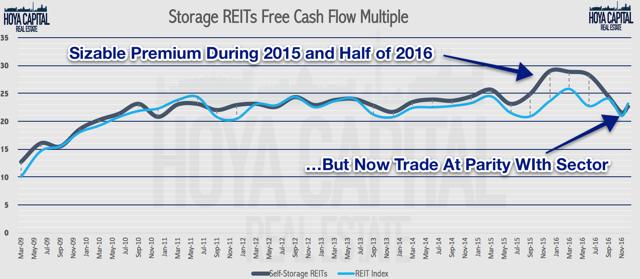 When we factor in two-year growth expectations, the sector appears even more attractive. We use a modified PEG ratio, using the forward FCF multiple divided by the expected two-year growth rate which we call FCFG. Based on FCFG, storage REITs are the fifth most attractive REIT sector. Expected to grow FCF at 10% over the next two years, storage REITs are among the fastest growing REIT sectors, well above the REIT average of 7%.
Within the sector, all four names appear pretty attractive at these levels relative to other REIT sectors. We see CUBE and LSI as the best value at these levels.

Sensitivities to Equities and Interest Rates
Followers of our research know that we put a lot of emphasis on factor analysis, specifically looking at how REITs have historically responded to changes in the broader equities market, interest rates, and to movements in the REIT index itself. We believe it is critical that investors understand how their investments will respond in different economic environments.
Using our Beta calculations, self-storage REITs reveal an interesting and counterintuitive characteristic. Despite their robust, REIT-leading growth rates, self-storage REITs tend to be more "bond-like" than expected. The sector is the seventh most sensitive to interest rates, and shows quite a low correlation to the broader equity market. Investors only looking at growth rates and assuming that the high growth protects these REITs from interest rate risk would have been caught off-guard.
For more detail on these calculations, we highlighted the dynamics of bond-like and equity-like REITs in our previous articles, "Are REITs Bond Substitutes" and "REITs Without Interest Rate Risk."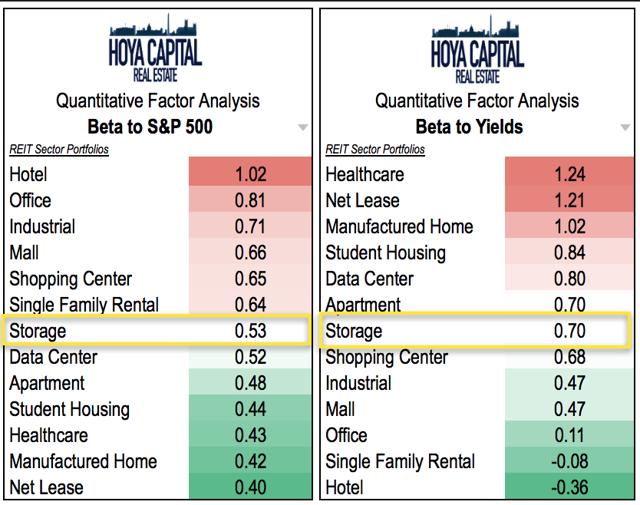 Within the sector, we classify the four names as either Yield, Growth, or Hybrid REITs based on our calculations. CUBE and PSA show more equity-like properties and fall into the Hybrid REIT category while EXR and LSI exhibit more bond-like qualities and fall into the Yield REIT category.

Dividend Yield and Payout Ratio
Based on dividend yield, storage REITs rank right in the middle, paying an average yield of 3.8%. Storage REITs payout 85% of their available cash flow.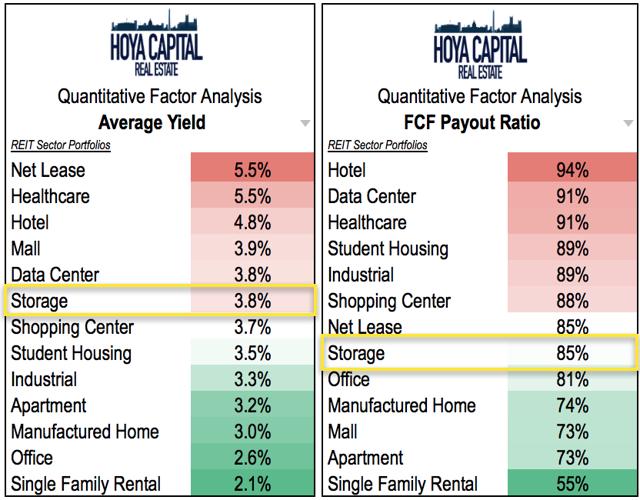 Within the sector, we note the varying strategies of the eight REITs. STAG Industrial (NYSE:STAG) and Liberty Property (NYSE:LPT) command the highest dividend yields, but it's important to see how they do it. LPT pays out over 100% of available cash flow while STAG pays out 94%. Investors should expect more limited dividend growth potential from REITs that payout excessive amounts of available cash flows. For investors seeking yield and dividend growth, we see EastGroup Properties (NYSE:EGP) as a more attractive option.

Bottom Line
For the first time in several years, storage REITs are trading at slight discounts to the REIT averages. We see this as an indication that the sell-off has gone too far as the market is ascribing no value to the above-average growth expectations over the next several years.
Q3 earnings were generally in line or slightly better than expectations. Free cash flows grew roughly 10% across the sector from Q3 2015. Demand remains healthy given the low homeownership levels.
From a portfolio perspective, the self-storage sector exhibits interesting counterintuitive properties: despite their strong growth rates, these REITs are actually more "bond-like" than one would expect. As a result, storage REITs were hit harder than expected during this period of rising interest rates. While there has been operational weakness over the past several quarters, much of the underperformance of the past six months can be directly linked to rising yields.
We will reiterate what we wrote in our last sector update. The plunge in self-storage REITs over the past six months has been welcome news for investors waiting on the sidelines for a near-term pullback in one of the fastest-growing REIT sectors. Fundamentally, little has changed in the long-term outlook for self-storage REITs. Yes, new supply has increased, but is rising from a low base and still remains below worrisome levels based on the data available. Demand should remain strong based on low homeownership rates and a robust jobs market.
Most importantly, we don't expect considerable changes in human nature: the endowment bias and the unwillingness to recognize sunk costs will persist, keeping demand for storage units 'stickier" than economic theory would otherwise dictate.
Please add your comments if you have additional insight or opinions. Again, we encourage readers to follow our Seeking Alpha page (click "Follow" at the top) to continue to stay up to date on our REIT rankings, weekly recaps, and analysis on the REIT and broader real estate sector.
Disclosure: I am/we are long PSA, CUBE, EXR.
I wrote this article myself, and it expresses my own opinions. I am not receiving compensation for it (other than from Seeking Alpha). I have no business relationship with any company whose stock is mentioned in this article.
Additional disclosure: All of our research is for educational purpose only, always provided free of charge exclusively on Seeking Alpha. Recommendations and commentary are purely theoretical and not intended as investment advice. Information presented is believed to be factual and up-to-date, but we do not guarantee its accuracy and it should not be regarded as a complete analysis of the subjects discussed. For investment advice, consult your financial advisor.