Everyone interested in the weekly statistics released by the Energy Information Administration (EIA) has already seen the headlines and the "Petroleum Balance Sheet." So, I decided to highlight some of the less-obvious, important trends in this article.
Product Exports Record High
According to OPEC, the U.S. is the largest petroleum liquids producer, the largest liquids consumer, the largest liquids importer, and the third largest petroleum liquids exporter in the world. Although the crude oil export ban was lifted almost a year ago, crude exports have not surged as many predicted (or feared).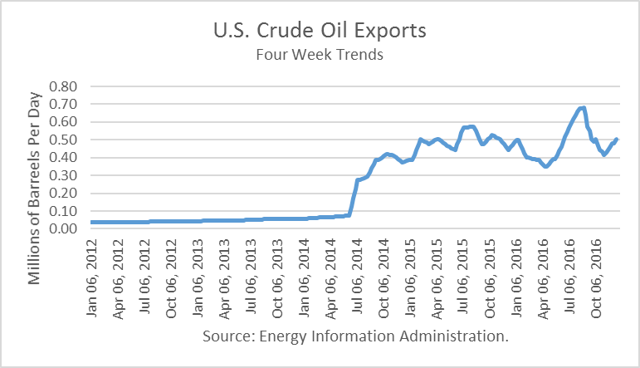 However, petroleum product exports have been rising and have reached a record high of 4.9 million barrels per day (mmbd). The 4-week trend is nearly 20% higher than it was a year ago, proving U.S. refiners are competitive.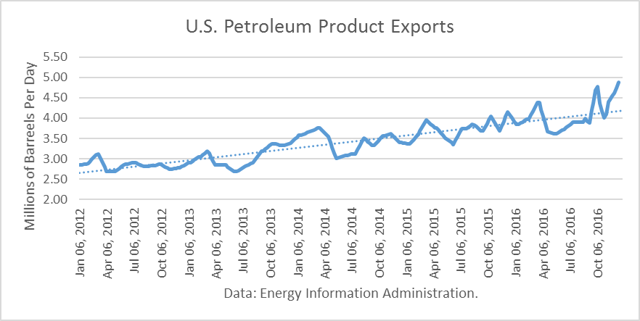 Total Liquids Production -2.2%
I have written before how the EIA's "Other Supply" category (mainly natural gas plant liquids and renewables) add to petroleum supplies. Nonetheless, the market focuses only on the crude production number.
However, the "Other Supplies" is up 5.4% in the year-to-date. As a result, total crude plus other supplies are only 2.2% lower over the past 4 weeks v. the same weeks a year ago.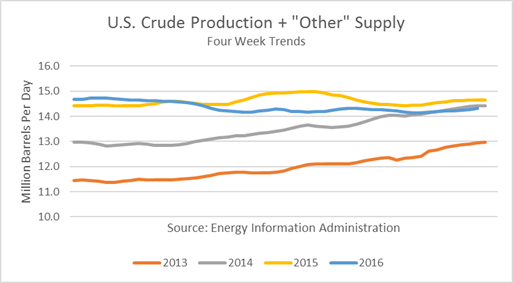 U.S. Oil Dependency 24%
President-elect Trump has said during the campaign:
American energy dominance will be declared a strategic economic and foreign policy goal of the United States. We will become, and stay, totally independent of any need to import energy from the OPEC cartel or any nations hostile to our interests."
As a result of the relatively small drop in total liquids production, and a deliberate reduction in imports due to higher prices, net oil imports averaged just 4.6 mmbd over the past 4 weeks. With petroleum product demand at 19.8 mmbd, net oil dependency is 24%. It had been as low as 22% during 2015, but it is not as high as many people seem to think because they look only at gross imports.
The goal of oil independence is possible in 5 years if incentives are put into place to support shale production. I expect that will be a priority under the new administration.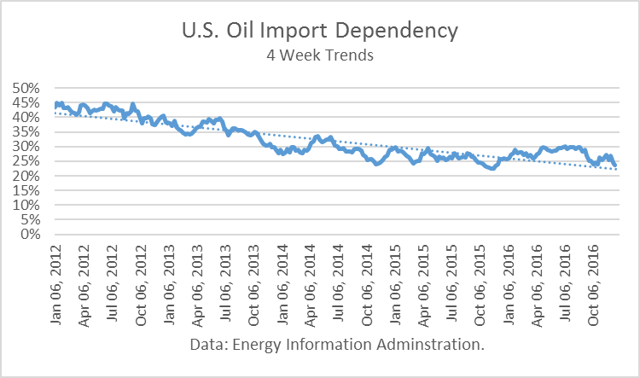 Demand lower than 2015, 2014, 2013
Petroleum product demand has become sluggish. Over the past 4 weeks, it was 1.5% lower than a year ago. In fact, it was even lower than during the same weeks in 2013 and 2014. Gasoline demand was 3.0% lower than in the same period last year. According to EIA's monthly data through October, demand was just 0.1% higher in the year-to-date.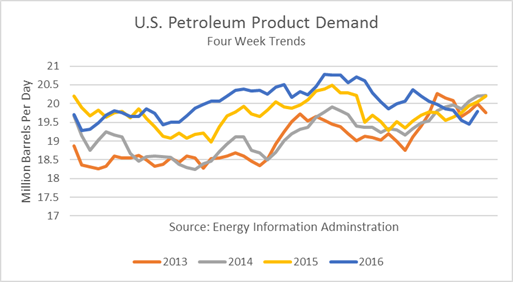 Total Stocks +56 Million
Finally, despite the fact that net oil imports are 10.1% lower in the past 4 weeks than a year ago, total crude plus product stocks are 56 million barrels higher than a year ago, when the glut was considered to be excessive. Stocks are 45 million below their peak in August though, due to the drop in imports, which is intentional.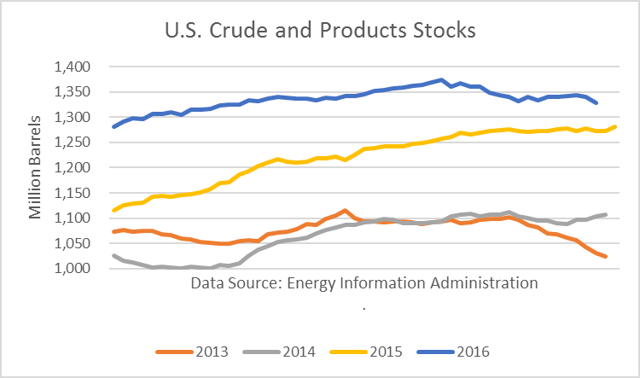 Conclusions
Without deeper production cuts than the producers announced, it's hard to consider the U.S. balance sheet as healthy or supportive for higher prices. My assessment is fact-based.
Disclosure: I/we have no positions in any stocks mentioned, and no plans to initiate any positions within the next 72 hours.
I wrote this article myself, and it expresses my own opinions. I am not receiving compensation for it (other than from Seeking Alpha). I have no business relationship with any company whose stock is mentioned in this article.