The yellow metal is down and looking weaker than ever as we head into the year-end. The 2016 high stands at $1375 and the yearly low is $1060 (January 4 low). As of writing, the metal was trading around $1130. This has been one hell of a round trip for gold.
The 'Hope Trade'
The sell-off in the metal is a perfect example of the market running ahead of itself. After having clocked a high of $1375 in the month of June, the metal was slowly losing ground; however, the sell-off gathered steam post Trump's victory in the U.S. presidential elections.
The metal clocked a high of $1337 on November 9, before the 'hope trade' killed the investor appetite for the zero yielding safe haven metal. Trump's calm demeanor after the victory and hope that he would embark on massive fiscal expansionary policies set the equities on fire. Furthermore, fiscal spending also boosted inflation expectations.
As per classical text, rise in inflation expectations is good for gold. However, we are operating in an era in which central banks' forward guidance has put to test all the text book rules. The speculation that rising inflation expectations would force the Fed and other major central banks to tighten the monetary policy forced investors out of the yellow metal.
Now note that Trump is yet to take office. The U.S. President-elect can always fall short of expectations. Given the euphoria in the market, even a noteworthy fiscal spending effort could appear like a half-hearted effort.
Strong correlation between U.S. inflation expectations and Gold
The chart below shows positive correlation between U.S. 5-year-5-year forward inflation expectation rate, U.S. 10-year breakeven inflation and gold.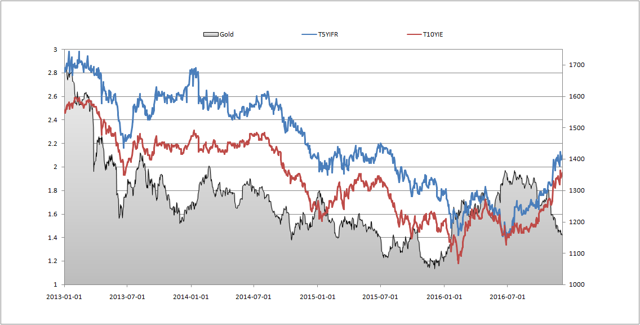 Source - St. Louis Fed
Chart by - Tip TV
Gold topped out in late 2011 at $1920/Oz. Meanwhile, 5Y-5Y forward inflation expectation rate topped out at around 3.00 levels in April 2011. A similar positive relationship is seen between gold and the 10-year breakeven rate.
However, since mid-2016, gold has paid little attention to the rising inflation expectations. Gold topped out in June/July at around $1375/Oz and has been falling sharply post Trump's victory. During the same time frame, 5-year-5-year forward inflation expectation rate rose from 1.4 (June levels) to 2.10 levels.
The divergence, as said earlier, is due to the 'Fed's forward guidance malaise.'
'Fiscalism' is inflationary
Unlike currency wars (aggressive monetary easing), fiscal stimulus is inflationary. In currency wars, a nation steals (imports) foreign demand via weak currency, which means inflation is imported and deflation is exported. Furthermore, money printed out of thin air may not enter the real economy.
In case of fiscal spending, a nation does not import foreign demand, but artificially boosts domestic demand as the stimulus is more related to real economy, e.g. infrastructure spending, etc.
Thus, sooner or later, gold is likely to regain composure and track inflation expectations higher.
What if Trump disappoints?
Gold stands to rally if Trump underdelivers or disappoints altogether. As said earlier, the markets have run ahead of themselves. Sure, Trump's poor performance would not only bring down inflation expectations, but would also weigh over the Fed rate hike bets.
Moreover, a major bout of risk aversion cannot be ruled out if Trump falls short of expectations as markets have turned euphoric. That would not only kill the Fed rate hike bets, but also boost gold's appeal as safe haven metal.
Take Fed's hawkish forward guidance with a pinch of salt!
The Fed dot plot released last week showed that the policy makers see scope for three rate hikes in 2017 as opposed to the previous forecast of two rate hikes. This may sound as hawkish; however, one must remember that the Fed had talked about four rate hikes in 2016, but delivered only one.
Conclusion
Trumpflation and the resulting sell-off in gold look overdone.
With equities at record highs amid rising inflation expectations, hedging demand is likely to boost gold in Q1, 2017.
If Trump disappoints, the resulting risk aversion in the markets and the drop in the Fed rate hike bets would boost the yellow metal.
On technical charts, the metal is oversold.
Daily chart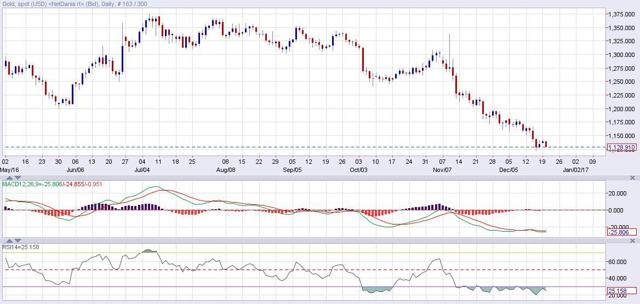 Bullish price-RSI divergence suggests potential for recovery. RSI has hit the oversold territory on the weekly chart as well.
Thus, technical correction could gather pace in the New Year. On the higher side, the major hurdle is seen at $1170-1200.
Disclosure: I/we have no positions in any stocks mentioned, and no plans to initiate any positions within the next 72 hours.
I wrote this article myself, and it expresses my own opinions. I am not receiving compensation for it. I have no business relationship with any company whose stock is mentioned in this article.