As we had expected, Nike (NYSE:NKE) had a strong second quarter, beating analyst estimates on both the top and bottom lines. The stock was up as much as 5% in after-hours, before giving back those gains on a disappointing future orders number and is up just below a percent as of this article. We maintain a bullish stance on the name and think Nike has good risk-reward asymmetry heading into 2017.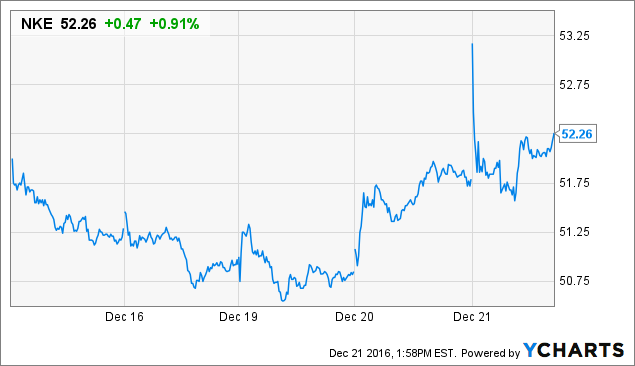 Our key takeaways from the report are as follows:
Forget the future orders metric; DTC is the true growth driver of Nike going forward. Investors have long been obsessed with the future orders metric, but there is a very good reason why management is telling investors to forget about it. The future orders metric, which is more of an indication of the strength of the wholesale business, isn't terribly relevant anymore considering the seismic sales shift Nike is seeing towards the web and it's branded stores (Nike brand DTC revenue +25% in the quarter). As management reiterated on the call, future orders and realized sales growth have grown increasingly less correlated, so the important guidance figures from the ER are management's call for mid single digit revenue growth in Q3 and high single digit revenue growth for the full year. The Q3 guide is slightly below trend, but the full year growth track is on line, with room for upside through a performance basketball surge in 2H17. We maintain that Nike is a company with mid to high single digit revenue growth potential and low double digit earnings growth potential over the next several years.
Gross margin contraction is happening to all athletic retailers, but Nike is benefiting from significant SG&A leverage. As many expected, Nike's gross margins contracted 140 basis points year over year thanks to a promotional retail environment and FX headwinds. These problems are not unique to Nike. Under Armour (NYSE:UA) saw gross margins contract 130 basis points in its most recent quarter, while Adidas (OTCQX:ADDYY) experienced a 90 basis point gross margin contraction. Consequently, operating margins at Under Armour and Adidas fell last quarter, but Nike's scale allowed for 270 basis points of SG&A leverage to more than offset the gross margin contraction. The result was that although net sales only rose 6% and gross margins contracted, net income was still up 7% YoY. In many ways, Nike's scale is advantageous to maintaining earnings growth even in the face of fierce competition.
Nike basketball is gaining momentum, and will have a very strong 2H17. Management was very bullish on the call regarding the company's basketball business. Management commented that Nike is seeing "incredible momentum" in basketball, further commenting that the "basketball business is much healthier today than its ever been over the past 18 months". We think there is something more fundamental at play here helping Nike. Nike's basketball business experienced weakness because Under Armour ate market share behind the surging popularity of NBA superstar Stephen Curry, but as we have noted in recent months, Curry's popularity is fading. Nike, meanwhile, has a broad portfolio of superstars, meaning its success in basketball is diversified among multiple valuable assets. We believe this ensures that regardless of near-term trends in player popularity, Nike basketball will continue to be the most dominant player in the basketball market. In other words, Nike's broad portfolio of superstar athletes in basketball leverages the company for long-term, sustainable success.
The valuation remains attractive at 23x trailing earnings for high single digit revenue growth and low double digit earnings growth, especially against the backdrop of a market trading at 26x trailing earnings. Nike stock is still underperforming the Dow by a large margin YTD, and we think that implies good upside in 2017. The basketball market is on a comeback, the company's e-commerce channel and branded stores are performing extremely well, and scale gives Nike an advantage over its competition in a heavy promotional retail environment. Overall, we think Nike is a fairly safe place to be heading into 2017 and believe the stock possess good risk-reward asymmetry considering its relatively cheap valuation and YTD underperformance.
Disclosure: I am/we are long NKE.
I wrote this article myself, and it expresses my own opinions. I am not receiving compensation for it (other than from Seeking Alpha). I have no business relationship with any company whose stock is mentioned in this article.
Editor's Note: This article discusses one or more securities that do not trade on a major U.S. exchange. Please be aware of the risks associated with these stocks.