Investment Summary
An easy to understand enterprise that comes at an attractive valuation, Crown Crafts Inc (NASDAQ:CRWS) is cheap on free cashflows and the strength of its balance sheet. Having generated stable free cashflows in the last five years, I am highly convinced of company's future free cash flow generation capabilities. If bought at the current market valuation of $ 76m, the free cashflow will enable you to get the investment back in ~ 11 years. The judgement is again on the sustainability of free cashflows which in my view are highly sustainable. The debt is low to non-existent which justifies my conviction that management is prudent and strong free cashflow generation is their priority. With $11m in net cash, essentially the equity is valued at $ 65m which in my view is cheap for such an enterprise. A stable, capex-light and little researched company, Crown Crafts Inc is a good company to add in the portfolio for the long run.
Company Description
Crown Crafts, Inc. operates indirectly through its subsidiaries, namely Crown Crafts Infant Products, Inc. & Hamco, Inc., in the infant and toddler products segment within the consumer disc industry. Products include infant and toddler bedding, bibs, soft bath products, disposable products and accessories. The company designs all toddler and infant related soft products primarily in U.S. market (97% of sales). Company is also involved in licensing products for its own end products as sale of licensed products represented 62% of sales in 2016. Company is headquartered in Gonzales, Louisiana U.S.
Sector: Consumer Discretionary (Small-Cap)
Judgement: Cheap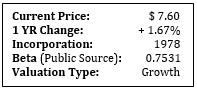 Source: Author created using data from Financial Times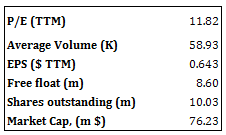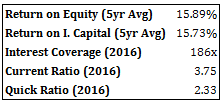 Source: Author created using data from Morningstar
SWOT
Strength

No Debt

Complete toddler bedding & soft products

Stable free cashflow $11 million net cash

Weaknesses

Low Avg. Daily Volume (59k shares)

Two retailers (Wal-Mart (NYSE:WMT), Toys R Us) counted for ~ 65% of 2016 sales.

Walt Disney (NYSE:DIS) license expires 31 Dec 2017

Opportunities

Global M&A possibilities

Further licensing opportunities

Threats

Falling child birth rate in U.S.

Price competitiveness among peers
Business Model & Segments Source: Annual Report/Company Website
Business Model
The company outsources all production from China whereas it keeps the designing in-house as significant portion ~49% of sales were generated from trademarked designs in 2016. Business is asset light; all properties are leased as the biggest asset company owns is the intellectual property or the designers designing the bedding and toddler related soft product ranges.
Segments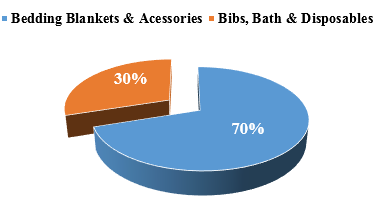 Source: Author created using data from Annual Reports 2016 & 2015
Bedding Blankets & Accessories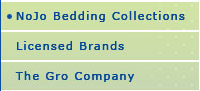 Brand: NoJo

The segment is responsible for bedding products from infants to toddlers. The sales have been relatively lower than 2012 with moderate recovery expected. NoJo represent 23% of total sales in 2016. The Gro Company offers the most exciting prospects due to online association with retailers.
Bibs, Bath & Disposables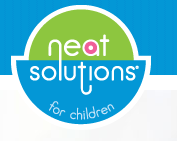 Brand: Neat Solutions

The segment is responsible for soft products such as bibs and other towel/bathing solutions for babies. Neat Solutions accounted for 26% of total sales in 2016 and the brand is trademark protected.
Poor Man's Valuation:

Source: Author created using data from Annual Reports 2016 & 2015
DCF Valuation: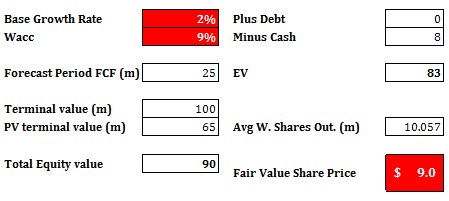 Source: Author created using data from Annual Reports 2016 & 2015
Model & Assumptions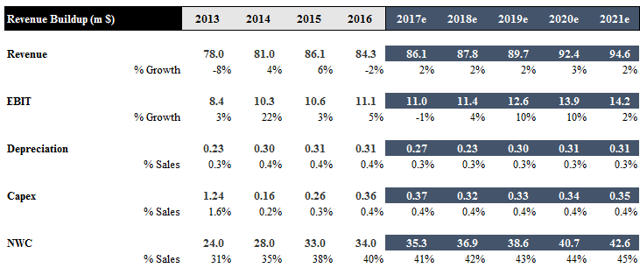 Source: Author created using data from Annual Reports 2016 and 2015
Explanation
Revenue & EBIT growth built on individual segment growth forecasts.
Depreciation, Capex and NWC as percentage of sales.
Modest growth forecasted for base case scenario.
Risks
Key risks include high sales dependence on two retailers; Toys R Us & Wall-Mart and expiring franchise agreements in a year; Disney. Another key risk is costs and pricing as the market is highly competitive. I believe that with no debt, asset light business model and reliable free cashflows, risks can be mitigated.
Reporting Quality
| | |
| --- | --- |
| Annual Report | Comprehensive |
| Auditor's Opinion for Organization | KPMG:Clear |
| ESG & Sustainability reporting | None |
Explanation
Auditors opinion is clear whereas reporting is comprehensive too.
Company operates two core segments and reporting on revenue segregation is satisfactory. However, no reporting on future ventures and corporate strategy is a key limitation.
| | |
| --- | --- |
| ESG Materiality Matrix Reported & Assessed | N/A |
| Quantitative Identification of all key ESG metrics | N/A |
| Usefulness of ESG metrics in current scenario? | Quite significant, the company operates in a specialized (toddler soft care) segment, therefore marketing ESG products may well have a benefit in product pricing. Competition is tough in the market as peers compete for prices (after manufacturing it all in China), therefore ESG can be a differentiating factor. |
Conclusion
All investment decisions should answer three questions; how much free cash flow you're going to get, how fast you're going to get it and how sure you are. Being a capital-light, debt-free business that operates in a niche market segment, even the base case free cashflow forecasts provide a significant upside (~60%) to the current stock price.
A good company at a fair price, I believe Crown Crafts Inc offers an attractive future return and therefore I recommend a long-term Buy.
Supporting Documents
Disclosure: I/we have no positions in any stocks mentioned, and no plans to initiate any positions within the next 72 hours.
I wrote this article myself, and it expresses my own opinions. I am not receiving compensation for it (other than from Seeking Alpha). I have no business relationship with any company whose stock is mentioned in this article.
Additional disclosure: Thankyou for the comments, I have changed three things: - Introduction & Summary is rephrashed - Excel Numbers changed from commmas to Dots as per U.S usage. - Source of Images properly written
Editor's Note: This article covers one or more stocks trading at less than $1 per share and/or with less than a $100 million market cap. Please be aware of the risks associated with these stocks.