Honeywell (NYSE:HON) has been on a post-election roll off late and not even a disappointing 2017 earnings outlook has managed to dampen its enthusiasm. To be honest, I would have bought the dip even with speculative intentions, had it managed to stay that way for a tad longer than it did. I looked at the numbers, and looking at the pre-market felt the stock was being punished excessively much like the reaction to its business update on October 7. At current prices however, I see diminished benefits if any, from accumulating the stock. I would keep my existing holdings for the dividend but wouldn't expect a lot of returns from capital gains.
Benefits from margin improvements are drawing to a close
After its botched attempts to merge with General Electric in the early 2000s, Honeywell has largely been on the right track. It integrated several meaningful acquisitions and by fine-tuning productivity under the Honeywell Operating System, the organization became quite nimble. Due to margin improvements, the company's earnings increased dramatically even as sales grew at a compounded annual growth rate of just ~2% (including acquisitions) since 2006. However, after several years of operating margin improvements, the company's margin base is now quite high. Therefore, upcoming improvements from the rollout of HOS Gold are likely to be slow and marginal.
End-market weakness
There are question marks over whether the aggravated weakness in some of the end-markets are a sign of long term stagnation or instances of a one-year dip. For example, the company does not see a case for inflection in the business jet market even in 2017. Elsewhere, players such as Bombardier have cut projections for 10 year deliveries by 700 jets from 9,000 to 8,300. And there are precedents to this trend. Total business jet shipments were 1,313 in 2008 and 870 in 2009 based on figures published by General Aviation Manufacturers Association. Since then total annual shipments have never crossed the 800 shipment mark. In the helicopter business housed in the Defense & Space unit, sales have suffered due to ongoing weakness in the oil & gas industry. These helicopters are used to ferry people and equipment to distant oil platforms. Even here I do not see industry conditions reversing to pre-2014 levels at least in the next couple of years.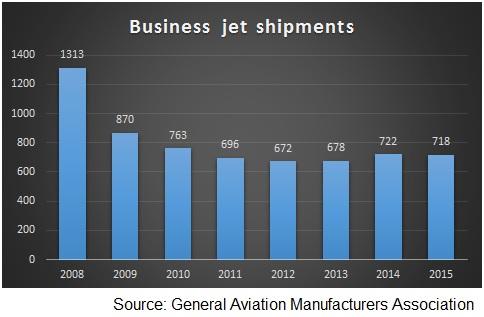 Potential in the company's new products
The company repeatedly drums up its software presence in earnings calls and conferences. Based on the figures provided in its investor conference in March this year, standalone software sales were responsible for roughly $1 billion in sales in 2015. Software sales in most segments are expected to grow in double digits through 2020. Management estimates also peg sales from the solstice program extending to $1 billion in 2020, $600 million higher than the sales estimate for 2016. That's a compounded annual growth rate of 20%. Therefore it's not all bad news for the company but some of the software end-markets especially in building automation are expected to be very competitive.
Valuations
Several industrial stocks have seen their multiples expand post Trump's election. Much of it is on account of talks related to tax breaks and infrastructure spending. How exactly this is likely to pan out in Honeywell's favor is anyone's guess. For now I know that discount rates are increasing and growth rates are declining. Since both these factors inversely impact valuations, I am a little wary about the high prices some of these stocks are sitting on right now.
Disclosure: I/we have no positions in any stocks mentioned, and no plans to initiate any positions within the next 72 hours.
I wrote this article myself, and it expresses my own opinions. I am not receiving compensation for it (other than from Seeking Alpha). I have no business relationship with any company whose stock is mentioned in this article.