Ever since the FTC indicated that store divestitures would be required in order to approve the Walgreens-Rite Aid merger, there has much speculation about who would acquire the divested stores. At a time where two dominant players (CVS Health (NYSE:CVS) and Walgreens Boots Alliance (NASDAQ:WBA)), along with the plethora of large grocery store chains now have the lion's share of the market, who would want to risk a significant amount of capital to compete in a low-margin business where economies of scale are slowly wiping out smaller players?
Fred's Inc., apparently.
I was somewhat surprised when I learned that Fred's Inc. stepped up to acquire these stores. I've come across Fred's before while running a screener on small-cap retail stocks. Most of what I knew about the company was that it operated discount stores, similar to Dollar General (NYSE:DG) and Family Dollar (NYSE:FDO), and was having a tough time competing in a low-margin, highly competitive space.
Fred's Inc. has rallied more than 81% on news of the deal. This piqued my interest, as it appeared that any upside from this deal instantaneously was priced into the stock. I asked myself, "Is Fred's paying a good price for this deal, and is there any more upside?"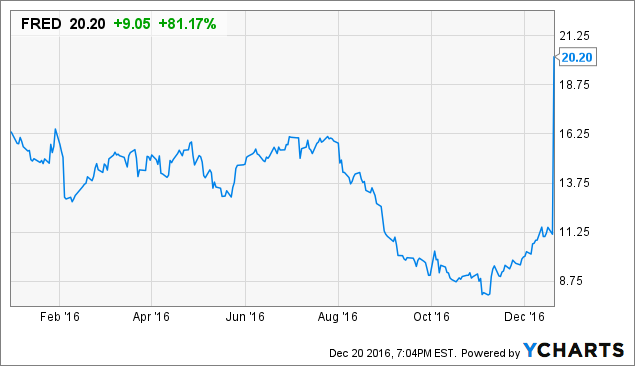 Fred's Inc. Is Paying A Good Price For These Stores
Given that both Rite Aid (NYSE:RAD) and Walgreens Boots Alliance are trading for more than 12 times EBITDA, when I initially heard about this deal, I assumed Fred's was paying some ridiculous multiple for these stores (which is a fair assumption given more often that not strategic acquirers will overpay for assets, believing their "vision" will allow them to wring out to costs and create "synergies" that "enhance shareholder value").
Digging into the details of this deal, I was pleasantly surprised to find that Fred's Inc. could be paying a multiple as low as 3.66x EBITDA to acquire these stores from Rite Aid. According to analyst Patrick McKeever at MKM Partners, each store Fred's is acquiring has an estimated EBITDA of between $250,000 and $300,000. Multiply these figures by 865, and you get an estimated EBITDA of between $216.25 million and $259.5 million. This gives the $950 million store purchase an EBITDA multiple as low as 3.66x and as high as 4.4x.
Fred's plans to finance the purchase entirely with debt. With this transaction, Fred's shareholders essentially are getting the benefits of participating in a leveraged buyout without even having to be an accredited investor.
It is safe to say Fred's Inc. got these stores at a bargain. Using a reasonable multiple of 8x EBITDA, the value of these locations should be around $1.7 billion. Subtracting the $950 million purchase price (entirely financed with debt), along with an additional $50 million for transaction costs, these stores have a net enterprise value of $700 million, or $18.70 a share.
Additional Upside If Fred's Can Improve Margins of Existing Stores
Fred's existing stores are currently generating negative operating earnings. The company has trailing 12-month revenues of $2.15 billion, and trailing 12-month negative EBITDA of -$5.76 million.
Integrating the newly acquired stores with the existing Fred's operation should create economies of scale, allowing Fred's to bring down costs and bring up operating margins back into the black. Rite Aid currently has an EBITDA margin of around 4%. Assuming Fred's can transform its existing discount store locations into full-fledged pharmacies and execute its vision to become America's third-largest pharmacy chain, a 4% EBITDA margin is achievable.
4% EBITDA on $2.15 billion in revenue is around $86 million. Using some more back-of-the-envelope math, $86 million times the reasonable multiple of 8x we gave the newly acquired stores, we get an enterprise value of $688 million for the existing Fred's location. Subtracting debt of $77.29 million, this leaves us with a net enterprise value of $610.71 million for the stores, or $16.32 a share.
Combining our estimate of $18.70 for the newly purchased stores and $16.32 for the existing stores, we get a potential value for the company of around $35 a share.
Potential Upside, But Not Guaranteed
This $35 a share target is assuming a lot of things. First, we are assuming the new Fred's Inc. can operate at the same EBITDA margins as Rite Aid does. The new Fred's Inc. will have revenues of around $6.5 billion (assuming analyst estimates of each store having around $5 million in annual sales is correct). Rite Aid, as a whole, has revenues of around $32 billion. Fred's Inc. does not give a clear indication of its corporate overhead expenses in its 10-K and 10-Q reports. It may take additional corporate overhead costs in order to manage a company that will now be three times as large, so even if Fred's is able to bring its existing stores to 4% operating margins, increases in corporate overhead could eat up most of these gains.
The second factor is the whether or not management is of the caliber required to transform the company from a chain of dollar stores (around half of which have in-store pharmacies) into America's third largest pharmacist. The company's current CFO (Rick Hans) is a Walgreens veteran, with over 25 years of experience as a finance and real estate executive at the company. CEO Michael K. Bloom also has extensive experience in pharmacy space; he spent over 20 years at CVS, as well as 10 years of experience with Peoples Drug (chain acquired by CVS in the 1990s) and Shopper's Drug Mart. It appears the C-level has sufficient pharmacy management experience, giving me confidence this new strategy will be successfully executed.
The third factor is the pharmacy industry itself. While Fred's is slated to become the third largest pharmacy operator once the Walgreens-Rite Aid deal is wrapped up, can a company that is projected to have just $6.5 billion in revenue compete with two major players (CVS and Walgreens) that will have over $100 billion in revenue? In addition, with grocery store chains and even Wal-Mart (NYSE:WMT) operating in the space, can Fred's survive against so many bigger-pocketed competitors? Fred's current primary business, discount stores, is itself a price-based, cutthroat business. Fred's may just be trading one tough business for another. This provides additional hurdles for Fred's to jump over in order to fully execute its vision.
Bottom Line
Although Fred's Inc. has increased over 80% on news of this deal, there is potential upside in the stock if the turnaround plan is a success. There are many risks that the plan will not go as smoothly as the press releases want them to go. Pharmacies, like discount stores, are a tough business, where the largest players dominate with lower prices and better cost structures.
With the stock trading in the low-$20s, most of the upside is priced into the stock. Given the risk that a mid-sized pharmacy chain will have difficulties competing with $100 billion behemoths, along with the fact it will take several years for the turnaround to be fully executed, I believe a 75% upside does not offer enough reward for the risk.
I believe the stock is fairly valued and may be a buy if there is a dip back down to the $15-20 level. As this acquisition will take several months to close, there should be an opportunity in the future to take a position at a better price.
Disclosure: I/we have no positions in any stocks mentioned, but may initiate a long position in FRED over the next 72 hours.
I wrote this article myself, and it expresses my own opinions. I am not receiving compensation for it (other than from Seeking Alpha). I have no business relationship with any company whose stock is mentioned in this article.