Nike (NYSE:NKE) announced its highly-anticipated fiscal Q2 2017 earnings on Tuesday afternoon. Numbers came in above consensus estimates, at $0.50 EPS and revenues $8.2 billion (estimates were $0.41 EPS and $8.09 billion).
The immediate response to the report was positive and shares immediately shot up almost 5%. However, upon further examination, one may conclude that the report tells a different story.
A Low-Quality Beat
While Nike's EPS was well above estimates, much of that was due to a massive share buyback of over $900 million that took place during the quarter. Share buybacks decrease the number of shares outstanding, which increases earnings per share numbers. Gross margins continued to be a problem, with a decline of 140 basis points to 44.2%. This decline was due in part to currency headwinds and off-price sales, which refer to sales of Nike products at low-price discount chains.
Both should be a cause of concern for shareholders, as the currency issue should continue to hurt margins as the USD is currently trading at 14-year highs. An increase in presence at low-price discount chains is usually detrimental to brand image and pricing power.
The large share buyback, while arguably a sign of company strength and commitment to shareholders, is troubling to me because such a massive buyback is indicative of sugarcoating, or management attempting to inflate numbers beyond what they should actually look.
A huge EPS beat is what catapulted shares past $54 yesterday, and is likely the reason why shares aren't down significantly today. However, this type of behavior is usually detrimental to shareholders as retail investors are typically the ones who buy the stock seeing headlines of a "massive beat" or "earnings above expectations".
The share buybacks and dividend increase, on the other hand, are testaments to the strength of the company and its balance sheet. I'd like to add that while I have been bearish on Nike for a while, I do believe the long-term outlook looks good and I may even consider initiating a long position once shares fall to my target price. I simply feel that the company is overvalued given its current premium valuation and numerous challenges.
Slowing Growth
Nike continues to have growth problems, with North American revenue up just 3% and future orders down 4% in the region. China sales grew 17% (on a currency-neutral basis), down 21% last quarter. Overall, futures growth was just 2%, or flat if you include currency effects.
It is important to note that Nike's management has repeatedly insisted that analysts and shareholders shouldn't pay attention to the futures metric, which measures future orders placed by Nike's retail partners. Nike's direct to consumer (DTC) business is becoming a larger portion of sales, causing this metric to be less useful as it once was.
However, it's important to consider that Nike's management may not be asking shareholders to ignore this metric if numbers were good. As the bulk of Nike's sales (over 70%) comes from its retail partners, the futures metric is still a valuable tool to measure demand for Nike's products and provides an explanation as to why inventory was reported up 9%.
The Adidas Effect
The resurgence of Adidas (OTCQX:ADDYY) is something I've warned of as a headwind for Nike for many months now, and I've written in detail about this issue in past articles. I'd like to repeat this information because I feel that the popularity of Adidas is evident in many parts of Nike's earnings. Slow North American revenue growth of just 4% and a decline in futures of 4% is partially attributable to Adidas's renewed popularity in the United States.
Under Armour's (NYSE:UAA) continued growth is also a headwind, but less so as UA's sales numbers in the US are lower than Adidas's, and Under Armour is also growing at a slower pace in North America (16% vs. 29% for Adidas as per their last quarterly reports).
Adidas's growth looks like it will continue in the US and it is making a strong push in the US performance market, basketball in particular, which has historically been dominated by Nike. The success of Adidas athletes like James Harden and Damian Lillard, along with new signings of draft picks and other established players should place some additional pressure on Nike, which already faced competition in its basketball segment due to Under Armour and its star athlete Stephen Curry.
I would advise anyone reading this article to perform a quick search on Twitter for the keywords or phrases "Adidas killing", "Nike killing", "Adidas shoe game", and "Nike shoe game", and read through the latest tweets. You'll find that there are many tweets like the one below praising Adidas. Adidas has done a superb job of marketing and capturing the sales and attention of fashion-conscious teenagers. Twitter is a valuable resource as its users are primarily younger teens and Millennials, both key demographics for sportswear companies.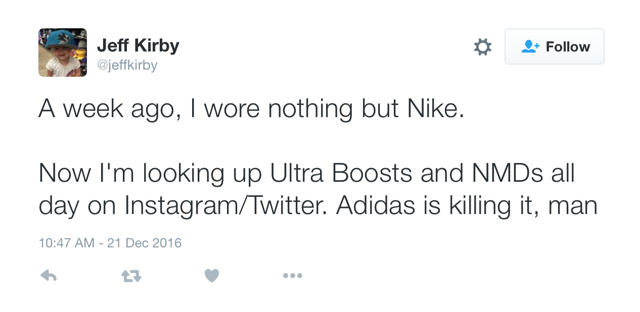 Valuation
Despite the beating that Nike shares have taken this year, shares are by no means cheap or undervalued. The company currently has a PE ratio of 23.44 and a forward PE of approximately 19. These numbers, while may look good historically, are premium ratios for a company growing in the single-digits with strong competitive and currency headwinds.
A PE ratio in the high teens seems far more suitable for Nike, and I continue to stick to my mid-$40s price target for Nike that I've mentioned in my past articles on Nike. Nike's management did an impressive job of sounding optimistic about the results, but Wall Street clearly didn't buy it as shares have dropped about 5% at the time of this writing from after-hour highs.
Conclusion
While the Q2 results weren't terrible, they certainly weren't as great as many analysts and shareholders initially believed. With Adidas on a tear (multiple quarters of consecutive 25%+ growth in the United States), Under Armour continuing to challenge Nike, and numerous foreign currency and growth problems, I would advise potential longs to wait to see definitive evidence of a return to growth and innovation before initiating a long position.
Disclosure: I am/we are long ADDYY.
I wrote this article myself, and it expresses my own opinions. I am not receiving compensation for it (other than from Seeking Alpha). I have no business relationship with any company whose stock is mentioned in this article.
Editor's Note: This article discusses one or more securities that do not trade on a major U.S. exchange. Please be aware of the risks associated with these stocks.