Shareholders in Gilead Sciences (NASDAQ:GILD) don't seem to be able to catch a break from bad news and the stock's underperformance, but we believe recent events have finally put enough pressure on management to make an acquisition and to redeploy the cash on its balance sheet on a strategic acquisition. Though there are many possible targets, we believe the answer to Gilead's three structural problems to be found on one of the most controversial names in the industry: Valeant (NYSE:VRX).
Just last week, we wrote a bullish case for Valeant after a 45% surge in active R&D programs. In midst of all the bearish events, Gilead has one of the cheapest valuations in the industry even more so than Valeant, and we believe investors should be accumulating shares of both companies at this level as a strategic acquisition could be announced at any moment. Gilead indicated that it was actively looking at possible acquisitions during the third-quarter call. Kevin B. Young, Gilead's chief operating officer, indicated the following:
"As you know, we are also focused on augmenting our portfolio with external opportunities, particularly in the field of oncology. However, our interest in partnerships and potential acquisitions is not limited to oncology, and we are considering opportunities where there is strong science and where we see the possibility of developing a truly differentiated product. We've been going through an extensive internal review of programs and opportunities, and an important aspect of our approach is that we remain open-minded, but disciplined. So while we have the balance sheet to execute on multiple opportunities, we will keep the bar high."
Background
The bad news started with the third-quarter results when Gilead reported that sales of Harvoni and Sovaldi, its top two products, decreased 44% year over year coming in at $1.86 billion and $825 million, respectively, missing analyst projections. That's horrible news for a company where its top two products account for $2.69 billion out of the $7.45 billion in revenue in the quarter, and as recent as August, projections were for sales of Harvoni and Sovaldi to stay above the $10 billion mark for a decade; now that seems impossible! At the current rate, next year sales will be below that mark. To make things worse, last week a federal jury awarded Merck (NYSE:MRK) $2.54 billion in a patent dispute with Gilead and also ordered GILD to pay 9% royalties on Sovaldi and Harvoni going forward, which would take approximately another billion dollars per year in profits if the appeal is lost.
Gilead's stock already has lost 26% of its value year to date and is down 40% from its two-year high. To summarize, the decline is primarily based on three structural problems: 1) A weak pipeline, 2) declining sales in its hepatitis C franchise due to fierce competition, and 3) weak revenue diversification as 80% of its revenue is concentrated on its top six drugs. Management so far has been unable and unwilling to address all three of these concerns. As it is, these risks would make the stock a hold at a best unless the company makes a strategic acquisition. We believe the current patent litigation will force Gilead's management to make an acquisition, and we believe the acquisition that will make the most sense is Valeant.
A merger is out of question since Gilead is in a losing position to negotiate a good bargain with such a depressed valuation. And a large, all-cash acquisition ($50 billion+) is out of question as financing would be unfavorable until these structural problems are addressed, and using stock to finance a takeover is out of question again due to the depressed valuation (any takeover offer would be dilutive to the EPS multiple).
So far management has been incompetent and has been throwing punches in the air doing share repurchases to try and improve the valuation. Share repurchases don't change the only two metrics investors seem to care about in the current market conditions, which are EV/EBITDA and future revenue growth to see whether EV/EBITDA multiple will grow or shrink.
Our favorite metric to measure pharmaceutical companies is EV/EBITDA. Ever since the aggressive use of non-GAAP EPS by Valeant, investors should pay less attention to the headline numbers used by pharmaceutical companies and instead focus on what really matters: EBITDA. EBITDA will give you the real earnings being generated by the company. Cash flow is a good second, but the capital structure of a company can make this number significantly vary from company to company.
Both Allergan (NYSE:AGN) and Gilead are perfect examples of companies unsuccessfully trying to stem further share price declines by buying back their own stock. Stock repurchases will do little to prevent further declines.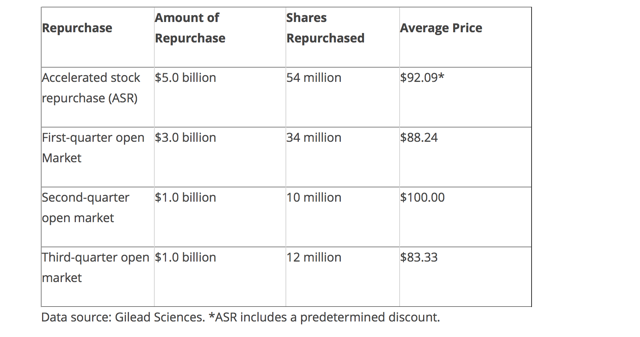 When you are buying back shares as a company and the market replies by sending your stock lower, it means you are doing the wrong thing. By now, Gilead's management should know any further purchases will do little to boost the stock price. But since Gilead only trades at 5.61 EV/EBITDA vs. an average of 13.6x for the industry, we can understand, but not share the reasoning behind management's decision for share repurchases; its shares look really cheap vs. the industry. The depressed valuation Gilead has provides great opportunity for an upside. If the company had a diversified business portfolio, it could enjoy an EV/EBITDA north of 10x. Take for example Allergan which has a business platform built around seven business segments and enjoys a 12.90x EV/EBITDA. Revenue diversity gives investors confidence that revenues will remain stable and provides stability to earnings. Valeant will add five business segments to Gilead, and Gilead will look very similar to Allergan following the transaction.
Allergan's shares are fairly valued at 12.90 EV/EBITDA and its management recently did a share repurchase program as well. AGN doesn't seem to understand, too, that buying more shares will only decrease the liquidity of the company as well as the future credit rating and leave it vulnerable to pass on future acquisitions. Its recent $10 billion ASR, of which $8 billion was completed in November, did nothing to prevent the decline from $220 to $192.
Now Valeant is currently producing approximately $4.35 billion in EBITDA and it will likely remain flat in 2017 before accelerating again in 2018 and 2019. With SG&A of approximately $2.6 billion, using third-quarter run rate, any company acquiring it can easily produce cost synergies of $1.3 billion. Therefore Valeant in the hands of a new company could easily produce $5.6 billion in EBITDA.
Gilead would benefit the most from acquiring Valeant due to the $31 billion of cash it has on hand which would greatly complement VRX's highly leveraged balance sheet. Also Gilead has less than $1.2 billion on goodwill which barely provides the opportunity for write-downs against future earnings. Making an acquisition will make sense. It will almost be like free money.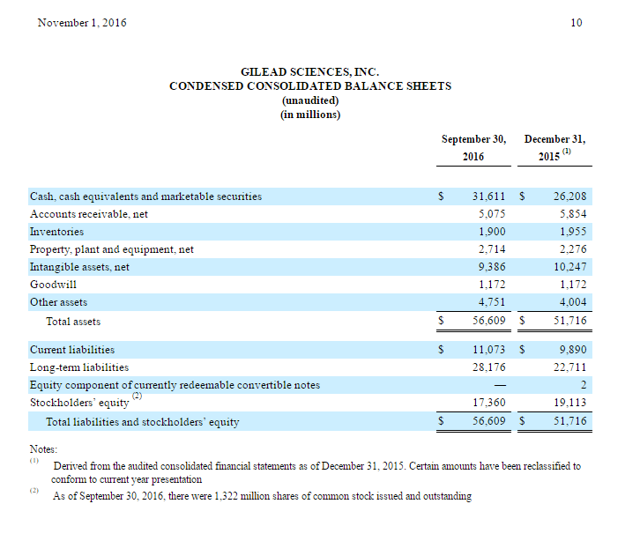 Source: Gilead Investor Center
We estimate a $20 billion offer for Valeant would receive approval from shareholders. We estimate the combined company would produce $24 billion in EBITDA going forward and the market would reward Gilead by appreciating to a conservative 8X EV/EBITDA or $192 billion in enterprise value, up from $114.80 billion today. Considering the cost of the acquisition plus debt plus any possible litigation settlements ($52 billion total cost), the acquisition would help Gilead reach a market cap of $140 billion, or $108 per share, at the low end of our estimate and $163 at the high end.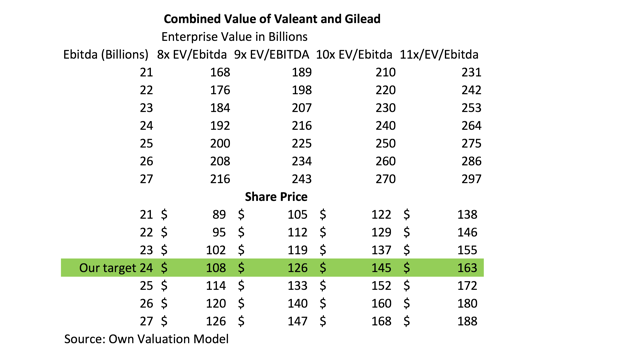 This acquisition will help Gilead gain a solid footing in the realm of dermatology, eye care, gastrointestinal, consumer products and diversified segment. The vast amount of cash at Gilead will help Valeant reach its true potential. Gilead could easily become a leader in all of those categories and significantly strengthen its revenue base. The reason Allergan trades at 12.90 EV/EBITDA vs. Gilead's 5.61 is due to revenue diversification and a strong pipeline. Valeant's single largest product, Xifaxan, accounts for 10% of revenue and the remaining 90% of revenue is diversified among 1,800 products. 80% of Valeant's business segments are growing. Further VRX has 134 R&D programs, of which 80% will be launched between 2017 and 2019.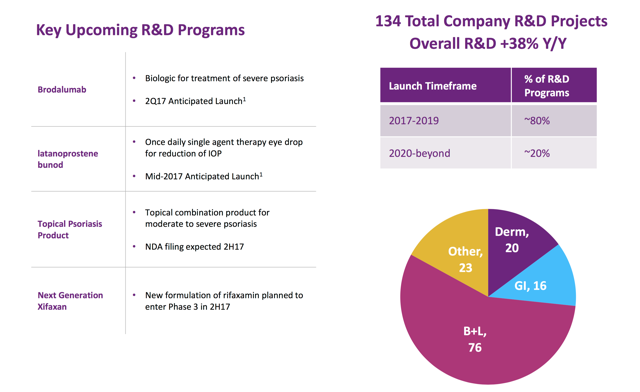 Source: Valeant's Third-Quarter Presentation
Now by no means we want to suggest that Valeant's pipeline is as strong as Allergan's, but it's a good enough pipeline to guarantee investors revenue diversification, alleviate concerns about a weak pipeline at Gilead, and help prevent further EBITDA erosion. Gilead post Valeant would also have seven business units to invest in R&D just like Allergan. For this reason, we assumed a very conservative 8x EV/EBITDA vs. Allergan's 12.90x even though we believe Gilead could possibly make new all-time highs with Valeant and have a valuation north of 10x EV/EBITDA in 2019.
Summary
Investors in the pharmaceutical industry are concerned on whether companies will be able to continue to increase their EBITDA among the outcry over price increases. Trying to engineer bottom-line results through share repurchases won't work at this time. if Gilead wastes its cash, it might not have another opportunity to grow and its stock price will be in a death spiral, but we believe that outcome to be low, and it's very likely that management will use its cash for an accretive acquisition. At the current depressed valuation, we believe the reward outweighs the risk. Though Valeant might not be the ultimate target Gilead acquires, we believe it's the most likely one due to its depressed valuation.
We believe investors should scoop shares of both Gilead and Valeant as both stocks at current valuations are very compelling for an event-driven upside.
Disclosure: I am/we are long VRX.
I wrote this article myself, and it expresses my own opinions. I am not receiving compensation for it (other than from Seeking Alpha). I have no business relationship with any company whose stock is mentioned in this article.