Screening for high dividend, high cash flow, possibly undervalued stocks has led me to Fortress Investment Group LLC (NYSE:FIG). It ticks most of the boxes - solid dividend growth; high free cash flow; an under-followed small cap. But does that mean its a worthy investment?
The Business
At its core, FIG is an asset manager - it makes its money by generating fees from assets under management (AUM). It manages money in five different businesses: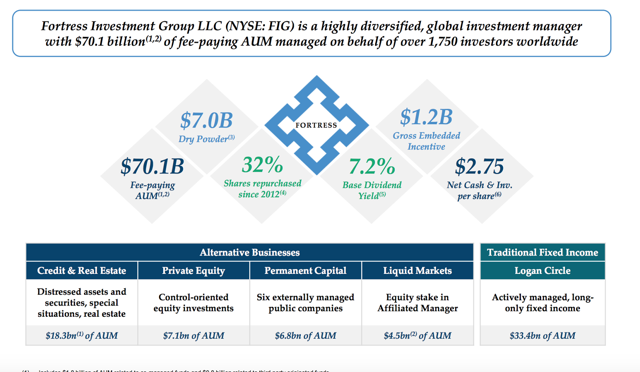 Source: Fortress Investment Group Q3 2016 Investor Presentation
The first business - Credit and Real Estate - uses investor money to buy distressed and somewhat illiquid assets. This segment comprises about 26% of the AUM.
The second segment - Private Equity - comprises about 10% of the AUM.
The third segment - Permanent Capital - is essentially a buy and hold type segment where FIG owns ongoing ownership stakes in other public companies. This business comprises about 10% of the AUM.
The fourth segment - Liquid Markets - is a traditional hedge fund business. This business accounts for ~ 6% of the total AUM.
Finally, the fifth segment - Logan Circle - operations fixed income mutual funds. This segment is quite large, comprising just under half (48%) of the AUM.
Through a variety of funds, FIG provides investors the opportunity to invest in each business segment.
At first glance, the AUM in Credit and Real Estate, Private Equity and Permanent Capital businesses appears to be relatively sticky, as it's not easy for investors to pull money out given the fixed nature of the underlying investments. Thus, in theory, there appears to be a switching cost which would again, in theory, contribute to a moat.
Furthermore, in the asset management business there are limited incremental costs - once the fixed costs are paid, it doesn't cost more to manage additional assets, but those additional assets affect the bottom line. Overall, the stickiness - intrinsic to FIG - plus the favourable business model - intrinsic to the asset management business - suggests a possibly winning combination.
However, when we look at revenue, overall it is declining.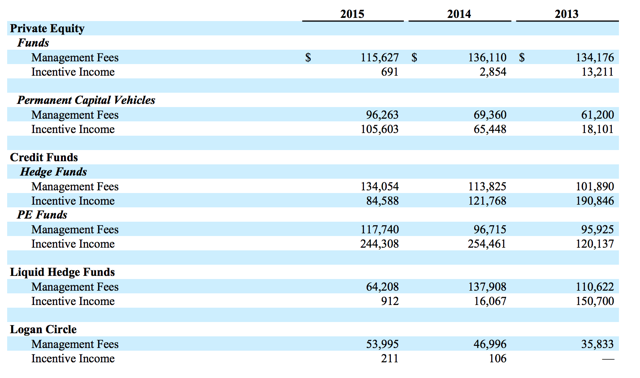 Source: Fortress Investment Group 2015 10K
Perhaps the sticky businesses aren't as sticky as they initially appear. Furthermore, looking at the Q3 2016 earnings release, overall AUM has declined year over year as well.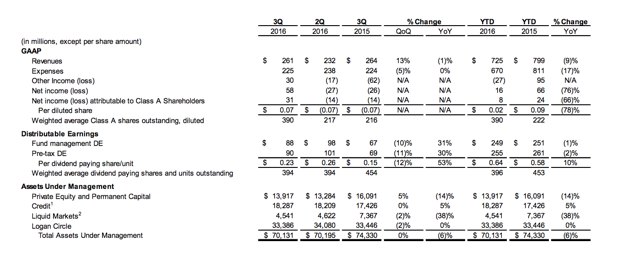 Source: Fortress Investment Group Q3 2016 Earnings Release
Earnings:
Management is quick to point out that, since 2012, multiple business metrics have been improving at FIG.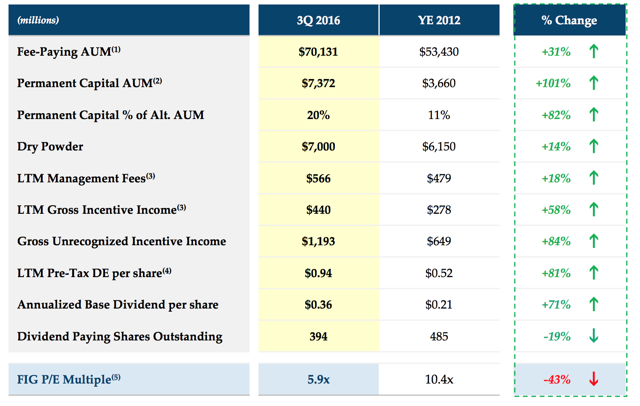 Source: Fortress Investment Group Q3 2016 Investor Presentation
Indeed, looking at the earnings, they have been improving since 2012, although they have been lumpy.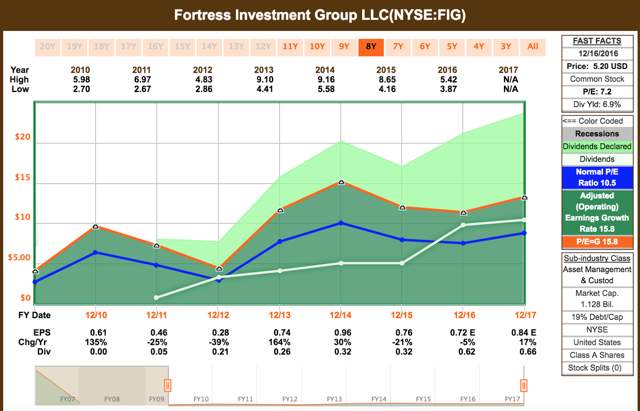 Courtesy of FASTGraphs
Nonetheless I think it's worth pointing out that overall, we are in the midst of a multi year bull market. Furthermore, with improving investor sentiment post GFC, money is flowing back into the market and investment vehicles. Thus, the improvement metrics management is highlighting is probably a reflection of the overall macro trend (bull market) that would benefit all asset managers, not just FIG itself. Furthermore, the more recent trend of declining AUM, despite the ongoing bull market, is worrisome in my mind.
Capital Allocation:
There are a few metrics that are encouraging however - namely the dividend payments and share repurchases. This implies that management is committed to returning capital to shareholders. Of course, as a publicly traded partnership Fortress is legally obligated (for tax reasons) to return much of the capital to the shareholders.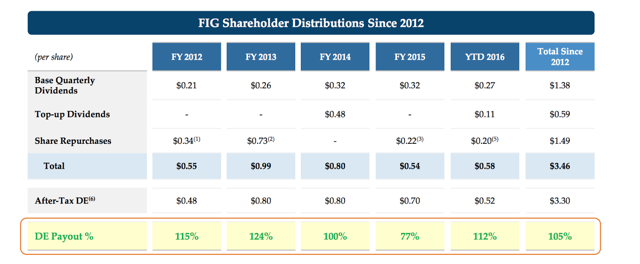 Source: Fortress Investment Group Q3 Investor Presentation
The "DE Payout%" is the payout of the distributable earnings (NYSE:DE) which are essentially all after tax earnings. The high payout does mean that, with a decrease in earnings, the dividend may be cut.
Insider ownership is also a positive, as individual insiders own about 45% of the outstanding shares.
Cash Flows and Book Value
One of the initial draws to Fortress was its high cash flow, which is something that I screen for. However, when looking at the cash flows over the last three years we see overall things have been decreasing. Over the course of three years, net cash from operating activities has decreased by 44% which is obviously a worrisome sign.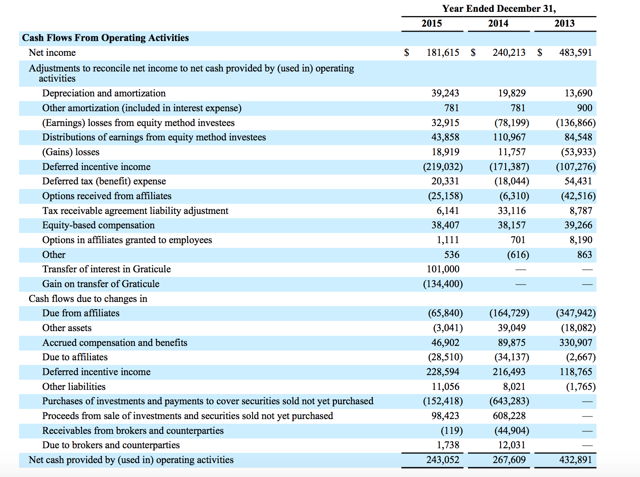 Source: Fortress Investment Group 2015 10K
Despite this decrease, Fortress still has quite a healthy balance sheet and lots of cash on the books.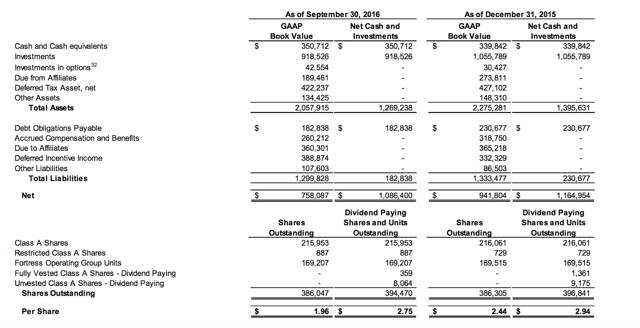 Source: Fortress Investment Group Q3 2016 Earnings Release
Thinking about it differently, if one was to buy the entire business (currently priced at $5.16 /share) then the entire future earnings power of the business could be had for $3.20 given the cash and investment on the books.
Does FIG Have A Moat?
Initially, due to the relatively illiquid parts of the business (Private Equity; Credit and Real Estate) my initial thoughts were that it would be somewhat sticky as it's hard for investors to pull out their money. However, looking at the AUM over the last three years the "sticky businesses" have been flat or decreasing with time, meaning the illiquidity doesn't represent a substantial switching cost.
Furthermore, the returns are driven by the managers, and the managers can come and go. What is there to stop a star manager from leaving FIG for another firm, and what is going to stop the fan club of investors from following suit?
Insider ownership does represent an ongoing commitment to FIG, but at the end of the day, if a manager wants out they can sell their shares on the open market.
Given this, I do not think FIG has a moat.
Is FIG A Worthy Investment?
Assuming one purchased the entire business for $3.20, at present TTM free cash flow per share is $0.74. Thus, assuming free cash flow stays stable, an investor could double their initial investment in just over 4 years, as each year you would make $0.74 off the business operations. This would lead to quite an impressive CAGR of ~18%.
However, this is assuming cash flow stays stable, which may or may not happen. Remember, looking at the cash flow statement, it has decreased by ~ 44% in the last 3 years. Furthermore, given the rising interest rate environment, outflows may be further accelerated from investors fleeing from the fixed income and real estate investment segments, which would further hurt AUM.
As mentioned, management does report to improving metrics since 2012 but again, a rising tide floats all boats. During this time ROE has averaged 14% but is actually decreasing with time, which is also a worrisome sign.
| | | | | |
| --- | --- | --- | --- | --- |
| | 2012 | 2013 | 2014 | 2015 |
| ROE (%) | 14.06 | 27.15 | 9.46 | 6.75 |

Data courtesy of GuruFocus
Thinking about possible outcomes moving forward, a bear equity market would probably lead to further outflows from the hedge fund business, although it may help the alternative investment business. An ongoing bull market probably wouldn't lead to any meaningful improvements, as the bull market of the last few years hasn't really helped FIG.
If interest rates decrease, fixed income and alternative investments would increase in value and that would likely attract AUM. Alternatively, if rates increase (which is essentially what is happening) it makes fixed income and alternative investments less desirable, and so we may see further outflows from these segments.
Thus, although the liquid assets on the books plus the overall cash flow are enticing, I believe the underlying fundamentals aren't appealing. Furthermore, with rising interest rates or a bear market, these fundamentals may worsen.
The only way I can see an investment in FIG paying off is i) the cash flows stabilize or ii) FIG is acquired at a premium. However, given the underlying fundamentals and the lack of a moat I think the downside risk is much higher than any upside potential.
Therefore, although appealing at first glance, I will pass on FIG.
What do you think about FIG? Please feel free to let me know in the comments section below. Thanks for reading!
Disclosure: I/we have no positions in any stocks mentioned, and no plans to initiate any positions within the next 72 hours.
I wrote this article myself, and it expresses my own opinions. I am not receiving compensation for it (other than from Seeking Alpha). I have no business relationship with any company whose stock is mentioned in this article.
Additional disclosure: I am not an investment professional and I recommend you do your own due diligence on any of the stocks discussed.