Now is the season of giving and joy. We give our loved ones presents as tokens of affection and to bring them happiness. While toys are great gifts for our children's immediate happiness, why not also give them stocks that will grow with them through adulthood? Over time they will learn important life skills, like saving and investing, that will help them be successful adults, regardless of the profession they go into.
If you give a good stock every Christmas and birthday, your child will enter adulthood with a huge head-start, both in knowledge and capital. This can be used to pay for college, start a new business, or just to continue compounding. Compounding works the most magic after 20 or 30 years. So by getting started early, it will work wonders for your kids as they have kids of their own.
There are many options to do this. The easiest would be to open a custodial account with a brokerage (known as a UTMA or Uniform Transfers to Minors Account). However, this has the disadvantage of giving them access to the money when they turn 18. A little more complicated way is to set up a trust so that you can specify the age your child gets full use of the money and the uses of the money until then. A legal professional can advise you of the pros and cons of the different methods.
One way to super-charge the gift is to give them a choice of three stocks to choose from, all of which are good options, so they cannot make a mistake. As an example, I gave my nephew an option of three stocks for his birthday. He chose Apple Inc. (NASDAQ:AAPL), which was at a good price and had a solid dividend (albeit lower than the ones below). I bought him 10 shares.
By choosing his own stock, he became more interested. After my sister explained to him the concept of earning dividends while doing nothing, he said, "you mean I can even make money while picking my nose?" Okay, so that wasn't what I had in mind, but he's eight years old, after all.
For this list, I'm focusing on enduring businesses that are likely to thrive for ten years or more-businesses that are likely to protect and grow their dividends over time. One reason I believe it is important to start off with quality dividend stocks is so the new investor can see tangible evidence of earning a return, even when there is a market downturn. One of the biggest things that can scare off new investors is checking the price every day and seeing the value of their portfolio drop in a bad market. Having recurring cash flows that grows over time is a great safety net.
Without further ado, here is the list:
1. Archer-Daniels-Midland Co. (NYSE:ADM)
$27 billion market cap, 16X forward P/E, 2.7% dividend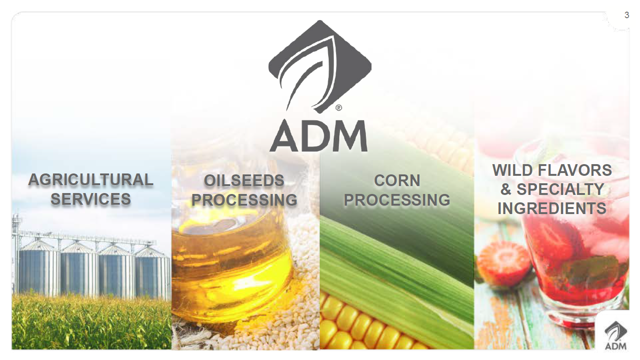 Source: Company Presentation
ADM is one of the largest agricultural processors and food ingredient providers, with over 32,000 employees and operations in over 160 countries. It procures crops from over 400 locations and operates 280 manufacturing facilities. Core ingredients include corn, wheat, oilseeds, and other agricultural commodities. Key products include starches and sweeteners, flour, protein meal, vegetable oil, biodiesel, ethanol, and more. With the company's wide variety of agricultural products and scope of processing, manufacturing, and distribution operations, it an essential element in the world's food supply chain.
2. AT&T Inc. (NYSE:T)
$261 billion market cap, 14X forward P/E, 4.6% dividend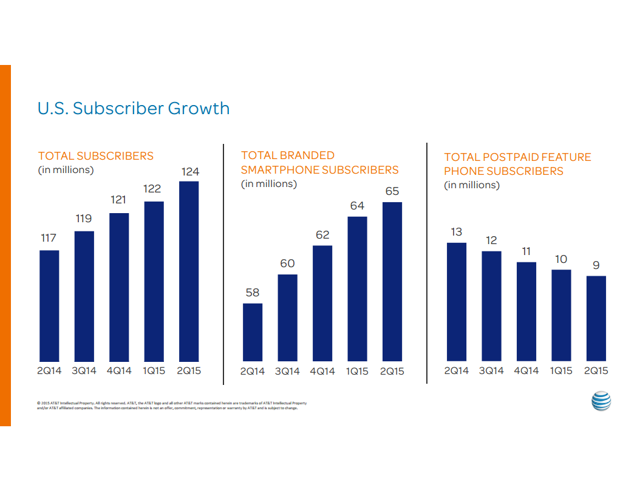 Source: Company Presentation
AT&T is one of the two largest wireless service providers in America. It also owns DirectTV, the largest satellite programming provider. It has also reached a deal to buy Time Warner Inc. (NYSE:TWX), though that may not pass regulatory scrutiny. It also owns a variety of broadband and landline services for consumers and businesses. As the world moves into ever more data hungry applications, there will be continued demand for the company's services. The company owns a lot of spectrum, which will grow increasingly valuable with the limited availability of new spectrum. Management has done a good job of positioning the company to provide an integrated content and delivery system. The ability to offer both unique content and maintain a distribution pipeline makes it an attractive option for customers.
3. Deere & Company (NYSE:DE)
$33 billion market cap, 23X forward P/E, 2.3% dividend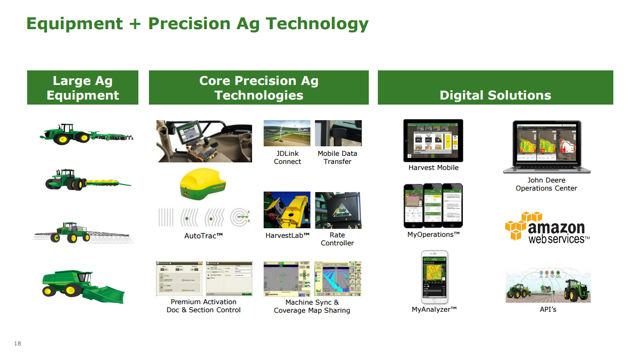 Source: Company Presentation
Deere is one of the leading manufacturers of agriculture, construction, turf, and forestry equipment. Products include tractors, plowers, field cultivators, mowers, mulchers, and more. While capital equipment is cyclical, there will be increasing demand over the long-term has the population grows and economies develop.
4. International Paper Company (NYSE:IP)
$22 billion market cap, 14X forward P/E, 3.4% dividend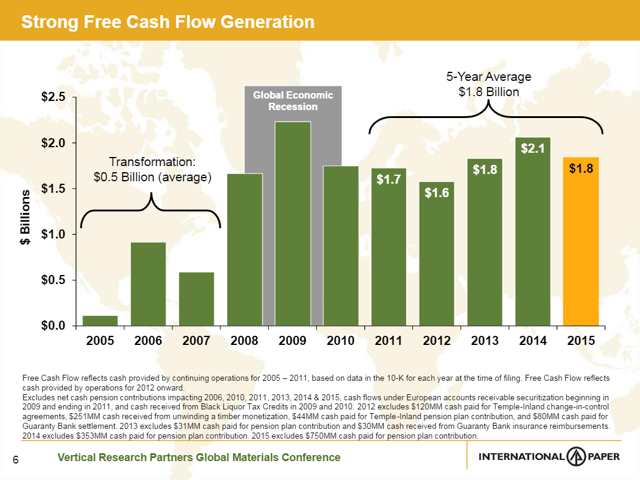 Source: Company Presentation
International Paper is a leading global producer of fiber-based packaging, pulp, and paper products. These products are used in things like diapers, tissues, paper, paper bags, paper cups, and food containers. The company employs 55,000 people in more than 24 countries, located in North America, Latin America, Europe, North Africa, Asia, and Russia. Pulp and paper are core commodities with a wide variety of uses, likely to continue growing with the economy. Given the company's resource, manufacturing, and distribution scale, it can continue growing at improving profitability in this otherwise commoditized market. Strong free cash flow generation supports the dividend.
5. Norfolk Southern Corp (NYSE:NSC)
$32 billion market cap, 18X forward P/E, 2.2% dividend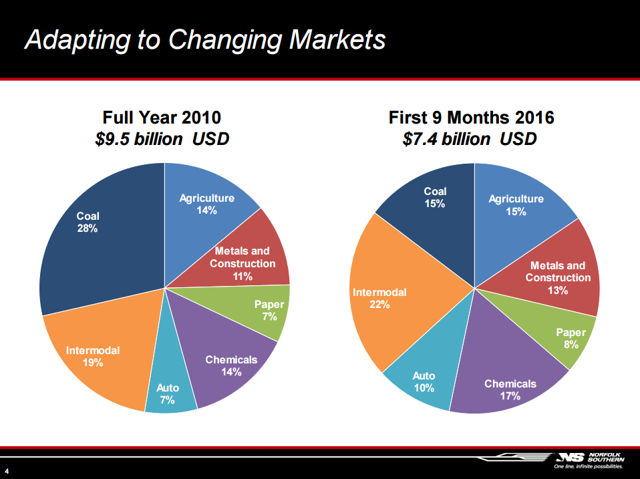 Source: Company Presentation
Norfolk Southern is a leading North American railway company, operating about 20,000 route miles in 22 states. It serves every major container port in the Eastern United States. It also operates an intermodal network in the eastern states, serving the coal, automotive, and industrial sectors. Given land rights issues, it is almost impossible to duplicate the company's network in the modern era. Rail will remain a very competitive shipment method for many products for the foreseeable future and is one of the more environmentally friendly transportation methods.
6. Procter & Gamble Co. (NYSE:PG)
$226 billion market cap, 21X forward P/E, 3.2% dividend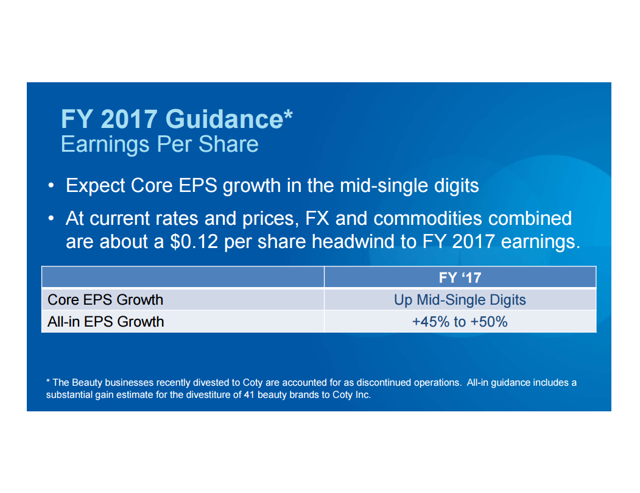 Source: Company Presentation
Procter & Gamble is a global leader in personal products, including beauty, grooming, health care, fabric & home care, and baby, feminine & family care. Brands include Head & Shoulders, Old Spice, Gillette, Crest, Prilosec, Tide, Cascade, Pampers, and many others. These are core staples, recession resistant, and likely to continue growing with population growth and economic development. Strong cash flow and returns on capital supports dividend growth and share repurchases.
7. Prudential Financial, Inc. (NYSE:PRU)
$46 billion market cap, 10X forward P/E, 2.7% dividend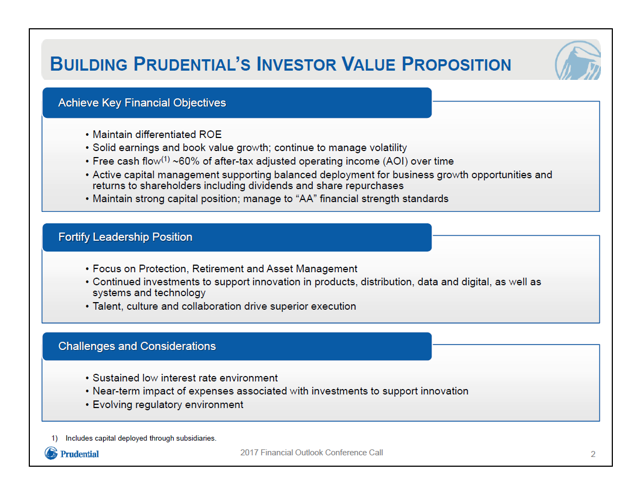 Source: Company Presentation
Prudential Financial is a leading financial services company with greater than $1 trillion in assets under management. Core businesses include individual annuities, retirement planning, asset management, individual life insurance, and group insurance. As interest rates rise from historically low levels, profitability will benefit from an expansion in spreads between earning assets and annuity costs (crediting rates).
8. Sysco Corp (NYSE:SYY)
$31 billion market cap, 22X forward P/E, 2.3% dividend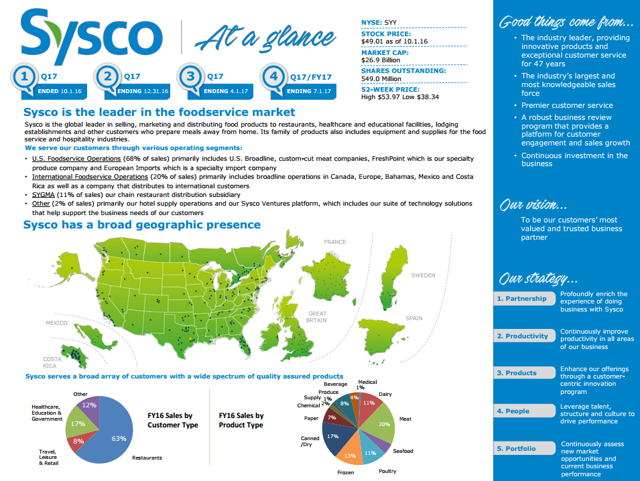 Source: Company Factsheet
Sysco is the leading food distributor to restaurants, healthcare facilities, educational facilities, the lodging industry, and other food service businesses in the United States. It operates 194 distribution facilities in the U.S., Canada, the Bahamas, the Republic of Ireland, and North Ireland. It serves over 400,000 products to 425,000 customers. With its scale and network density, the company is able to generate consistently high returns on capital and free cash flow.
9. Toyota Motor Corp. (NYSE:TM)
$197 billion market cap, 11X forward P/E, 2.8% dividend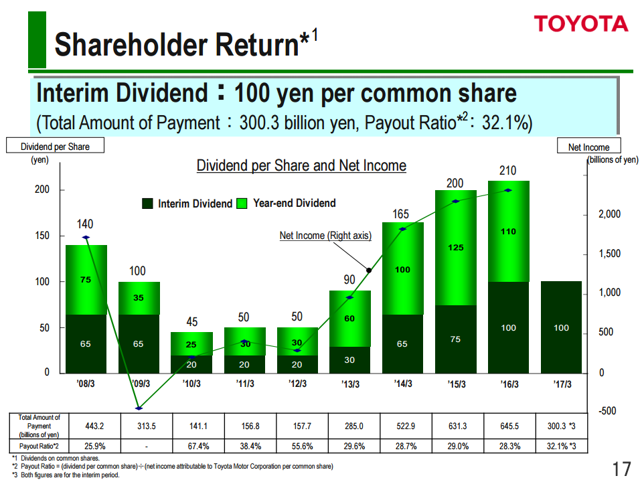 Source: Company Presentation
Toyota is the leading automotive company in terms of worldwide sales. It offers the full range of consumer vehicles, including the Corolla compact car, Camry mid-size car, and the Lexus luxury car. It also produces a variety of pickup trucks and sports utility vehicles, including the 4Runner, RAV4, and Highlander. The company produces cars and parts in over 30 countries and sells its vehicles in over 190 companies. While the automotive industry is sensitive to recessions and we're at the point in the cycle where sales are softening, TM should benefit long-term from the secular trend of greater vehicle ownership.
10. Wal-Mart Stores, Inc. (NYSE:WMT)
$221 billion market cap, 16X forward P/E, 2.9% dividend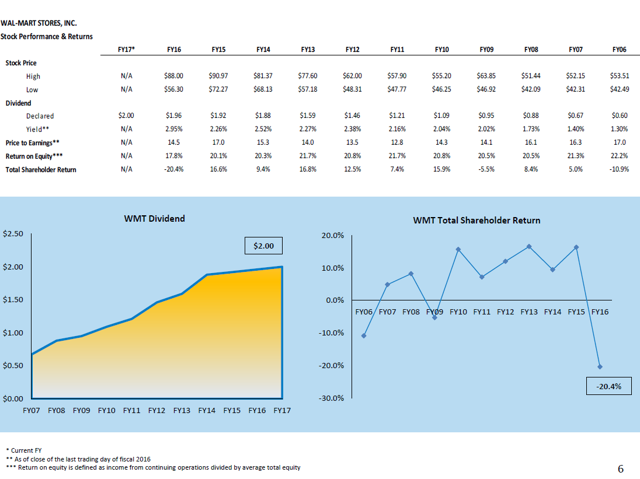 Source: Company Presentation
Wal-Mart is the leading global store-based retailer, serving almost 260 million customers a week through over 11,500 stores. It also maintains a strong e-commerce business, operating in 11 countries. While Wal-Mart maintains steady growth during good times, where it really stands out is in recessions. Given the lower price point of its products, a lot of customers turn to Wal-Mart to save money when things get difficult. It therefore is a nice balance to some more cyclical stocks in a portfolio. Meanwhile, the company consistently generates excellent returns on capital, free cash flow, and dividend growth.
Disclosure: I am/we are long AAPL, T, PRU, TWX, WMT.
I wrote this article myself, and it expresses my own opinions. I am not receiving compensation for it (other than from Seeking Alpha). I have no business relationship with any company whose stock is mentioned in this article.