Performance and Valuation Prime™ Chart
Zillow Group (NASDAQ:ZG) owns and operates a portfolio of real estate and rental marketplaces, while also providing advertising services to real estate agents and mortgage professionals. While the real estate market can be incredibly complex and localized, ZG has succeeded in establishing a commanding lead over competitors in the space. As the firm continues to disrupt legacy real estate markets and expand their share of the total market, they should be able to benefit from substantial tailwinds related to aging millennials, while maintaining their leadership position in the expanding digital real estate marketplaces space.
ZG has seen improving profitability, with Uniform Adjusted Financial Reporting Standards (UAFRS) based ROA rising from -8% in 2009 to 18-21% levels from 2011-2014, before jumping to 36% in 2015, driven in part by the firm's acquisition and successful integration of Trulia. Meanwhile, UAFRS-based asset growth has been consistently positive, ranging from 37% to 70%.
The dramatic jump in Adjusted ROA from 20% in 2014 to 36% in 2015 may have some investors concerned about the sustainability of such improved profitability. However, with their acquisition of Trulia, ZG has now become the largest player in their space, meaning they will likely benefit from improved pricing power going forward, on top of the potential synergy savings from the acquisition. Additionally, the firm still has a very small share of the total spend in the real estate market, leaving ample room for future growth.
For context, the PVP chart below reflects the real, economic performance and valuation measures of Zillow Group, Inc. after making many major adjustments to the as-reported financials. This chart, along with all of the charts included in this article, as well as the detail behind the graphics, can be found here.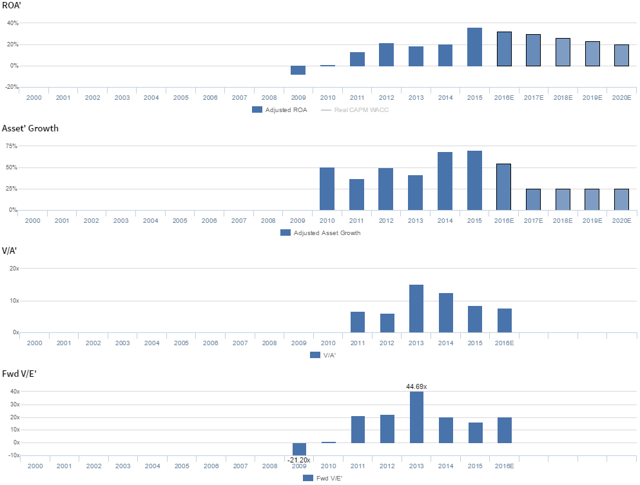 The four panels above explain the company's historical corporate performance and valuation levels plus consensus estimates for forecast years as well as what the market is currently pricing in, in terms of expectations for profitability and growth.
Performance Drivers - Sales, Margins and Turns
It can be helpful to break down Adjusted ROA into DuPont formula parts, UAFRS Earnings Margin and UAFRS Asset Turnover, which are cleaned up margins and turns metrics used to calculate Adjusted ROA. The chart below details both Adjusted Earnings Margin and Adjusted Asset Turns historically, to help us better understand the drivers of the firm's profitability and performance.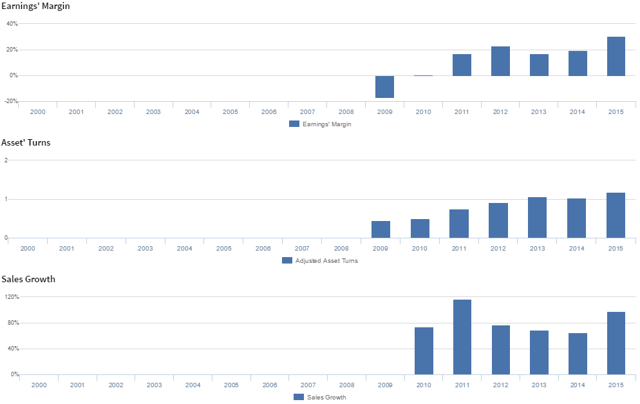 Improvements in Adjusted ROA have been driven by improvements in UAFRS-based Earnings Margins and UAFRS-based Asset Turns. From 2009-2012 Adjusted Earnings Margins increased from -9% to 23%, before falling to 17% in 2013, and recovering to 30% in 2015. Meanwhile, Adjusted Asset Turns improved steadily from 0.5x in 2009 to 1.2x in 2015. Additionally, sales growth has been very robust historically, ranging from 65% to 117%.
The steady improvement in Adjusted Asset Turns highlights how the firm has been growing scale and been able to do a better job monetizing their investment. A major factor in the company's success will be their ability to drive multiple revenue streams from the data they are generating and analyzing, and this positive trend in Adjusted Asset Turns highlights they are doing just that.
It is also important to note the material improvement in Adjusted Earnings Margins in 2015, from 20% to 30%. This improvement, likely driven by a combination of improved pricing power and synergy savings from the Trulia acquisition, highlights ZG's future margin potential. Having now become the largest player in their space, the firm is likely to continue to benefit from improved pricing power going forward, which should in turn drive sustained improvements in Adjusted ROA.
Impact of Adjustments
This analysis uses UAFRS metrics, or adjusted metrics, which remove accounting distortions found in GAAP and IFRS to reveal the true economic profitability of a firm. This allows us to better understand the real historic economic profitability of a firm as well as allows for better comparability between peers. To better understand UAFRS, please refer to our explanation here.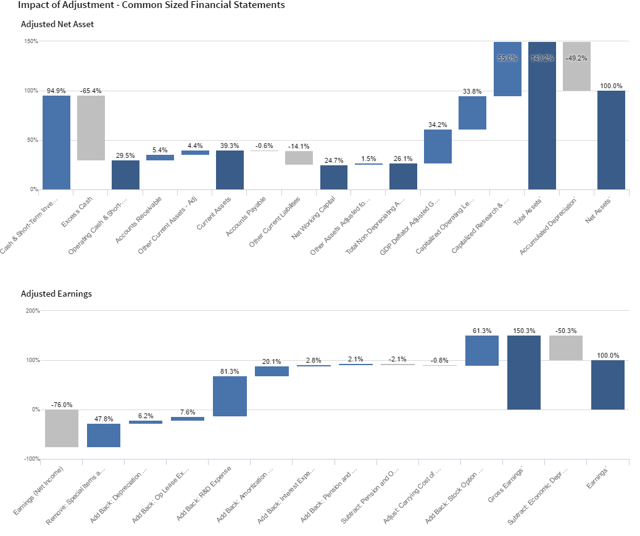 The chart above highlights the impact UAFRS adjustments have on ZG's asset base and earnings. The first adjustment to the firm's Adjusted Net Asset base comes from UAFRS capitalization of operating leases. ZG's operating lease expense is quite material. However, the decision management makes between investing in capex and investing in a lease is not a decision between an expense and an investment, but rather a decision in how management wants to finance their investments. If they would rather spend cash up front for the asset, they will spend capex. However, if they want to spread the cost of the asset over several years, they will instead choose to lease the asset. That said, as-reported accounting statements treat one as an investment and the other as an expense that does not impact the balance sheet. Because ZG spends materially on operating leases, as-reported metrics like Total Assets and ROA materially overstate the firm's true profitability and capital efficiency versus UAFRS metrics.
In the same vein as operating leases, ZG has regular, and material investments in R&D each year that as-reported financial statements treat as expenses. This violates one of the core principles of accounting, which is that expenses should be recognized in the period when the related revenue is incurred. R&D investment is an investment in the long-term cash flow generation of the company. Because as-reported metrics treat R&D investment as an expense, as opposed to an investment, net income is artificially decreased.
ZG also has material non-cash stock option expenses. This is treated as an expense to the company in accounting statements, when it is actually a way for the company to give employees an ownership stake in the company. As such, this non-cash expense should be treated as dilution to equity holders and another claim against the Enterprise Value of the firm, as opposed to it being treated as an annual expense. This is especially true as, unless the company uses cash to buy shares (to suppress dilution for equity holders from the option grants being exercised), there is no cash impact on the company.
The final material adjustment made to ZG's Adjusted Net Assets revolves around the firm's cash balance. Corporations inherently need some level of cash to operate their business, without which they would have liquidity issues and customers and suppliers would be hesitant to build long-term relationships with them. However, companies with substantial cash balances (above what one might view as "operating" cash) can see as-reported ROA diluted because of the substantial portion of the balance sheet that ends up being taken up by cash that is earning limited or no return, especially in the current environment. As such, if excess cash is not removed from the asset base of a company before looking at performance metrics, a company can appear to have substantially lower operating profitability than it actually has.
These adjustments alone have a dramatic impact on ZG's adjusted earnings and adjusted Net Assets. They have a 100%+ impact on ZG's earnings - the company actually has positive earnings, not the negative earnings as-reported distortions show. Also, these adjustments have a 20%+ impact on the company's asset base.
Embedded Expectations Analysis
As investors, understanding what the market is embedding in the stock price in terms of expectations is paramount to making good decisions. Without understanding what the market is pricing in, it is impossible to claim that the market is wrong. We derive market expectations for the firm from valuations and historical performance trends, to give a clearer picture into what the market is projecting for the firm.
ZG is currently trading at a 20.1x UAFRS-based P/E, which is near historical averages. At these levels, the market is pricing in expectations for declining Adjusted ROA, from 36% in 2015 to 20% in 2020, signaling the company will give back all of its post-Trulia performance gain. The market expects this to be accompanied by 25% Adjusted Asset growth, half of historic levels, as they expect the company to not be able to grow even with the substantial remaining unpenetrated total addressable market the company has.
Analyst and Management Expectations and Alignment
Analysts have less bearish expectations than the market, projecting Adjusted ROA to stabilize at 30-32% levels in 2016 and 2017, accompanied by 55% Adjusted Asset growth. Clearly, analysts think the company still has substantial growth opportunities and substantial staying power.
Moreover, Valens' qualitative analysis of the firm's Q3 2016 earnings call highlights continued confidence from management, in line with its Q3 2015 through Q2 2016 earnings calls that highlighted confidence from management on key drivers for the business, including Rentals, Mortgages and StreetEasy. Management was confident when saying they are growing revenue in the mid-20s, and that revenue growth will be faster in 2016. They were also highly confident when saying that their revenue mix is shifting toward their Marketplace category, where they want it to move toward, and when talking about new sales booking growth rates from existing agents and their GAAP EPS outlook. Management was also highly confident about their ability to further improve the consumer experience across their brands and about the return they will see on their investments in their people and their data, as well as how that is driving growth in the business going forward.
Valuation Matrix - ROA' and Asset' Growth as Drivers of Valuation
When valuing a company, it is important to consider more than a singular target price, and instead the potential value of a firm at various levels of performance. The below matrix highlights potential prices for ZG at various levels of profitability (in terms of Adjusted ROA) and growth (Adjusted Asset growth). Prices that are in excess of 10% equity upside are highlighted in black and prices representing an excess of 10% equity downside are highlighted in red.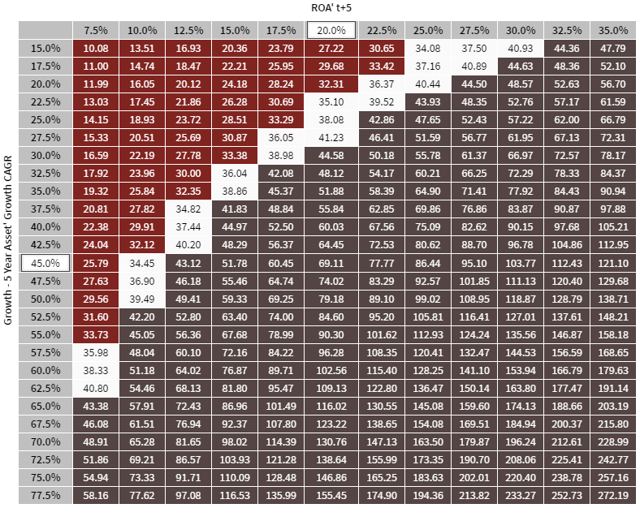 To justify current prices, ZG would need to see Adjusted ROA fall by two thirds to levels not seen since 2011, or to see growth cut in half, with Adjusted ROA falling by 1/3. Considering the firm has just acquired their largest competitor and is likely to gain pricing power, as well as benefit from potential synergies, this appears to be an incredibly bearish expectation. Moreover, while ZG is now the largest player in their space, they still only hold limited share in the fragmented real estate market, leaving ample opportunity for further growth.
Additionally, ZG's management has been consistently confident about key business drivers and future growth opportunities. Should the firm succeed in just sustaining Adjusted ROA at current 30%+ levels, while maintaining Adjusted Asset growth in line with historical lows, material equity upside would be warranted. Furthermore, if the firm can succeed in driving further Adjusted ROA expansion, something management has shown confidence in, while sustaining Adjusted Asset growth in line with the more robust levels of recent years, equity upside in excess of 200% would be justified.
To find out more about Zillow Group, Inc. and how their performance and market expectations compare to peers, click here to access the open beta of the Valens Research database.
Our Chief Investment Strategist, Joel Litman, chairs the Valens Equities and Credit Research Committees, which are responsible for this article. Professor Litman is regarded around the world for his expertise in forensic accounting and "forensic fundamental" analysis, particularly in corporate performance and valuation.
Disclosure: I am/we are long ZG.
I wrote this article myself, and it expresses my own opinions. I am not receiving compensation for it (other than from Seeking Alpha). I have no business relationship with any company whose stock is mentioned in this article.