Fannie Mae (OTCQB:FNMA) and Freddie Mac (OTCQB:FMCC) are two companies that give all of their money to the federal government as part of the net worth sweep. The government engineered a preferred stock that prevents earnings from accruing to other preferred stock or common stock as part of a plan to wind down Fannie Mae and Freddie Mac in 2012. Many investors filed lawsuits and in 2014 Judge Lamberth ruled that the government can do whatever they want and no court can stop them regardless of the facts. Since then, other courts have followed in lock step fashion. If you want to value the common and preferred stock, it would appear that they are being valued like call options in the event that the company survives the government's gambit.
Investment Thesis: Leading into the elections and even during the elections, the mainstream consensus view was that Clinton was going to win. Since Donald Trump got elected instead, both common and preferred shares have soared. From the call option perspective, it would appear that Trump winning the election has brought forward the time that it will take to resolution. Under a Clinton administration, it would have seemed that legal outcomes would have driven valuation scenarios and assuming a remand on Perry, those would be quite a ways off still. With Trump in charge, the time frame that one may expect this to take has shortened considerably if you are of the opinion that this will be resolved politically. When Fannie Mae and Freddie Mac are adequately capitalized and paying dividends, preferred shares will trade near par, roughly 3x from here. Common shares will trade at an earnings multiple on the earnings attributable to common shareholders.
Mulvaney - Budget Director
Representative Mick Mulvaney has been picked as Trump's Budget Director. Earlier this year, Mulvaney proposed HR 4913 - The Housing Finance Restructuring Act of 2016. This bill declares the senior preferreds paid in full, exercises the warrants and permits the companies to build capital and does not permit dividends (common or preferred) until the companies are fully capitalized. Mulvaney previously asked the current FHFA director Melvin Watt about how the law got trumped:
They both agree that typically an agreement between one agency and another agency of government cannot trump the law. Watt's defense is that the agreement was put into place before he got there.
Mnuchin - Treasury Secretary
Mnuchin was recently on Fox Business where he talked about getting Fannie and Freddie out of government ownership:
When Mnuchin was announced, the stocks soared indicating that at the very least his views on getting Fannie and Freddie out of conservatorship matter. Michael Stegman, a detractor while at Treasury, has now illustrated that all it really takes is a new Treasury Secretary.
Icahn - Special Advisor
Trump recently named Icahn as a special advisor. Two years ago Icahn bought shares of Fannie Mae and Freddie Mac from Bruce Berkowitz. Icahn has been tasked with helping pick the next Securities and Exchange Commission (SEC) chairman. The SEC would be responsible for determining whether or not the financials are restated for Fannie Mae and Freddie Mac.
The government was angry that the auditor lawsuit brought by private shareholders was settled earlier this year. Eventually the government got on board with the settlement. The other accounting fraud lawsuit is still outstanding. I have long suspected that a restatement is possible but hard to achieve because it would be the government doing something that isn't in its own best interest because the net effect would be giving back money that it took by restating the financials thereby changing the draws and payments of Fannie Mae and Freddie Mac to US Treasury in conservatorship.
Icahn might just be incentivized to find someone who will push for this if he still has shares.
FHFA Landing Team
Trump recently announced Agency Landing Teams including a few GSE detractors: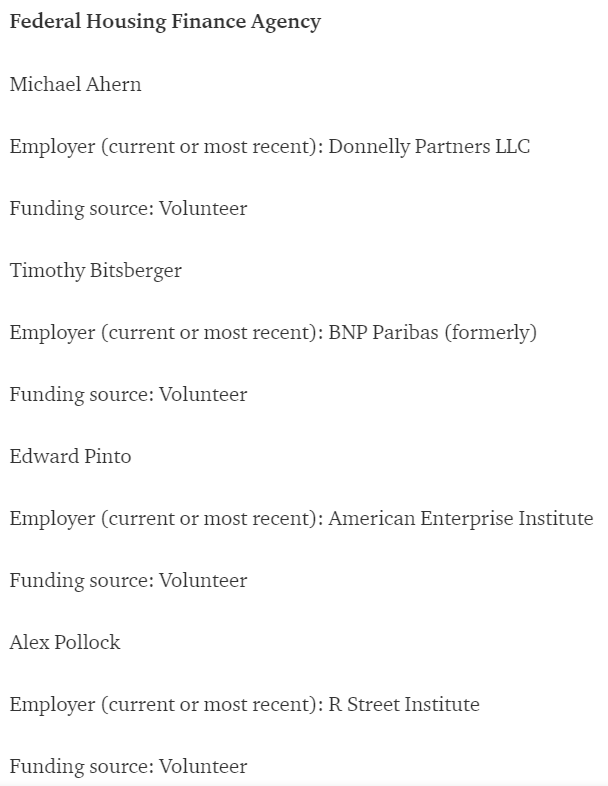 Edward Pinto has frequently been cited by roughly everyone who gets paid to think that Fannie Mae and Freddie Mac are bad businesses. David Fiderer has done good work raising concerns. Alex Pollock used to come with criticisms but more recently has proposed solutions where the net worth sweep ends and has been received more favorably. Overall, I am not sure that these FHFA positions matter nearly as much as the other ones.
Summary and Conclusion
While legally we're still waiting to hear back on the Perry Capital Appeal and the Writ of Mandimus, things seem to be moving along at a much faster clip politically since Trump won the election. Considering that the equity shares of Fannie and Freddie seem to trade like a call option on the potential recapitalization of Fannie Mae and Freddie Mac they've gone up as people have begun to speculate that things are going to start happening soon. Privately some people have suggested that this may happen during Obama's presidency because once he's out of office he might not be able to pardon them for what they've done.
I'm not a lawyer and I don't really know about that stuff and frankly I'm not sure it matters much who fixes it as long as someone fixes it. I have 4050 shares of FMCCH, 9340 shares of FMCCP, 9714 shares of FMCCT, 2600 shares of FMCKI, 1025 shares of FMCKO, 6585 shares of FMCKP, 27269 shares of FNMFN and 5 shares of FNMFO. I borrowed a lot of money to buy all these shares and I think I'm going to have to start selling before the end of this year or perhaps early next year in order to not default on my debt obligations as they come due. As always I don't think that the warrants should be exercised on principle because I think the government has taken more than its fair share of GSE profits.
Disclosure: I am/we are long FNMFN,FMCKO,FMCKI,FMCKP,FMCCT,FMCCP,FMCCH,FNMFO.
I wrote this article myself, and it expresses my own opinions. I am not receiving compensation for it (other than from Seeking Alpha). I have no business relationship with any company whose stock is mentioned in this article.
Editor's Note: This article discusses one or more securities that do not trade on a major U.S. exchange. Please be aware of the risks associated with these stocks.