Realty Income Corporation (NYSE:O) is a great company, but investors shouldn't be racing for the opportunity to get in. One of the most ironic factors I've seen is the ability of O to move with Treasury yields rather than with rest of the equity market. While the tenants for O's portfolio are clearly a part of the economy and the success or failure of those companies would impact the results for O, the market recognizes that O has an exceptional track record with their dividend. The dividends can stay flat or they can increase, but they don't decrease. That could change someday, but I would be shocked if it happened within the next several years. The company utilizes an intelligent triple net system for leasing properties that allows them to report very consistent FFO (funds from operations). They also maintain a conservative portfolio with high-quality tenants. Consequently, investors often value O as a yield instrument rather than valuing the portfolio of real estate. This yield factor has been exceptionally strong in determining share prices for O, as I intend to demonstrate.
Methodology
Rather than focus on the portfolio, I'm going to stick to measuring dividend yields relative to interest yields on Treasuries. Take a look at the chart and I think you will agree that the correlation is very strong: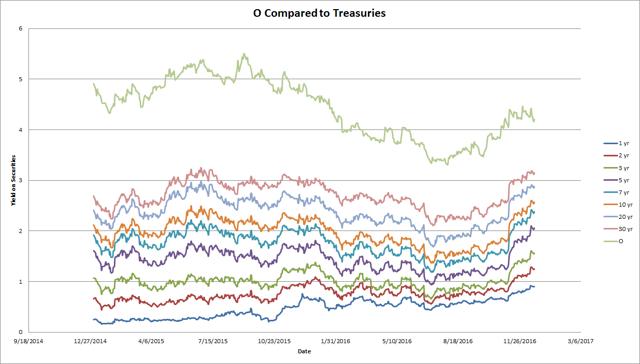 The yield for O tends to move in the same direction as the yield on Treasuries. Since both are making fixed payments, a correlation in yields means a correlation in price. The objective here is not to prove causation, only to establish that the yields on O and the yields on Treasuries are strongly correlated.
The Treasury to O Spread
Since we know the share price for O appears to be very heavily influenced by investors looking at the dividend yield, because otherwise such correlation would be very improbable, we can expand the theory to looking at the spread between the two securities. This is where the research starts becoming more useful in valuing O.
While the yields on both bonds and O shot higher lately, the magnitude of the movements does not match as closely as it might when investors are merely glancing at the chart. This next chart takes the yield on O and subtracts the Treasury yield for five maturity dates.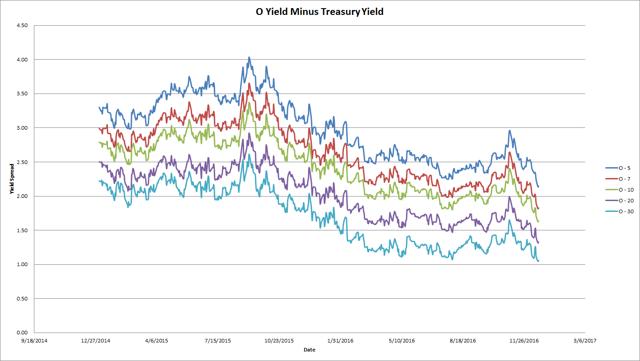 The spread from O to Treasuries was moving lower during the summer. The spread continued to get slightly lower into the fall before a small spike back in November. Following that, we have seen O continue to trade at a much lower yield than I would have expected, if I was simply looking at the Treasury charts.
To ensure investors grasp the magnitude of this relative change, I compared the movement in O to the movement in Treasuries since the start of 2015. This is the total movement across about 2 years, though I did simplify the calculations by using a static value for O's dividend rate. The increase in their monthly payment is nice, but it is a small rounding error in the magnitude of the difference over this period.

When 2015 began, the yield on Treasury securities was materially lower than it is today. The size of the change ranges from a little over 60 basis points down to a little over 40 basis points. On the other hand, the yield on O declined because their share price increased significantly during the period. Shares started 2015 a little under $49 compared to recent values slightly under $57.
As far as the correlation in yields goes, I think this connection should be enough for investors to consider the potential implications. Either O recently disconnected entirely from the yield spread to Treasuries and is suddenly trading entirely on other metrics, or the yield spread creates a larger possibility for prices to fall suddenly in the future.
Are Bigger Yields Coming?
While the dividend rate of O will usually grow by a couple percentage points each year, a reversal of the widening spreads suggests O's dividend yield could grow by a solid 1% or so. Unfortunately, that growth in dividend yield from 4.3% to 5.3% could come at least as much from falling prices as increasing the dividend rate.
Who O Still Makes Sense For
For the investor planning to hold O until they die and simply collect the stream of dividend income, this analysis won't mean much to their existing position. There is no reason to expect the stream of dividends to stop, so there would be no reason to close the position. Please don't misunderstand my concern.
This work is for the investors contemplating new allocations. Even if the investor intends to hold for life, buying in at higher yields locks in substantially more income. Based on the yield spread movements, investors really shouldn't rule that possibility out. In this case, I think it would make more sense to keep some dry powder on hand and keep watching.
Take it as a neutral rating if you'd like. The long-term buy and hold investor has no reason to close out their positions because the income should remain solid, but it would still be rushing in against the odds to allocate a large new chunk of capital here.
Disclosure: I/we have no positions in any stocks mentioned, and no plans to initiate any positions within the next 72 hours.
I wrote this article myself, and it expresses my own opinions. I am not receiving compensation for it (other than from Seeking Alpha). I have no business relationship with any company whose stock is mentioned in this article.
Additional disclosure: Information in this article represents the opinion of the analyst. All statements are represented as opinions, rather than facts, and should not be construed as advice to buy or sell a security. This article is prepared solely for publication on Seeking Alpha and any reproduction of it on other sites is unauthorized. Ratings of "outperform" and "underperform" reflect the analyst's estimation of a divergence between the market value for a security and the price that would be appropriate given the potential for risks and returns relative to other securities. The analyst does not know your particular objectives for returns or constraints upon investing. All investors are encouraged to do their own research before making any investment decision. Information is regularly obtained from Yahoo Finance, Google Finance, and SEC Database. If Yahoo, Google, or the SEC database contained faulty or old information it could be incorporated into my analysis. Tipranks: Assign no ratings or a neutral rating.