If you are looking for a solid dividend paying company to add to your portfolio, look no further than Main Street Capital (NYSE: MAIN). MAIN is what is known as a Business Development Company (BDC). They have consistently done very well in compensating shareholders for their loyalty.
MAIN is yielding 5.84% paying out $0.185 monthly, while also paying out specialty dividends in June and December. The dividend is funded by net investment income (NII), and the specialty dividend is paid by the capital gains of selling portfolio companies. The NII is more predictable and therefore more stable, whereas the June and December payouts are a little harder to anticipate. If MAIN were forced to suspend or cut the specialty dividends, I would expect a sell-off, but a yield of 5-6% is still good enough for me to hold onto in an income portfolio as the specialty dividends should return later. This is a large IF. Below is a shot at the dividends paid over the last five years.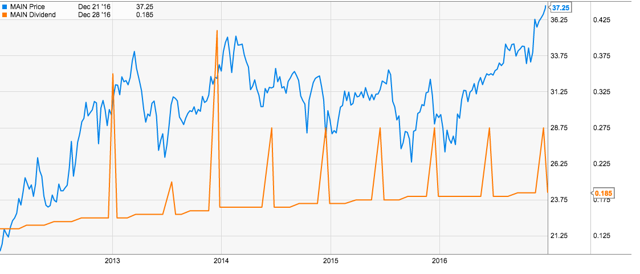 (Source: ycharts.com)
With rates increasing for the first time since 2006, MAIN is set to capitalize on increasing rates as the US economy continues to improve. MAIN's capital structure provides downside protection and the ability for large benefits in the current environment. The main reason for this is 64% of debt investments have floating rates, most of which have interest rate floors. This means rates increase as does income for Main Street Capital, which would translate to a growth in NII as shown below. With Trump officially winning the election, we can expect rates to climb at a faster pace once Janet Yellen's time is up in February of 2018.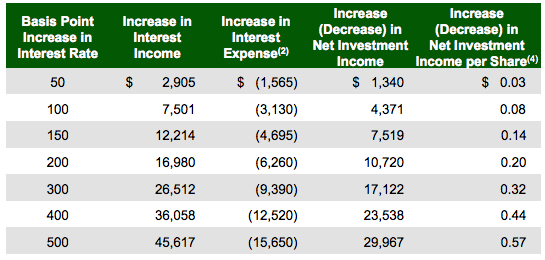 (Source: Company Presentation)
When looking at other BDCs in the industry, there isn't a better option out there. The management team has set them apart. MAIN has outperformed all of their competitors and the market over the past five years. All while paying out $19.16 in dividends per share, which is higher than the IPO price of $15.00. Considering the IPO took place in 2007, just before the collapse in 2008 and 2009, that is rather incredible. MAIN manages to keep costs well below the competition, which has helped fuel the cheque shareholders have gotten every month since the company began trading in 2007.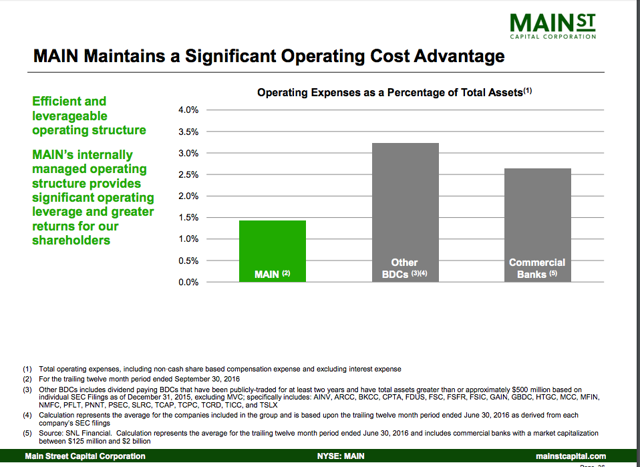 (Source: Company Presentation)
Technical Perspective
MAIN closed at an all-time high of $37.25. As a trend follower, this is a bullish sign. There has been momentum behind the price for the entire year. The price came back to test the lower end of the current channel most recently in October. If I could time the market perfectly every time, that is when I would have bought. But I prefer to buy at new highs as the trend moves on committing itself to the next price level. There is no ceiling on the price as we have never been this high before, meaning new resistance will have to be formed only due to the market thinking the stock needs a rest. Considering the stock just saw a dip in October shaking out the weak hands, I don't see this being an issue for some time. Being mostly an income stock, potential growth is just a bonus. A break-out of the channel below would be an even better signal.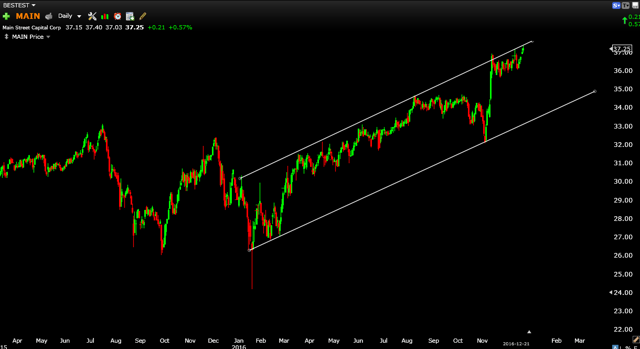 (Source: tc2000.com)
I am long MAIN from $36.84. The way I manage my risk in my holdings is through a stop. I do not wait for a bad result in earnings or a global crisis to sell. I will strategically pick a price point where there is proven support. If I can, I try to find the point where the 200-day moving average (dma) has held the price most recently and place my stop there. MAIN is a perfect candidate for exactly that. On the dip in October, the price got as low as the 200-dma before bouncing back up, thus creating support. The trend line also happens to touch the same point. Thus making $32.12 a perfect spot for an initial stop. I am risking 13% of my position in this trade which is a good number, considering the dividends that are constantly paid out.

(Source: tc2000.com)
I will not ever enter a long position that is under the 200-dma. There are plenty of examples of the 200-dma being either support or resistance. In MAIN's case, it is currently support. A break below the 200-dma would be a bearish signal and I would be paying close attention to the stock and re-evaluating my position as it dropped to my stop. I would do the same with any stock in my portfolio that crosses the 200-dma, this is not a special case. If you check out my previous articles, you will notice the similar trend of buying stocks that have successfully recently tested their 200-dma.
Wrap-Up
As of now, there are no large challenges facing MAIN as the price hits all-time highs. After a strong 2016, I fully expect the same thesis to apply to 2017. I have a current price target of $45 on the stock as momentum and continued income growth push it forward. MAIN is on track for another record year in terms of income, which carries the price of the stock with it.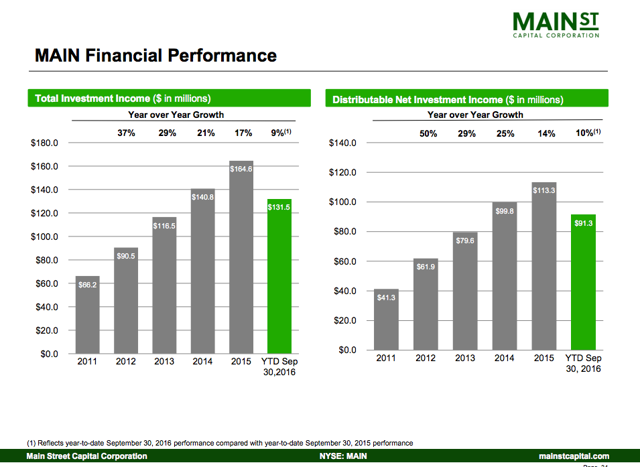 (Source: Company Presentation)
As rates continue to rise over the next few years, the income for MAIN will also increase. Thus leading to more secure dividends and depending on how drastic an increase, even dividend increases. The strong management team will make sure to keep costs at a minimum in order to reward shareholders appropriately as the stock climbs to $45 over the next year.
Thank you for taking time to read. If you received any value out of this article, please follow me for further updates. I look forward to your feedback!
Disclosure: I am/we are long MAIN.
I wrote this article myself, and it expresses my own opinions. I am not receiving compensation for it (other than from Seeking Alpha). I have no business relationship with any company whose stock is mentioned in this article.