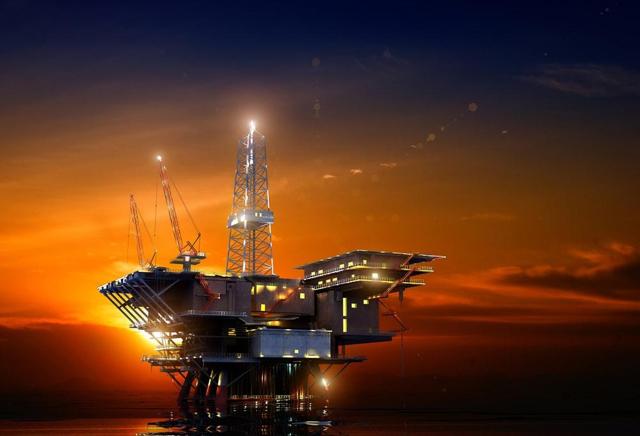 source: Stock Photo
The news keeps getting worse for the production cut deal with OPEC and non-OPEC countries, as the market environment has changed so rapidly on the production side it makes the deal impossible to maintain, even beyond the many difficulties that were sure to arise in regard to suspicions concerning compliance. This before the deal is even put into play.
After the news U.S. shale producers recently increased production by 100,000 barrels per day, and Nigeria and Libya are ready to boost production, Norway is the latest competitor to frustrate the goals of the cartel and its production allies, as supply to the market is increasing fast, making the modest cut of just under a total of 1.8 million barrels a day, irrelevant.
The irrelevancy comes from the deal being made based upon production levels in October. Since then oil supply from those outside of the parameters of the deal, including OPEC members Libya and Nigeria, which were exempt from quotas because of civil strife which reduced production capabilities. They are now boosting production and bringing a lot more oil to the market.
Norwegian oil production
The latest figures from the Norwegian government show oil production from October to November climbed 37,000 barrels per day, a five percent increase.
According to the Norwegian Petroleum Directorate, overall production of oil, natural gas liquid and condensate came to 2.15 million barrels per day, an increase of 2 percent over October's numbers.
It's extraordinary in my view that OPEC chose October to base its baseline production on for the cut, as those outside of the deal, as mentioned, are boosting production at high levels and a fast pace.
Daily oil production from Norway for 2016 has been 1.74 million barrels, an increase of approximately 9 percent year-over-year. That is about 11 percent higher than estimates.
Norway, which primarily competes in the oil and natural gas segment of the market in the Euro Zone, has Russia as its major competitor, although some OPEC countries are trying to grow some market share in the region.
Increased output measured against OPEC cut deal
We know the agreed upon deal concerning OPEC is to cut oil supply by about 1.2 million barrels a day to 32.5 million barrels a day. Including non-OPEC members, the cut will be a little under 1.8 million barrels per day. That said, it needs to be taken into account that Russia stated it'll reduce output incrementally, not all at once, so we don't know how much oil will be removed from global supply by Russia, which has verbally committed to a 300,000 barrel a day cut.
When adding together the supply increase from Nigeria, Libya, the U.S. and now Norway, it exceeds 600,000 barrels per day. These are barrels not included in the OPEC deal.
There was some visibility on Libya and Nigeria, but I think the pace of their return to growth in production is surprising almost everyone. Combined, they represent over 500,000 barrels per day in output above where they were at in October, and will be at that level by the end of the first quarter of 2017.
Including U.S. shale producers and the 100,000 barrels per day they increased recently, this is a staggering development that in my opinion, completely undermines the purpose of the OPEC and Russian production cuts. Slashing expected supply from about 1.8 million barrels less per day as a whole, down to under 1.2 million barrels per day is big. This assumes U.S. production remains high.
My expectations are U.S. shale will continue to increase production levels, and that means it's going to get worse for oil in regard to supporting higher prices. It also means those agreeing to quotas are even more unlikely to comply, as they'd be giving up market share in order to do so. It's not going to happen.
The pressure will come because every bit of supply exceeding October's numbers cuts into the quotas applied to participating countries. Already the scenario the cut was based upon has eroded. It doesn't even exist any longer.
Statoil
Statoil's (NYSE:STO) future outlook has been looking better over the last three years, with production increasing each year during that period. That is after production plunged by about 50 percent from its peak in 2000.
It has improved its cost picture too by selling off its assets in the Canadian oil sands recently. Its major asset being worked at this time, the Troll field, still has about 8 years of production left in it. The company is also ready to develop the Mariner oil field, which has an estimated 250 million barrels of oil.
At peak production Mariner is expected to produce about 55,000 barrels per day. Statoil has about a two-thirds stake in Mariner.
Statoil also discovered more oil close to an existing field in the Norwegian Sea. It has an estimated 76 million barrels of recoverable oil equivalent.
So with the company able to continue to improve production incrementally in the near term, and a having a major asset under development, it has a profitable, long-term future ahead of it and its shareholders.
I think it's overly optimistic about the short term price level of oil, but it's still positioned well for the long term.
In its last earnings report it said it is cutting spending to about $11 billion, a drop of 8 percent.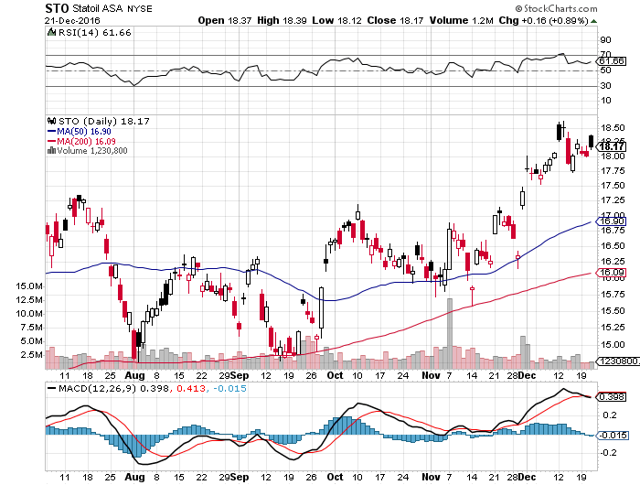 source: StockCharts.com
Conclusion
The one big mistake I think OPEC and Saudi Arabia made was in trying to slow down the U.S. shale industry after it started to be as big of a competitor as Russia. It forced many companies to improve efficiencies and productivity, which now is allowing them to boost production and still generate a profit with oil below $50 per barrel. Some can produce a profit decent profit at $40 to $45 per barrel.
As their portfolio of wells transitions to be dominated by premium wells, they will be able to increase earnings significantly. This is the major reason they're ramping up production. It's not because of the ill-fated decision to cut oil output in order to support prices.
With the hundreds of thousands of new oil barrels a day coming to the market over the next three months, I don't see this deal having any chance of succeeding, or even surviving; no matter what is reported to the media.
The impact of the cut, even in the best of circumstances, would be minimal. Add this new supply to the oil market, and it weakens the outcomes expected even more.
With the new supply levels soaring, the best that investors may expect from this cut is for oil to find support at a lower level than before. I think we'll see WTI drop into the high $40s as a result of this in the near future, with my price range outlook now at about $47 per barrel to $52 per barrel.
Disclosure: I/we have no positions in any stocks mentioned, and no plans to initiate any positions within the next 72 hours.
I wrote this article myself, and it expresses my own opinions. I am not receiving compensation for it (other than from Seeking Alpha). I have no business relationship with any company whose stock is mentioned in this article.