After I wrote my article, "Less Obvious U.S. Petroleum Trends," one comment mentioned that perhaps petroleum product stocks should be higher because of rising petroleum product exports. I agree that a fair comparison should be based on demand plus exports to get a relative metric.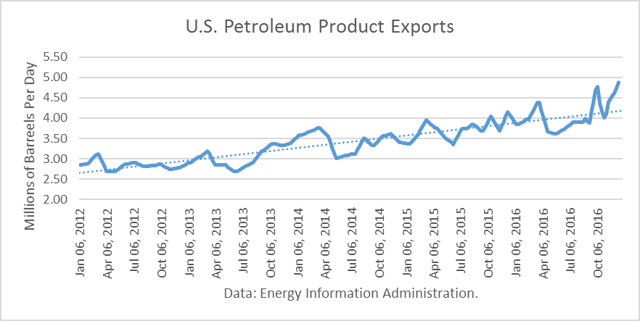 I compared total petroleum stocks, 843 million barrels, in the latest week ending December 16, 2016, to stock levels before the glut began to build. I went back to the week ending December 13, 2013. Stocks were 701 million barrels, and so the glut is 20%.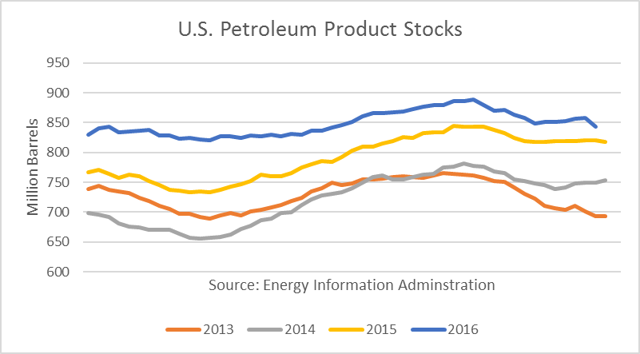 Next I divided stocks by the 4-week demand trend to get a "days of demand" ratio. Because the demand trend has recently fallen below demand in 2013, the days of demand ratio was still 20% higher than the 2013 figure.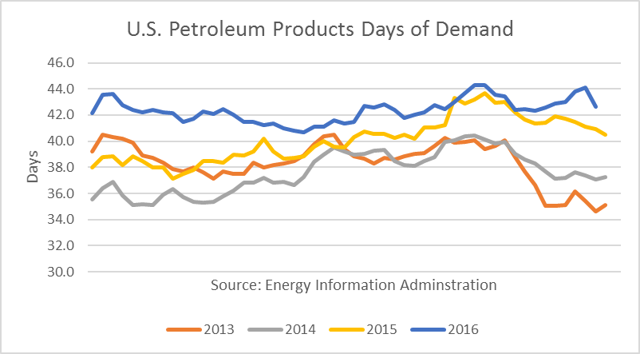 Finally, I added the product exports trend to the demand trend because exports represents foreign demand. Refiners need safety stocks to meet that demand as well. Using this ratio, the size of the glut is 11%.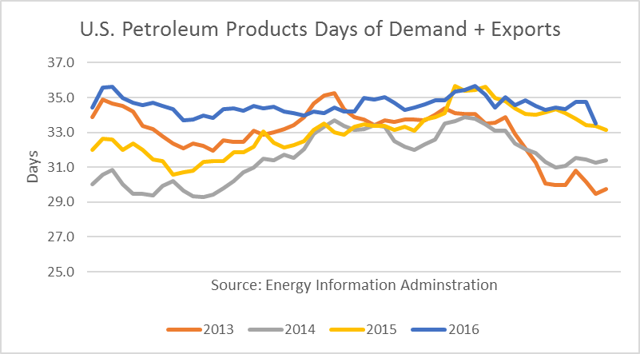 Conclusions
Making a fair comparison of inventories by into account both domestic and foreign demand does reduce the size of the glut almost by half.
Disclosure: I/we have no positions in any stocks mentioned, and no plans to initiate any positions within the next 72 hours.
I wrote this article myself, and it expresses my own opinions. I am not receiving compensation for it (other than from Seeking Alpha). I have no business relationship with any company whose stock is mentioned in this article.