In part 1, part 2, and part 3 of this series, I covered AbbVie's (NYSE:ABBV) immunology portfolio and growth prospects of leading oncology drugs, Imbruvica and Venclexta. In this article, I will briefly cover the potential of promising oncology drugs and technologies in AbbVie's portfolio.
Veliparib works by inhibiting DNA repair process
To better understand the value of PARP inhibitor, Veliparib, in AbbVie's research pipeline, we first need to be aware of the mode of functioning of this drug and its capability to treat multiple cancers.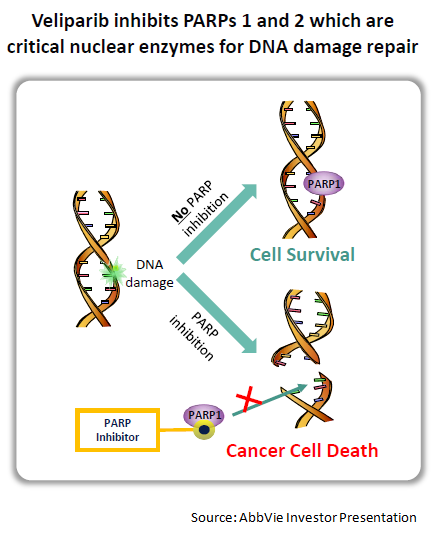 As shown in the diagram, Veliparib inhibits functioning of an enzyme called PARP. This enzyme is required to repair the single strand DNA damage in cells.
Veliparib is being tested in patients suffering with BRCA-related cancers as well as those patients with somatic changes in DNA repair. BRCA1 and BRCA2 are genes that produce proteins required to repair double strand breaks in DNA. However, in cases of abnormal mutations of these genes, the resulting proteins are not formed properly or are altered. This affects the DNA repair process in cells which can subsequently increase probability of cancers such as breast and ovarian cancers in women.
PARP inhibitors prevent process of single strand DNA repair in tumour cells which further results in double strand breaks during replication. BRCA1 abd BRCA2 mutations further prevent repair of double strand DNA breaks, finally resulting in death of the tumour cell. Since there are no abnormal BRCA mutations in normal cells, they continue to survive despite inhibition of the PARP DNA repair mechanism.
Veliparib has managed to demonstrate efficacy as a combination therapy in non small cell lung cancer
AbbVie is currently exploring Veliparib, both as a monotherapy as well as in combination with other chemotherapy agents. The drug has managed to demonstrate efficacy equal to any other PARP inhibitor when administered as single agent in BRCA-related recurrent ovarian cancer.
However, compared to chemotherapy, Veliparib in combination with chemotherapy agents has managed to demonstrate increase in overall survival from 5.5 months to 12.5 months in patients suffering with non small cell lung cancer or NSCLC. Now the selected trial subjects were also smokers and hence were suffering with greater DNA damage. Hence, the positive results achieve further significance as Veliparib was tested mainly on difficult-to-treat NSCLC patients.
On November 04, 2016, U.S. Food and Drug Administration or FDA granted orphan drug designation to Veliparib as a therapy for patients suffering with advanced squamous non-small cell lung cancer or NSCLC, in combination with chemotherapy agents such as carboplatin and paclitaxel or with radiation therapy.
AbbVie is also exploring combination therapies involving Veliparib and chemotherapy agents in multiple other BRCA-related and non-BRCA tumours. Coupled with Imbruvica and Venclexta, Veliparib can thus become an important addition to AbbVie's oncology portfolio.
Veliparib, however, will face competition from other PARP inhibitors
While data from mid-stage clinical trials of Veliparib in combination with chemotherapy for NSCLC has been positive, the drug will have to compete with multiple other PARP inhibitors such as Pfizer's (NYSE:PFE) talazoparib and Astrazeneca's (NYSE:AZN) olaparip. Olaparib is already approved by U.S. food and Drug Administration or FDA for BRCA-related advanced ovarian cancer. While the drug in combination with chemotherapy failed to report positive data in Phase 3 trials for advanced gastric cancer, Olaparib is still very much a strong competition in other BRCA-related cancers such as breast cancer and prostate cancer.
Then there is Talazoparib from Medivation, now belonging to Pfizer (PFE). Many analysts have been claiming that talazoparib will be one of the best performers in the PARP inhibition class of drugs. This is attributed to its high potency for PARP enzyme inhibition as well as high antitumor activity, as compared to other PARP inhibitors.
Talazoparib and olaparib may prove more effective than Veliparib, as the former also function by PARP trapping mechanism in addition to PARP inhibition. Veliparib, however, may benefit from entering the market ahead of talazoparib.
ABT-414 is being developed to treat Glioblastoma, an area with significant unmet demand
AbbVie is also developing an antibody drug conjugate, ABT-414, for treating glioblastoma patients. Glioblastoma is an aggressive form of brain tumour and kills about 95% of the diagnosed patients. Around 28,000 people in the world are diagnosed with this disease annually. Even after aggressive chemotherapy, median survival is only 14 months and five-year survival rate is abysmal at less than 5%.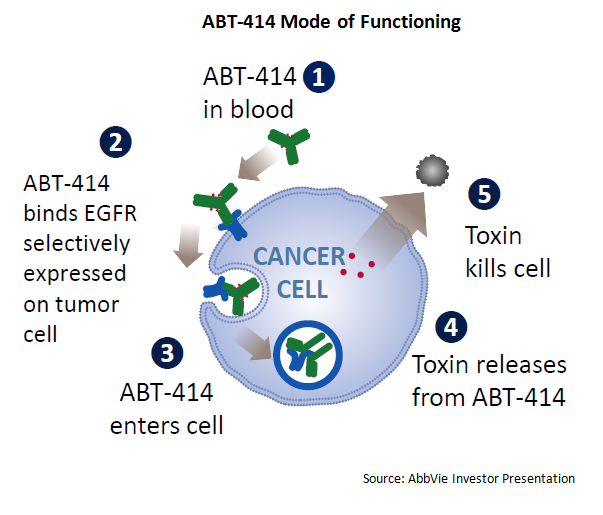 The above diagram shows how ABT-414 binds selectively to the epitope in epidermal growth factor or EGFR on activation and expressed on tumor cell. Since this activation, caused due to genetic amplification or certain genetic mutations, is seen in half of the glioblastoma patients, ABT-414 has the potential to become an effective therapy for these patients. Further, since ABT-414 only targets activated EGFR, it may also result in lower probability of skin rashes which is generally an adverse event found during use of other EGFR inhibitors.
Preliminary clinical trial data demonstrated that about half of the glioblastoma patients respond to ABT-414and witness tumor shrinkage. Based on these positive results, AbbVie has been exploring ABT-414 in both front-line as well as relapsed glioblastoma patients. These studies are currently active in 30 countries and are conducted in collaboration with recognized academic groups such as European Organization for Research and Treatment of Cancer or EORTC and Radiation Therapy Oncology Group or RTOG. Further, AbbVie is also using biomarkers in these trials to better identify patient segments that can claim the maximum benefit from this drug.
AbbVie anticipates data from Phase 3 trial exploring ABT-414 in combination with temozolomide for first-line glioblastoma indication in 2019. Data from Phase 2 trial evaluating ABT-414 in combination with temozolomide for second-line glioblastoma indication is expected in 2017. Results from Phase 2 trial evaluating ABT-414 as monotherapy in glioblastoma in Japan is expected in 2018.
While we have discussed most of AbbVie's oncology pipeline, there is one important investigational drug that has been missing in our series. It is Rova-T, the promising oncology drug obtained by AbbVie through acquisition of Stemcentrx.
In the next article, I will explain why Rova-T can prove to be a strong growth opportunity for AbbVie.
Disclosure: I/we have no positions in any stocks mentioned, and no plans to initiate any positions within the next 72 hours.
I wrote this article myself, and it expresses my own opinions. I am not receiving compensation for it (other than from Seeking Alpha). I have no business relationship with any company whose stock is mentioned in this article.