Earlier this week, MainSource Financial Group (NASDAQ:MSFG) announced the acquisition of FCB Bancorp Inc. (OTCPK:FCBE). This announcement has opened a risk arbitrage opportunity that is small enough that large investors are not interested, yet with a margin big enough that it is worth small investors' time.
First, some due diligence.
Risk the acquisition will fail
Low for the following reasons:
The merged companies will only have a pro forma market share that places them in the 9th position within the Louisville MSA (where the acquired branches are located). There is unlikely to be any government opposition.
MSFG has acquired 12 different companies over the past 25 years. This acquisition is very similar to past acquisitions MSFG has executed.
MSFG has the cash portion of the acquisition in place.
How have the stocks behaved since the announcement?
Both MSFG and FCBE are moving in unison, after FCBE's large spike upon announcement. Moreover, MSFG's stock has increased significantly, which would suggest that the market "approves" of the acquisition.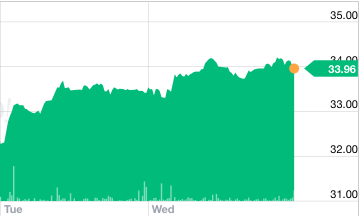 Source: Yahoo MSFG Chart, by Author

Source: Yahoo FCBE Chart, by Author
Arbitrage Opportunity
The opportunity exists for two reasons:
FCBE is thinly traded on the OTC "pink sheets" market, and therefore, it is hard to establish a position. Large players are not interested.
The merger agreement outlines an interesting dividend policy for FCBE that "sweetens" the opportunity.
I won't spend much time on (1). The critical issue is to establish a long position in FCBE. Over the past couple of days, trading has been relatively active (thousands of shares trading instead of a few hundred), but a significant spread remains between FCBE and MSFG's offer.
For the second point, I'll focus on the key paragraph from the merger agreement
Sections 5.03(c)(III)(B):
FCB may pay to its shareholders (1) its usual and customary annual cash dividend with respect to FCB's 2016 financial results (declared in January 2017 and payable in February 2017) of no more than $0.55 per share, and (2) a quarterly dividend out of earnings for the applicable quarter of 2017 payable in the month following the applicable quarter in an amount not greater than the lesser of (X) $0.1375, or (Y) 30% of net income for the applicable quarter calculated in accord with GAAP;
Source: MSFG 8-K filing on 12/19/2016, bold highlight added by author
Critically, FCBE will be allowed to pay substantial dividends next year (an annual and a quarterly dividend) before the merger is consummated. This makes the long position more profitable, and more than covers the dividend of the short position that will be due with MSFG.
Here is the math, based upon trading on 12/21/2016 (the last trade for FCBE around 11 a.m.):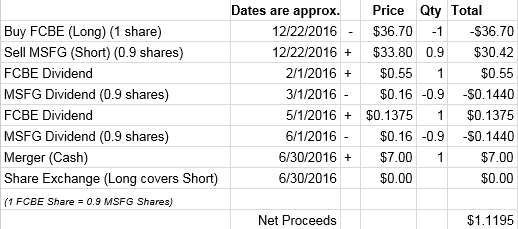 Source: Author's own calculations
Overall, at current trading ranges, there is a substantial opportunity for an above-market return (about 3% absolute return, with higher annualized return).
As is made clear in the chart above, the long and short positions will need to be matched - for each 100 shares of FCBE long, 90 shares of MSFG should be sold short. The details in any arbitrage matter.
Trading Costs
The key to making this trade profitable, as is the case with all arbitrage opportunities, is to keep trading costs to a minimum. As an example, if a position of 100 FCBE shares is initiated with the assumptions listed above, the total proceeds in the end would be $111.95, prior to brokerage expenses. If the brokerage takes out large trading and corporate reorganization fees, then the profit in this trade evaporates.
Conclusion
Due to the sporadic trading volume in FCBE, this opportunity will not be easy to initiate. However, this situation is certainly a market "inefficiency" that a small, flexible investor, with low trading costs can take advantage of.
Disclosure: I/we have no positions in any stocks mentioned, and no plans to initiate any positions within the next 72 hours.
I wrote this article myself, and it expresses my own opinions. I am not receiving compensation for it (other than from Seeking Alpha). I have no business relationship with any company whose stock is mentioned in this article.
Editor's Note: This article discusses one or more securities that do not trade on a major U.S. exchange. Please be aware of the risks associated with these stocks.