The industrial REIT sector is comprised primarily of warehouse and light industrial properties, with the majority being comprised of warehouse space. The sector accommodates imports, exports and transportation logistics. As producers and retailers (be they bricks or clicks) focus on "time to consumer," the need for warehouse space has only increased. Regardless of trade policies of the incoming administration, the movement of goods is expected to grow.
As a result of these expectations, we believe that the industrial REIT sector is poised to grow and, importantly, profit from the increased need. While we do have specific recommendations within the sector, and will be increasing exposure to the sector, we are going to hold off on company specific recommendations and instead focus on the macro/market of the sector.
We will start with a couple of macro level charts which help explain our optimistic outlook for the sector: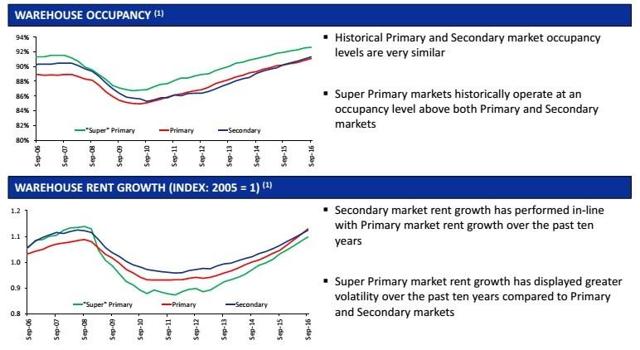 The chart above (from STAG's (NYSE:STAG) presentation and sourced from CBRE) shows the trends in occupancy and rent for warehouse/industrial space. As the charts show, the trend is very favorable and shows no sign of slowing down, which should continue to drive performance of the sector.
Part of the reason is due to e-commerce growth, which is evidenced in the chart below (from Monmouth REIT's (NYSE:MNR) presentation and sourced from the U.S. Census Bureau and eMarketer) showing the growth (in billions) of e-commerce: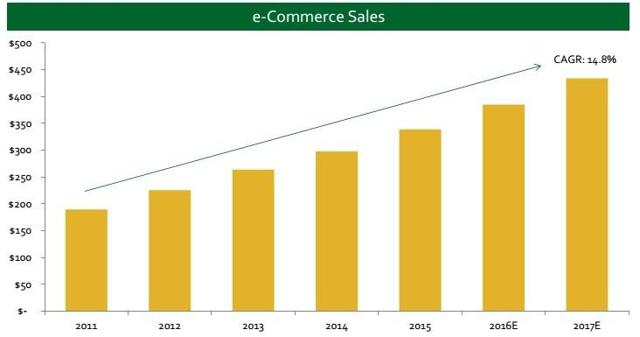 On a global basis, we see the following (from MNR's presentation sourced from Goldman Sachs):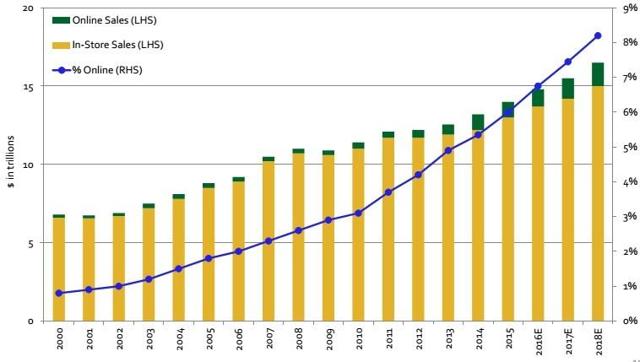 Both of which have led to the following (from MNR's presentation and sourced from REIS and Green Street):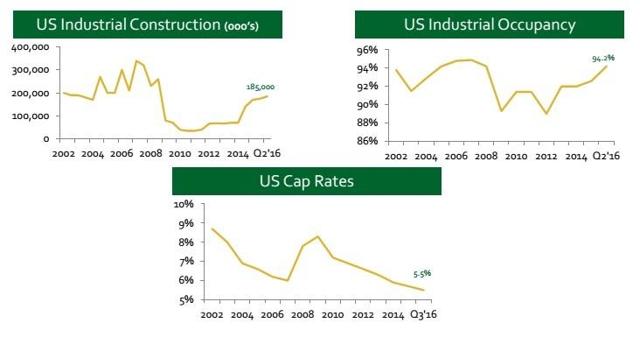 A more recent take on the situation can be had from Colliers:
Between the record-breaking activity in the second quarter and the lull that summer months often bring, many expected more normal growth patterns for industrial real estate in Q3 2016. But industrial sector fundamentals powered forward in the third quarter to reach new heights - net absorption crushed the previous record, construction reached all-time highs and asking rental rates rose for the 13th consecutive quarter.
Demand continues to be driven by strong e-commerce sales and steady economic fundamentals. Activity is robust in core industrial markets and expanding rapidly in secondary markets near inland ports and large population centers. Retailers, wholesalers and third-party logistics companies are all scrambling to find space near these locations to gain competitive advantage and get products to consumers faster. This demand will maintain strong industrial fundamentals in core U.S. markets and improve fundamentals in secondary markets near inland and sea ports and large population centers. Industrial rents remain a relatively small portion of overall supply chain expenses, and as such, we expect to see warehouses absorbed at an elevated rate for the foreseeable future.
External factors that bear watching in the coming months include post-election market reactions, the slow rate of economic growth compared with previous cycles, and an increasing anti-free-trade sentiment in parts of the world. Despite these factors, only an unexpected disruption to the overall economy will slow the flow of industrial demand in the coming quarters.
Recent market trends in supply and absorption (again from Colliers), shows the following: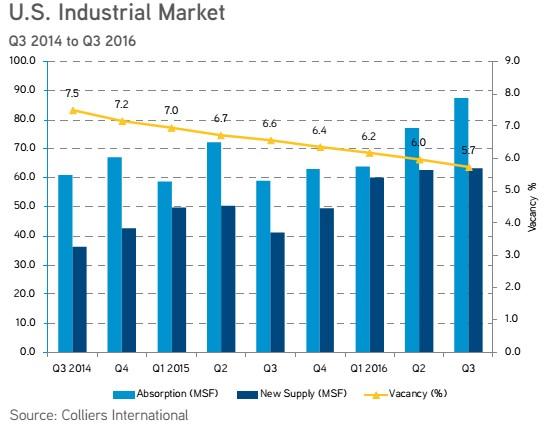 Jones Lang LaSalle gives us the following chart, which shows that demand has continued to increase which has, in turn, continued to compress cap rates: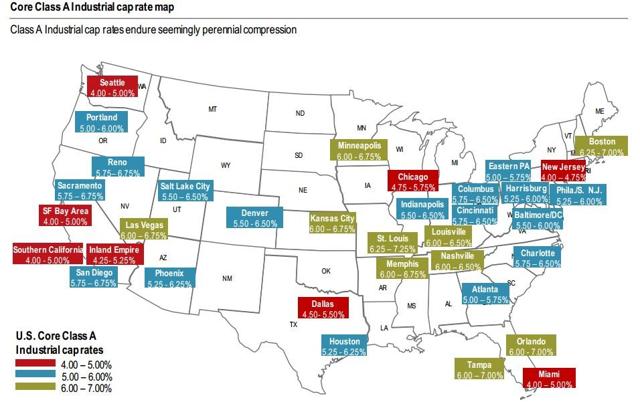 The cap rate compression is, from a portfolio addition perspective, a negative, which has led many industrial REITs to renovate properties and build. From a valuation standpoint, compressed cap rates have enhanced the market value of the properties and, therefore, industrial REITs.
We believe the charts above help support our thesis that the industrial market is indeed healthy and has above average growth potential.
Having covered the macro picture, we will get right to the "no fluff" data on the REITs that comprise this sector.

The table above shows a fundamental overview of the industrial REIT sector. As the table shows, there is a wide range of FFO multiples, payouts and dividend yields available to investors. Some, like Terreno (NYSE:TRNO) have high multiples as it is in higher growth areas and some, like STAG Industrial have lower multiples as it is not solely focused on high growth areas, but rather locations that aren't as sexy, but have higher cap rates.
The chart below shows the P/FFO multiple for the last three years of the sector. Making a case that the sector is cheap to historical valuations is difficult, but the growth prospects should help keep multiples in line.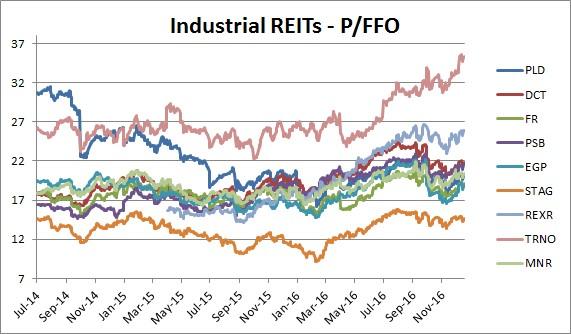 The dividend yield of the industrial sector over the last five years: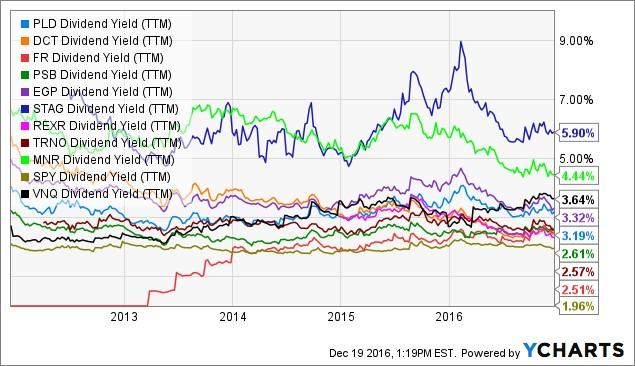 As the chart above shows, the dividend yield of the sector (on average) is lower than the REIT universe (NYSEARCA:VNQ), but has a decent advantage to the broader market (NYSEARCA:SPY). Note that STAG and Monmouth (NYSE:MNR) have had consistently higher dividend yields than their industrial brethren.
Viewed normalized for a sense of the directionality of the yield: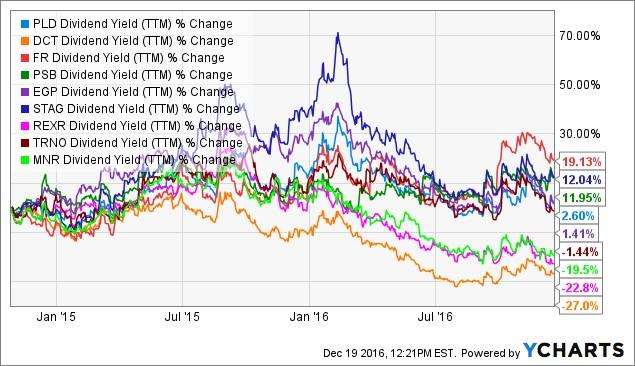 The chart above shows that the trend in dividend yields is also widely dispersed, allowing investors to choose between yield and (price) growth.
The table below gives a feel for where the industrial REIT sector is currently priced versus the last year.

It is much closer to its highs than its lows, again making a "cheap" argument difficult on its face. We also like to take an occasional look at the bid/ask spread as a gauge of liquidity, but caution readers that this is a snapshot at the time of data collection.
Next, a look at the price change over the last three years.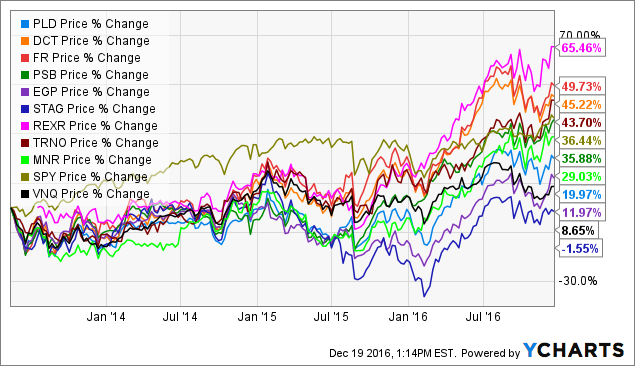 As the chart above shows, the industrial sector has outpaced the REIT universe and is split against the broader market.
Finally, a look at the total returns produced by the industrial REITs:

Graphically: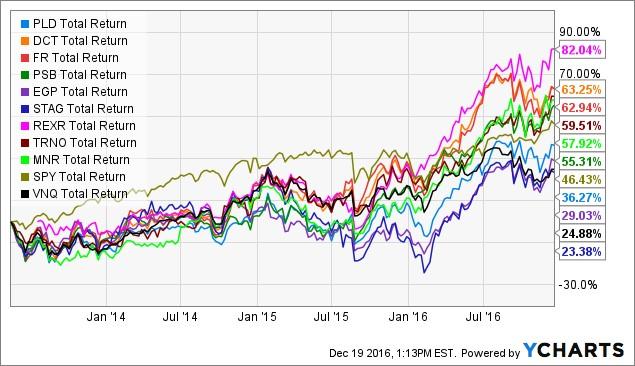 On a total return basis, the sector has easily outperformed the REIT universe and, for the most part, the broader market.
Industrial REITs total return by year:

The table above shows that returns have been pretty consistent on a year-to-year basis although 2014 and 2015 were more difficult for some.
Bottom Line: We believe that the industrial REIT sector is poised to outperform the broader REIT market due to trends in business/retail logistics as well as retail sales growth. We will be addressing our "picks" within the industrial REIT space over the coming days. We hope that we have fulfilled our "no fluff" promise and given investors clear data on the macro and company levels. Hunter Thompson brought you "gonzo journalism," we are trying to bring "no fluff" analysis, feedback always welcome.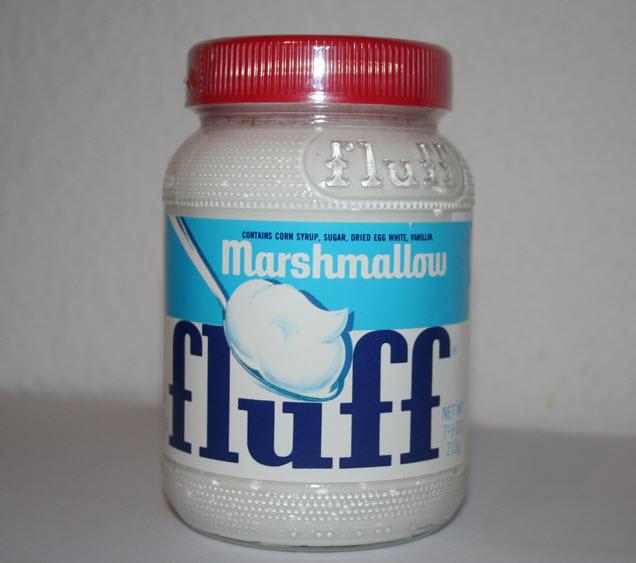 Many of the REITs covered are held in the durable income and preferred portfolios available to premium subscribers. Rubicon contributed to this article and he is long MNRpB preferreds.
We will be publishing our top picks for 2017 in the upcoming edition of the Forbes Real Estate Investor.
Author's Note: I'm a Wall Street writer, and that means that I am not always right with my predictions or recommendations. That also applies to my grammar. Please excuse any typos, and I assure you that I will do my best to correct any errors, if they are overlooked.
Finally, this article is free, and my sole purpose for writing it is to assist with my research (I am the editor of a newsletter, Forbes Real Estate Investor), while also providing a forum for second-level thinking. If you have not followed me, please take five seconds and click my name above (top of the page).
The only guarantee that I will give you is that I will uncover each and every rock I can, in an effort to find satisfactory investments that "upon thorough analysis promises safety of principal and satisfactory return. Operations not meeting these requirements are speculative". (Ben Graham).
Disclosure: I am/we are long O, DLR, VTR, HTA , STAG, GPT, ROIC, HCN, OHI, LXP, KIM, WPC, DOC, EXR, MYCC, TCO, SKT, UBA, STWD, CONE, BRX, CLDT, HST, APTS, FPI, CORR, NHI, CCP, CTRE, WPG, KRG, SNR, LADR, PEB, BXMT, IRM, CIO, LTC, DEA, NSA, HASI, VER, SRG.
I wrote this article myself, and it expresses my own opinions. I am not receiving compensation for it (other than from Seeking Alpha). I have no business relationship with any company whose stock is mentioned in this article.