On a net basis there was a moderate decrease in stocks of crude oil + gasoline + distillates, with a drop in gasoline and distillates more than offsetting an increase in crude oil stocks.
Crude oil prices (NYSEARCA: USO) fell by about $1.00/bbl after the report was released, although the more significant move happened on the European trading session.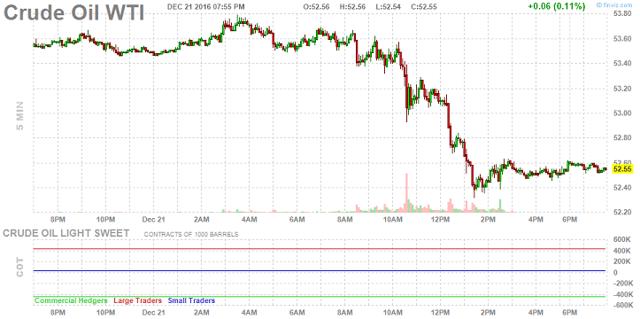 Source: Finviz.com
Stocks:
* Crude oil inventories increased by 2.3 million barrels.
* Gasoline inventories decreased by 1.3 million barrels.
* Distillate inventories decreased by 2.4 million barrels.
A moderate build in crude oil stocks more than offset by a decrease in stocks of gasoline and distillates. Refineries are still running well below normal on a seasonal basis, trying to drive down excess inventories of refined products which are still at very high levels.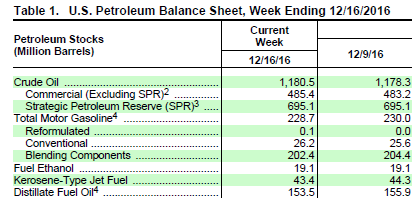 Source: EIA
Production and Refinery Utilization:
* Domestic production stayed virtually unchanged for the week with minimal declines in both Alaska and the Lower 48.
* Production in the Contiguous United States (excluding Alaska) stayed mostly flat for the week.
* Net imports increased by 1,039 bpd back into normal territory. This follows a decline the previous week of 929,000bpd. While seemingly large variations from week to week, as we have mentioned before, this a flaw of EIA's model and the two-week averages of net imports have actually remained very stable.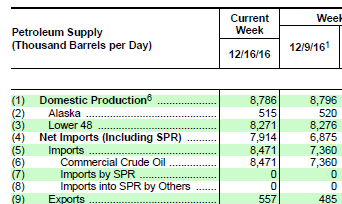 Source: EIA
* Refinery utilization increased by 100 basis points and is still below normal for this time of the year. This is understandable given very high inventory levels of gasoline and distillate products.

Source: EIA
Cushing, Oklahoma:
* Cushing, OK inventories stayed almost flat for the week. After the cumulative build of 5 million barrels of the two previous weeks, Cushing is now back to near historical highs and very close to maximum operating capacity.
* Gulf Coast inventories decreased by 400,000 barrels. Gulf Coast inventories are also at very high levels.

Source: EIA
Conclusion:
A fairly neutral report, with a moderate decrease in stocks of crude oil + gasoline + refined products. Cushing, OK and Gulf Coast inventories as well as domestic production stayed mostly flat for the week.
Disclosure: I/we have no positions in any stocks mentioned, and no plans to initiate any positions within the next 72 hours.
I wrote this article myself, and it expresses my own opinions. I am not receiving compensation for it (other than from Seeking Alpha). I have no business relationship with any company whose stock is mentioned in this article.