You may need special bifocals to absorb the news coming out of Volkswagen AG (OTCPK:VLKAY). One lens is needed to read the good news and the other, well, take a guess. The good news lens reports progress on the top line. Last week VW announced that November sales were up 7.9% YoY and that European market share increased from 24.6% to 24.8%. That's the first time the automaker has booked greater European market share since the "diesel-gate" scandal hit the tape in September 2015.
See Revenue, Vehicle and Inventory Metrics table below. VW is an industrial behemoth with 121 factories producing a dozen brands ranging from budget-saving Skodas to don't-bother-if-you-have-to-ask-the-price Lamborghinis. Per the table, total revenue per quarter over the past 12 months has bounced up and back down in Europe (the Company's biggest market), improved in Asia (with China unit sales up 13% YTD), dropped in North America (where VW only has 3% market share), and declined in South America (its smallest market, but down by 30% YTD). The VW Passenger brand remains its most important but in terms of profitability, it's the higher margin Audi, Porsche and Skoda brands that are pushing unit sales up: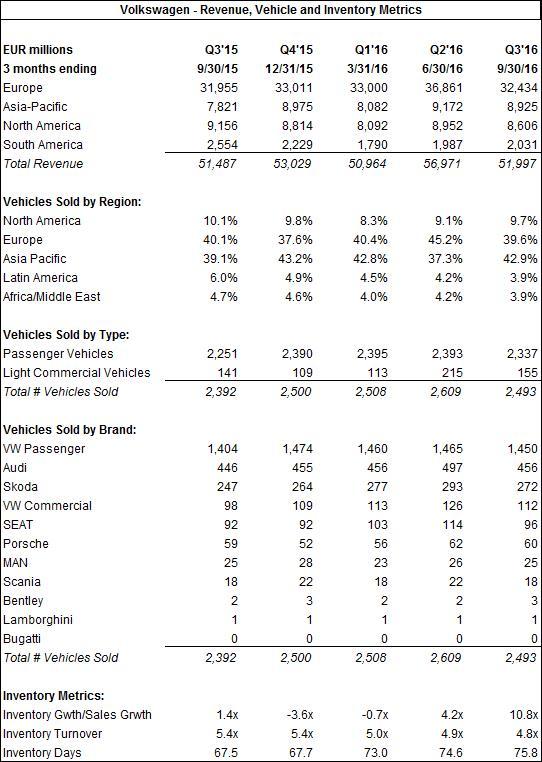 On the expense side, the Company has begun to deploy new initiatives to reduce bloat and control expense levels. For example, under pre-scandal management, VW was producing and selling more than 300 different car models. The Company was providing customers with dozens of choices for interiors, steering wheels, grills, trims, seating, etc. Under new management, about 15,000 component variants and 33% of new car prototypes will be dropped from production.
VW's biggest opportunity to improve profitability will be from cutting labor costs. Last year, its 610,000 employees produced 9.9 million vehicles and generated $237 billion revenue. Toyota, with under 349,000 employees, produced 10.2 million vehicles and generated $249 billion revenue. Toyota's 20.4% gross margin and 15.8% EBITDA margin also handily beat VW's 15.9% gross margin and 7.3% EBITDA margin in FY'15. In November, VW reached a major labor pact with its workers' council in which the council agreed to 30,000 job cuts (with 23,000 of them in Germany). Annual labor costs are targeted to decline by EUR 3.7 billion by FY'20
Diesel-gate Litigation Settlements. You'll need the other half of your bifocals to read everything else about Volkswagen. The Company hasn't suddenly become a safe investment despite better sales in spots, labor cost cuts or industrial heft. VW is facing fraud charges from consumers, government agencies and investors with litigation being pursued in multiple venues (e.g., Canada, Germany, South Korea, the UK, and the US).
On Tuesday, the Company reached an accord with US car owners and regulators to fix or buy back 83,000 Audi, VW and Porsche vehicles with emissions-cheating 3.0-liter diesel engines. The $1 billion cost attached to the deal includes $225 million set aside by the Company to address environmental damage caused by the excess emissions plus $25 million to support zero-emissions vehicles in California.
Separately, VW agreed to pay car dealers $1.2 billion and it will also cut a $600 million check for the individual states suing the Company. That's in addition to the $14.7 billion Volkswagen previously agreed to pay with respect to 475,000 diesel vehicles with 2.0-liter engines that it sold in the US since 2008. The 2.0-liter pact included a $4.7 billion payment for environmental remediation and zero-emissions technology. There is still a fairness hearing scheduled for January 18, 2017 before a final grant of approval is given to VW's US claims resolution and, in any event, VW's litigation problems are global.
In Europe, the number of vehicles which the Company falsely advertised and sold as emissions-compliant is far higher than it was in the US - about 15 times higher. Fixing the European cars is simpler and less expensive - a software update is more typically required rather than a US-style complex hardware retrofit. The German Federal Motor Transport Authority (Kraftfahrt-Bundesamt or KBA) approved a technical solution covering roughly 8.6 million vehicles (of which 5.2 million have 2.0-liter engines and 3.0 million have 1.6-liter engines). The software fix is allowing VW to avoid huge cash payouts to European car owners. But there will be more litigation. German regulators are separately examining whether Porsche falsified fuel-economy data via a device designed to kick in whenever an engine is placed on a test-bed.
The real damage to VW overseas may come from German shareholder lawsuits. There are 1,400 investor lawsuits that have been filed with an appeals court in Braunschweig. Although the lawsuits may not be resolved for years, they cumulate to $9.2 billion in claims, making it the biggest investor litigation in German history. Porsche Holding and VW have also been sued in a Stuttgart court by 263 investors seeking EUR 547 million based on lack of disclosure of the diesel emissions cheating. (The Porsche-Peich family controls Porsche Holding which in turn owns a majority of Volkswagen's voting stock; Porsche Holding is effectively VW's parent company).
There are still other venues for fraud and emissions-related litigation. A British court is reviewing a class action lawsuit against the Company - plus its Audi, Seat and Skoda subsidiaries - which centers on allegations of falsified fuel-economy data. South Korea's Fair Trade Commission penalized the Company's Korean subsidiary $32 million for false advertising and intends to file a criminal complaint next year.
VW has put aside EUR 18 billion to cover its litigation expenses, but no one can really be sure what the ultimate costs for diesel-gate will be, even if the US now seems to be more or less in hand.
TOGETHER Strategy 2025. If your reputation becomes tarnished, it helps to re-focus attention away from your past and toward your future instead. This is one tactic management has already deployed.
VW announced in June that it is replacing its previous strategic plan (Mach 18) with Strategy 2025, a new plan intended to transform the Company's core business by moving it from SUV and budget car-making to autonomous, electric, and connected car-making. VW intends to build an advanced mobility solutions business with sharing and mobility on demand and - importantly for this review - to secure funding for the plan's execution. That's necessary because Strategy 25 contains 15 different initiatives. These include plans to:
Sharpen brand positioning (e.g., VW e-cars as the leading brand)
Develop a winning vehicle drive train portfolio
Streamline modular architectures (down to four)
Partner with regional players to win in the economy segment,
Develop self-driving, autonomous vehicles and the AI in-house
Develop new battery technology as a new core competency
Implement a model line reorganization and Realign the components business into a separate unit (some 70,000 workers at a dozen factories).
Strategy 2025 also includes new financial targets. First, VW will attempt to increase operating return on sales (before special items) from 6% in FY'15 to 7-8% by FY'25. This will be achieved by taking R&D back down toward 6% and lowering SG&A to less than 12% of revenue. Second, Return on Capital within the auto division is targeted to increase from 13.8% in FY'15 to over 15% by FY'25. Third, capex will be cut from 6.9% of auto revenue in FY'15 to roughly 6% by FY'25. Taken together, management expects these financial targets to save VW €8 billion per year.
Investor Strategy 2017. OK, I made the name up, but it does sounds like a catchy phrase for a plan, doesn't it…? Given the bifurcated news - recovering sales and profitability in spots but continuing legal challenges here and abroad - now would seem like a very good time to consider which parts of VW's capital structure are better to buy or sell near term or long term. You'll want to do that with an eye on the court docket but you will also need to watch the financing needs.
See Financial Summary table below. Despite all the diesel-gate headlines, litigation-related payments and reserves, VW remains a very solid credit. If the ultimate costs were twice as high as the EUR 19 billion the Company has reserved for so far, it would still not be facing an existential crisis. Note that leverage at VW improved consistently over the past year from 7.0x to under 5.0x in the most recent quarter. Although VW is running cash flow negative and is carrying EUR 148.5 billion of debt on its balance sheet, it also holds EUR 42.0 billion in cash: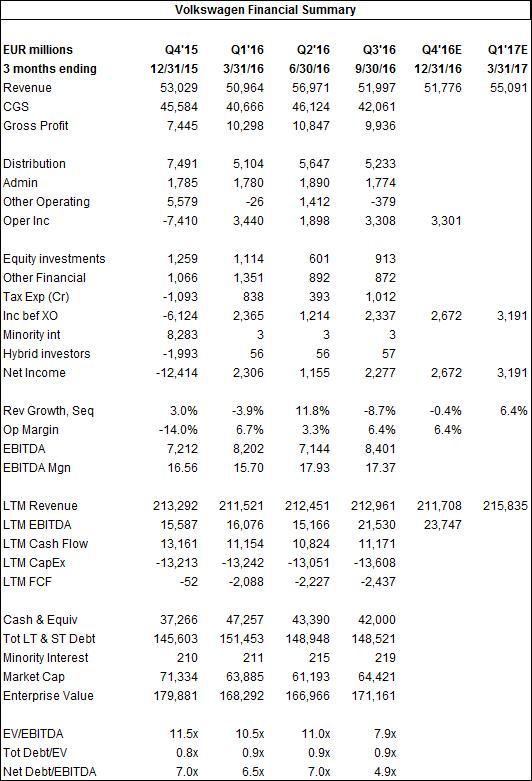 VW's A3/BBB+ credit ratings remain on Watch Negative at both Moody's and S&P. As shown in the Financial Summary table above, the Company has EUR 148.5 billion of debt outstanding. However, this figure excludes unused bank lines, translates non-EUR denominated debt among its 128 different bond issues back into Euros, and too briefly summarizes the breakdown between short and long term debt.
See Debt at 9/30/16 table below. A better picture of the debt that's on the right side of VW's balance sheet shows you that EUR 81.3 billion of debt - the majority of the Company's borrowings - comes due within the next year. This includes the equivalent of EUR 13. 6 billion in bond and note principal maturities. Note that short term debt coming due is higher than the EUR 67.3 billion in long-term borrowings. The Company will want to refinance the short-term debt coming due. This is paramount given the largely unquantifiable risk the Company still faces from diesel-gate outside of the US and post announcement of management's intention to secure funding for Strategy 2025: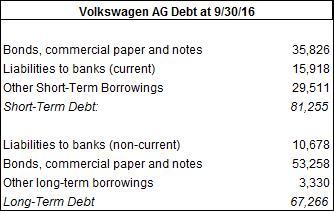 If you think about it, VW will be attempting to refinance much of its debt in FY'17, creating a risk for existing bondholders that spreads on newly issued debt from the Company will be wider with higher coupons. See CDS price graph below. The risk to VW creditors is greater in the near term from both unknown European litigation costs and known refinancing needs. However, the Company's A3/BBB+ credit ratings and prices do not fully reflect 4.9x net leverage or those risks. For example, VW 5 year CDS trades at 105 bps. By way of comparison, GM has similar margins but only 4.0x leverage (and net leverage is zero). Moreover, GM's Ba1/BBB- Moody's/S&P ratings are on Watch Positive and its generated $5.5 billion free cash flow in the LTM period. GM 5 year CDS trades at 151 bps. True, Toyota 5 year CDS trades at just 16 basis points, but that reflects the number one car maker's Aa3/AA- rated credit metrics, 2.9x net leverage and EUR 23 billion LTM free cash flow.

The crux of the argument is that, at least in the short term (e.g., 6 months), it's better to own or buy Volkswagen equity than to be long Volkswagen credit via bonds, loans, hybrids, or CDS. Like bondholders, VW shareholders also face unknown European litigation costs from consumer and securities fraud lawsuits. However, the costs are not existential and shareholders do not have a looming set of maturities that require refinancing. They do not face rating agencies demanding better credit metrics to maintain their valuation. Nor do they face near term dilution from new equity issuance.
See European Automakers Multiples Comparison table below. VW equity already trades at a steep discount to its automotive comparables. Using a blend of this year's and next year's estimated EBITDA, Net Income, EBIT, and Revenue, you can see from the table discounts to average multiples for the comps that range from 6% (on P/E) to 52% (viz EBITDA):

The VW senior unsecured notes due 2017, 2019 and 2020 are the most popularly traded of the Company's US dollar denominated bond issues. At first, they look cheap to near term maturity BB issues because they trade with yields between 1.56% (the VW 1.25% Senior Notes due '17) and 2.72% (the VW 4.0% Senior Notes due '20). That's versus Ba2 rated PEUGOT 2⅜ Senior Notes due '23 (that credit's most frequently traded issue) which are priced to yield just 1.39%. However, The VW 1⅝% Senior Unsecured Notes due '30 at 92.91 yield a meager 2.26% while PEUGEOT 6% notes due '33 yield 4.32%. That's a roundabout way of stating that the minute you get past the very front end of Volkswagen's debt complex, it starts to look rich versus comps given the risks.
The US dollar VW issues are only one part of the debt story. See VW bond price graph below. There are half a dozen Volkswagen International Finance NV perpetual bonds which are of greater institutional interest. These are Euro-denominated junior subordinated hybrids rated Baa2/BBB-. The most popular of these are the VW 3½% Junior Subordinated bonds. These hybrids flip from a fixed 3.5% coupon to a floating rate equal to 15-year Euro swaps + 306 basis points (on 3/20/2030) and then to 15-year Euro swap + 318 basis points (on 3/20/2050). At the last print price of 88.21, the 3½% hybrids yield 4.67% to their 3/20/30 call date and a fixed equivalent yield of 5.93% to perpetuity. While that beats the yield you generally get on BBB rated Euro industrial credits due in either 15 or 30 years, VW's credit metrics for this security - and their subordinated rank - place them closer to where B+ rated Euro industrial credits trade. On average, that's 6.09% for a 15 year maturity. (There are few B+ rated Euro industrials issued with 30 year maturities as most of the very long tenors or perpetuals are issued by banks):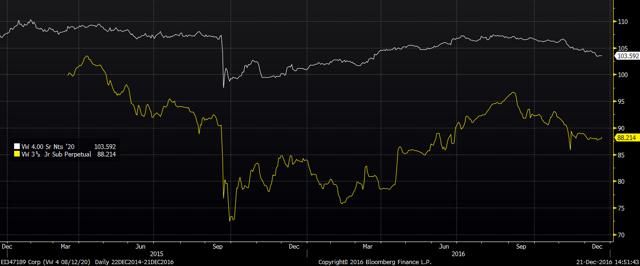 There's not much support for arbitraging Volkswagen bonds versus common. The Company's senior notes are not correlated with the VW common shares. Surprisingly, its junior subordinated hybrids are also not well-correlated with the common (although there is some correlation over longer multi-year periods).
The implication is that buying VW common shares and hedging with a short position in the bonds - senior or subordinated - might easily backfire or simply go nowhere. On the other hand, it's logical in the near term to favor Volkswagen common stock priced cheap to comps as operations improve and to move on from bonds ahead of any large refinancing program.
Disclosure: I/we have no positions in any stocks mentioned, and no plans to initiate any positions within the next 72 hours.
I wrote this article myself, and it expresses my own opinions. I am not receiving compensation for it (other than from Seeking Alpha). I have no business relationship with any company whose stock is mentioned in this article.
Editor's Note: This article discusses one or more securities that do not trade on a major U.S. exchange. Please be aware of the risks associated with these stocks.