Delta Air lines Inc (NYSE:DAL) is enjoying solid demand in November which will help Delta post good results in Q4. At the same time, it will fall short of the financial targets it had set out to achieve in May 2016. Between 2016 and 2018, management expected to deliver operating margin of 17%-19%, annual EPS growth of at least 15% and annual free cash flow of $4.5 billion to $5.5 billion.
Due to significant headwinds of higher labor and fuel costs the company will fall short of these targets in the next two years. After the recent bull run in the last six months, a miss in future growth estimates could lead to correction in the stock. Currently there are better options than Delta Air Lines in this industry which provide long term growth potential and are also reasonably priced.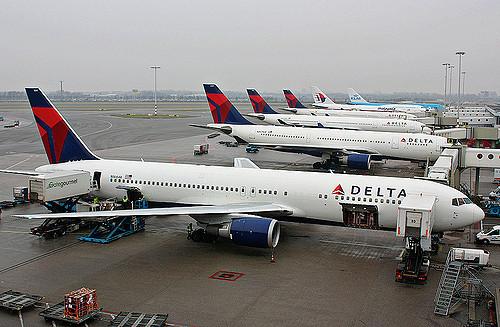 Future headwinds
Back in May 2016, the management set out financial targets which were quite ambitious. It has met most of these targets in 2016 other than free cash flow. During the first nine months of 2016, DAL generated free cash flow of $3.2 billion. In the fourth quarter it doesn't expect to deliver much higher pace of FCF due to which it would fall short of the lower end of FCF estimates.
In 2017, there are additional headwinds which can end up hurting profit margin significantly. Higher oil price are estimated to add $1.2 billion to its fuel costs. Other non-fuel costs are also expected to increase in the range of 2% to 3%, putting additional $800 million burden on the company. If DAL wants to show operating margin of even 17%, which is the lower end of estimates, the unit revenue growth would need to be at least 5%.
However, this would be a difficult task as the transatlantic route is seeing high rate of capacity additions. This is the most profitable international route for Delta. It will also start receiving wide-body airplanes from Airbus (OTCPK:EADSY) (OTCPK:EADSF), which were ordered in 2014. These planes included 25 A350-900s and 25 A330-900neos. Initially, it wanted to replace Boeing 747s with these planes. But currently there are only 7 747s remaining in its fleet.
Ideally, the remaining new aircrafts will be replacing Boeing (NYSE:BA) 767-300ERs which already have an average age of over 20 years. There are 58 767-300ER in its fleet. But a 767-300ER has only 208 to 226 seats whereas the Airbus fleet will have more than 300 seats. Most of these replacements will be on the transatlantic route which already has excess capacity. Delta would need to give higher discounts to sell more seats which will drive down the unit revenue on this route.
In case unit revenue growth is subdued, DAL would find it difficult to achieve even 15% profit margin. This would make it almost impossible to achieve EPS growth of 15%, which was the initial target. DAL's management has also not been able to meet its past unit revenue estimates. In mid-2015 they estimated that unit revenue will flat line by the end of 2015. However, this is now slated to happen by end of this quarter.
Valuation
DAL is trading at forward pe ratio of 9.5 and gives dividend yield (trailing twelve months) of 1.35%. Compared to it Alaska Air (NYSE:ALK) has a greater growth potential. It is currently trading at forward pe ratio of 12.5 and gives dividend yield of 1.24%. Even JetBlue (NASDAQ:JBLU) is a better option which is trading at forward pe ratio of 10.5 and has operating margin (trailing twelve months) of 20.5%.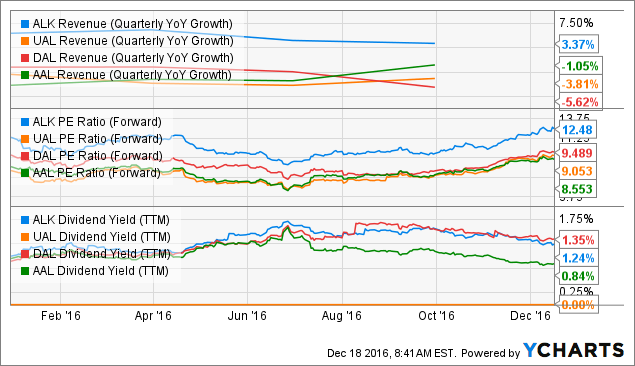 Given the headwinds, DAL will find it difficult to reach the financial targets it has set out to. At the current price point ALK and JBLU are better option within the airline industry.
Investor Takeaway
Delta Air Lines will be facing headwinds in terms of fuel cost and non-fuel costs in 2017. It is also upgrading its fleet with planes having more seats compared to current planes. DAL will have to use higher discounts to fill these seats, putting pressure on its unit revenue and operating margin. It is unlikely that DAL will meet its EPS and profit margin targets for 2017 which can lead to correction in the stock. JetBlue and Alaska Air look like a better alternative due to their reasonable valuation multiples and future growth potential.
Disclosure: I/we have no positions in any stocks mentioned, and no plans to initiate any positions within the next 72 hours.
I wrote this article myself, and it expresses my own opinions. I am not receiving compensation for it (other than from Seeking Alpha). I have no business relationship with any company whose stock is mentioned in this article.