Marriott International is s the world's largest hotel company, with nearly 6,000 properties and 1,2m rooms in 120 countries. The Company's portfolio consists of 30 brands including particularly strong positions in luxury, lifestyle, classic full service, and limited service. More than 95% of operating profit is generated from asset-light franchise and management contracts.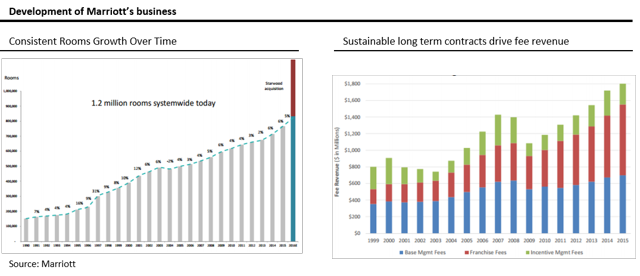 The global hotel industry comprises approximately 15.9 million rooms (o/w Marriott's market share is around 7%), broadly segmented into branded (multiple hotels under the same brand) and independent (non-branded) hotels. Depending on whether a hotel is branded or independent, there are different business models it can adopt. The four models typically seen in the industry are franchised, managed, owned and leased.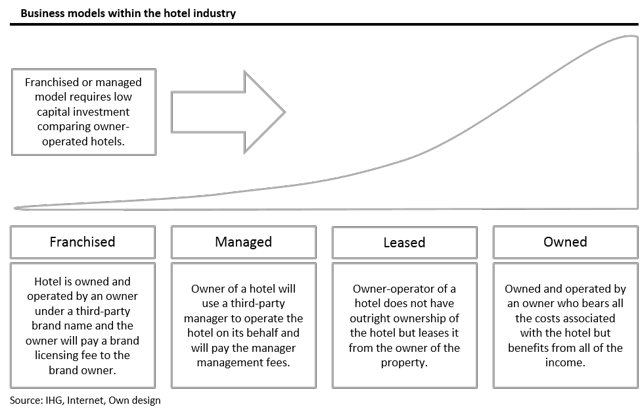 Whilst an owner-operated hotel enables the owner to have full control over hotel operations, it requires high capital investment. In contrast, for hotel-brand owners, franchised or managed model enables quicker rooms growth due to lower capital investment, but this requires strong relationships with the third-party hotel owners.
The competitive advantages of Marriott are based largely on the brand name with pricing power, recurring fee business model, significant switching costs for its property owners, long dating contracts and scale in a very fragmented industry (5 leading branded hotel companies' account for less than 20% of total market). History shows that relative scale creates a much more sustainable advantage than absolute scale. For example, Boeing has about half of the aircraft market, which sounds impressive - until you consider that Airbus has the other half, which gives neither manufacturer much of a scale advantage relative to the other.
Due to abovementioned reasons Marriott's business model is highly cash generative, with "jaw-dropping" return on capital. Comparing with other businesses with high return on capital, Marriott has an opportunity to reinvest in its business at fantastic returns. For instance, at the end of third quarter, Marriott had nearly 420,000 rooms in the pipeline, over half of which are outside North America. Given this strong development pipeline, Marriott anticipates 6% worldwide net room additions in 2017.
Industry overview
The industry has benefited from the process of globalization and from the constantly falling relative cost of travel. In 1950, the travel industry recorded 25m international tourist arrivals while nowadays we are talking about 1bn and in 2030 about 1.8bn travelers. There are many metrics which are used to track performance of the tourism industry, but the main two include revenue per available room (RevPAR) and rooms supply growth.

Based on those two metrics, the growth of demand has outpaced supply during the last six years. Generally, demand is primarily driven by economic growth and an increasing trend for domestic and global travel. In the long run, the growth of industry should be in line with GDP. Of course, there is going to be many bumps on the road like terrorism attacks, recessions, political crises but overall industry should grow because long-term structural factors are in favor of the industry. For instance, in China the number of households earning above $35k p.a. (breakeven level at which international travel becomes accessible) will rise from 21m in 2013 to 61m in 2023, while global population over the age of 60 is expected to increase from approximately 800m in 2013 to 2bn by 2050.
Risks to business model
Marriott operates in a highly competitive industry. Each of Marriott's hotel brands competes with major hotel chains, as well as home and apartment sharing services. The ability to remain competitive depends on quality, value, and efficiency of our lodging products and services.
Emerging new business models like Booking.com, Airbnb, Uber, and Lyft are changing the landscape. The growth of intermediaries and the sharing economy means that hotel companies must continually invest in a guest relationship and a new technology. So to speak, they need to find a response to the threat presented by digital disrupters such as Airbnb, which can turn any home into a competing mini-hotel, and the online travel agents, such as Booking.com and Expedia, which have killed brand loyalty in the hotel business. In such circumstances small hotel chains are going to face increasing amount of pressure. Big players, like Marriott, have strong brands and membership programs (Marriott has around 85m members) which help them offer solutions for every guest's need and promotes cross-selling across different hotel brands. Let me be clear. Share economy is great, but it is the best tool for a specific use. We should accept that it is a part of the current business landscape and some business models will be under pressure more than others.
Following the completion of the Starwood Combination, the size of the business of the combined company increased significantly. Here is risk that the combined company may not be able to integrate successfully and many of the anticipated benefits of combining Starwood and Marriott may not be realized.
Excluding the traditional risks (macro, FX, regulatory and etc.), the success of Marriott depends on the ability to retain the talents and dedication of key employees. It's worth to remember Isadore Sharp's words: "Treat Employees Right So They Treat Customers Right".
Valuation and conclusion
The asset-light business model can deliver a better return on capital, lower profit volatility, greater flexibility, and higher scale-driven cost savings than asset-heavy models. Marriott remains committed to its asset-light management and franchise strategy, which should continue to yield significant cash returns to shareholders over time.
It is not easy to find a company which has high returns on capital and at the same time opportunity to reinvest its capital in the core business. Marriott operates in a highly fragmented industry with a strong tendency of consolidation. Who is going to win in that game, it is not obvious, but Marriott is in a pole-position. With the acquisition of Starwood, Marriott got the larger global footprint, a wider choice of brands and stronger negotiation power.
On the flip side, in the most cases when you talk about these types of companies there are some valuation issues. Usually, those types of companies are trading at very high multiples. The situation with Marriott is more or less the same. The company has a market cap around $33.1bn, while FCF is around $1.66bn (estimated by Bloomberg for 2017). In my opinion, valuation is a quite stretched, and I would wait for better entry point.
Looking ahead, many analysts say the hotel industry's upward cycle has peaked. I'm not able to time the market, but I can see what management expects. In 2017, Marriott expects RevPAR to be flat to up 2% for its North America and worldwide business. In the long run, this is a great cash generative business with ample of reinvestment opportunities coupled with favorable fundamental characteristics.
Disclosure: I/we have no positions in any stocks mentioned, and no plans to initiate any positions within the next 72 hours.
I wrote this article myself, and it expresses my own opinions. I am not receiving compensation for it (other than from Seeking Alpha). I have no business relationship with any company whose stock is mentioned in this article.