Investors in Mylan (NASDAQ:MYL) have had a very rough year with the Epipen Pricing Scandal as well as the accusations last week that it had engaged in price fixing with other generic pharmaceutical companies. But investors shouldn't lose heart as these accusations won't change materially the profitability of the company. Mylan is neither a criminal enterprise nor an unethical company and once the dust settles public perception will start to change. Mylan is a force for good for Americans and investors currently owning the stock should feel proud of owning shares in this company. Mylan's 2016 stock pullback provides investors on the sidelines with an opportunity to scoop up some shares at a very attractive valuation and we therefore recommend investors to accumulate shares at the current level for a long term buy and without the use of margin.
The Epipen is all about Politics and Mylan was right to increase the Price
Much has been said about the Epipen Scandal but most of the noise surrounding the probes had to do with the election. It's very easy for politicians to criticize the price of one product within the company ignoring what's happening with the rest of products. But whether you are a politician or a company CEO you have to make decisions based on looking at the bigger picture or what people like to call "the greater good." Politicians are no different than company executives and their level of hypocrisy shocks me. For every decision they make there are winners and losers.
Mylan took a series of price increases from 2009 to 2016 and the price went up from $100 to $608 for a two pack of Epipens. But all of these price increases were gradual and over a prolonged period of time. This branded product was under no generic patent protection and other participants were welcome to enter the market at any point in time. In fact in 2013 Sanofi entered the market but due to a product recall they decided to abandon the market. Sanofi could easily have gone back into the market at any time after fixing the problem and so could others.
Mylan never overnight increased the price triple digits like Valeant did with Nitropress and Isuprel (NYSE:VRX) or quadruple digits like Turing Pharmaceuticals did with Daraprim.
Without Reward there's no Risk
But what nobody likes to talk about is about the costs of research, the big portfolio erosion that companies like Mylan go through, and the fact that without investors willing to take significant risks on pharmaceutical companies innovation will grind to a halt. American companies are the leaders in innovation because there's minimal government interference. Look at the following graph: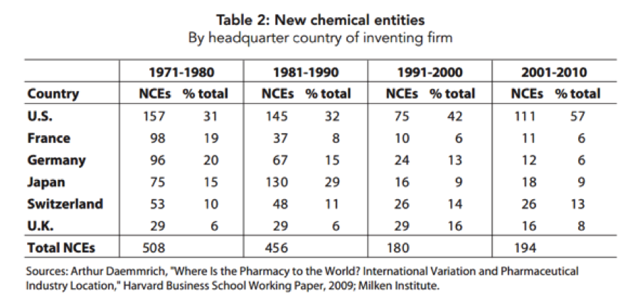 It's all about Price Erosion
The 2015 government accountability report released in August 2016 found the following conclusions:
"Overall, generic drug prices fell 59 percent from the first quarter of 2010 through the second quarter of 2015, according to the agency. But of 1,441 established generic drugs, 351 had at least one extraordinary price increase of 100 percent or more between the first quarter 2010 and first quarter 2015, the GAO found. Of those 351 extraordinary price spikes, 48 rose 500 percent or more, and 15 leaped 1,000 percent or more."
This report confirms what we already knew: that generic companies portfolios on average lose about 9-11% in pricing power every year. The only way to remain profitable is to increase prices on drugs where you have to a certain extent exclusivity, bring new drugs to market, increase volumes and market.
Mylan has a trailing twelve months operating margin of 18.90%. That's hardly an abusive, excessive, or criminal margin. Senators should take a look at this number rather than individual products.
It's very easy for people to judge Heather Bresch the CEO of Mylan now but back in 2012 she was campaigning for the FDA safety and innovation act which was going to help the FDA bring generic drugs faster into the market. Also few people pointed out that through its Epipen4Schools program Mylan provides free Epipens to more than 65,000 schools. You can argue that they do this out of self interest to further promote their product but that's just not truth. Epipens are lifesavers and before laws wouldn't allow schools to purchase Epipens resulting in the deaths of many children. Mylan through its efforts has helped schools have life saving medicine on their hands, promote legislation to save more lives and lower the cost of healthcare for the American taxpayer.
Heather Bresch is a passionate CEO and she is just the right person to lead Mylan. Washington should focus more on the fact that out of a $600 dollar price tag for Mylan approximately two thirds were distributed among 3rd parties and only around $200 came back to Mylan. It meant Mylan had to raise $100 the price just to get an additional $33 in revenue. That's a disturbing trend.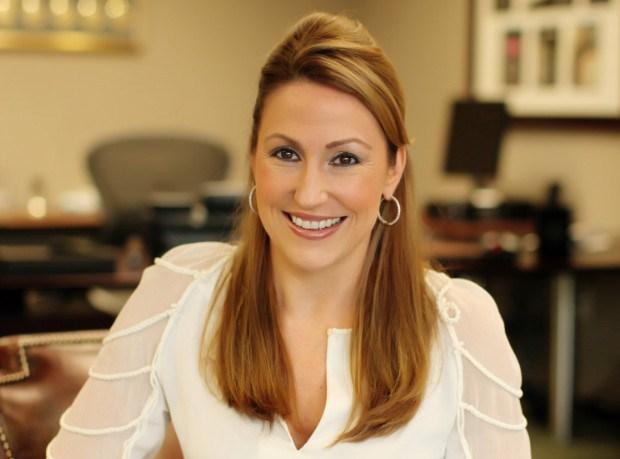 Heather Bresch. Mylan's CEO. Source The Squander
Turing Pharmaceuticals and Valeant
Finally, I will talk just for a second about Turing. Martin Shriekeli raised the price of Daraprim over 5,000%. Sure, an outrage for many but they invested 80% of the revenue back into research and development for patients of toxoplasmosis. Now the results have shown new promising candidates that are significantly more effective than Daraprim. Without revenue there's no research.
Even Valeant was effective on one thing: Rewarding investors for taking risks. Valeant Ex-Ceo Mike Pearson acquired approximately 100 companies during his tenure at Valeant. Shareholders in these companies could then move on and invest on startups, better managed biotechs, etc. Valeant allowed them to cash on in their investments. Think about Valeant as a cash advancement company where they paid investors in advance for their investments.
By buying companies at significant premiums Pearson was able to allow cash to flow to other companies and for them to do more research. By cutting ineffective research programs of the companies they acquired, Valeant to a certain extent helped healthcare become more affordable as research is always a pass along cost. Sure, if every company acted like Valeant there will be no more drug industry. But recently we took a long position on Valeant as they boosted their active R&D programs by 45% .
Mylan will survive the current scrutiny and come out stronger. We recommend buying shares without margin at this level.
Disclosure: I am/we are long VRX.
I wrote this article myself, and it expresses my own opinions. I am not receiving compensation for it (other than from Seeking Alpha). I have no business relationship with any company whose stock is mentioned in this article.