Many retail investors still see gold as a hedge against political uncertainty and crisis. But this couldn't be further from the truth. The 4th quarter of 2016 has demonstrated that gold is no longer a good hedge against political risk, and investors are better off holding cash or equities.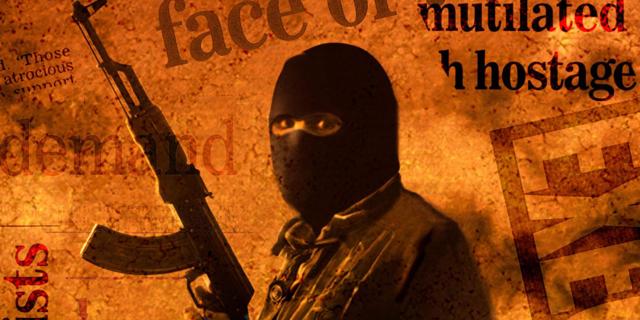 Source: Russia Gold News
Despite a tense global political environment, investors continue to wholesale dump holdings in the SPDR Gold ETF (NYSEARCA:GLD). The fund has now seen outflows to 28 sessions in a row - this totals $4.7 billion since the election of Donald Trump.
Donald Trump
During the U.S primaries and general election, it was widely predicted that Donald Trump would crash the stock market if he won the presidency and that, like with Brexit, gold would rally based on political uncertainty, but this has not been the case.
Instead of rallying on Trump's election, gold crashed. This downtrend occurred because the metal is not a good hedge against political uncertainty. There is one primary reason for this: gold moves inversely to ten-year bond yields, and when the political environment is tense, demand for government bonds drops; thus, the yield of these bonds goes up and gold, which moves inversely to these yields, goes down.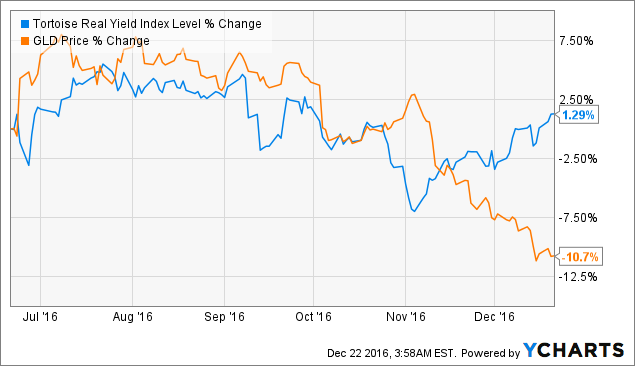 Terrorism & Political Risk
The near-term political and economic uncertainties are significant, and this is not just because of Donald Trump.
1. The dispute between China and the United States over the South China Sea intensifies, and we do not know what Trump's policy will be towards the region.
2. Terrorist attacks are occurring in major European cities. Also, a Russian ambassador was shot in Turkey.
3. The banking system in Italy is feeble, and it may need government assistance to survive.
4. The long-term ramifications of the U.K's Brexit are unknown.
With the exception of a brief, and quickly corrected, gold rally after the Chinese government seized a U.S underwater drone, gold's response to these concerns has been subdued. The evidence seems to suggest that gold is no longer performing as a haven asset, and it is not a good hedge against political risk.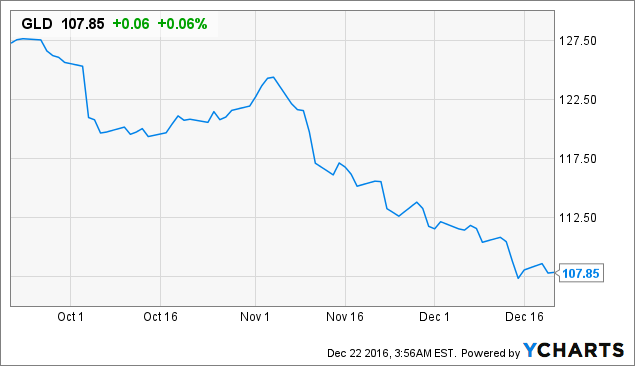 GLD data by YCharts
Conclusion
When Donald Trump won the U.S election, the political risk boost for gold was quickly negated by a sell-off in U.S bonds. Because gold moves inversely to the yield of the ten-year bond, this mechanic prevents gold from behaving like a safe haven asset.
Gold has not performed well, despite the numerous political risks faced by the global economy in 2016. As a result, retail investors are dumping gold-based ETFs in record numbers. To profit from the gold crash, investors should short the junior miners index (NYSEARCA:GDXJ) because junior mining stocks have higher downside potential due to the risk of bankruptcy in a cheap gold environment.
Disclosure: I am/we are short GDXJ, DUST. I wrote this article myself, and it expresses my own opinions. I am not receiving compensation for it (other than from Seeking Alpha). I have no business relationship with any company whose stock is mentioned in this article.