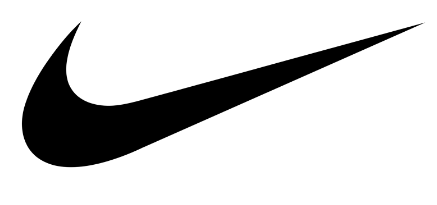 Nike (NYSE:NKE) has been a favorite large cap long of mine for some time as it remains one of the most valuable brands in the world. But some challenges of late have kept the stock from getting up off the mat and heading into the Q2 report, shares were near their lows. A favorable response from investors seems warranted as there was a lot to like in Q2, not the least of which was lower SG&A spending. I still think NKE represents some value here, even if it isn't a screaming buy.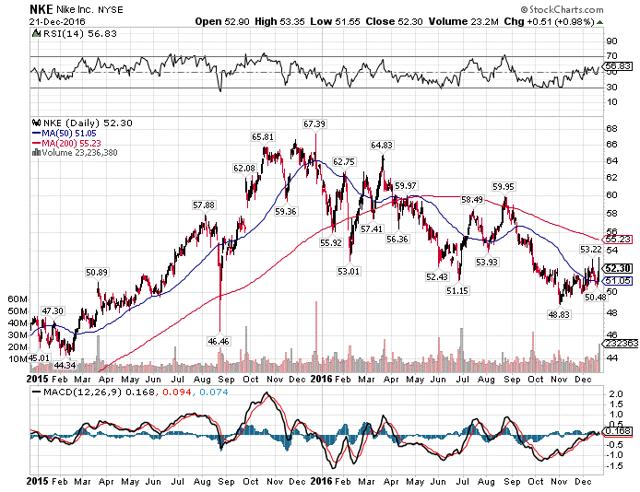 Total revenue was up nicely during the quarter, adding 6% on a reported basis and 8% on a currency-neutral basis. Nike branded merchandise continues to be the star of the show as growth across the company's geographies and product categories sent currency-neutral revenue for the brand up 8%. Converse was somewhat less perky - as is normally the case - at +5% on a currency-neutral basis. The quarter certainly represents a strong period of growth and is roughly congruent with what Nike has been doing for years. Revenue growth has never been a problem and that continues to be the case now.
Futures orders were a disappointment, however, as that number rose just 2%, led by a 4% decline in North America. Nike is shifting its business model more towards direct-to-consumer sales and it appears retailers are less willing to commit to product with longer time frames but still, the drop is alarming as it missed low expectations. Time will tell if this ends up forecasting a decline in NKE's growth but for now, I'm a bit on the fence about futures orders.
Nike also still contends with the dollar's strength and given the fact that the dollar is certainly moving into 2017 from a position of strength, the global nature of Nike's business is going to be a headwind for revenue yet again next year. Currency translation removed 2% from the top line in Q2 and there's no reason to think that's going to improve anytime soon. If the Fed really does move forward with three rate hikes next year, the dollar is only going to get stronger and we could see some fairly sizable revenue headwinds for all companies with huge global presences, Nike included. Demand remains strong but if we see 3% or more in revenue headwinds from currency translation, that could certainly impair the bull case somewhat.
I'll admit I'm concerned about Nike's showing when it comes to gross margins in Q2 as that number was very weak indeed. Gross margins fell 140bps to 44.2% as higher ASPs were more than offset by higher input costs, forex headwinds and higher levels of discounting. Nike routinely works its ASPs higher and I already mentioned the constant forex headwind so I expected those but higher off-price sales and materially higher input costs caught me off guard. It is apparent that there is some work Nike has to do with respect to margins as this used to be a growth driver but at this point, gross margins seem to have topped out. If that's the case, again, those of us that are bulls need to seriously examine just how much growth we can reasonably expect.
Where I was emboldened with respect to my bullishness was lower SG&A costs. I have complained at length for years about how Nike spends carelessly and to this point, hasn't seemed to bother noticing how much money it wastes on SG&A. I understand paying for the right people but as Nike's growth has exploded over the past decade or so, it has experienced virtually no leverage on its back office costs. That's unacceptable but in Q2, progress was made. SG&A costs were actually down 2% in Q2 and thus, as a percentage of revenue were leveraged down for the first time in a long time. If this is the new Nike there is a huge opportunity for margin expansion over time simply from lowering costs. I'll be watching Q3's read on SG&A costs very closely because if Nike is serious about cutting SG&A from the model - we don't know yet if it is - then it could foster a new period of margin growth that Nike could very much use right about now.
Nike still isn't cheap because it never is, but after the modest post-earnings rally, it is going for just over 22 times this year's earnings. That by itself is a fairly typical multiple for Nike although during its best growth days in recent years, it was sometimes closer to 30. Those days are gone unless Nike can deliver operating margin growth via lower SG&A costs on a regular basis. But for now, this will have to do. Still, with EPS growth for the next few years coming in at around 12%, even without multiple expansion that is the return we should see on the stock, all else equal. I don't see the multiple going a lot lower than 22 because of its historical trading range and because this is, after all, still one of the most valuable brands in the world. And to be fair, this is still a terrific business, even if it isn't growing quite as quickly as it once did.
Bulls have to contend with a steeply sloped, falling 200DMA and fixing that will take time. I don't think Nike is going to rocket higher from here but it does look like a sustainable base was put in at the $48 level and real buying interest has been shown since then. I'm very excited about the prospect of lower SG&A costs driving margins higher but as I said, we're very early on there. Q3's report will be critical in a variety of ways in terms of determining the direction of the stock but right now, at this valuation, I think the bias is to the upside with respect to the multiple. Nike has some levers it can pull to grow earnings and apart from the currency headwind, I'm still bullish here. This isn't a get-rich-quick stock by any means but this is still one of the best companies in the world and I'm happy to own it at 22 times earnings.
Disclosure: I am/we are long NKE.
I wrote this article myself, and it expresses my own opinions. I am not receiving compensation for it (other than from Seeking Alpha). I have no business relationship with any company whose stock is mentioned in this article.