In a surprising turn of events, Endo (NASDAQ:ENDP) gave Belbuca rights back to BioDelivery (NASDAQ:BDSI) earlier this month. Endo wanted to eliminate its branded pain sales force in order to cut costs, and Belbuca was in the way. The slower than expected launch was not helping either. Based on the tone of BDSI's conference call last week, this was an unexpected move and BDSI is now "stuck" with Belbuca and will have to spend resources it doesn't have to support its promotion. My concern here is obvious - if Endo didn't manage to get Belbuca sales higher than they are at the moment with a 300-plus sales team, how will BDSI do it with its limited financial resources and a much smaller sales team? The slow/no progress with Bunavail is not helping the cause either, although the circumstances are different there. However, all is not lost and I think BDSI could make this work eventually. This article sheds more light on this rather significant change and lays out a way out and a way to potential gains for long-term shareholders. Clonidine gel trial results are a blessing in disguise (sort of), as they should significantly reduce R&D costs going forward and extend the cash runway.
Endo gives up on Belbuca, retires its branded sales team
On the surface, this seems like a decision not totally related to Belbuca. Endo is having significant difficulties with its branded pain products and Belbuca's slow progress over the last six months has probably contributed to that decision. Endo said that its remaining pain product portfolio does not require a field sales force and that it is eliminating its 375-person branded pain sales organization, reducing annual costs by $90-100 million. Compare that team and cost savings to BDSI's total commercial infrastructure and you get a pretty bleak picture when it comes to Belbuca's near-term growth opportunities. BDSI's slow progress with Bunavail over the last 12 months is also indicative of a rather poor commercial organization which needs a lot of work to get sales of both Bunavail and Belbuca off the ground in 2017.
But I believe that all is not lost and that there are significant opportunities coming from this deal:
BDSI gets all the economics from Belbuca rather than a fixed royalty rate. This means higher revenues overall and higher revenues per script.
According to BDSI, Belbuca's annualized gross sales run rate was around $27 million in late November. This probably means around $15 million in net sales a year or close to $4 million a quarter, which compares very favorably to royalties of around $2.5 million a year or just around $600-700,000 a quarter.
BDSI received a lot of early launch data from Endo and intends to focus on areas of strength. We can't possibly expect BDSI to cover the primary care segment and management said that they will focus on pain specialists instead and that there is some meaningful overlap between Bunavail and Belbuca prescribers (20% of Bunavail prescribers have prescribed Belbuca as well). The opioid space is under tremendous pressure lately - as of September, ER opioid prescriptions are down 10% Y/Y among primary care physicians, but prescriptions are actually up 6% Y/Y among pain specialists. BDSI plans a more focused approach on early adopters among pain specialists and management said that the sales force will actually cover around 90% of current Belbuca prescriptions. This makes a lot of sense and Depomed (NASDAQ:DEPO) detailed a similar, specialist-focused strategy for its pain drug Nucynta a few months ago.
With the worldwide rights back in its hands, the company can find co-promotion partners and will probably try to find an international partner as well. An ex-U.S. partnership could result in a solid upfront payment for BDSI.
Endo has managed to substantially increase Belbuca's coverage over the last few months. This is always a problem early in the launch and the benefits of improved coverage are probably not fully reflected in Belbuca's prescriptions over the last few months. Belbuca has around 85% of commercial lives covered now and management intends to focus on getting better Medicaid coverage going forward, which accounts for roughly a third of long-acting opioid prescriptions.
So, BDSI will need to up its game when it comes to commercialization given the poor growth of Bunavail, but investors should take note that the opioid dependence market is actually dominated by one, large and entrenched product - Suboxone, which is not the case with the long-acting opioid market. And additionally, commercial payers represent a substantially larger part of the long-acting opioid market which makes it easier to ramp up, and the long-acting opioid market is significantly larger. Additionally, one Belbuca prescription generates roughly 2.5x the net revenue of Bunavail with lower cost of goods. So, Belbuca will be the number one priority for BDSI and its sales team going forward with the focus on improved contracting for Bunavail going forward.
What to expect in 2017?
We are still light on BDSI's commercial strategy for 2017 and the company intends to hold an analyst day in January, where it will talk more about Belbuca and the opportunities and challenges. Based on the information I have, I think there is a high probability of demand disruption in 1H 2017 and that Belbuca scripts might be flat for the next couple of months if BDSI gets lucky and that they will probably trend down before stabilizing. This should especially be true for Q1 2017, which is usually a tough time for all drug makers given the deductible resets. I am also not sure how smooth the transition will be and how BDSI's reps will do with Belbuca considering the poor track record they have with Bunavail.
BDSI intends to keep the top-performing reps from Endo, and this could help with the early re-launch efforts in Q1 2017. I would be happy if BDSI can keep the current $27 million gross sales run rate heading into Q2 2017 and expect prescription growth to eventually pick up by mid-2017. Finishing 2017 with a $35-40 million gross sales run rate (or a $20-25 million net sales run rate) sounds like an achievable goal for BDSI and I think it is reasonable to expect FY 2017 net sales in the $15-20 million range. Anything above that would be very positive.
And since Bunavail is now de-prioritized, I expect modest growth acceleration based on the contracts the company managed to secure over the last few months. Getting sales to $3-4 million a quarter would represent a significant achievement.
Financial considerations
So, based on my estimates above, we will probably see between $25 million and $35 million in total net sales in 2017 (Onsolis royalties should start flowing in 2H 2017, but I expect really modest contribution) while the cash costs will probably be around $50 million, and probably closer to $60 million considering the expected increase in sales expenses related to Belbuca's re-launch. And since the Clonidine gel failed in the phase 2b study, the company expects to save around $17 million in R&D expenses, which should extend the company's cash runway into Q4 2017.
The company had $45 million in cash and equivalents at the end of Q3. Based on the assumptions laid out above, the cash balance at the end of 2017 should be around $10-15 million in a best-case scenario and completely depleted if we see lower demand for Belbuca.
On the other hand, if Belbuca sales stabilize and start trending higher and if Bunavail sales trend somewhat higher, the financial burden would be reduced and the company could have some flexibility and could eventually secure a non-dilutive loan. Given the current market cap, a dilutive share offering seems out of the question as it would significantly increase the share count.
However, the company may have other options at its disposal:
Belbuca ex-U.S. partnership could improve the balance sheet. An upfront payment in the $15-30 million range seems appropriate considering Belbuca's market potential and could extend the cash runway through mid- to late 2018, or for good if sales ramp up in 2017 and 2018.
The company could also decide to partner Belbuca in the U.S. as well, which could result in an upfront payment of similar size to the one mentioned above.
So, there are several solutions for the funding problem and the company will probably need to get something done by Q2 2017 at the latest.
One step in the right direction
One of the main problems with BDSI is poor commercial execution. Granted, the only product the company tried to market on its own is Bunavail, which is competing against an entrenched Suboxone, but sales growth has been disappointing nonetheless. The company has focused on improving contracting over the last few months, and some contracts are already active, but there were no significant increases in demand. The company did reveal one interesting data point in one of its latest presentations, and it was somewhat encouraging, though the sample was quite small.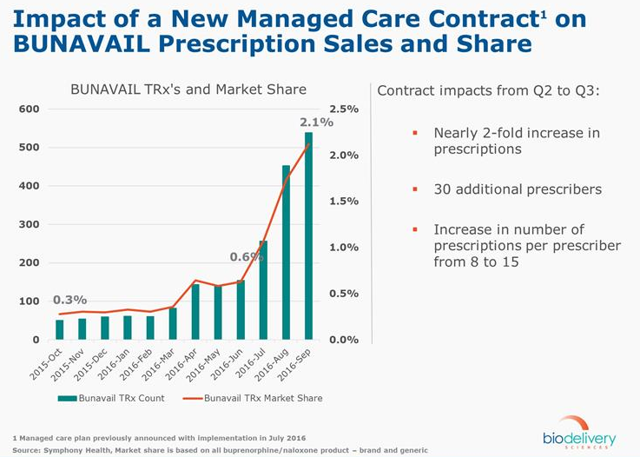 Source: BDSI investor presentation
And while the current CEO doesn't really inspire confidence when it comes to commercial execution, the company seems to have made a step in the right direction last week by hiring Peter Ginsberg as Vice President of Business Development. Mr. Ginsberg has over 25 years of BD and other closely related experience. He was head of BD for United Therapeutics, where he led the sale of a Priority Review Voucher for $350 million. Mr. Ginsberg also served as VP of BD and Strategic Planning for SurModics, where he was responsible for acquisitions and licensing transactions. The appointment should allow sharper focus on business development opportunities with Belbuca within and outside of the U.S.
Conclusion
A lot has happened at BDSI over the next few weeks and a lot should happen in 2017. Belbuca should transition from Endo and we should see whether it will be a painful or smooth transition and Bunavail is heading into 2017 with better contracting in place. BDSI will also try to find an ex-U.S. partner for Belbuca and maybe a co-promotion partner in the U.S. or even an outright sale of worldwide rights. Financing and commercial execution remain the most significant near-term risk for BDSI and if Belbuca and Bunavail fail to grow in 2017, the situation could become really worrisome. So, a lot of risks for BDSI but a lot of opportunities as well. The company should start collecting royalties from Onsolis in 2H 2017 (U.S. partner Collegium (NASDAQ:COLL) intends to launch in mid-2017), but I don't have high expectations for Onsolis. And finally, I think the company has become a more attractive buyout target considering the full ownership of Belbuca and I think Belbuca alone is worth more than the current market cap of just around $100 million.
The company should have around $30-35 million in cash on hand at the end of 2016 and its market cap is just around $100 million, which assigns very little value to the company's product portfolio. I think shareholders could extract more than $2 per share even in a fire sale scenario (assuming it occurs over the next 6-12 months). And this is in the case the company fails to grow Bunavail and Belbuca sales, fails to find an ex-U.S. or U.S. partner (or co-promotion partner) and/or if it fails to raise the necessary capital through the sale of ex-U.S. rights or a debt issuance. So, I think there is a lot of optionality here and a decent long-term return even with modest growth of the two brands in the following years.
Author's note: Growth Stock Forum subscribers had an early look at this article, and have access to regular exclusive updates on every stock I am covering. Readers are invited to take a two-week free trial in the Seeking Alpha Marketplace.
Disclosure: I am/we are long BDSI.
I wrote this article myself, and it expresses my own opinions. I am not receiving compensation for it (other than from Seeking Alpha). I have no business relationship with any company whose stock is mentioned in this article.
Additional disclosure: This article reflects the author's personal opinion and should not be regarded as a buy or sell recommendation or investment advice in any way.