The Wall Street Journal is reporting that activist investor and Icahn Enterprises L.P.'s (NYSE:IEP) majority shareholder Carl Icahn is "expected to be named special adviser to the president on overhauling federal regulations." Mr. Icahn, who controls merchant refiner CVR Refining (NYSE:CVRR) through CVR Energy (NYSE:CVI), supported Donald Trump's underdog bid for the U.S. presidency and advised him on business issues during the general election. He also has waged an extensive lobbying campaign aimed at the U.S. Environmental Protection Agency [EPA] with the goal of reducing merchant refiners' regulatory costs under the revised Renewable Fuel Standard [RFS2]. Earlier this month it was reported that Mr. Icahn had informally assisted the president-elect in selecting Oklahoma attorney general and noted EPA critic Scott Pruitt to be the Agency's next administrator. Now Mr. Icahn's role is to be both formalized and expanded with a remit that moves beyond a mere human resources role.
CVR Refining's share price jumped by 11% in after-hours trading following the release of the news, providing additional steam for a rally that has been in place since immediately after the election. That refiner has not been alone as the share prices of merchant refiners, in general, have moved higher with each announcement about Mr. Icahn's growing influence in the upcoming Trump administration.
This influence matters to investors in both refiners and biofuel producers alike due to the impact that it will have on the future shape of the RFS2. This federal mandate requires refiners (so-called "obligated blenders") to blend predetermined volumes of biofuels with refined fuels prior to resale or, failing that, to purchase enough Renewable Identification Number [RIN] blending credits on the market to satisfy the deficit. While large, integrated refiners have had little difficulty blending sufficient volumes to meet their individual obligations (and then some, according to Mr. Icahn), many merchant refiners own insufficient wholesale and retail operations to do the same.
CVR Refining has incurred growing annual RIN expenditures as a result, as have peers such as Calumet Specialty Products Partners (NASDAQ:CLMT), Alon USA Energy (NYSE:ALJ), Delek US Holdings (NYSE:DK), PBF Energy (NYSE:PBF), Tesoro (NYSE:TSO) and Valero (NYSE:VLO). Mr. Icahn has proposed, and the main merchant refining lobby has agreed, that the definition of "obligated blenders" under the RFS2 be expanded to include owners of wholesale and retail obligations as well as merchant refiners. Such a move would increase the number of companies required to obtain RINs and submit them to the EPA (the denominator) while keeping the total blending volume stable (the numerator), thereby reducing the annual RIN expenditures for individual merchant refiners from their current levels.
It is not coincidence that the share prices of merchant refiners in particular have moved sharply higher with each new report about Mr. Icahn. While Mr. Trump's victory was quickly viewed as a positive for the sector given the close relationship between the two men, the news that Mr. Icahn was vetting competitors for the EPA Administrator nomination (the EPA oversees the implementation of the RFS2), and then that he is to be a senior adviser to the president-elect on regulation reform, has convinced investors that merchant refiners could see their individual annual RIN expenditures reduced by hundreds of millions of dollars in some cases. Just ten merchant refiners are on track to spend $2.5 billion on RINs in 2016 (see figure), with Marathon Petroleum (NYSE:MPC), PBF Energy, HollyFrontier (NYSE:HFC), CVR Refining and Valero accounting for the vast majority of that amount.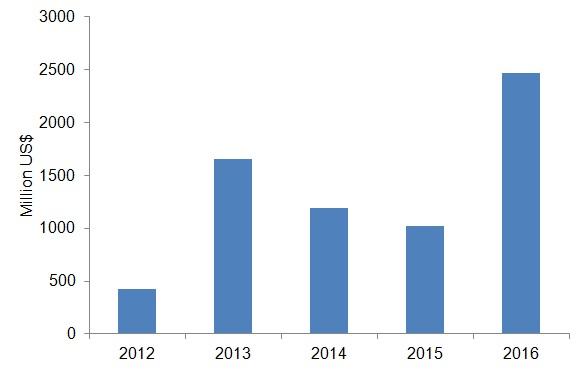 Total RIN expenditures by merchant refiners in 2016. Sources: Quarterly earnings reports, quarterly earnings reports and 10-Ks.
Contrary to popular opinion, most of the existing regulations that the Trump administration will inherent cannot be quickly removed via executive order, and the RFS2 is no exception - especially since it was created by legislative act. The EPA does have the flexibility to make the changes proposed by Mr. Icahn, however, following lengthy study and public comment periods. It will not be easy, though, not least because the main oil & gas trade group, the API, is strongly opposed to the change.
The proposal's future is therefore uncertain, and even its eventual implementation would likely only come after lengthy legal battles. In addition to the aforementioned integrated oil & gas sector, independent fuel retailers such as Casey's General Stores (NASDAQ:CASY) and Murphy USA (NYSE:MUSA) have reported sizeable additions to their retail margins resulting from the sale of excess RINs. (Since neither company owns refining capacity, both are able to sell all of the RINs that they generate without having to worry about needing to submit them to the EPA.) These enhanced margins would be at risk under Mr. Icahn's proposal since it would require them to begin submitting many or even all of those RINs instead of selling them for profit. Retailer trade associations can be expected to join the integrated oil & gas sector in pushing back, as a result.
Investors in biofuel producers themselves, on the other hand, have less to worry about. Unlike a rollback of the RFS2's volumes such as the one that was implemented by the EPA in 2013, Mr. Icahn's proposed reform would not impact RIN prices even as it reduced merchant refiners' individual RIN expenditures. The high RIN prices that have persisted since the end of 2014 have indirectly supported biofuel production margins by ensuring robust demand, so the reform is likely to be viewed with cautious optimism by large producers such as The Andersons (NASDAQ:ANDE), Archer-Daniels-Midland (NYSE:ADM), Green Plains Inc. (NASDAQ:GPRE), Pacific Ethanol (NASDAQ:PEIX), Renewable Energy Group (NASDAQ:REGI) and REX American Resources (NYSE:REX). These firms have found reason to be concerned by the nominations of Mr. Pruitt to the EPA and RFS2 opponent and former Texas governor Rick Perry to the Secretary of Energy position. Any sign that the incoming Trump administration is focused on blending obligation reform rather than a reduction to the blending volumes themselves is therefore a positive for producers.
Conclusion
Signs continue to point to an effort by the Trump administration to expand the RFS2's point of obligation to include wholesalers and retailers in addition to refiners, and the news that Mr. Icahn is about to be appointed to formally have the President-elect's ear on regulatory reform continues this trend. Any major changes to the RFS2 will have important implications for merchant refiners and independent retailers, given the high monetary values involved relative to the small sizes of the companies. The news coming out of Trump Tower continues to be positive for merchant refiners, negative for fuel wholesalers and retailers and neutral for biofuel producers.
Disclosure: I am/we are long PBF, REGI.
I wrote this article myself, and it expresses my own opinions. I am not receiving compensation for it (other than from Seeking Alpha). I have no business relationship with any company whose stock is mentioned in this article.