After spiraling down on news the company lost an Orlando Police Department contract, shares of Taser (NASDAQ:TASR) have slightly rebounded on two big contract wins in San Bernardino and Louisiana. The San Bernardino deal is a sizeable renewal of older Taser weapons, while the Louisiana deal is a unprecedented statewide deployment of 1,500-plus body cameras. We think this bold move by the Louisiana State Police will accelerate law enforcement adoption of body cameras, thereby accelerating Taser's underlying growth story. Given the deals announced so far in December, we see significant upside to the current Q4 estimates and look to the Q4 report as a major upside catalyst on the horizon. Overall, we maintain a bullish outlook on shares of TASR at this level.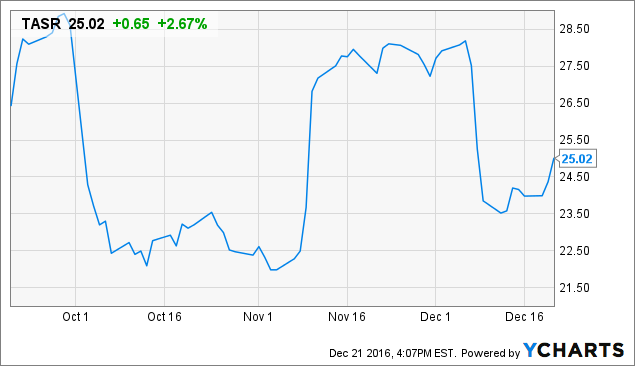 Shares of TASR have trended higher over the past two days on two sizeable and important contract wins. The first, an order from the San Bernardino County Sheriff's department to upgrade nearly 2,000 Taser weapons is important for two reasons: 1) it shows customer retention, and 2) it's a huge order of nearly 2,000 weapons.
The second, an unprecedented statewide deployment of 1,500-plus body cameras (that is 2 per Trooper) in Louisiana, holds more long-term significance. As Taser management stated in its press release, this is a "bold move in the direction of improved accountability and officer protection." We think it is a bold enough move to put pressure on other law enforcement agencies to take similar, aggressive steps toward full body camera deployment, implying more big contract wins in the near future. If that is the case, we could see this stock head significantly higher over the next several months.
Moreover, we now see significant upside to the current Q4 estimates and identify the Q4 ER as a major upside catalyst on the horizon. December has been a very strong month for Taser. In addition to the sizeable Lousiana and San Bernardino contracts, Taser also received orders earlier this month from the Massachusetts State Police and California Highway Patrol for a total of nearly 700 smart weapons. Between those four orders, that is nearly 2,700 smart weapons and 1,500 body cameras. A scan through Taser's press releases reveals that this volume of orders announced in press releases is unique in such a short time frame. We do not believe this strong December was baked into management's guide on the Q3 call when they said Q4 revenue would be in-line with Q3 revenue, so we think Q4 revenue will actually be sequentially higher than Q3 revenue. The consensus analyst estimate, however, is for $71.5m, below the $71.9m reported in Q3. Given December's strength, that seems far too low and we think revenues will at least be north of $72m.
As we have previously stated, TASR doesn't need to win every body camera and smart weapon contract to justify its valuation, but it certainly helps that the company is winning most of them. The San Bernardino deal is big because it illustrates customer retention, while the Louisiana deal is bigger because it should accelerate body camera adoption nationwide. December was a very strong month to finish Q4, and we now see significant upside to current Q4 estimates. We continue to like the stock here.
Disclosure: I am/we are long TASR.
I wrote this article myself, and it expresses my own opinions. I am not receiving compensation for it (other than from Seeking Alpha). I have no business relationship with any company whose stock is mentioned in this article.