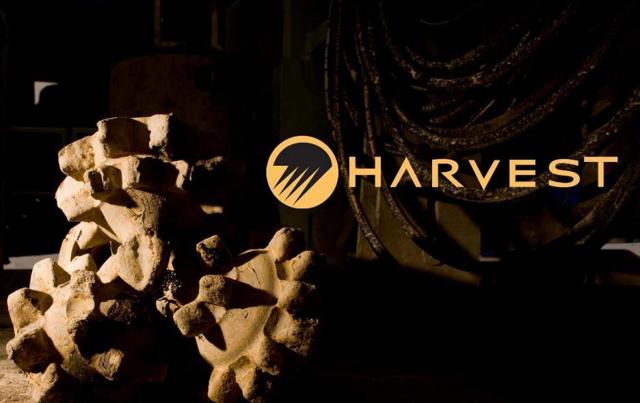 This article is an update of my preceding article on Harvest Natural Resources (NYSE:HNR) published on November 14, 2016.
Investment Thesis:
The question here is becoming totally academic, because this news is quite terminal. HNR has sold its last remaining asset and is about to enter the "dissolution Chapter". This article is to try to evaluate what will be distributed to shareholders when the dissolution process will be completed?
To access the Q3'16 conference call transcript: [Click here].
To access the 10-Q/A of November 10, 2016. [Click here]
To access the 10-K/A of April 29, 2016. [Click here]
On December 22, 2016, Harvest Natural Resources announced the following:
[...] Under the terms of the Sale and Purchase Agreement, BW Energy Gabon will acquire HNR Energia's 100% interest in Harvest Dussafu B.V., which owns a 66.667% interest in the Dussafu production sharing contract covering a 210,000 acre area located in offshore Gabon. BW Energy Gabon will pay HNR Energia $32 million in cash for the interest, subject to certain adjustments. BW Offshore Singapore Pte. Ltd, an affiliate of BW Energy Gabon and BW Offshore Limited, a global provider of floating production services to the oil and gas industry, has guaranteed the obligations of BW Energy Gabon under the Sale and Purchase Agreement.

At the closing of the transaction, $2.5 million of the $32 million purchase price will be deposited in escrow, to be held for up to six months to satisfy any post-closing claims the purchaser may have for any breaches of warranties made by Harvest and HNR Energia under the Sale and Purchase Agreement.

Harvest's board of directors unanimously determined that the transaction is in the best interests of Harvest's stockholders and approved the transaction, subject to the approval of Harvest's stockholders. After giving effect to the transaction, Harvest would cease to have a presence in Gabon. In addition to approval by stockholders representing a majority of outstanding shares of Harvest common stock, the closing of the transaction is subject to, among other things, approval of the government of Gabon. Availability of financing is not a condition to closing the transaction.

Net proceeds of the transaction are expected to be approximately $ 29.7 million, without giving effect to any payments to the purchaser under the escrow arrangements and taking into consideration taxes and transaction-related costs.

Harvest previously announced that it is evaluating a possible dissolution. In light of the signing of the Sale and Purchase Agreement to sell Harvest's Gabon assets, Harvest's board has determined that Harvest should move forward with plans for its dissolution, subject to the board's adoption of a formal plan of dissolution and authorization by Harvest's stockholders. Under the dissolution, liquidation and winding up process under Delaware law, the proceeds from the Gabon transaction would be combined with other Harvest assets to be distributed to Harvest's stockholders, subject to certain payments and costs. These costs would include dissolution expenses, taxes and payments related to terminations of employment, as well as funds to establish reserves for the payment of current and possible future liabilities of Harvest.
This is it, Finally! I believe the shareholders' approval will be a formality and approval of the government of Gabon as well, whereas, it could be tricky somehow. Never assume an easy path and some shareholders may not appreciate the price sold and may initiate a lawsuit?
Now the "only" paramount question remaining is how much cash will be left to be distributed to shareholders, on a per share basis?
The 3Q'16 ending September 30, 2016, is the last official statement about the balance sheet. A little outdated, but it will probably be enough for the purpose of this article. The 10-K/A is another important document.
First, it is important to come up with an exact amount of shares outstanding including options, warrants etc.
On November 4, 2016, the Registrant had 11,042,804 shares of its common stock, par value $0.01 per share outstanding. This amount is not taken into consideration the options (~1 million shares in my opinion). Let's assume that the total common stocks, including 2016 options (SARs + RSU) are 12.5 million shares (The grants of plan-based awards for 2016 have not been indicated yet).
This amount is highly debatable and can fluctuate, of course. Harvest will indicate the precise amount probably along with the next results. However, I think it is a fair amount if we include the SARs for 2016.
What do we know?
As we know, the company has now $71.9 million in cash.
Q3 2016
Q2 2016
Q1 2016
Revenues
0
0
0

Cash and cash equivalents

in $ million

2.546
2.800
1.417

G&A

in $ million

3.630
4.573
5.949

Total current assets

in $ million

14.628
3.516
2.432

Oil and gas property

in $ million

29.626
30.924
30.910

Total current liabilities

in $ million

42.207
8.793
6.698

Total assets

in $ million

45.074
42.434
39.097

Total liabilities

in $ million

42.204
33.034
17.690

Total stockholders' equity

in $ million

4.472
11.095
23.327

Gain/loss per share

$

(0.55)
(0.25)
(0.27)

Net income

$ million

(7.06)
(12.898)
(14.096)

Long-term debt

in $ million

0
7.824
1.211

Shares outstanding

in million

12.849
51.415
51.415
Note: Oil and Gas property estimated in the last 3Q'16 results was $29.626 million and the final price is $29.7 million. It is quite close isn't it?
My first reaction to the news of the Dussafu sale was a real disappointment, because the total value of the Dussafu prospect is no more than $45 million, including the 1/3 stake of Panoro.
The oil prices have increased significantly since the last OPEC and non-OPEC decision to cut production by 1.8 MBOPD and HNR management could have postponed its decision to sell until H2 2017, instead. Furthermore, as a Vaalco Energy (NYSE:EGY) shareholder I was expecting EGY as a logical acquirer.
A few topics that need to be addressed in the calculation:
1 - One interesting question asked during the 3Q'16 conference call was about the NOL (Net Operating Loss).
Unfortunately, M. James Edminston, CEO, said in the conference call:
We have some NOLs that evolve in terms of G&A expenses that we are incurring. We haven't given specific big numbers to the public and we're not ready to do so. We will be able to utilize all those NOLs as the solution becomes the obvious answer but that's all I can say at this time.
The idea behind NOLs is quite simple: If HNR losses represent more than its total income for the year, then HNR can use the excess loss to lower its income and reduce its US taxes in another year. The IRS carryback and carryforward rules govern how you organize this.
HNR will have to pay US Tax. The amount is unknown and I will not be able to assume an amount here either. I am not a CPA and we do not know enough to guess right now.
2 - The concept of "change in control" and what the management will receive?
In page 12 of the 10K/A filing you can read:
Entitlements based on terms in Executive Agreements if we terminate the employment without cause or notice (not related to Change of Control) OR the executive terminates employment for good reason.

or

Entitlements based on terms in Executive Agreements if we terminate the employment without cause or notice related to a Change of Control.
It is related to five officers: MM. Eminston, Haynes, Speirs, Nesselrode and Head. The amount taken off in case of dissolution is exorbitant to say the least.
I will let you judge by yourself. Go to "Potential Payments under Termination or Change of Control".
| | |
| --- | --- |
| Name | Compensation in $ million |
| J. Edminston | 5.343 |
| S. Haynes | 1.199 |
| R. Spiers | 1.380 |
| K. Nesselrode | 1.105 |
| K. Head | 1.084 |
| TOTAL (2015) | $10.111 million |
I do not know if shareholders will be believed as winner in this deal, but one thing for certain is that management is definitely the big winner without any doubt. What have they done to deserve this wonderful gift?
Conclusion:
HNR is now in its last leg and I do not advise anyone who is not already involved to start any position here. Now, looking at the deal and the amount indicated for the Dussafu, I do not see much upside in the stock price and in fact, probably some serious downside.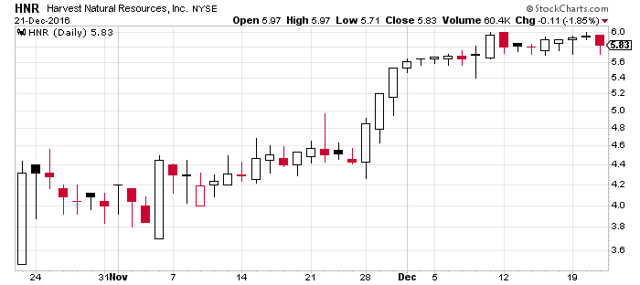 If we add $29.7 million to the actual $79.5 million in cash, and deduct the total liabilities ($42(?) million/3Q'16 + 4Q'16 expense), we have approximately a minimum of $70 million in cash.
We should assume some US Tax payment, and management compensation ($11 million/2016), and a quick calculation brings us to approximately $5-$6 per share?
I own a medium speculative position at $4.40 -- since late November -- and will immediately sell out based on my findings above. I have no general recommendation for the reader.
Important note: Do not forget to follow me on the oil sector. Thank you for your support.
Disclosure: I am/we are long HNR.
I wrote this article myself, and it expresses my own opinions. I am not receiving compensation for it (other than from Seeking Alpha). I have no business relationship with any company whose stock is mentioned in this article.
Additional disclosure: I will sell out probably today.
Editor's Note: This article covers one or more stocks trading at less than $1 per share and/or with less than a $100 million market cap. Please be aware of the risks associated with these stocks.