Source: Google Images
Calavo Growers (NASDAQ:CVGW) is a global leader in the avocado market. The company's primary function is to handle and market avocado products, which are purchased from growers in both California and Mexico. The company sells its purchased avocados to supermarket chains, wholesalers, food service and other distributors under its Calavo family of brand labels, and as private labels.
Calavo's market share in California has remained consistent at nearly 30 percent. For Mexico, the company's market share stood at nearly 20 percent of the exported market from Mexico to the U.S., and at five percent for the exported market from Mexico to the rest of the world.
One of Calavo's core competitors for global avocado sales is Fresh Del Monte Produce (NYSE:FDP). Recently, Fresh Del Monte sold about 45 percent of the net sales amount by percentage as Calavo. Within California, there are nine significant handling competitors also offering purchased product from Mexico.
Calavo additionally operates two other segments, Calavo Foods and Renaissance Food Group, RFG. The Calavo Foods segment utilizes ultra-high pressure technology equipment designed to protect avocado and guacamole products without the need of preservatives for the freezing process. Products are shipped to various retail, club and food service customers within the U.S. and abroad.
RFG is a leader in the refrigerated fresh packaged goods category. The segment produces, markets and distributes nationally healthy fresh packaged food products for consumers via the retail channel, including national and regional supermarkets, club stores, mass merchandisers, convenience stores and specialty/natural retailers.
For fiscal-year 2016, which ends every October 31st, Calavo generated $936 million in net sales and earned $64 million in net income. This performance reflected nine and 41 percent growth from the previous fiscal year, respectively. Diluted earnings per share, EPS, grew 39 percent.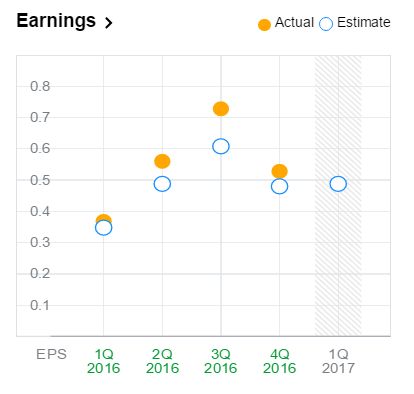 Source: Yahoo Finance
For the year, Calavo beat analyst estimates every quarter. Performance was largely driven by gross margin improvement at both the Fresh Products and Calavo Foods segments. For Fresh Products, avocados reflected nearly 90 percent of net sales; avocados also reflected over 50 percent of total net sales. Gross margin for Fresh Products improved by greater than 55 percent in 2016 to $58 million.
For 2017, average analyst estimates are at $1 billion for net sales and $2.40 per diluted share. These estimates are conservative based upon management's initial guidance after the company's fourth-quarter earnings report. Management stated the following:
Still, we expect the Fresh segment to register double-digit revenue growth and to increase gross margin dollars in fiscal 2017……including the opening of our new Jalisco packinghouse in calendar 2017.

These investments are a reflection of our bullish outlook for growth at RFG….we expect revenue growth to accelerate to an even higher rate than achieved in fiscal 2016….we also anticipate improvement in gross margin.

We are confident as well, about prospects for Calavo Foods in fiscal 2017 with double-digit revenue growth and an increase in gross margin dollars expected.
Analyst estimates have projected nine percent net sales growth for 2017. Management expects double-digit growth for all three segments, but accelerated growth for the RFG segment would indicate growth exceeding 2016's 13.5 percent performance.
Assuming 10 percent growth for Fresh Products and Calavo Foods, and 15 percent growth for RFG, this would add another $30 million in revenue upside potential. In the event gross margin improvement were to expand profit margins by 30 basis points, Calavo could exceed the diluted EPS estimate by 10 percent, doubling today's expected performance versus the 2016 baseline.
Today, analysts are projecting $2.40 per share in 2017 and $2.64 per share in 2018. A $30 million increase in net sales and a 30 basis point improvement above projected 2017 earnings estimates basically would leap Calavo to 2018's estimates, reflecting a 21 percent gain in one year instead of two.
For 2016, analyst estimates, which were revised leading into every quarterly report, were at $1.93 per share. Calavo exceeded these estimates by 13 percent, so a precedent has already been established for the company to over-achieve.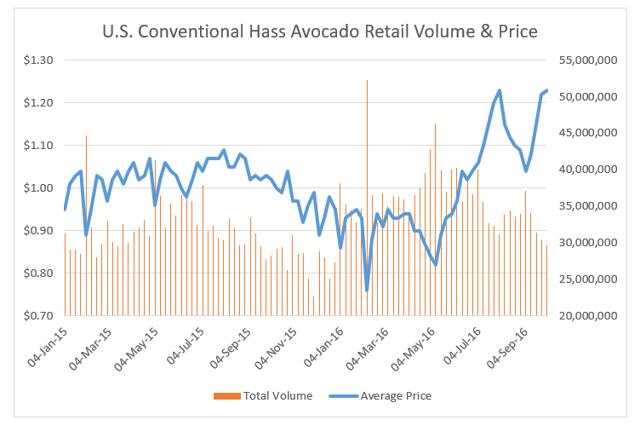 Source: Hass Avocado Board - Retail Volume & Price Data
Since Calavo's net sales are substantially exposed to avocado sales, with Hass avocados being a predominant product, investors should be aware of the volatile nature of commodity prices and consumption. Typically, Hass avocado pricing has varied with the correlation between retail volumes. Recently, prices have increased even as retail volumes have remained at levels similar to previous years.
The Hass Avocado Board HAB Retail Volume and Price Data includes an aggregation of grocery, mass, drug, dollar and military channels. The average price of avocados reflects a per-unit cost even when multiple units are sold in bags.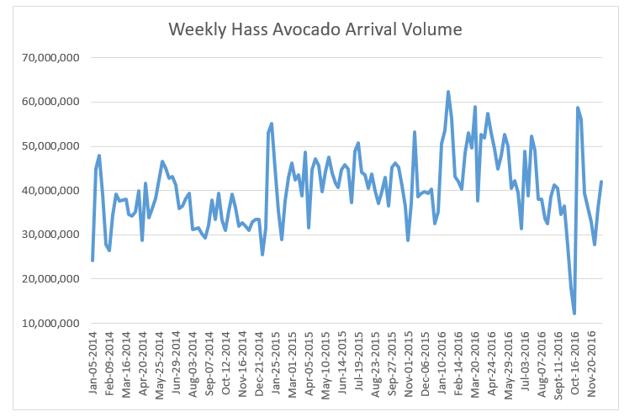 Source: Hass Avocado Board - Arrival Volume
The weekly HAB Hass Avocado Arrival Volume represents the incoming volume of avocados arriving into the U.S. market from all suppliers. This information is valuable as it provides the breakdown of global supplier production for final Hass avocado products.
Mexico has typically produced around 80 percent of all Hass avocados entering the U.S. while California has produced around 12 percent. These production percentages are based on Calavo Growers' fiscal year running from November through October.
The other value of this information is that it is a leading indicator for the previous graphic depicting retail volume and pricing. As can be seen, production plummeted in mid-October due to strikes in Mexico. For this particular week, production declined to its lowest level over the past two years. Prices had already surged prior to the strike, so it is expected that pricing increased further and has remained elevated.
The fact that avocado production is heavily tied to Mexico is a perfect transition to the uncertainty surrounding the North America Free Trade Agreement, NAFTA expected renegotiation. President-elect Donald Trump has made it clear that Mexico will be a focal point of U.S. future policy considerations.
If the U.S. were to become aggressive towards trade between both countries by taking a punitive approach to U.S. businesses with facilities in Mexico, impacts could lead to reduced direct foreign investment in the country. This would be a negative impact on Mexico's economy, which is already struggling from reduced energy-based revenues.
The likely retaliatory action from Mexico would be to attempt to increase the prices of products consumed by the U.S. A trade-war could affect Calavo as the price to purchase avocados from growers could substantially reduce the company's gross margins, even leading to negative diluted EPS performance.
Many companies including Union Pacific (NYSE:UNP), Kansas City Southern (NYSE:KSU), Ford Motors (NYSE:F), among others, are patiently, but diligently jockeying for position to protect their interests as it relates to Mexico. Experts are seeing a decreasing rigidness towards Mexico, but Trump will take action. The question is whether or not action will lead to a complete redo of NAFTA or incremental adjustments. The latter would lend itself to more of a status quo, leading to potential positive outcomes for both countries.
Calavo is a core long-term holding for the Lean Long-Term Growth Portfolio, LLGP. Two positions have been added during the latter part of 2016. The approach managing the position over the long-term is driven by both fundamental and technical analysis.
For fundamental review, Calavo currently trades 29 times diluted EPS and around 17 times enterprise value to EBITDA. Both of these valuation indicators may seem at too high of a premium for some investors, but with the company's performance of double-digit net sales growth and diluted EPS growth at 39 percent versus last year, a premium is warranted.
The company recently raised its dividend by 13 percent and currently pays a 1.4 percent dividend. Additionally, had $102 million in cash-generating assets (receivables and inventory), but only $112 million in total liabilities. Companies with a 1:1 ratio or greater of cash-generating assets versus total liabilities are exceptionally strong value plays, especially when net sales and profit growth is so strong.
The company's debt to EBITDA is below 0.5 times, and debt only reflected eight percent of its capital structure. Calavo's cash conversion is solid as receivables and inventory turn to cash below 40 days while all current payables and accrued expenses are paid in just over 30 days.
Calavo growers is a market leader within its industry and a very disciplined and well-run company; while the P/E and EV/EBITDA multiples are not cheap, many consumer staple stocks with strong market positions similarly trade at this type of premium level.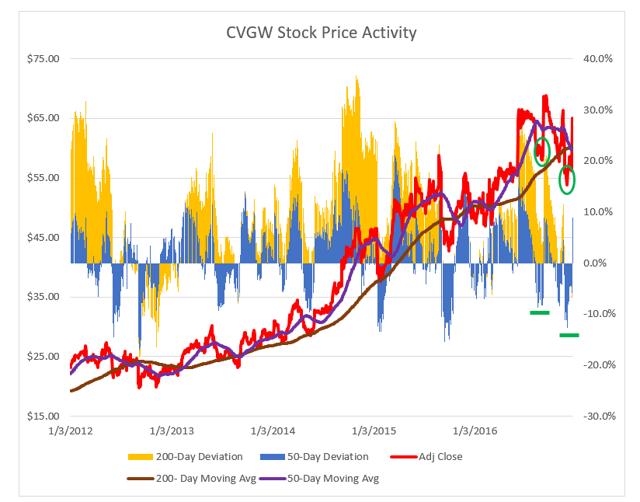 Sources: Yahoo Finance; personal database
It is at this juncture that the assessment of Calavo's technical trends is worth highlighting. As stated, there have been two buys this year for Calavo within the LLGP. These buys occurred during late August and early December 2016 as highlighted in green. The initial buy did not strongly consider the technical trends, but the second one did.
Over the previous four years, Calavo's stock price has deviated from the 50- or 200-day moving average with a decline at or greater than 15 percent during four time periods. Similarly, the stock price has deviated from the 50- or 200-day moving average with a decline between eight and 13 percent during eight separate time periods. There have been around 15 general time periods where the negative deviation has been close to five percent.
These technical patterns reflect Calavo's stock prices during an economic growth cycle. As the growth cycle continues, investors could expect to see similar trends with negative deviations of between five and close to 20 percent. Any severe impacts over the near-term such as poor NAFTA negotiation outcomes or the inevitable correction/recession and the degree of negative deviation could drop below the 20 percent level substantially; even to negative 40 or 50 percent levels.
For long-term investors, buying should be selective based on technical trends as Calavo has tended to have at least two periods per year where stock price deviations have performed between negative eight and 18 percent against 50- and 200-day moving averages. These prices have been an investor's best bet to get in at discounted levels prior to run-ups.
By combining the company's fundamental performance and technical stock price trends, investors can attempt to make strategic decisions as to building a long-term position in Calavo. Keeping an eye on avocado prices and consumption and production, as well as the developments of NAFTA renegotiation, is a must. Also, in the event a recession were to occur, investors should be prepared to see negative stock price deviations eclipse recent levels.
Disclosure: I am/we are long CVGW, KSU.
I wrote this article myself, and it expresses my own opinions. I am not receiving compensation for it (other than from Seeking Alpha). I have no business relationship with any company whose stock is mentioned in this article.