Shareholders sighed a breath of relief after Sysco (NYSE:SYY) released Q1 earnings. This will be the trigger for the company to continue to reach new highs on its way to $70. An 11% increase in year-over-year quarterly revenue headlined the report, which led to a 20% jump in gross profits, largely in part from the acquisition of Brakes, which is based in the U.K. This acquisition allows Sysco to enter the European market and grow further as the US market slows. This acquisition was massive coming off the news that the attempt to acquire US Foods (NYSE:USFD) was declined by a judge.
As Sysco continues to produce quality earnings reports, it also manages to increase and pay a solid dividend. This being something its competitors cannot seem to do. One of the most important things to me when evaluating companies is the dividend. Looking at the competitors in the industry - Performance Food Group (NYSE:PFGC), United Natural Foods (NASDAQ:UNFI), and US Foods - none of them pay dividends. This alone makes Sysco more attractive than its top competitors in the industry. Along with paying a stable dividend of $0.33, Sysco has outperformed its competitors and the market as a whole rather handedly.

Source: YCharts.com
Looking down the road, I believe Sysco will continue to flourish in the current environment. People tend to be eating out more due to habit than ever before. As we get "lazier" as a society, I do not see that changing. This helps Sysco's bottom line, which will lead to further dividend increases. Q1 put the company off to a rapid start to 2017; even if the rest of the year was average, I would still expect EPS to grow above $2.00 on an annual basis for 2017. Having already reported over 35% of the 2016 total in 2017 Q1, the move to $2.00 and beyond becomes more likely. The company would have to have a massive slowdown to not reach the annual $2.00 mark after posting $0.58 for Q1. I do not see that slowing down after that. I do not think it is unreasonable for Sysco to hit the five-year EPS growth target. With this development, the share price will also grow.

Source: YCharts.com
Below is a quick look at the dividend over the past 10 years and how it has increased with the stock price. As I mentioned earlier, I believe Sysco will be able to maintain steady increases to its dividend while maintaining the strong balance sheet it currently has. The only reason this would not occur would be a slowdown in its revenues. The U.S. dinning numbers seem to be decreasing, but with the expansion to Europe, the dividend should be able to continue to grow. It is expected that the dividend will be increased one to two times a calendar year.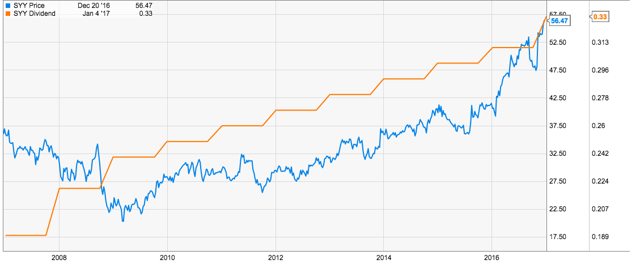 Source: YCharts.com
Technical Perspective
Those who buy and sell purely on fundamentals will argue that now is not the time to buy as the stock has climbed too high since the recent pullback and they will just wait for the next one. Looking at the past year, if an investor were to wait for a pullback, they would have missed out on roughly 25% of positive returns. This is why I do not mind buying at new highs.
As we take a closer look at the recent breakout post Q1 earnings, we see the stock climb out of the pullback in price beginning in September. Shortly after, the price traded in a tight range for a month before breaking out again, confirming that this current price level is here to stay.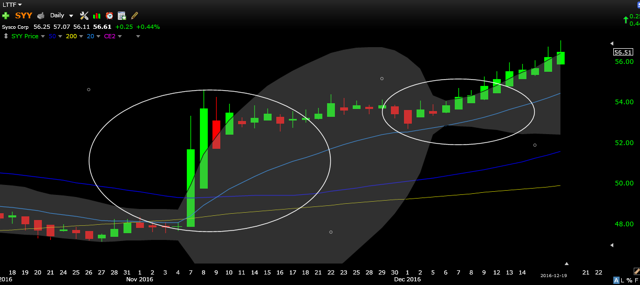 Source: TC2000.com
If we zoom out and examine the greater trend at work, we can clearly see the pullbacks over the last two years and see how buyers have fared. If you were perfect at timing the market and bought in at the two larger pullbacks highlighted below, you have done extremely well. Personally, instead of trying to guess if the pullback is a buying opportunity, I stick to trend following. In doing so, I buy at highs and stay on a trend until I'm bucked off. Looking below, the trend is very obvious with multiple tests of the line. When it breaks, it is very important that it comes back to the line and crosses it. Otherwise, the old positive trend could become negative resistance.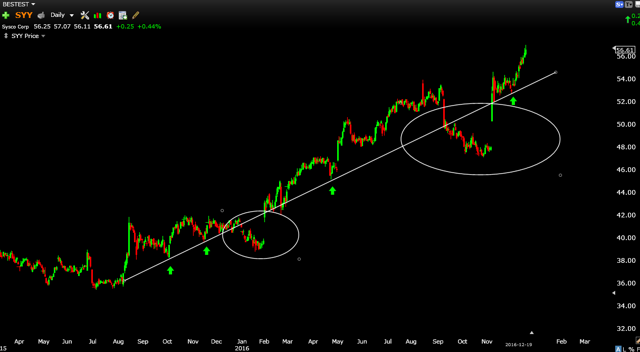 Source: TC2000.com
Those who have read my previous articles will know how much I value the 200-day moving average (DMA). I will not ever buy a stock under the 200 DMA as it typically serves as hard support or resistance. Looking at Sysco, the pullbacks in the last year have both touched the 200 DMA, with the most recent one breaking it, which would have been a nervous time for some shareholders. But the stock pushed through, thanks to Q1. Had the earnings not lived up to expectations, it could have been the beginning of the end for SYY. Thankfully, that was not the case, and the price quickly jumped back above the 200 DMA.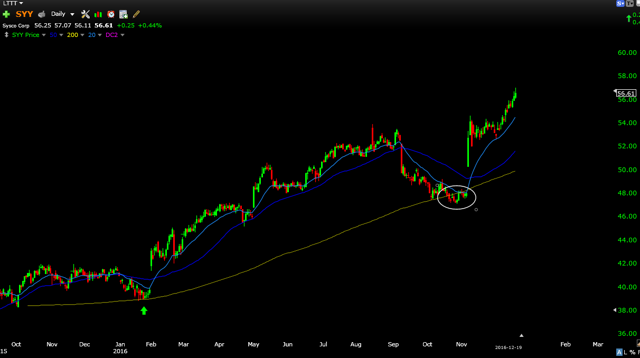 Source: TC2000.com
A move below the 200 DMA would be very bearish. Not only would it cause the price to be well below the 200 DMA, but it also would be a new three-month low, meaning that it is time to exit my position. This is why my initial stop is set for $47.13. Being long from $55.28, I am risking roughly 15% of my position in this trade.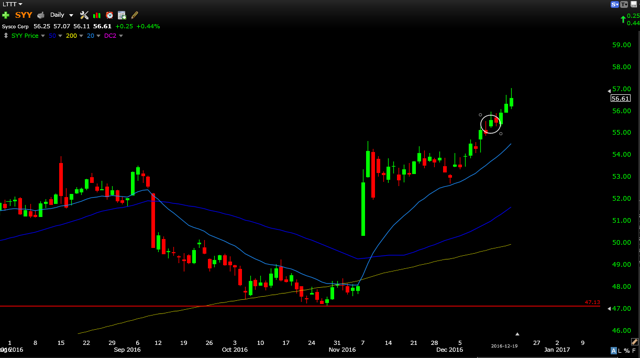 Source: TC2000.com
Wrap-Up
As you can see, I believe Sysco is a buy at the current levels. For those who say they will wait for a pullback below $50, you may get your wish or you may not. Having learned the hard way of watching stocks climb higher waiting for the pullback, I realized buying at the highs may not be such a bad idea. I am not a 100% technical investor, but I do put more weight into trends and momentum than I do fundamentals at times. But I do not ever buy a stock purely on their chart. I always run a fundamental check to ensure the company is a solid one and the trend is supported by the underlying numbers. Sysco checks all of the boxes other than long-term EPS growth, which will change over the next few years.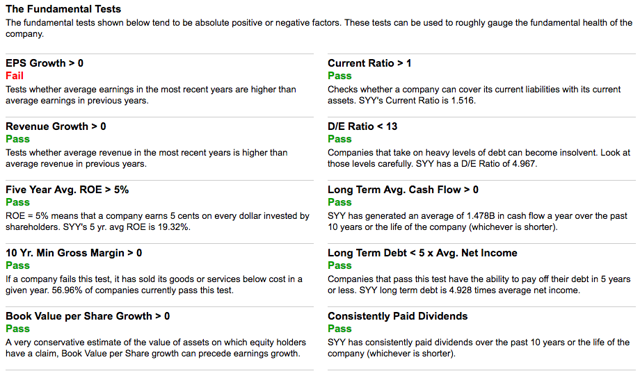 Source: YCharts.com
Instead of buying the companies in the industry that are lagging and not paying dividends, I would much rather buy the industry leader and get paid to wait.
I see Sysco hitting $65-70 by this time next year. Will there be corrections in the price along the way? Possibly, but as long as it does not go below $47.13, I will be there when it hits $70, collecting 2.20% along the way.
Thank you for taking time to read. If you received any value out of this article, please follow me for further updates. I look forward to your feedback!
Disclosure: I am/we are long SYY.
I wrote this article myself, and it expresses my own opinions. I am not receiving compensation for it (other than from Seeking Alpha). I have no business relationship with any company whose stock is mentioned in this article.