In the next six months, we don't have much to look forward to in the financial sector. No expected large news events. No likely rate hike, according to the Fed's dot plot: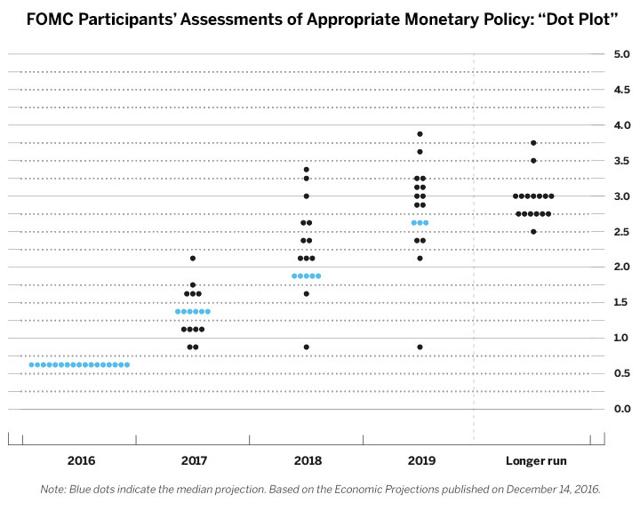 (Source: Federal Reserve)
In such an atmosphere, holding a banking stock is usually a simple matter that is easily answered by two questions:
Will the company show an earnings surprise?
Is the stock fairly priced?
Valuations
Of course, this is oversimplifying things a bit, but much less so than we would do so with stocks from other sectors. Today, we hope to answer the first question in a comparative manner for the two stocks (requested by a reader) Bank of America (NYSE:BAC) and Wells Fargo (NYSE:WFC). The first question, of course, can be requested as an Exposing Earnings analysis.
First, let's return to the first sentence and my mention of "six months." Why six months? Because according to the CME group, the first time the probability of a rate hold falls below 50% is the June 2017 meeting: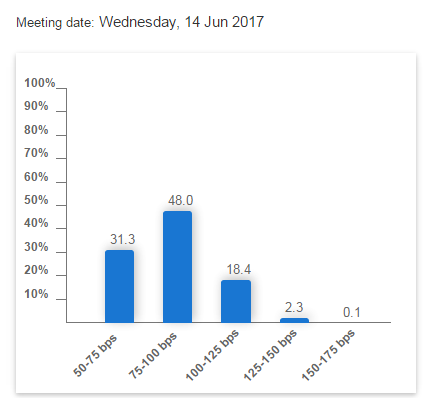 Until then, the odds are in favor of the rate hold.
The Excess Returns Model
Second, readers who are unfamiliar with my method of analyzing banks should familiarize themselves with the concept of the excess returns model. BAC and WFC are not selling paraphernalia but investments; the standard discounted cash flow model cannot apply here, especially when you consider the fact that financial companies can manipulate future cash flows in ways that paraphernalia-slanging companies cannot. Here's a quick introduction to the excess returns model:
To invest in a financial sector stock is to give your money to another investor who will reinvest your money. You wish to compare this to what you could get otherwise and thus must consider the opportunity cost of not investing in the market or bonds. If a company such as BAC does a good job, they produce excess returns, or an ROI that is unexpected given the current market.
I have written more in-depth articles on this very subject, and I also run an annual application of the model on most big banking companies, BAC and WFC included. Below are last year's valuations for BAC and WFC, valuations which are to be updated for this year after the companies report their earnings in Jaunary (images pulled from my past articles, thus showing outdated stock - but not ERM - values):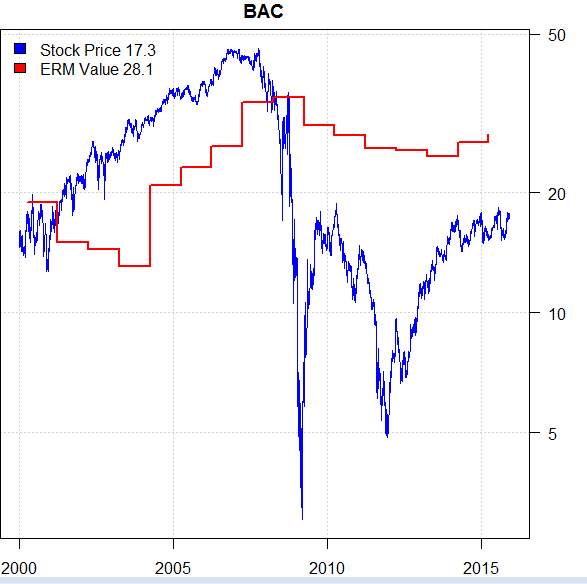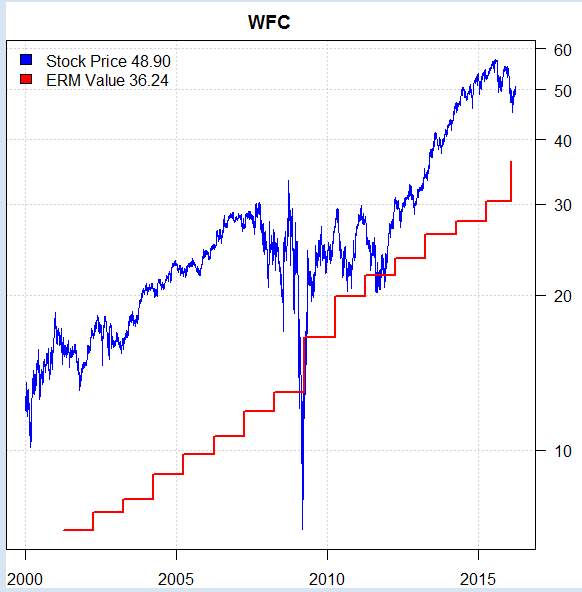 The Recent Rally
Both stocks have recently rallied, a phenomenon in-line with the ERM trend. BAC is still undervalued, however, according to its ERM; WFC is arguably overvalued, although the ERM trend is often more important than the actual value.
ERM is but one valuation method. With no upcoming events for the two stocks, it is also important to look at seasonal trends and side-by-side comparisons for the companies themselves. Let's start with seasonal trends: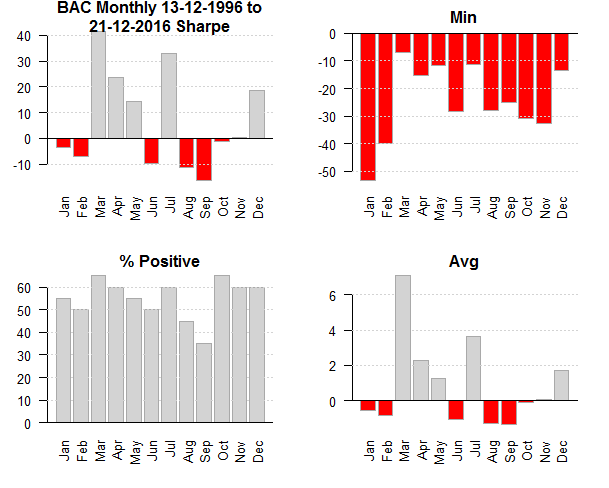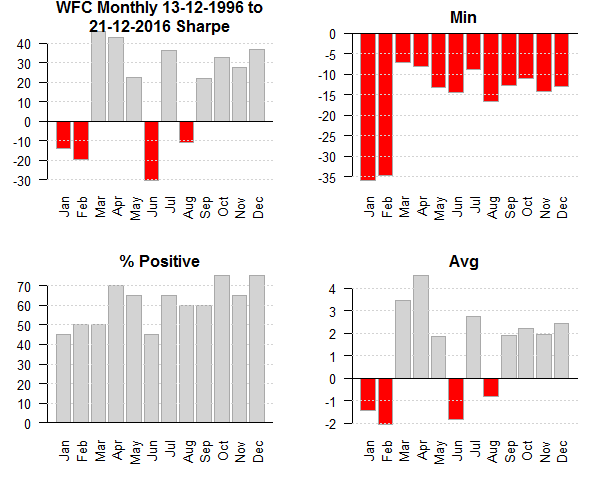 Clearly, WFC has a more stable year in terms of its risk/reward (Sharpe) profile. However, both stocks are headed into their "bear" seasons. Yet BAC's Jan-Feb average drawdown is negligible; WFC's is 3%.
Seasonality Says No
Seasonality tells us that neither stock is ripe for investment. Rather, capital meant for BAC or WFC should be put aside until after the February drawdown. My preliminary earnings analyses on BAC and WFC show this drawdown to be again likely, with the bulk of the drawdown occurring on Jan 13, when both companies present their FQ4 earnings reports.
BAC beats on EPS 75% of the time, whereas WFC acts more randomly. BAC seems safer from a statistical point of view as we head into earnings. Still, my models are showing a 60% to 70% likelihood of either stock selling off on earnings,
The market would likely consider such a selloff as a "cooling off" for overheated bank stocks. But neither stock is overpriced from an earnings expectation standpoint:

However, when we look at stock price versus assets, which is an important metric in the excess returns model, we see WFC overpriced relative to the banking industry (there's that opportunity cost we were talking about):

This adds support to my theory that WFC is more likely to sell off on earnings than is BAC. In addition, BAC is expected to see an earnings increase of roughly 50% over the next three years, whereas WFC is expected to remain flat (BAC on the left; WFC on the right; this arrangement will hold throughout the remainder of the article):

The best an EPS surprise could do for WFC is tell investors that earnings will fall less than expected in 2017. An EPS surprise for BAC, in contrast, should tell investors that the earnings increase has come sooner than expected, which could even incite a temporary rally. Remember, BAC is still $6 underpriced according to my ERM model.
Both Stocks Outperform the Sector
Both BAC and WFC have outperformed the banking sector over the past five years, but that outperformance has changed in the last year. BAC is still beating the sector; WFC is now underperforming:

In contrasting these two stocks, I see little advantage for holding WFC when BAC exists. WFC's only clear and tangible advantage over BAC is the dividend, which is double the annual yield of BAC's. But that advantage is a large and significant one.
When buying financial stocks, many investors are looking for safe stable dividends anyway. Hence the dividend alone might justify holding onto WFC in light of the better-performing BAC. Add to this the dividend increases we have seen in WFC but not seen in BAC, and perhaps the fundamentals become irrelevant to WFC investors.
A Warning to WFC Investors
Still, I wish to issue WFC holders a warning heading into January. FQ4 earnings are unlikely to be a rally catalyst and are more likely than are BAC's to be a selloff catalyst. If you want an in-depth earnings analysis of WFC's earnings, let me know in Exposing Earnings' chatroom.
In the meantime, I will leave you with an extra piece of food for thought:
WFC: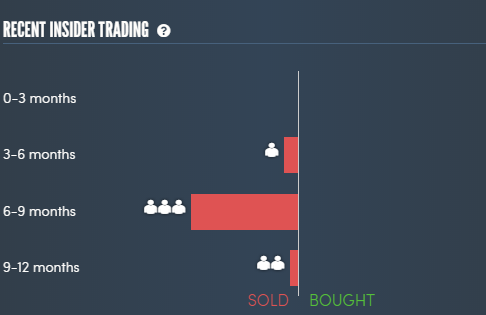 BAC: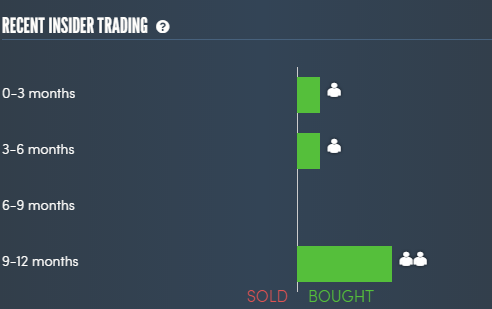 Happy trading.
Notes:
Note: Get my articles as soon as they are published by clicking the big orange "follow" button at the top of this page. Make sure you choose "real-time alerts."
Note: All unlabeled figures were created by me from data pulled from Yahoo and ADVN through R. Charts with blue backgrounds are from Etrade Pro. Fundamental charts from a paid subscription at simplywall.st.
Learn More about Earnings
Exposing Earnings - my earnings prediction newsletter - is now live, here on Seeking Alpha. In this newsletter, we employ both fundamental and pattern analyses to predict price movements of specific companies after specific earnings. I offer specific strategies for playing those earnings reports. To-date, we are 94% accurate on earnings report predictions.
Disclosure: I/we have no positions in any stocks mentioned, and no plans to initiate any positions within the next 72 hours.
I wrote this article myself, and it expresses my own opinions. I am not receiving compensation for it (other than from Seeking Alpha). I have no business relationship with any company whose stock is mentioned in this article.