By Parke Shall with Thom Lachenmann
For those that have been following Macy's (NYSE:M) over the last year, you may have noticed that one initiative the company has undertaken in order to try and jump-start business is the addition of "in-store outlet stores". Basically what's happening is Macy's is trying to gain the same competitive advantages that stores like Marshalls, Ross (NASDAQ:ROST), and TJ Maxx (NYSE:TJX) all have. People flock to the stores because they are havens for deep discounts and because the shopping experience there varies widely from one of the conventional department store.
Ask anybody who shops at a store like Marshalls and they will tell you that part of the excitement in shopping there is being surprised with what you find each trip that you make. Generally, because the stores receive inventory from other stores, it is a massive conglomeration of numerous different brands, all discounted deeply off of their original retail price.
The dynamic nature in which companies wind up sending their product to these stores ensures new stock of different brands and different items to look at every time customers come into store. The marketing for these companies, especially Marshalls, does a great job of pitching the shopping experience as a treasure hunt.
While it seems a little bit ridiculous and a little bit childish, it is actually a concept that works quite well. The results have been stores like T.J. Maxx outperforming the retail sector over the last few years and getting a premium multiple in the sector. Customers are happy, shareholders are happy and (presumably) workers are also happy.
Here's TJ Maxx versus the XRT Retail ETF over the last 5 years,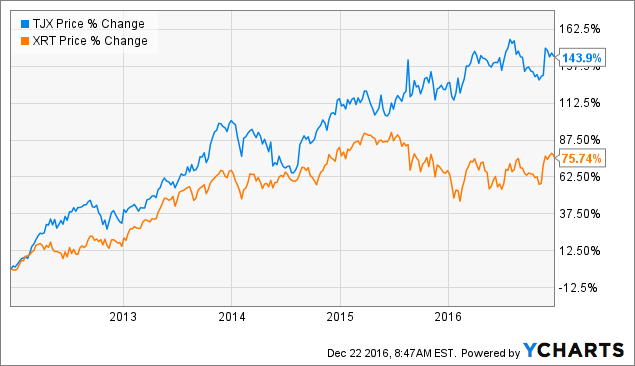 TJX data by YCharts
Macy's started to introduce its "Backstage" concept in the wake of the success of these other companies. Essentially Macy's wants to create an area where its older inventory can be marked down yet again and be sold in the same fashion with which items at Marshall's and TJ Maxx are sold. We had the pleasure of visiting a couple of "Backstage" locations over the last month and wanted to talk about why we think the concept could be successful, but also what some of the obstacle standing in its way are.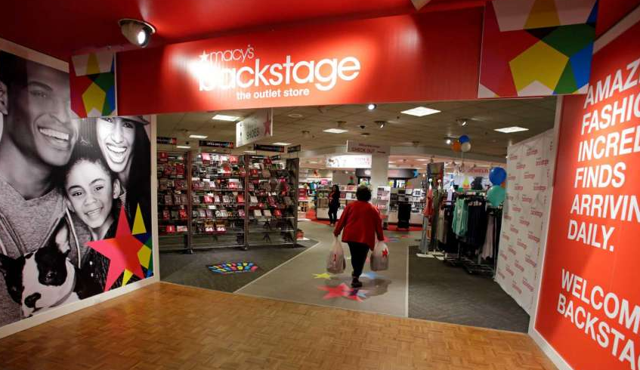 The "Backstage" concept is clearly differentiated from the rest of the store. In the stores that we visited, there was a red banner hanging over a certain section of the store that indicated that shoppers were moving into the outlet section of the store. Once in the concept, the similarities to stores like Marshalls were uncanny. They offer men's, women's, accessories, housewares and even shoes just like Marshalls does.
The items are put together in a far less organized fashion than they are in the department store and the concepts generally do a good job of re-creating the feeling of being on a treasure hunt. It was even easier for us to feel this way during our trips due to the lack of customers that were in this part of the store on the trips that we made. We know that three trips certainly isn't enough to get an indication on how it is working for the business, but if it was, our trips would not be a positive sign for Macy's.
The concept for the most part is relatively well executed. We're not sure if Macy's would be served better by opening these backstage concepts in physically different locations than at their current department stores, but the execution of the concept in all three locations wasn't too bad. The PR and marketing used was modern looking, the signage encourages discount shopping and thriftiness, and the layouts all look nice.
There were, however, a couple of problems. The main problem that we noticed is that all of the products at the "Backstage" store were all formerly Macy's products. This limits the amount of brands that are going to be available at the "Backstage" concept. If you are not into Izod, Polo, Tommy Hilfiger and the other brands you see on display frequently at Macy's, you're likely not going to find anything new at the "Backstage" outlet that you're going to like.
This misses on one of the big marks that companies like Marshalls and T.J. Maxx have going for them. These companies are able to take many consumer name brands and put them all together in their store. Yes, you see the general department store brands, but you also see them intertwined sometimes with higher end brands that happen to slip down the food chain and finally make their way to a discount store.
Macy's misses the mark here, and we think it is a big mark to miss. We don't really do any of our shopping at Marshall's or TJ Maxx when we are looking for department store brands, but rather when we are looking for name brands that we are truly getting deep discounts on.
To take all of the inventory for Macy's and simply mark it down and move it to another section of the store is nothing more than a Macy's clearance rack. We even got the indication with some of the handbags and some of the accessory products but these were items specifically tailored to go directly to the "Backstage" portion of the store and not ever be sold in the department store to begin with. Is it possible that Macy's is using the mark down deep discount model to try and simply make regular sales of cheaper products at lower prices?
We saw this the most in handbags, where upstairs at Macy's we browsed the Michael Kors (NYSE:KORS), Coach (COH), Vera Bradley (NASDAQ:VRA) and other name brands they had available at one location. Downstairs, at the handbag section of the outlet store in the same location, there was not a single one of these major name brands, but rather a series of lesser known brands and top-tier knock offs that looked as though they were never set for prime time to begin with.
All in all, we think the concept could eventually be successful, but there are certain issues that Macy's is going to have to take up with the way they're doing it thus far.
We would recommend splitting the concept off into a separate building, so you are not directly cannibalizing on shoppers who may already be shopping for goods at close to or at full price. Once established elsewhere outside of Macy's, the goal would then be to seek the same type of discounted apparel that the major department stores like Ross and TJ Maxx get. We realize that adding another inflow of inventory is probably the last thing that Macy's needs right now, but we believe the company could do it judiciously and pepper these items sporadically in a store that is mostly Macy's items.
Make no doubt about it, this model certainly has a hold on the industry right now. Not only is it performing exceptionally well, but it is essentially resistant to online shopping as the inventory at the stores is always very dynamic and constantly being turned over.
They are almost online shopping resistant models in full. It is impossible to list such a dynamic inventory online at all times and people physically like the feeling of going out and going on a treasure hunt. With a little bit more attention to detail, we think Macy's may be able to successfully implement this model at select locations going forward. We would encourage the company to continue down this road as they looked close larger stores, deal their real estate and transition into the Macy's retail experience that they want to deliver heading into 2017.
Disclosure: I/we have no positions in any stocks mentioned, and no plans to initiate any positions within the next 72 hours.
I wrote this article myself, and it expresses my own opinions. I am not receiving compensation for it (other than from Seeking Alpha). I have no business relationship with any company whose stock is mentioned in this article.