For its fiscal 2017 Q3, BlackBerry (BBRY) posted a 47% y/y decline in GAAP revenue to $289 million and a GAAP net loss of $117 million. For the first time ever, BlackBerry didn't even report hardware unit sales, though it must have had some. Yet BlackBerry "continued to make good progress" according to CEO John Chen.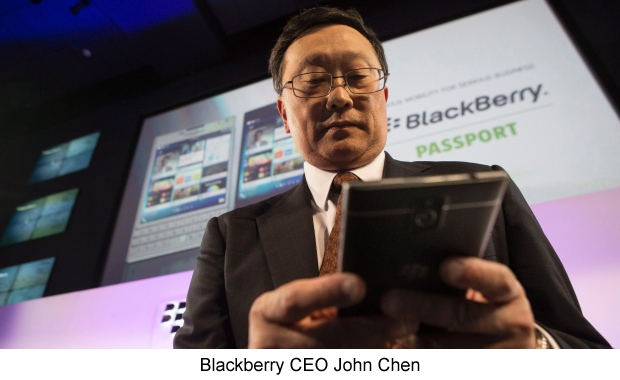 Source: CBC
Selling the Turnaround Story
So many good articles have been written on SA about BlackBerry since its fiscal 2017 Q3 earnings report on December 20, that I decided to focus on more general issues of corporate image manipulation. I see BlackBerry as a case study in selling "the turnaround story."
The turnaround story has a number of elements. There is the company itself, which has suffered a long-term decline in profitability, revenue and competitiveness. Shares of the company have followed suit, meaning that there is a fairly large constituency of shareholders who are under water. These shareholders form the backbone of the willing suspension of disbelief that is necessary to sell the story.
But they're not the only shareholders similarly willing. By the start of the turnaround story, the stock has become very cheap, though not necessarily a good value. Investors attracted by the prospect of large returns on a cheap stock also suspend disbelief in the turnaround story.
As suspension of disbelief takes hold, the stock appreciates substantially, producing massive short-term gains. Shareholders will often point to Mr. Market for validation, but the short-term gains have a dark side. Driven by underlying insecurity that the gains may not be lasting, shareholder/fans exhibit a "shoot the messenger" mentality.
There is the highly regarded CEO who has been brought in to effect the turnaround. A key task of the CEO is to sell the turnaround story. That means always being on message. Every conference call. Every investor event. Every product launch.
The message is always the same. The turnaround is "on track." Progress is "good." Results are "encouraging." In substantiation, the CEO and the rest of the management team can cite any number of non-GAAP financial metrics.
Always, investor attention is directed to the non-GAAP metrics. I've come to recognize this has a hallmark of the turnaround story ever since the days of Stephen Elop's tenure as CEO of Nokia (NYSE:NOK). Non-GAAP financial measures such as non-GAAP revenue and non-GAAP earnings are incredibly effective in selling the turnaround story.
The non-GAAP numbers are what will be repeated in headlines of financial and business articles. Retail investors and fans of the company, who may never read past the headlines, will have their belief in the turnaround story reinforced.
The non-GAAP numbers typically exclude "one time only" costs for restructuring, downsizing, and spinning off or shutting down non-performing units or products. The problem with the non-GAAP thesis is that these costs, for a company in long-term decline, are never really "one time only." Instead, restructuring follows restructuring follows restructuring. Also, the non-GAAP numbers exclude very real costs that limit available cash for new product development or new investment. The company is always "turning around" but never actually accomplishes the turnaround.
As revenue and cash flow decline, developing new products that might be more competitive becomes all the more difficult. But the turnaround story will not be denied, so the products that are launched are sold all the more ferociously. Any sign that the product is less than successful is carefully ignored.
In some cases, phantom products are launched mainly to sell the turnaround story. These are products that are typically years away. They may be released in a different form than originally represented, or may never be released. But the mere idea of them confirms and reinforces the turnaround in the minds of willing investors.
Saved by the Willing Suspension of Disbelief
It is only through willing suspension of disbelief that John Chen has been able to get away with what he has done in his time at BlackBerry.
A year ago, BlackBerry had just launched the Priv, its first attempt at an Android smartphone. During the fiscal 2016 Q3 conference call Chen highlighted what he called "positive feedback and good demand thus far."
Chen also pointed to the need to have both hardware and software in a single integrated BlackBerry product in order to meet the needs of demanding customers. When asked about the need for hardware by Maynard Um (Wells Fargo), Chen had this to say:
Some of the areas that we have planned and have been working hard on, will start coming to -- into play. So I think there's a good chance that we'll do well in the device business and we'll continue.

In addition to that, there are a number of government agency and very big customers relying on us to maintain that product road map, so we shall see.
I don't think there can be any doubt that if BlackBerry had been able to be successful in hardware, it would still be in that business. But you would never know it from Chen's statements at the fiscal 2017 Q3 conference call:
In the quarter - in Q3, we continued to make good progress on our financial objectives and I am pleased to report the non-GAAP EPS profitability this quarter. We also completed a number of significant milestones to transform BlackBerry into a software and services company.
Well of course, it was always about transforming BlackBerry into a software and services company, wasn't it?
In fact, BlackBerry had a good point that it needed to control hardware and software, as well as support, in order to assure that its Android devices would truly be the most secure Android devices. Now that BlackBerry has sold the brand to TCL, BlackBerry's software alone may not provide an important discriminator.
During the conference call, Simona Jankowski asked about the margins for the TCL licensing deal, and Chen said that gross margin would be at least 90%. With that kind of margins, it's clear that BlackBerry will not be supporting the devices directly with OS updates or even its own software updates. These will be handled by TCL, as do all the other Android OEMs. There seemed to be some confusion about this as of my earnings preview article. BlackBerry had already stated in the announcement of the TCL deal that TCL would handle all support of the BlackBerry branded phones produced under the license deal:
BlackBerry will license its security software and service suite, as well as related brand assets to TCL Communication who will design, manufacture, sell and provide customer support for BlackBerry-branded mobile devices. (Bold mine).
And this really will result in a cheapening of the BlackBerry brand. TCL is not even in the top 5 of smartphone vendors in China, let alone in the world. With TCL handling support, I think OS updates and BlackBerry software updates are likely to be in jeopardy, which reduces the effective security that BlackBerry's software provides. Frankly, I don't think anyone who wants an Android phone should buy anywhere but from Google (NASDAQ:GOOGL) (NASDAQ:GOOG). The Android OEMs just do a lousy job of supporting their devices.
Given that BlackBerry couldn't sell its BlackBerry Android devices when it was still standing behind them for customer support, I don't see how TCL can succeed where BlackBerry failed. The expectation that the TCL license deal will generate significant revenue for BlackBerry is unsupportable. Except in the turnaround story.
Investor Takeaway
BlackBerry does at least provide a GAAP Income Statement to go with the non-GAAP laden press release. I urge all interested investors to click the link and look at the GAAP numbers. For instance, BlackBerry claimed Software and Services segment revenue of $164 million (non-GAAP), but that included deferred revenue. The GAAP number is $160 million, which is only a 3% y/y increase.
In the conference call, Chen claimed that Software and Services had y/y growth of 49%, excluding IP licensing, but then he overstates the non-GAAP Software and Services segment revenue as $172 million. So I don't think the claim is particularly credible. In any case, on a GAAP basis, with IP and Software and Services combined, growth was quite modest.
With growth in Software and Services segment very modest, one has to think about what the company looks like in a few quarters when Hardware and Service Access Fees go to zero. Yes, at the rate these segments are declining, three quarters is being generous. So the company shrinks to the Software and Services GAAP revenue of $160 million plus whatever growth it can achieve in the interim. Growth in Software is very unlikely to make up for the loss of revenue from the other two segments.
Certainly, there are prospects for growth. The Ford QNX deal will contribute. However, the recently announced Innovation Centre for Connected and Autonomous Vehicles seems to fall into the category of phantom product. The announcement seems intended to galvanize investors by dangling the prospect of BlackBerry creating an autonomous vehicle.
With Google, Intel (NASDAQ:INTC), Mobileye (NYSE:MBLY), Apple (NASDAQ:AAPL), Tesla (NASDAQ:TSLA) and Nvidia (NASDAQ:NVDA) all developing (and demonstrating) autonomous vehicles, I think it's a little late for BlackBerry. And according to a Nasdaq report, BlackBerry plans to hire as many as 600 engineers and software developers for the effort over the next few years. I really doubt that BlackBerry will have the resources to support such ambitious plans.
BlackBerry will probably survive as a software company, but it will be much smaller than it is even now. On that basis, I think the market continues to overvalue BlackBerry, which I rate a sell.
Disclosure: I am/we are long AAPL, NVDA.
I wrote this article myself, and it expresses my own opinions. I am not receiving compensation for it (other than from Seeking Alpha). I have no business relationship with any company whose stock is mentioned in this article.