Weekly Natural Gas Storage Report - Storage Looking Grim
The EIA reported a storage draw of -209 Bcf, bringing the total storage number to 3.597 Tcf. This compares to the -32 Bcf draw last year and the -110 Bcf draw for the five-year average.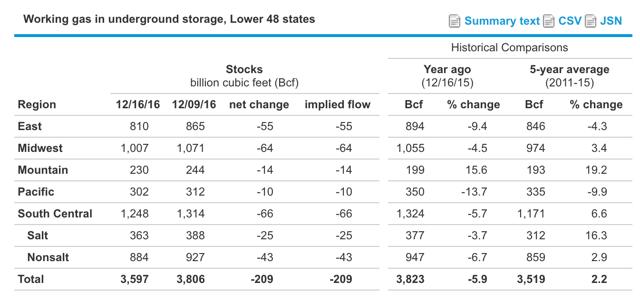 Going into this report, a Reuters survey of 19 traders and analysts pegged the average at -201 Bcf with a ride range between -179 Bcf to -216 Bcf. We expected -205 Bcf, and our storage forecast was just slightly higher than the consensus forecast.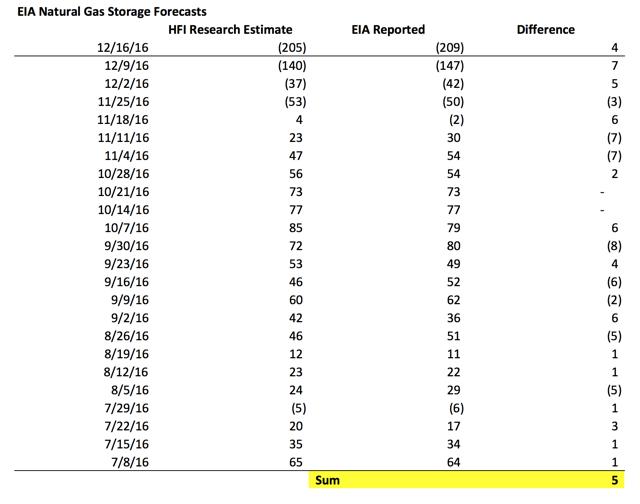 Natural Gas Storage Forecast Track Record; Source: HFI Research
The magnitude of this storage draw should not have been a surprise as we gave heads up to the readers weeks in advance saying that there will be large draws expected. The market also anticipated the large storage draw.
What's now interesting is the updated forecast our team came up with for April 2017 storage. With the structural imbalance forecasted to widen in Jan, EOS has been revised lower to 1.41 Tcf from 1.45 Tcf. We don't think the market fully realizes the significance of this yet as EIA is forecasting ~1.9 Tcf. Next week's EIA report is going to take storage below the five-year average with a draw around -225 Bcf (our current forecast). This will add a floor under natural gas (NYSEARCA:UNG) prices.
As we look ahead, weather forecasts overnight show the "cold bomb" we wrote yesterday. Most of the arctic air is currently forecasted to stay in Canada. Its current projection is for a move in the upper West side and nothing to the East. If this projection changes and shows that the air mass is moving to the East, then we could see $4/MMBtu gas come early Jan. Remember that most weather forecasting firms go out 20 days max, so if the mid-Jan cold bomb is coming, then we will know by end of December to early January.
Overall, storage is going to look very grim by the end of January according to our current forecasts and downright awful by March 2017. Structural imbalance has widened leading to much larger storage draws (assuming normal HDDs) than average. We are forecasting 1.41 Tcf for April 2017.
If you enjoyed this report, we publish frequent updates on the natural gas market for our premium service. We think you will find the premium service to be highly insightful. You can sign up here.
Disclosure: I/we have no positions in any stocks mentioned, and no plans to initiate any positions within the next 72 hours.
I wrote this article myself, and it expresses my own opinions. I am not receiving compensation for it (other than from Seeking Alpha). I have no business relationship with any company whose stock is mentioned in this article.